Don't tell anyone but hauling my Carful of Kids to 46 states across this continent is, well–it's exhausting. This road tripping Mom needs a break and quick. The kids are at their Grandma's for the weekend doing whatever they do at Grandma's that keeps them clambering for more.
I penciled in a little ME time before I headed out on the annual summer road trip and I'm taking it now that I'm back. In a matter of days the carful of kids will be back in school and that means games, homework, school projects, practices–I'm tired just thinking about it.
My husband wants a little weekend away, just him and I, *wink, wink* but that sounds like a little too much expectation.Sorry baby, don't you have to work?I say, trying to save my sanity and my weekend away. Love him too but…
I love being a wife and mother, don't get me wrong. It's the greatest job ever but sometimes us Moms need a break to keep it going. I don't know about you, but it seems impossible to spend time or money on ourselves. Something or someone always needs something.
So I decide to arrange a weekend away-a MOMcation. I need to decompress by hiding in a nice hotel and enjoy sometime by myself. No one's needs to be met except my own. Sounds like heaven. Where do I begin?
I spend a lot of time researching for road trips and vacations for the Carful of Kids so I know some secrets. First, let's talk about reality vs. expectation.
I know what you're thinking, head to the beach. Get that great picture of your newly painted toes with blue water and sugar white sand in the background. You know the shot, it's all over social media these days.
What that shot doesn't show you is the Mom with her toddler melting down next to you because she's tired, hungry and sand is in her bathing suit. Or the couple that won't stop bickering because she forgot to pack his favorite vacation shirt–you know, the tacky one.
There is no way that you can ignore them and escape into your utterly decadent novel that should have a warning label stamped on it.
Did I mention the crowds at the beach? And with the crowds, come the peak prices.
Nope. No beach–not this month and by the time the prices come down, it will be sweater weather. By that time, we'll be in the Mom trenches again, making cupcakes and practicing spelling words.
How about a city that relies on the convention trade? Think about it for a moment–these cities have lots of rooms to fill and lots of restaurants nearby. The conventions cool down in the summer months so…
I log into my favorite hotel consolidator and hope to find some deals. I live near Austin, Texas, so I type in San Antonio River Walk. I hit the jackpot–a four and half star room for under $100. I hitBook Itand don't look back, after all it's basically the price of a nice dinner on date night. MOMcation, here I come.
Great. Can't wait. I pack up a bag withmake me feel cute clothesand head out early. What am I going to do with myself on a weekend away?
I have to stop and think for a moment. I am so used to shuffling kids around that I really don't remember what I used to do when it was just me. You know, before the hubs and kids ate my world.
I love a great art museum so I aim the SUV in that direction first. I decide to visit the
McNay Art Museum (
6000 North New Braunfels Avenue), it's open from 10 a.m. to 5 p.m. on Saturdays and noon to 5 p.m. on Sundays, Tuesday, Wednesday and Friday 10 a.m. to 4 p.m., Thursday 10 a.m. to 9 p.m. and closed Monday, the admission for adults is $ 10 and kids 12 and under are free.
TheMcNay Art Museumis named after Marion Koogler McNay; she generously gifted 700 works of art, her 24-room house and its 23 acres of land along with an endowment to fund what would be the first Modern Art Museum in Texas upon her death in 1950. Since opening its doors in 1954, the McNay now comprises 20,000 works of art from the Medieval and Renaissance through today.
The art collection at the McNay is impressive, with works from Picasso, Van Gogh and Gauguin among others. The sculpture at the McNay is just as impressive including works by Giacometti and Robert Indiana. The theater arts library should not be missed.
The McNay Museum building is just as majestic as the art that resides in it. Designed by the father and son team, Atlee and Robert Ayers, the 24-room mansion is in the Spanish Colonial Revival style. It features an outdoor courtyard and numerous period details of the era. If you love wrought iron and Santa Barbara tiles, you must tour this museum.
After a few hours of strolling around the art museum and its grounds, enjoying the Old Masters and contemporary artists, I realize that I'm hungry. Instead of the standby, the San Antonio River Walk, I drive over to the Downtown Arts area–the King William Historic District.
I need some Tex-Mex to refill my tank, I just got back from a road trip to Canada and I'm running on empty. It's as vital to a Texan as gas is to our trucks and everyone knows the best place for Tex-Mex is San Antonio.
There are lots of places and I've been to most of them over the years but I want to try out a new place. I head over toTito's Mexican Restaurant (955 South Alamo Street), open breakfast to dinner, seven days a week, to try them out.
Tito'sis a locals place that has your classics–I order the Poblano Cream Enchiladas and a Titorita on the rocks to wash them down. The chicken in the enchiladas is tender and juicy, the sauce is creamy yet earthy thanks to the poblanos. The Titorita, house margarita, is tart and tangy; hits the spot on a hot August afternoon.
Nothing satisfies a Texan like a good plate of Tex-Mex with a margarita but I need a little walk before I head over to my hotel. Since I live in a 90 year-old house, I have walk through the King William neighborhood that sits behind Tito's to wander and admire the grand dames of another era.
King William Historic District, Texas' first historic district, is a 25-block residential area that was settled by prosperous German immigrants in the late 1800s. If you are a fan of old houses, this is the place to explore, it is full of Victorians of every shape and variety.
I happily walk up and down the streets then I walk along theSan Antonio River Walkthat runs along theKing William Historic District. This is quiet residential neighborhood and I pass residents sitting on their porches.
It is about time to check in to my room at theHilton Palacio del Rio,originally opened in 1968 for the World's Fair. It's a bit of a construction marvel because the 500-room, 21-story hotel was built with modular rooms that had the plumbing, lighting and even the furnishings set when they were hoisted in place with a crane.
TheHilton Palacio del Riois centrally located on the San Antonio River Walk and is across the street from the Convention Center and Hemisphere Plaza. The hotel has been completely renovated and it has every amenity you would expect from a four and a half star property.
I slide my key card and then open my door slowly, it's my favorite part of staying at hotels. I take a moment and enjoy the view of my perfectly-made hotel bed.
I set my stuff down and think,what now?I guess I could do to a bar and get a cocktail, but why? I really just want to sit in the chair and read my fluffy fiction while I relax in the most decadent way possible at this moment.
But I do want something, like a Chai Latte from the Starbuck's in the lobby. So I grab the purse and head downstairs. When I return I takemy book outside on my balcony to enjoy the city lights and read.
The view from my bed is amazing, I have the Tower of the Americas right outside so I opt to keep the drapes open so I can see it if I wake up in the night.
It's incredibly luxurious to sleep until you decide to get up for me. It happens so rarely in my life I love to savor every moment. But eventually the Starbuck's downstairs calls me and I must obey.
After my Chai Latte, I notice that I'm hungry. I decide to walk the six blocks back to the King William neighborhood for a little brunch atMadhatter's Tea House and Cafe(320 Beauregard Street), open for Sunday Brunch from 9 a.m. to 3 p.m. This is an easy 15-minute walk through the deserted Sunday morning streets.
Madhatter'sis a San Antonio institution, they have been hosting bridal and baby showers for as long as I can remember. I get there early because I know there will be a crowd if I wait. I order the Honey Ham Eggs Benedict with a Mimosa to go with it because I'm at Sunday Brunch and it's a celebration.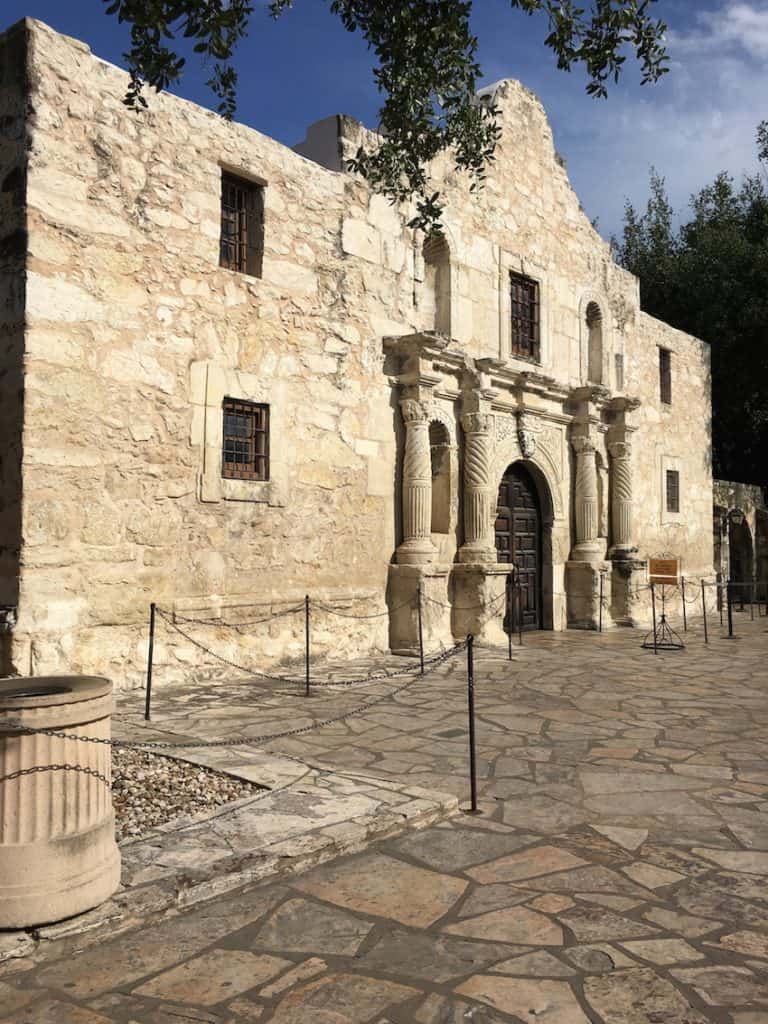 Both are great and hit the spot but the crowd seems to be thickening and it's time to move on. It's San Antonio so I decide to check in on the Alamo. I love the Alamo and I have to walk by every time I visit San Antonio.
I walk along the River Walk as I make my way back to my hotel enjoying the sights and sounds of this favorite river. I never get enough of the San Antonio River Walk.
When I get back to my hotel, I request a late check-out because I don't want my MOMcation to end. The Carful of Kids have to be picked up from Grandma's house and those school supplies aren't labeling themselves.