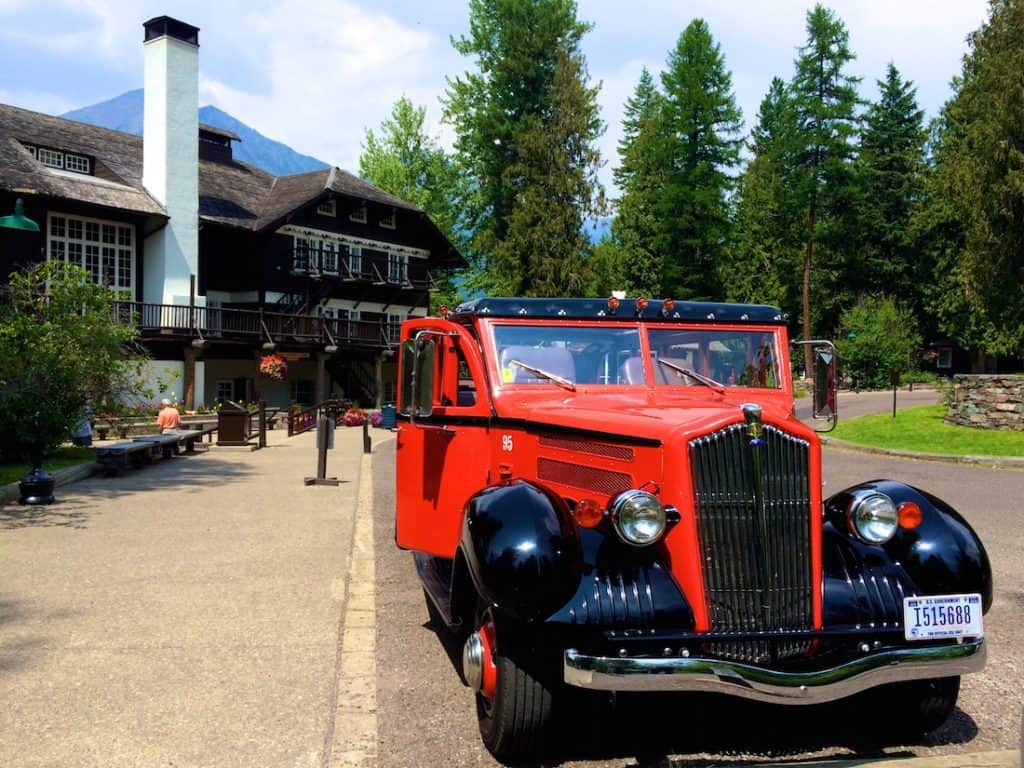 Glacier National Park, known as the Crown of the Continent, offers one million acres to reconnect as a family in Northwestern Montana. Nestled in the Rocky Mountains, visitors relax in mountain chalets after hiking through the backcountry, rich with wildlife. Take a vintage red bus or a restored wooden boat to tour a park known for its ecological diversity. For the horse-lover, saddle up at one of three corrals in Glacier National Park.
What Makes Glacier Spectacular
Glacier National Park sits at a convergence of the Rocky Mountain, the Pacific Northwest and the prairie ecosystems, each bringing their specific species. From the Triple Divide Peak rain flows into the Pacific Ocean, the Hudson Bay or the Gulf of Mexico, depending on the side of the mountain it falls.
The park owes its rugged landscape to the glaciers that cleaved its mountaintops then gouged its valleys thousands of years ago. Today, the majestic pointed spires rise up from the alpine meadows painted with summertime wildflowers. Glacier National Park features 25 glaciers, take a hike to see one up close.
History of Glacier National Park
The Great Northern Rail Road (GNRR) completed their line near present-day Glacier National Park in 1891, connecting Minneapolis, Minnesota, to Seattle, Washington. The Great Northern wanted to increase tourist travel to the area and planned a string of luxurious lodges.
Great Northern lobbied extensively for the protection of the area and Glacier National Park was established in 1910, after Yellowstone and Yosemite national parks. Later in 1910, GNRR opened their first Glacier property, Belton Chalet, in the present-day town of West Glacier.
An International Peace Park
Canada's Waterton Lakes National Park was created in 1895, just north of Glacier National Park. In 1932 the world's firstInternational Peace Park was created after the two national parks joined at the international border.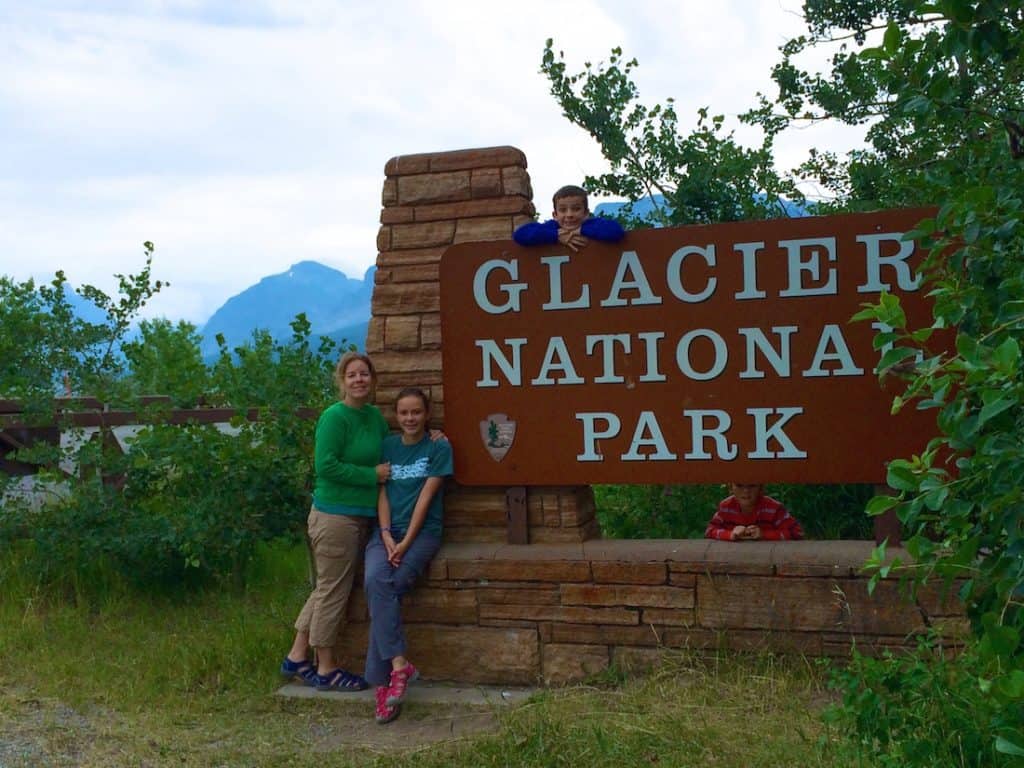 In 1995, Waterton-Glacier International Peace Park was designated a UNESCO World Heritage Site for its unique landscape. Waterton-Glacier International Peace Park features its own seasonal border crossing. Located along the Chief Mountain Highway and open from Memorial Day to Labor Day from 7 a.m. to 10 p.m.
When to Visit Glacier National Park
The park is open year-round though the Going-to-the-Sun Road that bisects the park remains closed until late June most years because of the snowpack. Since it's closed from Lake McDonald Lodge to St. Mary, I suggest visiting Glacier no earlier than late June.
Tours, lodging and activities begin in June too. If trying to avoid crowds, consider visiting Glacier in September before the snow falls and the seasonal lodging closes.
Family Fun at Glacier National Park
Glacier National Park provides several concessionaires that offer activities like guided boat tours, guided horseback rides and vintage bus tours. Glide across the glassy waters on several of Glacier's lakes. The Glacier Park Boat Company has been ferrying passengers since 1938. Tours are available at Lake McDonald, Saint Mary Lake, Swiftcurrent Lake and Two Medicine Lake, reservations are recommended.
We took a 1-hour boat tour along the glassy waters of Lake McDonald. Narrated by a park ranger, our tour fulfilled the Junior Ranger program requirement. The tour provided a relaxing way to see Glacier National Park from the water. I highly recommend it for families though make reservations in advance. Tickets are$18.25 for adults, $9.25 for kids 4 to 12, and free for lap children under 4.
Red Bus Tours offer another way to explore the park. With 33 vintage red tour buses from the 1930s, see all the sights with an informative guide. I found several tours to choose from and several departure points.
For kids, 7-years-old and older, Glacier National Park offers guided trail rides from the horse corrals at Many Glacier, Lake McDonald and Apgar.
Things to do Glacier National Park with Kids
Glacier National Park offers a Junior Ranger program for families to learn more about the park. To earn the collectible badge and certificate, complete a booklet filled with age-based activities and attend one ranger program. Kids love to touch and feel. During the summer, park rangers open up the Discovery Cabin located near Apgar Visitor Center. Kids can touch their way through a frontier mountain cabin.
I found several hikes for families.
Trail of the Cedars, a 1.7-mile accessible hike
Apgar Bike Path, a 1.5-mile paved path
Sunrift Gorge, a 200-foot walk with a 40-foot gain
Redrock Falls, a 1.8-mile hike with a 100-foot gain
Baring Falls, a .3-mile hike with a 250-foot gain
St. Mary's Falls, a .8-mile hike with a 260-foot loss
Lodging in Glacier National Park
I always recommend staying in the national park properties to extend the park experience.I reserved a room at the Swiftcurrent Motor Inn and Cabins. Located through the Many Glacier Entrance on the eastern edge of Glacier National Park, it offers a restaurant, coin-operated laundry and fully stocked camp store.
Swiftcurrent Motor Inn features a relaxed atmosphere that fits the needs of families. At the main building, we enjoyed a pizza at the Swiftcurrent Restaurant. We returned for breakfast of family favorites and a separate kids' menu. The Swiftcurrent Restaurant is open 6:30 a.m. to 10 p.m. from early June to mid-September, along with the lodging.
An easy commute from the Going-to-the-Sun Road, Many Glacier's lodging is more secluded compared to the other lodges. The Many Glacier Hotel offers rustic elegance perched on the edge of Swiftcurrent Lake in an historic Swiss-inspired property.
Where to Go for More Information
For in-depth information, I suggest Moon Travel Guide's Glacier National Park by Becky Lomax. I found her guide packed with information and entertaining with honest, usable tips.
What I liked:
Best times to visit
One week itinerary
List for fun activities with kids
Best spots for animal sightings, like grizzlies or wolves.
Where to see glaciers and other geologic features of Glacier.
Can you explore Glacier National Park in one day. Sure, check out how to plan your day.
Where's Glacier National Park
In the northwest corner of Montana, Glacier National Park lies 275 miles northeast of Spokane, Washington. Due to its remote location, I suggest exploring it by car.
To reach by air, use the Glacier Park International Airport, near Kalispell, Montana, about 30 miles away. Though Missoula International Airport or Great Falls International Airport offer more air carriers,each about 150 miles away.
Amtrak services Glacier on both sides of the park. The Glacier Park Express offers shuttle service from the train depot through the western entrance to Apgar Visitor Center.
Details for Glacier National Park
Glacier National Park is open 365-days a year and 24-hours a day. Use an America the Beautiful annual pass ($80) or other annual pass. Purchase a 7-day pass for $25 per vehicle for a 7-day summer pass (May 1 until October 31) or $20 per vehicle for a 7-day winter pass.
Glacier National Park offers two main entrances. The west entrance near Apgar Visitor Center and the east entrance near the Saint Mary Visitor Center offer lots of travel services.
Drive the seasonal Going-to-the-Sun Road to bisect Glacier National Park. It opens in late June or early July depending on the winter's snowfall. Many Glacier Entrance and Two Medicine Entrance offer park ranger stations, campgrounds and picnic areas.
Note about Bear Safety:
Two types of bears live in Glacier National Park, black bears and Grizzly bears. Since each species uses different behavior to communicate, knowing the difference is important.
I suggest attending a ranger program to learn more about bears in Glacier National Park. I did and my boys loved the bear program and I felt more confident afterwards.
Park Rangers offer some guidelines to reduce bear encounters:
Hike in groups of 4 or more.
Keep a clean campsite.
Make noise while hiking by wearing bear bells and talking.
Carry bear spray. Keep it accessible when you hiking and know how to use it.
Know Before You Go
Make reservations as early as possible.
Lodging reservations are available 13 months in advance.
Visit popular spots early or late in the day since parking is limited.
Don't feed wild animals and give them space. The NPS recommends 25 yards between you and most animals and 100 yards for bears.
Bring food and refillable water bottles for your visit.
Dress in layers and carry a rain jacket, even in the summer.
Most parks allow adults to complete the NPS Junior Ranger booklets for the same badge or patch.
The cell coverage limited to Apgar and Saint Mary Visitor Centers and the Lake McDonald Lodge.
No Wi-Fi in Glacier National Park.
This is a sponsored post and I received the Moon Travel Guide's Glacier National Park book.