How do you plan last-minute trip to Walt Disney World? Funny you should ask, I had a couple of weeks to plan a trip for four. So how does a national parks, road-tripping Momplan a last minute Walt Disney World trip?
I lost my mind.
Taking a Disney trip requires planning. Really. For a moment I thought could wing it. Then my best friend, traveling companion and fellow Walt Disney World newbie talked some sense into me.
If we wing it, she said,we'll be walking around, getting nowhere, wasting all our time in line. She was right. Her sister, a Walt Disney World veteran, had given her that advice.
Top Tips to Plan a Last Minute Walt Disney World Trip
Buy the book. I bought the one with the most pages, The Unofficial Guide to Walt Disney World 2018.
Then I read it cover-to-cover, my friends. Is it boring? You bet, but I still read the book. Don't skip the book!
Then take the book. The thick, heavy book lived in my backpack. Hard to believe but I thumbed through the book A LOT in the parks. I checked to see how scary a ride was for my youngest. I checked to see if a ride was worth the wait. The book was right.
I made a touring plan with the help of The Unofficial Guide to Walt Disney World 2018 and I stuck to it. A plan helped to keep my group on schedule and use our time wisely.
Stay at a Disney Resort.The Orlando Airport is not next to Walt Disney World. I mean that would be great! Nope, it's a $70 taxi ride away so I wanted to stay at a Walt Disney World resort because of the complimentary Magical Express.
Load up on snacks, like protein bars, nuts and fruit leather, and stashed them in the backpack. Each of us had a water bottle so we didn't sip on soda in the parks. The food at Disney is expensive and so-so at best, except for a few signature items like the Dole Whip.
I ate kids meals. I'm not proud. Pro tip: Have the kids hold a table so no one asks how many kids you have.
I stopped by the Dollar Store and loaded up on glow sticks, autograph books and Disney tattoos. I threw this stuff in their cinch sacks with a couple of sharpies.
A note about dining reservations. I skipped this because my boys aren't into food and Disney characters. They would rather ride rides. So if you are planning a last minute trip, don't sweat the dining reservations and eat at quick service instead.
What to do when Your Favorite Resort is Booked
I didn't have a lot of time to plan my April trip, about a month. So the value-priced rooms disappeared before I could snag one for the Saturday night of our five-day, four-night trip to Walt Disney World.
To make it work, I ended up with reservations at three different resorts. No biggie, I'll just transfer resorts. I'll make it work. I'm a family travel writer, it's just part of the job. That and I didn't have a choice.
So I learned a lot from my three-resort tour of Walt Disney World. My trip was part of a work conference so a couple of rooms were booked at a Walt Disney World deluxe resort. Since I arrived early to explore the parks, I booked a room at a value resort. Then the least-expensive room I could find for a Saturday night was a moderate resort.
I had my freak out moment when I couldn't find a room for under $600 for a few weeks. And I wasn't going to spend that on a family trip. If I'm spending that kind of money on a room, my lovely children will be at Grandma's. But maybe, that's just me.
By stalking the Walt Disney World website, sometimes more rooms come available about 4 weeks out. Don't count on this feature but check daily for resort availability. If a room does come available, grab it and don't wait. You can always cancel.
Walt Disney World will transfer your luggage for free from one Walt Disney World resort to another Walt Disney World resort. I found this out by asking my pals and Disney experts at TravelingMom.com.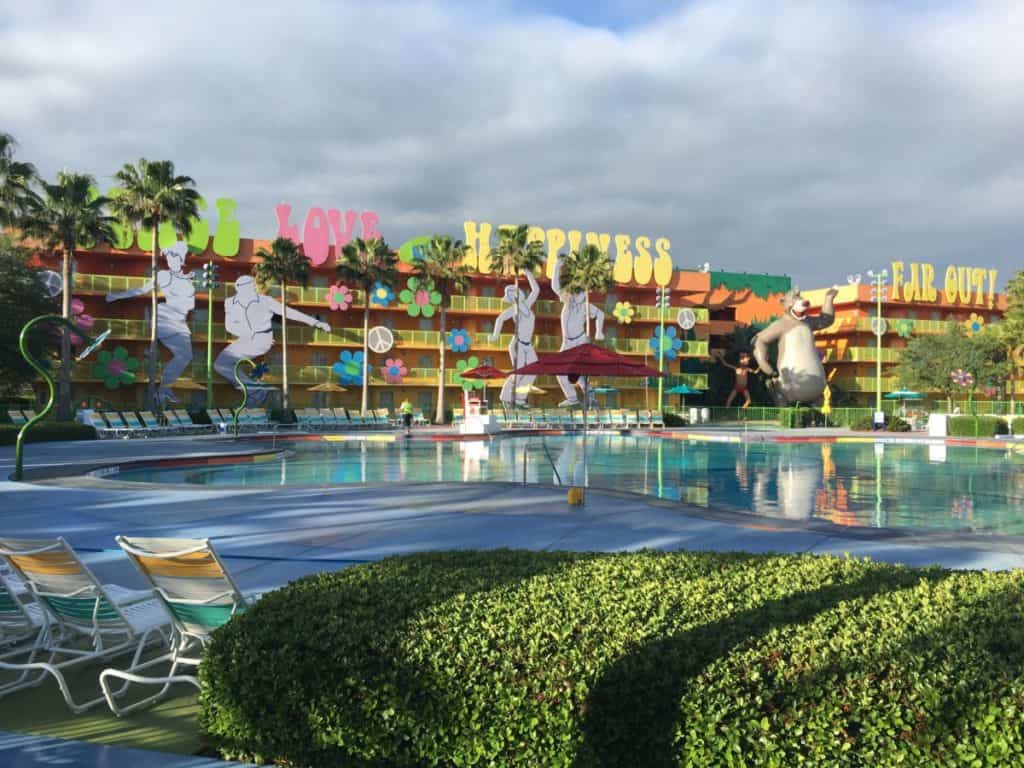 The Pop Century Resort is a value resort ($-$$) 1.7 miles away from Hollywood Studios. It features four areas named after decades of the 20thcentury with a total of 2,880 rooms along the shores of Hour Glass Lake and cross from the Art of Animation Resort.
The Pop Century Resort is fun. The buildings exude energy and draw me through the resort. From the four-story tall bowling pins and the ginormous 60s flowers pasted to the sides of the candy-colored buildings, this place is a hit with the young at heart.
Hits of the Pop Century Resort
Over the top theme that kids love
Nice pool
Great option if you plan on spending all your time in the parks.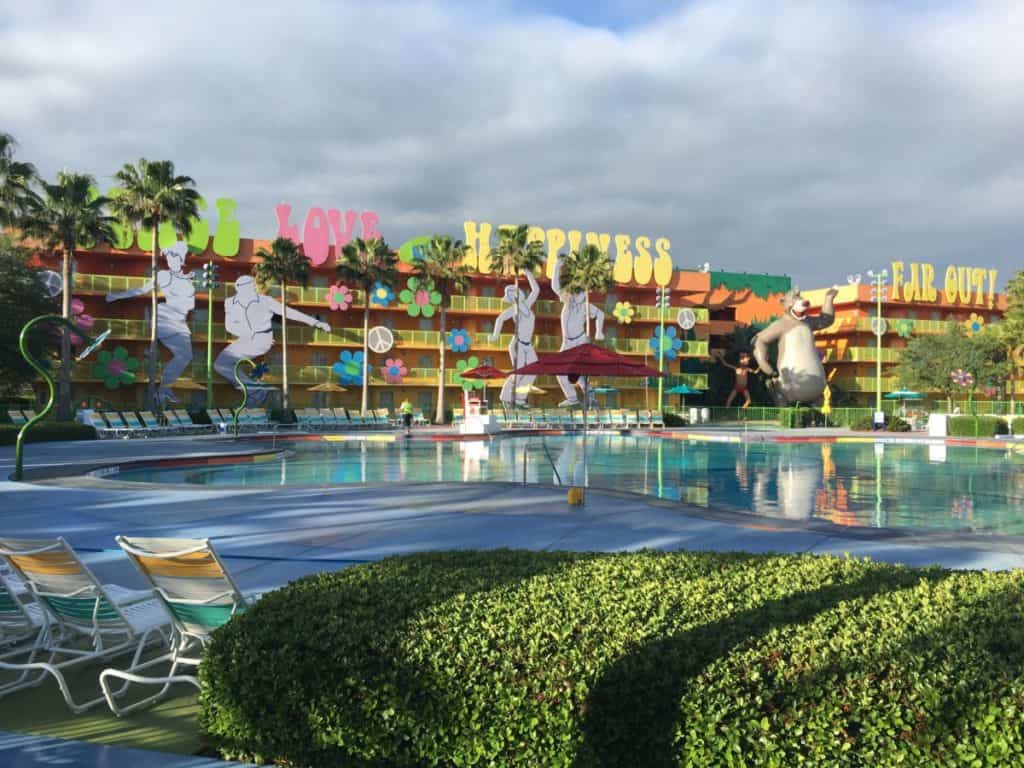 Misses of the Pop Century Resort
Farther away from parks but closer than off-property lodging
Limited activities for kids, no fishing or pirate cruises
Limited to quick-service dining
No character breakfasts
No in-room coffee maker
Small rooms and skimpy linens
The Caribbean Beach Resort is a moderate resort ($$-$$$) 4.1 miles from Epcot. An expansive property that includes seven villages with a total of 2,112 rooms along the shores of the 45-acre Barefoot Bay.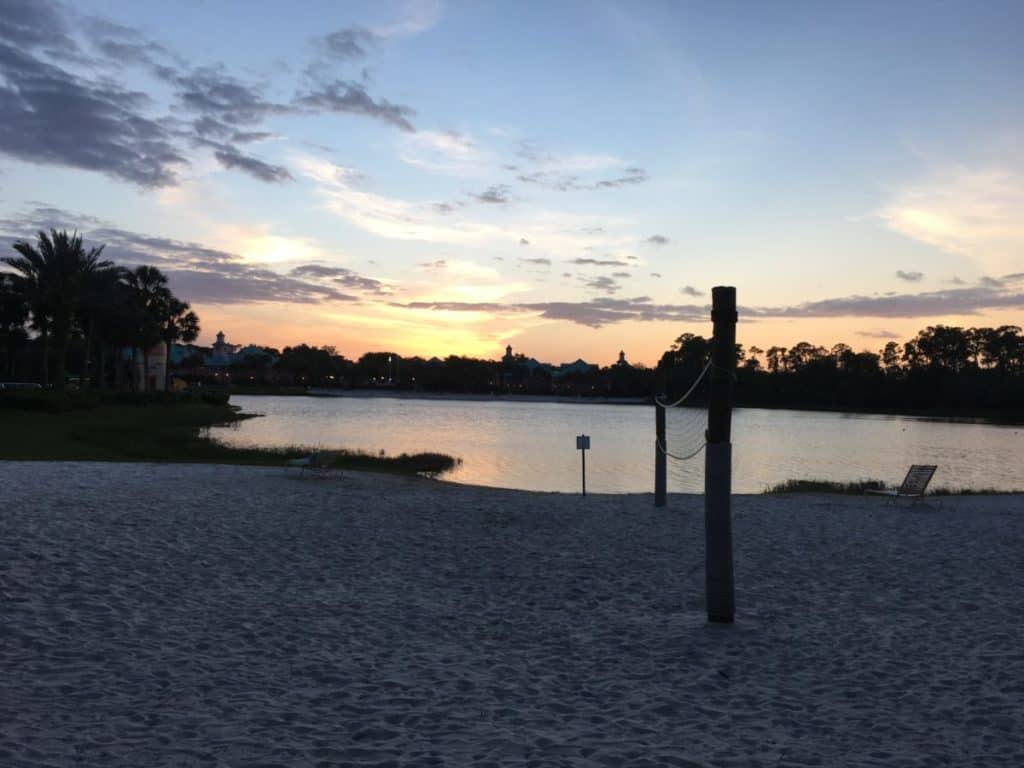 The Caribbean Beach Resort evokes the calm and serenity of a beach vacation yet includes a resort-style pool that's sure to excite the kids. With its expansive grounds and lush, tropical landscaping, the Caribbean Beach Resort never felt crowded.
Hits of the Caribbean Beach Resort:
The Fuentes del Morro pool is one of the best of the Walt Disney World resorts.
Lots of activities for the kids, like fishing excursions and pirate cruises
Larger rooms with more amenities, nice if you'll be spending more time in the room
More dining options, quick-service and casual dining
A pool in every village
White-sand beaches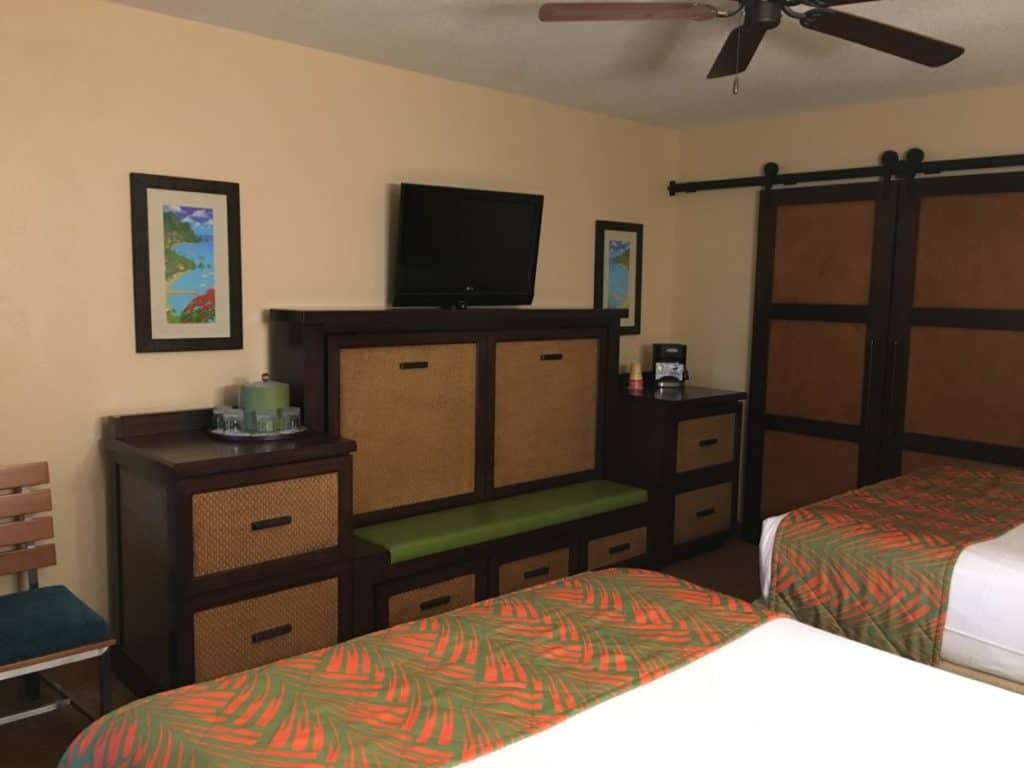 Misses of the Caribbean Beach Resort:
Huge resort that requires its own bus to get around
No character breakfasts
No private patios or balconies
A motel feeling, I entered my room from an outside corridor.
The Grand Floridian Resort and Spa ($$$$$+) is the Walt Disney World's flagship resort located on 40-acres next to the Seven Seas Lagoon. Built to resemble a grand Victorian seaside resort of the late 19thCentury, it features 867 guest rooms across the main building and five additional buildings. Next to the lagoon is a pool, a white sand beach, a marina and a view of Cinderella's Castle in Magic Kingdom.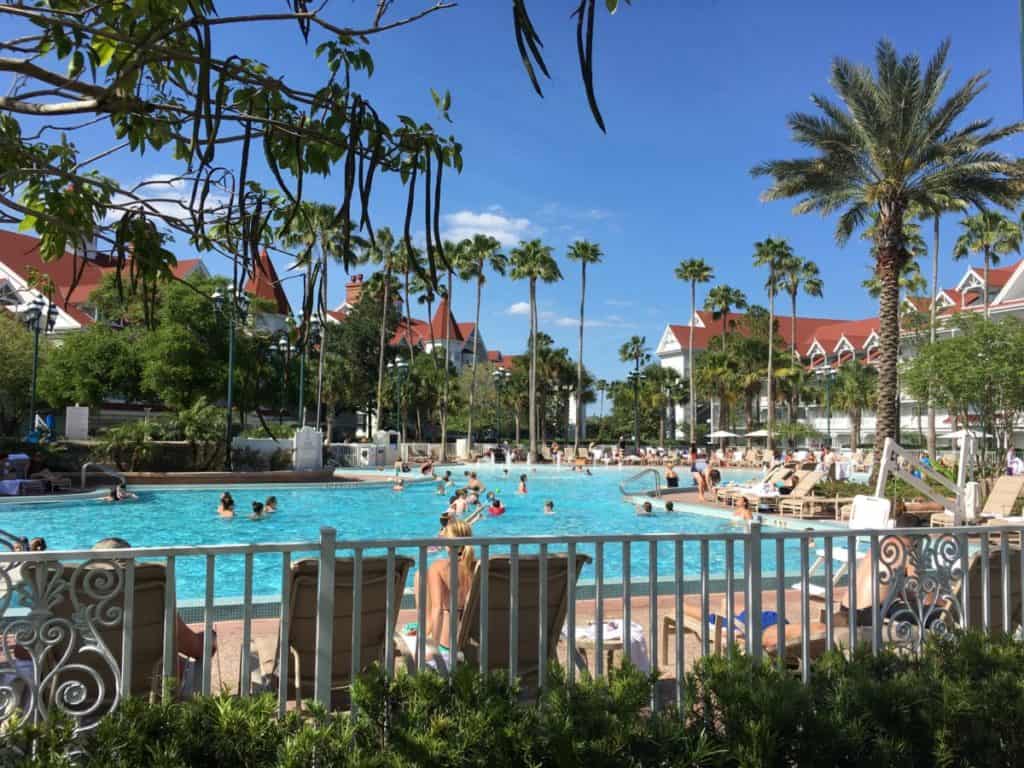 The Grand Floridian Resort and Spa offers a grand experience for families who yearn for the convenience a Walt Disney World Resort and want a refined environment to decompress from the energy of the parks. Walking into the Grand Floridian lobby is sensory experience, the architecture is as impressive as the 3-foot tall flower arrangements that greet me. The service is refined yet welcoming.
Hits of the Grand Floridian Resort
Beautiful accommodations
Lots of dining options including quick service, casual dining and fine dining.
Character meals
Lobby entertainment
The most transportation options to get to the parks—bus, monorail or ferry
The highest level of service of the Walt Disney World resorts
One of the best spas in Orlando
Misses of the Grand Floridian Resort
Nice pool but not my kid's favorite
My kids were immune to their luxurious surroundings and wanted to spend all their time in the parks.
Beautiful property but off-site luxury resorts give you more for less
Note about transferring resorts during your stay:
I had to change resorts three times during my five-day/four-night stay at Walt Disney World and they will transfer your bags free-of-cost. I preferred to pack up our bags and roll them down to bell services that transferred them in the afternoon, usually between 3 p.m. and 5 p.m.
If I wanted a bell hop to grab my bags from my room I would have to stay with my bags until the bell hop arrived. I found this inconvenient since we wanted to get to the parks as early as possible.
The process was fairly easy and I had only one small incident. One of our bags had a tag on it stating it was left on the transportation bus. Nothing was missing.
Looking for more reviews and information?
I've also stayed at the Art of Animation Resort,the Coronado Springs Resort, and the Animal Kingdom Lodge.
Looking for off-property resorts, I've stayed at the Wyndham's Lake Buena Vista, the Best Western Lake Buena Vista and the Mystic Dunes Resort and Golf Club.
Disclosure
Some of the rooms were hosted.
This post contains affiliate links.
Know before you go:
By checking frequently for cancellations, I found a room on a booked Saturday night about 3 to 4 weeks before my scheduled arrival.
Make reservations as soon as possible, even for slower months, if you're visiting during a weekend.
If you are transferring resorts during your stay, pack light. One rolling bag per adult. One rolling bag for every couple of kids. Backpack for the adults and cinch sacks for the kids.
Missed all the dining reservations? Skip it. There's plenty of quick-service places to eat. My kids don't miss the experience and just wanted to ride the rides.
Pack refillable water bottles and skip the soda. Take protein or granola bars for snacks while in line or on the bus.
Bring running shoes for the park. No flip-flops, sandals or hiking sandals; they all killed my feet.