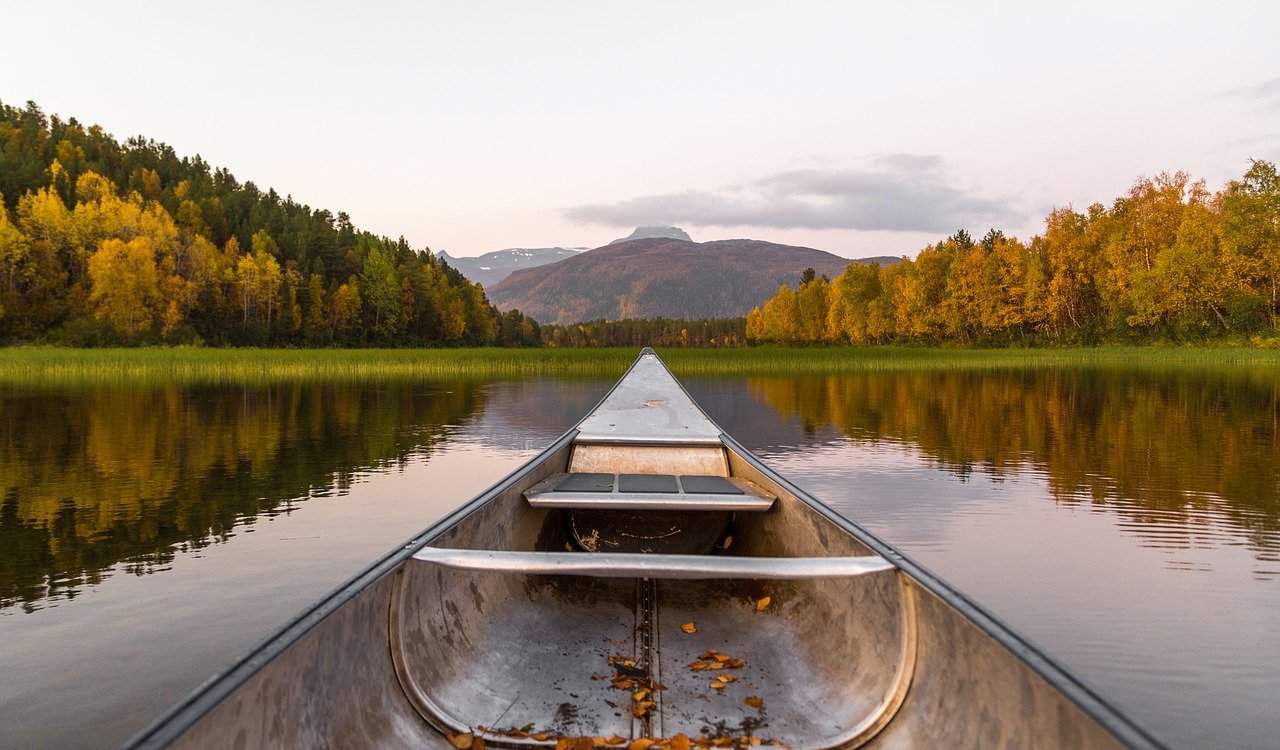 Located in central Kentucky, Mammoth Cave National Park is a UNESCO World Heritage Site and an International Biosphere Reserve. With over 400 miles of charted passageways, it is longest known cave in the world. Visitors can get a taste of the cave with a  self-guided 30-minute tour. For those wanting more, it offers more tours, including an on off-trail tour. Visitors will find lots of activities above the ground, like canoeing, hiking and horseback riding too.  Here are the top things to do at Mammoth Cave National Park in Kentucky. 
At a Glance
Year Established: 1941
Located: Central Kentucky
Size: Below: over 400 miles of surveyed passageways Above: 53,000 acres
Top Features: Cave Tours and the Green River

 
Top Things to do at Mammoth Cave National Park
Stop by the Visitor Center
Take a Cave Tour
Hike over Mammoth Cave
Take a Horseback Ride
Mammoth Cave National Park protects 53,000 acres above the caves and the Green River divides the park. The visitor center and cave tours are on the south side of the Green River. Visitors can take a ferry to reach the north side of the river. This area offers backcountry hiking, horseback riding along with a campground. 
Mammoth Cave Visitor Center
Close to the historic entrance, the Mammoth Cave Visitor Center houses the cave tour ticket counter and is the departure point for all cave tours. Vistors will find an interpretive area and gift shop along with restrooms.
Located at 1 Mammoth Cave Parkway. Open daily from 9 a.m. to 5 p.m. with slight seasonal variations.
Mammoth Cave Tours
The most popular tours are the self-guided tours though find special interest tours covering geology and off-trail tours. Reservations are highly recommended and get the latest details at NPS.gov.
Discovery Tour
A taste of the cave at your own pace. Enter through the Historic Entrance and only offered during the summer season.
Takes about 30 minutes, depending on your pace. Travels .75 miles (1.2 km) Adult admission is $8 and youth tickets  are $6. 
Historic Tour
Get more history of the cave on this tour.
This tour take 2 hours and climbs over 500 steps, including Mammoth Dome. Adult admission is $20 and youth tickets are $15.
Cleaveland Avenue Tour
This tour focuses on the cave's geology and history. Tour lasts 2.5 hours and travels 2 miles (3.3 km) and includes 400 steps. Adult admission is $22 and youth tickets are $16.
Mammoth Cave Access Tour
Using the elevator, this tour visits the Snowball Room and Cleavland Avenue. No steps or stairs on this tour so ideal for those with mobility issues. Tours lasts 2 hours and travel .5 miles (.8 km). Adult admission is $22 and youth tickets are $16.
Introduction to Caving Tour
Crawl on your belly, wild cave tour. Learn how to explore underground from an experienced ranger. Size and shoe requirements. This tours is 3+ hours and considered strenuous. Adult admission is $35 and youth tickets are $28. 
Read More
Hiking in Mammoth Cave National Park
Find 7.2 miles of hiking trails around the visitor center. Most trails are short. The Echo River Springs Loop Trail is 1-mile (1.6 km).
The South Park offers offers 11 miles of forested trails, including the Mammoth Cave Railroad Hike and Bike Trail, a 9-mile multi-use trail.
Biking in Mammoth Cave National Park
Off-road bike trails
Mammoth Cave Railroad Hike and Bike Trail—In the 1880s, the Mammoth Cave Railroad brought visitors to the park and it was used until the 1930s. The railroad route was converted into a 9-mile (14.4 km) multi-use trail.
Big Hollow Trail—A 9.1-mile (14.5 km) trail divided into two loops.
Road Biking
Biking is permitted on vehicular roads in Mammoth Cave National Park. Mammoth Cave is part of the U.S. Bike Route System (USBRS) connecting urban and rural areas. 
The USBR 76, the TransAmerica Bike Trail, runs from coast-to-coast and offers a scenic spur into Mammoth Cave. 
The Cave Country Bike Route, USBR 23, is also runs in the park from the Tennessee border. 
Canoeing and Kayaking in Mammoth Cave National Park
Consider spending some time on the rivers of Mammoth Cave National Park. The Green River and the Nolin River flow through the park. 
Find an authorized outfitter  for rental boats and float trips. The float trips are Class I trips, suitable for families. Trips range from a few hours to all day. Rates are based on boat and operate from April until October, depending on the weather. 
Read More
Horseback Riding in Mammoth Caves National Park
Guided horseback riding is available inside the park. Mammoth Caves National Park offers over 85 miles (136.7 km) horseback riding trails. Rides start at $25 an hour, with one-hour, one-and-a-half hour and two-hours guided trips available. 
Riders must be 6-years-old and weight less than 250 pounds (113 kg). Reservations required. 
Double J Stables is located at 542 Lincoln School Road, next to the park with access to the trailhead. Open daily from March 1st until Labor Day and Fridays, Saturdays and Sundays only from Labor Day until November 1st. 
You can bring your horses to Mammoth Cave National Park. Equestrian camping is available at the Maple Springs Group Campground with restrictions. 
Wildlife Viewing
Mammoth Cave National Park is home to 70 endangered animals. Find species like the Pygmy Shrew, white-tail deer and bats are found in the cave itself. 
Chipmunks, squirrels, raccoons are frequently spotted in the park by visitors. Bobcats, weasels and beavers are also seen. Though  species are most active at night. 
Night Sky Viewing
Enjoy the dark skies at Mammoth Cave National Park. Check at the Visitor Center to see if a Ranger Night Sky program is scheduled during your visit.  Evening programs are offered on Saturday and Sunday nights during the year and more frequently during the summer. 
Kids at Mammoth Cave
The Junior Ranger Program is the go-to program for families to learn more about a National Park Service site. Buy a booklet the park bookstore for $2.00 and takes about two hours to complete. My kids love the badges that the Rangers present them after completing their booklet.
Read More
Where to Eat at Mammoth Cave
Located next to the Visitor Center, find a couple of options. 
The Spelunker's Cafe—Open for breakfast and lunch with grab and go options, like greek yogurt parfaits, and quick service options, like breakfast sandwiches. Also find hamburgers along with fountain and coffee drinks. Hand-dipped ice cream along with baked goods are also available. 
The Green River Grill—With a dinner menu featuring local favorites, enjoy a regional and locally sourced ingredients. 
Picnicking in Mammoth Cave
Find several developed picnic areas in the park. 
Mammoth Cave Picnic Area—The largest, located next to the Visitor Center, and includes two picnic shelters available for rent.
Echo River Spring Trailhead Area
Maple Springs Day Use Area
Houchin Ferry Picnic Area
Dennison Ferry Day Use Area
Sloans Crossing Pond Picnic Area
Where to Stay in Mammoth Cave
The Lodge at Mammoth Cave 
With modern rooms along with historic cottages, find a selection of lodging inside the park.
Sunset Terrace—Connected rooms in a separate building featuring two queen beds along with a mini-refrigerator, coffee maker and a TV and Wifi. This room features air-conditioning. 
Heritage Trail Rooms—Located inside the Lodge, these rooms are ADA accessible  with a mini-refrigerator, coffee maker and a TV and Wifi. This room features air-conditioning.
Historic Cottages—Free-standing cottages with one bed suitable for one or two guests. These rooms feature a mini-refrigerator, coffee maker and air conditioning. No TV or Wifi available. 
Woodland Cottages—The most rustic option since each don't offer heat, a/c, TV or Wifi. Though find a mini-refrigerator and a coffeemaker. Find cottages from one, two, three and four bedrooms options. 
Camping in Mammoth Cave
Mammoth Cave Campground
Open from March 1 to November 30
Reservations recommended
111 sites

 

Dump station
Laundry
Potable water with flush toilets and hot showers

 
Houchin Ferry Campground
Reservations required

 

12 sites, tent only sites
Potable water with portable toilets

 
Read More
History of Mammoth Cave
Created on July 1, 1941, Mammoth Cave National Park became a UNESCO World Heritage Site on October 27, 1981. The park became a International Biosphere Reserve on September 26, 1990, signifying its importance to the world. 
The People of Mammoth Cave
Caves offer shelter so evidence of human exploration dates back 12,000 years.
Native American History
Around 1200 BCE, mineral mining began in Mammoth Caves, primarily gypsum. During this period, archelogists found artifacts like torches, petroglyphs and pictographs.  
The seven modern nations of the Southeast Woodlands are consulted when additional artifacts are found. They are the Cherokee Nation, the Eastern Band of Cherokee Indians, United Keetoowah Band of Cherokee, the Shawnee People, Eastern Shawnee of Oklahoma, the Absentee Shawnee and the Chickasaw Nation. 
African American History
Mining continued into the 18th century in which ingredients for gunpowder were harvested from Mammoth Cave. After the Civil War, several men explored the cave further and went on to be local guides as interest in the cave grew. 
Stephen Bishop  and brothers Mat Bransford and Nick Bransford developed routes through Mammoth Cave. The descendants of the brothers led tours until the cave became a national park. 
The Civilian Conservation Corps
Part of President Roosevelt's Works Progress Program, the Civilian Conservation Corps worked on conservation projects across the U.S. Young men between 18 and 25 worked on projects in the national parks, like trail building, infrastructure and planting trees. Each made $30 a month and $25 was spent home to their families. The men of the CCC lived in tents, received uniforms, three meals a day and skills training. 
At Mammoth Cave, four CCC camps developed the park, including Camp #1 where Bransford descendants worked with other men from across the country. During the CCC tenure, they built many of the buildings still in use today, as well as planted 1 million trees and constructed and improved 24 miles of trails inside the cave, like the Frozen Niagara entrance. 
Read More
Getting To Mammoth Caves National Park
It is open 24-hours a day and every day of the year. This is a fee-free park, though cave tours require admission. Mammoth Cave National Park is about 100 miles south from Louisville, Kentucky, and 10 miles from Cave City. 
The Green River Ferry operates within the park to reach the north side of Mammoth Caves National Park. Hours are 6 a.m. to 10 p.m. though can close to flooding and water levels.