Kids want to do anything crazy unusual. So take them to the place where the tide are the largest. Located along the Bay of Fundy in the Canadian Maritimes, kids can walk on the ocean floor then come back a few hours later see nothing but water. Read on for what to do at the Bay of Fundy with kids.
What to do at the Bay of Fundy with Kids
Historic Molly Kool Home—Experience a unique Maritimes tradition, a kitchen party. Where friends and family gather for music, food and good cheer. Held in the childhood home of the Maritime's first female sea captain.
Fundy Photo Safari—Head out with a photographer and your camera. Best suited for teens and older.
Swim with Salmon—See the return of the Atlantic Salmon in September.
Milky Way Madness—The Bay of Fundy is a Dark Sky Preserve so attend its night sky program where a guide will show you planets, nebulae, galaxies with a tracking telescope.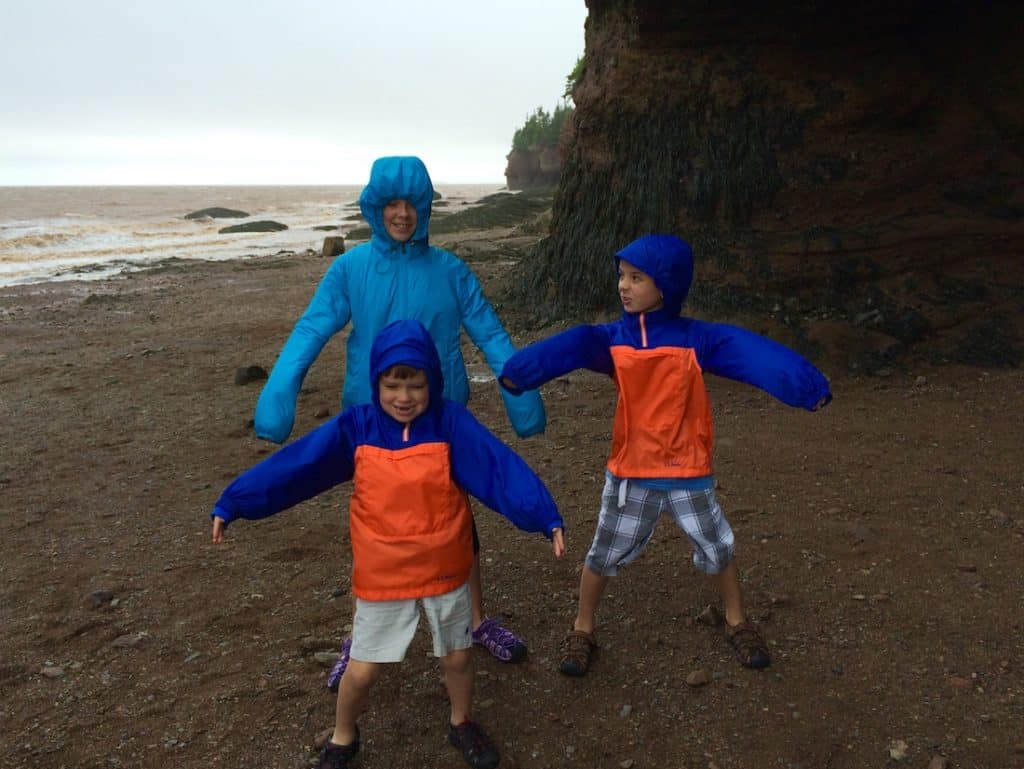 Beach Walk—A must for everyone, take a walk along the beach and the seafloor during low tide. See barnacles, rock crabs, whelks, limpets and periwinkles.
Red Chair—Find 12 different locations across the Bay of Fundy National Park to sit and savor a special view.
Golf and Tennis—Tee off at the 9-hole, par-70 golf course at the Bay of Fundy National Park. Enjoy a tennis match with the kids at the court in the park.
Yoga—Find your flow next to the Bay of Fundy with a yoga class offered seasonally.
Swimming at the Bay of Fundy
The bay's water is a tad too cold for swimming though the Bay of Fundy National Park offers more opportunities to swim.
Pool—Cannon ball into the heated saltwater pool near the park headquarters.
Lake swimming—Head to Bennett Lake or Wolfe Lake for swimming.
Hiking Trails for Families
The Bay of Fundy National Park offers 100 kilometers of hiking trails. For family-friendly trails, try one of the following.
Caribou Plain—2.1-km loop
MacLaren Pond–.5-km loop
Shiphaven—1.0-km roundtrip
Kids at Bay of Fundy
Similar to the National Park Service's Junior Ranger Programs in the U.S., Parks Canada offers the Xplorer Program. Kids receive a booklet at the visitor center to complete. It takes about an hour and kids receive a collectible dog-tag charm with the parks name imprinted on it.
Cabins and Camping at the Bay of Fundy
Parks Canada sites offer unique camping options and the Bay of Fundy features several options.
Rustic cabins—One-room structure with a pair of twin-sized bunk beds and a central wood-burning cooking and heating stove along with a table and two benches. Firewood is provided.
Yurts—Traditional round dwellings from Central Asia that include a bunk bed with a double and twin bunk along a propane heater and solar lights.
Goutte d'Ô-A round tear-drop structure keeping it cozy with just enough space for a sofa bed and a hammock above.
oTentiks—A-frame structures featuring sleeping for five or six, including a series of platform beds, along with a table and four chairs and a bench.
Find the permanent structures across four Bay of Fundy camprounds.
Cannontown–includes 30 camping spots
Chicinecto–includes 261 camping spots
Headquarters–154 camping spots
Point Wolfe—154 camping spots
Campgrounds feature sites with electricity and water, electricity, water and sewer, or no services. Find a central area with a bathhouse with showers, toilets and self-service laundry, and kitchen shelters. Most camping sites include a picnic table and a fire ring.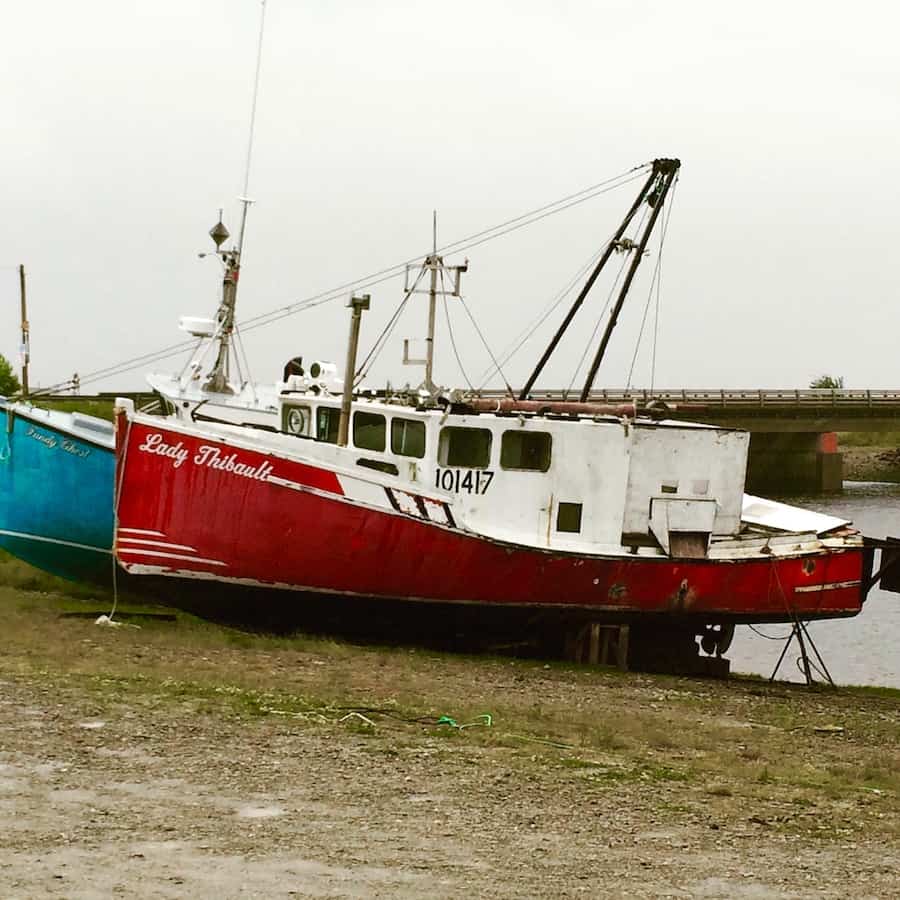 Lodging Near the Bay of Fundy
When we visited the Bay of Fundy National Park we originally planned to stay in an oTENTik. Though the Parks Canada Ranger called to tell us our reservation for the had been cancelled due to wind from Hurricane Arthur.
As a courtesy, the ranger had called the closest hotel for us to ensure we had an alternative place to stay. Then Parks Canada issued a full refund.
We found Parkland Village Inn,located at 8601 Main St. in the tiny town of Alma. Next to the Bay of Fundy National Park entrance, Alma offers a self-serve laundry, a fish and chips shack and a couple of souvenir shops.
The Parkland Village Inn along the shore of the Bay of Fundy features 15 rooms with views of the bay. Watch the fishing boats bob up-and-down with the tides from the windows at the neighboring Fisherman's Wharf.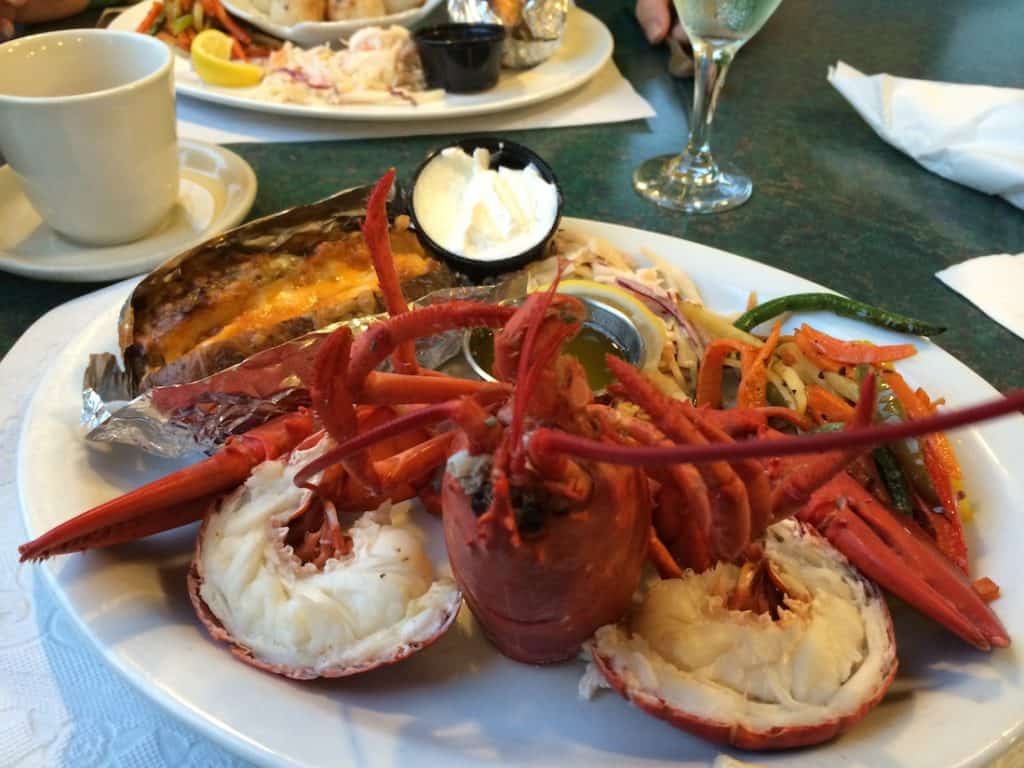 Where to Eat
When visiting the Canadian Maritimes, I recommend sampling seafood from across the region. In the Parkland Inn we dined at the Tides Restaurantserving up local seafood. During our visit we enjoyed a date night, leaving the kids upstairs with a babysitter-certified big sister, cartoons and some fish-and-chips.
We love seafood and that's what is on the menu. I ordered the local scallops and my chef-husband sampled the local lobster. Both were exceptionally fresh and satisfying.
The owners and staff of the Parkland made our evening most enjoyable. The weather was crummy but our view was lovely and we made the best of it and enjoyed lobster and scallops for an impromptu date night.
Hopewell Rocks
For the best place to walk on the ocean floor, head north of the Bay of Fundy National Park. Near the town of Moncton, find Hopewell Rocks, the home to the highest tides in the world according to theNational Oceanic and Atmospheric Administration (NOAA).
Hopewell Rocks, or The Rocks Provincial Park, is 27 miles east of the Bay of Fundy National Park. Before arriving take a look at the tidal charts to find low tide so the kids can walk on the ocean floor.
Since Hopewell Rocksis featured in a lot of educational programming. My carful of kids are very excited to visit.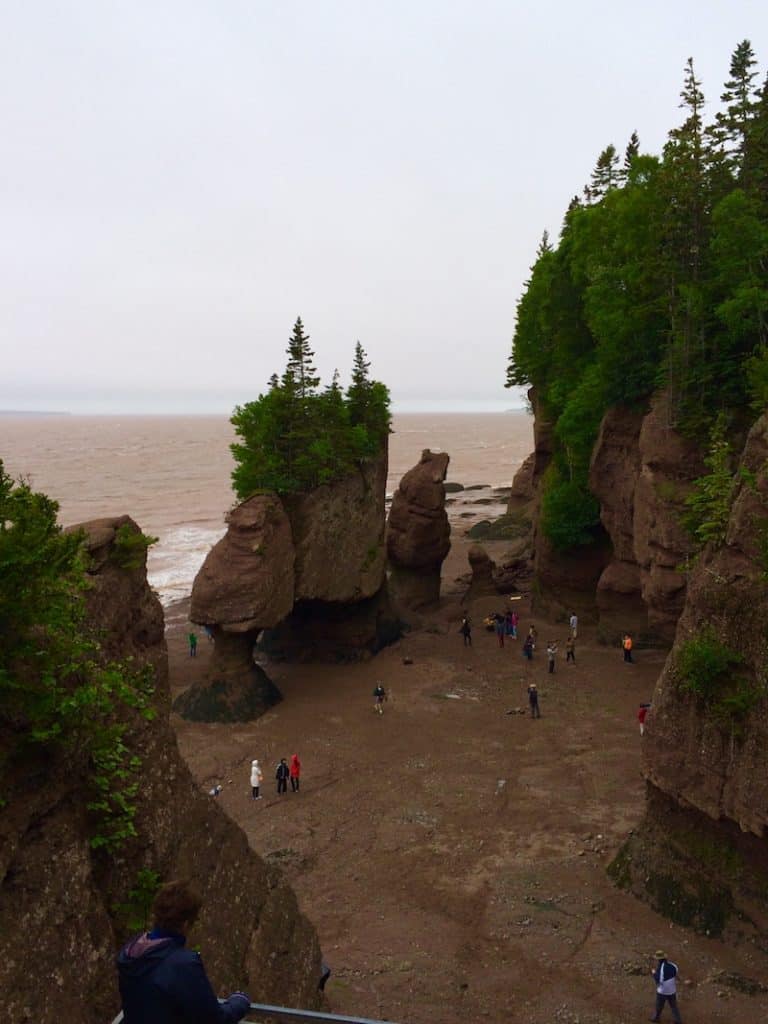 First stop by the Visitor Center to learn more about the tides. See how the marine life adapts to the changes in water level
You can walk to the beach area or take a shuttle bus ($2 each way). Or walk downhill, like us, and take the shuttle uphill.
Climb down a series of rugged industrial staircases and enjoy take in the view and snap a picture, especially if you're visiting during high tide.
We timed it correctly and the tide is completely out. During low tide the Bay of Fundy is about 50 feet lower than at high tide.
It's amazing. On the ocean floor we find plants, marine life and shells.
If the kids need a break, visit the High Tides Café at the Visitor Center or the Low Tides Café for snacks close to the beach.
Lyme Disease
The Black-legged tick is found throughout the Canadian Maritimes. To prevent Lyme Disease that the tick carries use the following precautions.
Wear light-colored clothing, including long pants and long-sleeved shirts.
Use insect repellant with DEET.
Stay on trails and avoid long grass and brush.
Take a shower shortly after hiking.
Put clothes in a hot dryer for 10 minutes to kill ticks.
Getting Around the Bay of Fundy Sites
Bay of Fundy National Park, near Alma, is open 365-days a year and 24-hours a day. Admission is $7.80 CAN for adults and in 2018 youths 17 and under enter for free.
Hopewell Rocks, near Moncton, is open from mid-May to mid-October every year from 8 p.m. to 5 p.m. During the summer it's open from 8 a.m. to 8 p.m. Admission is $10 CAN for adults, $8 CAN for students, $7.25 CAN for kids 5 to 12 and free for 4 and under.
Cruising?
Saint John is a popular cruise ship port-of-call, especially for Fall Color Cruises, like the one I took on Regent Seven Seas.
Know Before You Go
Check the tide times before you arrive.
Wear water shoes with good traction.
More Information
If you need more information I recommend the following maps and guide books.
Other Sites to Explore in Canada
During our road trip through the Canadian Maritimes, we explored the following.
Anne of Green Gables Heritage Place
Saint Croix Island International Historic Site
Ile d'Orléans near Quebec City
8 Things to Pack for Driving into Canada
Disclosure
This post contains affiliate links. And consideration for brands mentioned.
Our 2015 Trip
It was the Road Trip from not Heaven…
We got a car stolen in Montreal.
A few days later a hurricane hit.
Then the dog ran away.
But we persevered and continued on with our trip.
The carful of kids drove through sideways rain in the pitch dark of a moonless night to get to New Brunswick from Portland, Maine but we got here.
Destination: Bay of Fundy National Parkfor the crazy tides. We've wanted to visit for years and not letting a little inclement weather get in our way. Even if its name is Hurricane Arthur.
He came ashore across the Bay of Fundy at Meteghan, Nova Scotia. Knocking out power and blowing down trees.
Our hotel's power made it through the night but the roads flooded in spots. After checking the weather and calling the Bay of Fundy National Park, we load up and make our way to Alma.