Marina Fiesta Resort and Spa in the Heart of Cabo San Lucas
Overlooking the bustling marina with a combination of sailboats, mega yachts and clear-hulled panga boats, the Marina Fiesta Resort and Spa offers travelers a lot of amenities at an excellent price point. This three-diamond property is centrally located and steps from shopping and boating excursions along with restaurants and bars. With its three pools and seven restaurants, the Marina Resort and Spa offers an all-inclusive plan that makes vacation planning easy. An on-site spa along with boating excursions just steps away, this Cabo San Lucas resort blends relaxing with fun.
What Works at the Marina Fiesta Resort and Spa for Families
Central Location with lots of shopping and activities
Smaller Resort so amenities are close together
Kitchenettes in rooms
Full-Service Spa located on site
Lots of dining options
Read More
The Gatherings Area at the Marina Fiesta Resort and Spa
This family-friendly resort caters to all types of travelers, especially family groups. So it is not uncommon to see girlfriend getaways, weddings and family reunions.
The open-air lobby is a hub for activity with lots of seating. This is the gateway to the spa along with registration, the concierge and overlooks the main pool. Down a set of stairs from the main lobby, guests can enjoy the Amura Spa. 
The Main Pool offers a pair of whirlpools along with a shallow area that kids often play in. There is a sunning ledge in the main pool as well. Surrounding the pool, I saw lots of covered loungers some of which are covered. 
In another part of the resort, the adults-only pool offers a swim-up bar. The kids' area is tucked away and features a kids club, a splash pad along with a pirate-themed waterscape and a playscape with swings. There are even kid-sized loungers next to the adult-sized loungers. 
My Room at the Marina Fiesta Resort and Spa
Located overlooking the main pool, my room included a queen bed dressed with white linens and a memory foam-topped mattress. With a nautical theme, the room offers ample space for a couple and a small sofa along with a table with two chairs indoors. 
This room offers a small kitchenette with a microwave and a mini fridge, stocked with water, Coke and Diet Coke along with several Mexican beers. I enjoyed an all-inclusive plan through an a la carte option is available (European Plan). 
My balcony was well-sized and offered two comfortable chairs with a small table. This space was ideal for afternoon cocktails or sunning sessions. 
My bathroom offered a glass-enclosed shower with a toilet. This area was efficiently planned so no room was wasted. 
Outside of the shower area, I had a small vanity with a white porcelain vessel sink. Along with the well-lit main mirror, I had a small make-up mirror to use. 
Opposite the sink, the reach-in closet offered a luggage rack along with a robe and slippers plus an iron and board. This space also featured an in-room safe that accommodated my large laptop. 
Read More
Dining at the Marina Fiesta Resort and Spa
On the boardwalk next to the water, the Marina Fiesta Resort and Spa offers several of its restaurants in an area called the Golden Zone. Most are open for lunch and dinner though reservations are required for dinner. 
La Palapa Restaurant Bar
With lots of shaded outdoor dining, La Palapa Restaurant Bar serves food from morning until late afternoon. It is conveniently located in the middle of the resort near the main pool. This is where I had breakfast and lunch during my stay.
The breakfast buffet covered all the breakfast musts, like fresh fruit along with yogurt, cheese and cold cuts. For hot items, I found favorites like chilaquiles, along with bacon, sausage and pancakes. 
Coffee, tea and several types of juice were available. For those who wanted a bloody mary or mimosa, the bar next door offered morning cocktails and served until 7 p.m.
For lunch, I had its guacamole, a nice snack or appetizer. The menu offered nachos and ceviche as well. 
The grill in the area cooked up burgers and chicken sandwiches along with cold sandwiches. Salads were also available on the lunch menu. During my visit, there were tables available so I never had to wait. 
Los Deseos Contemporary Mexican Restaurant
One of my favorite things to do in Mexico is eat. So dinner at Los Deseos was a must. 
I started with some table-side guacamole, which is always a treat since you can customize the recipe. To accompany my dinner, I chose a spicy margarita on the rocks.
Then I had the queso in a molcajete. The large lava rock bowls are kept in the oven for hours until they are blistering hot. The server added shredded cheese, and the bowl started to sizzle. Whipping it with a fork, the cheese melted into a luxurious texture, perfect for house-made tortillas. The finale went up in flames when the server poured some tequila into the cheese mixture and lit it on fire. 
The menu offers all the Mexican stables from enchiladas to tamales to fajitas. I chose a chicken entree made with pumpkin seeds to try something different. It was excellent and accompanied with rice. 
To finish my Mexican fiesta, I had chocolate and chili cake and sampled a churro. Both were excellent. 
Los Deseos Contemporary Mexican Restaurant is open from 7 a.m. for breakfast until 10 p.m. Dinner requires reservations and it is located on the Golden Zone.
Baja Lobster and Oyster Bar
One evening I had dinner at the Baja Lobster overlooking the marina. With a seafood-heavy dinner menu, I started with the tuna tartare. I accompanied my meal with a Paloma. 
For my entree, I selected the Red Snapper made in the Acapulco way. It was pan-fried yet tender on the inside. The Red Snapper was flakey with a firm texture so I would recommend this specialty of the area. 
During lunch, this area is an Oyster Bar with fresh along with raw seafood options. It is open from 11 a.m. to 4:30 p.m. 
Jack's Steak House
Open for lunch, Jack's Steak House offers live music and is open from noon until 5 p.m. For dinner (reservations required), it is open until 10 p.m. and is located on the Golden Zone. 
Presto Pizza and Pasta
Another option on the Golden Zone, the Presto Pizza and Pasta is open from 2 p.m. to 10 p.m. Reservations required. 
Where to Enjoy Cocktails at the Marina Fiesta Resort and Spa
Golden Legends Sports Bar
Open from 2 p.m. to 10 p.m. and located on the Golden Zone. 
Lobby Bar serves drinks from 3 p.m. to 10 p.m. daily. 
The Cielo Sky Bar is located on the fifth floor and open from 5 p.m. to 10 p.m.
The Amura Spa at the Marina Fiesta Resort and Spa
Located a floor below the lobby, the spa area offers a hydrotherapy circuit. From the redwood sauna to the steam room along the whirlpool and the cold plunge pool, guests are encouraged to arrive early and indulge before their treatment. 
The area offers ample space to relax, and the therapists and spa attendants genuinely care for the guests. Throughout my time in the spa, they offered water and towels several times. 
I had a hot stone massage, and my therapist addressed my problem areas. This spa was a convenient getaway during my stay. The services range from Swedish and deep tissue massage to facials along with body wraps. 
For those celebrating or wanting an indulgent spa experience, take the free shuttle to its sister property, the Hacienda Encantada Resort and Residence for its Milagro Wellness Spa. Its facility is much larger and offers a spectacular hydrotherapy pool.
Activities for Kids at Marina Fiesta Resort and Spa
With a shallow water area with a pirate ship waterscape, kids have their own place to play at the Marina Fiesta Resort and Spa. In addition, the staffed kids club is in the area as well as a splash pad.
Overlooking the kids' water play area, adults can find loungers for relaxing. There is a grassy area as well with a playscape outfitted with swings.
The main pool has a shallow area that kids splash in as well.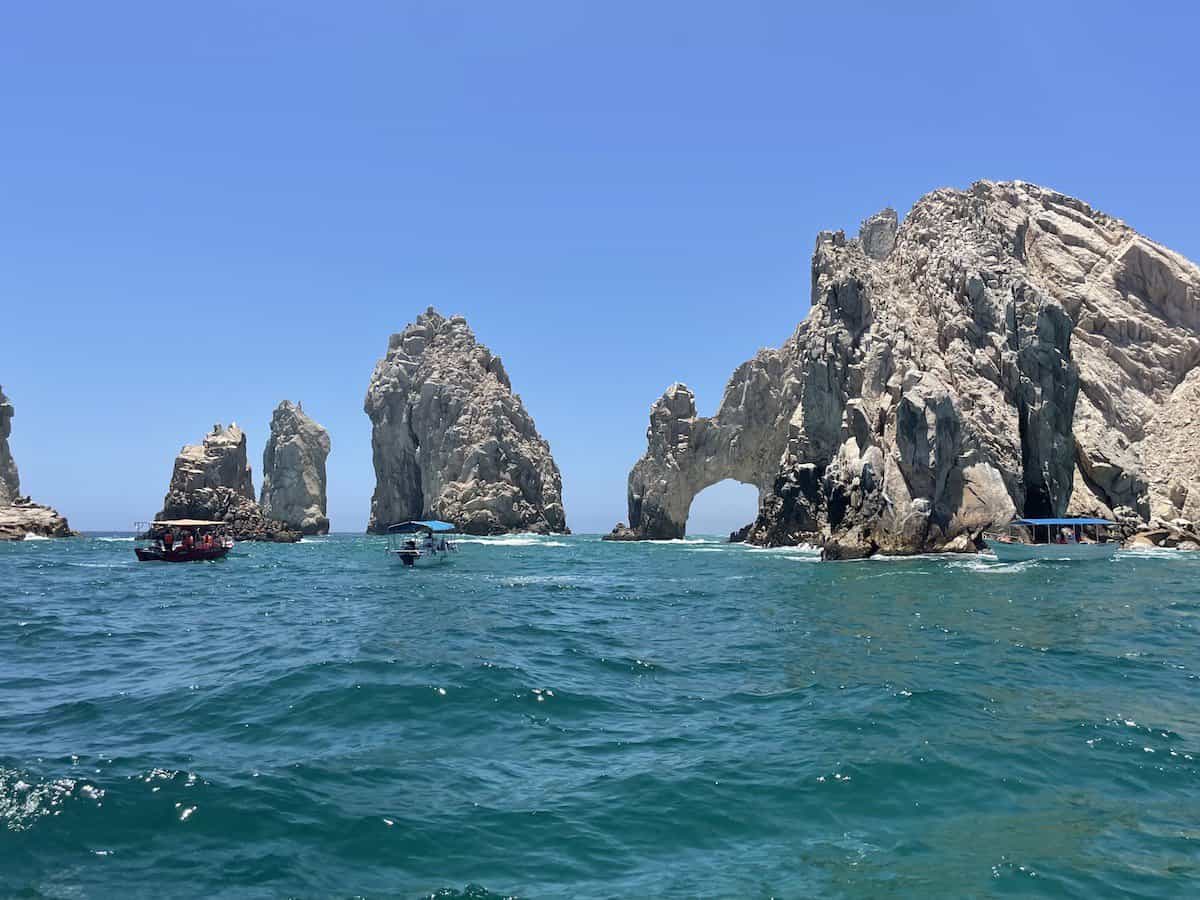 Activities near at the Marina Fiesta Resort and Spa
The main shopping mall in Cabo is steps from the Marina Fiesta Resort and Spa. It offers luxury shopping along with popular North American shops. For those looking for Mexican souvenirs, stalls can be found along the nearby streets.
For first-time visitors, a boat ride out to the Cabo Arch is fun. It is located on the land's end of the Baja Peninsula. For my trip, I used a guided charter from Yachts Cabo that explored the Cabo Arch area and also dropped anchor for swimming and snorkeling.   
Cabo San Lucas is a popular cruise port. During my stay, several cruise ships were anchored outside the marina.
This article was created after a hosted stay.