Along the Caribbean near Puerto Morelos, Mexico, the Hyatt Ziva Riviera Cancun is an all inclusive family resort with 438 suites across 11 buildings. The beach-front resort offers nine pools on its property along with 10 restaurants with a vibrant vibe that caters to kids of all ages. After a recent visit, I want to share what works at Hyatt Ziva Riviera Cancun for Families.
What Works at Hyatt Ziva Riviera Cancun for Families
Big Rooms for Space for Pack-n-Plays

Tubs and Showers in Bathrooms

Water Park and Splash Zone

Lots of Pools to Explore

Kids Club for ages 4 to 12

Restaurants are Stroller Friendly

Welcoming Staff like Kids

Fun Youthful Energy to the Resort
My Suite at the Hyatt Ziva Riviera Cancun
Upon entering the suite from an open-air corridor, the first thing I noticed was a size of the suite. Then I noticed the view, my suite was in building seven so I enjoyed an ocean view.
On one side of the entry hall, I found a bank of storage, outfitted with the essentials. I found an iron and its board, two plush robes, in-room safe, an umbrella along with a step-stool. 
The rooms at the Hyatt Ziva Riviera Cancun offers amble space for a family with several children. The main room of the suite offers two queen beds dressed with pristine white linens. The room offers a bedside table with lots of lighting for reading. 
Next to the pair of beds, there is a sofa large enough for one child to sleep. Though pull-out sofas are available along with roll-away beds. The space is large enough for a pack-n-play for babies and toddlers. 
With private balconies, guests can enjoy a coffee in the morning or a cocktail in the afternoon. The balcony was furnished with a pair of chairs and side table along with a lounging bed, perfect for sunbathing or reading. 
The additional in-room amenities included a Nespresso coffeemaker with an assortment of pods along with coffee cups, glasses and an ice bucket. The mini fridge offers a selection of Coke products, beer, still and sparkling water. Additionally, my room featured red wine and hard seltzer. 
Above the extended storage console, a large HDTV was mounted. The room also featured a small table with two chairs. 
Bathrooms at the Hyatt Ziva Riviera Cancun
The luxurious bathroom features a jetted soaking tub with privacy doors that overlook the room. The tub is large enough for a well-deserved bubble bath, or to bath all the kids at once. 
The marble-lined shower features two shower heads along with a long seat. I enjoyed amble hot water during my stay. 
The vanity offers double sinks with lots of towels along with a make-up mirror. Above the sinks, the lighted mirror provided good light. Additionally, I found a scale along with a hair dryer. 
The water closet is behind a door. Useful when sharing the bathroom with kids as a Mom can supervise a kid in the water closet while another one bathes. 
Room Options at Hyatt Ziva Riviera Cancun
For groups traveling together, there are 24 connecting rooms, perfect for larger families or multi-generational trips. This is especially helpful if attending a wedding at Hyatt Ziva Cancun. 
For those who want to be close to the Kidz Club, Tower 9 is the closest. Tower 10 and 11 offer the quietest experience, away from the waterpark and the main pool.
The Hyatt Ziva Riviera Cancun also offers 24 master suites. Each offer a private balcony outfitted with a jetted tub along with living area for lounging. 
Read More
Dining at Hyatt Ziva Riviera Cancun
With 10 restaurants across the Hyatt Ziva Riviera Cancun, guests can indulge in a culinary adventure on their vacation. Most of the restaurants are in the main reception building and some might not be open every day. 
Miyako
This pan Asian restaurant offers Thai, Chinese and Japanese favorites. The menu includes favorites like ramen, sushi, curry and stir-fry among others. 
During my stay, I enjoyed a hibachi meal at Teppanyaki Miyako where the chef creates dinner at the table. It is a fun experience, especially if traveling with a group. 
Our experience started with a sampling of sushi and sashimi, followed by a miso soup. Then the chef made a fried rice and followed it with a stir-fry of vegetables with beef, shrimp and chicken. 
Rue De Rivoli
Schedule a date night during the vacay at the French Bistro restaurant that welcomes adults only. 
Vivace
Drawing its inspiration from the Mediterranean, guests can enjoy a menu with favorites from Italy among others. 
Ki
During my stay at Hyatt Ziva Riviera Cancun, I enjoyed a guided tequila tasting at Ki. The tequila master offered my group an overview of the popular Mexican spirit.
Our tasting included silver, gold and anejo tequilas. The tequila master even suggested food pairing along with additional cocktails that can be made with tequila, in addition to Margaritas. 
The menu at Ki offers options like traditional Chicken Moles along with pork tacos. The guacamole is a stand-out and be sure to try a spicy Margarita, garnished with jalapeños. 
Afthonia
With breakfast and lunch offering an international buffet, the entrees are on a rotation. During the evening, Afthonia offers Mediterranean dishes.
Balik
Overlooking the main pool, Balik serves fresh seafood. During my stay, I enjoyed a lunch at Balik. 
I ordered the Beet Carpaccio off the vegetarian menu. Then followed by grilled shrimp over a bed of wild rice. Both exceeded expectations, especially the beets and I made a note to order more vegetarian dishes. 
La Parrilla
With an open air dining room, La Parrilla offers grilled meats along with vegetables. 
Habaneros
During my stay, I enjoyed lunch at Habaneros, overlooking the ocean.  I ordered the fish tacos, a personal favorite when I travel. They featured crispy fish and a zesty vegetable garnish that added a pop of color.
Roots
For those craving a juice or smoothie, Roots is the destination. 
Places for Cocktails, Light Snacks and More
It is a beach vacation at an all-inclusive, enjoy your well-deserved lounging days with a cocktail, mocktail and waterside snacks.
The Corner
It's an outdoor outpost for cocktails along with traditional bar bites and burgers. 
Casa del Cafe
With barista made coffee and pastries on one side and gelato on the other, Casa del Cafe is popular all day. 
Infusions
As the main bar located on the first floor of the lobby, it a popular meeting place. With lots of seating, Infusions offers a perfect place for happy hour. 
Breeze
Located just outside the main lodge building, Breeze is part of the outdoor hang-out zone with lots of seating. As a bonus, it's next to the amphitheater, home to evening entertainment. 
Off Court
As the sports bar of the Hyatt Ziva Riviera Cancun, visitors will find a TV with the game and a friendly crowd. 
Delfin
Overlooking the main pool, Delfin specializes in tropical drinks, like its signature Pina Colada. It also features a margarita menu. 
There are also food carts that move across the resort providing on-the-go snacks.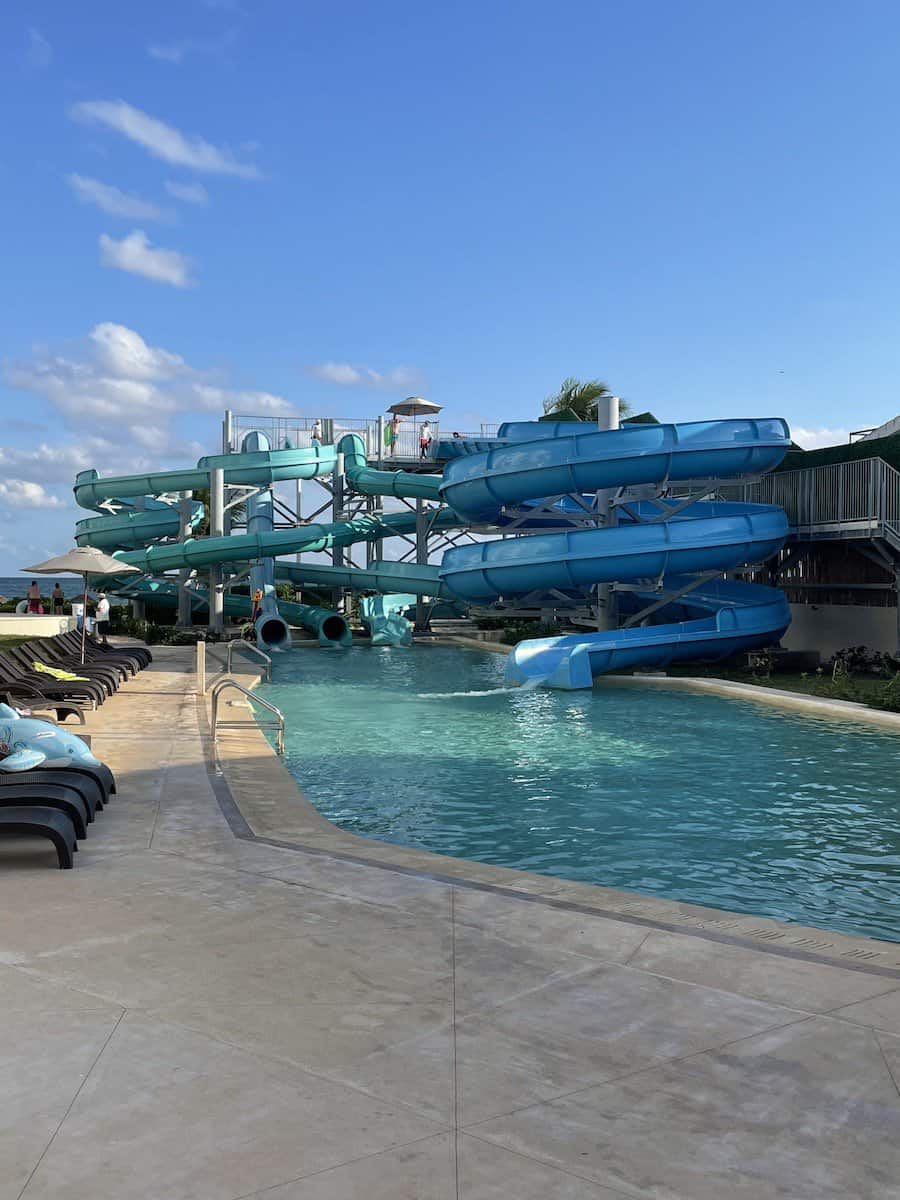 Activities at Hyatt Ziva Riviera Cancun
The Hyatt Ziva Riviera Cancun features a host of on-resort activities for kids and adults alike. 
KidZ Club
Located next to the kids splash zone and the water park, the KidZ Club is a space just for those 4 to 12. With indoor activities, like games along with arts-and-crafts, kids have their own fun zone. The Kidz Club also plays in the waves, with trips to the resort's beach. 
Water Park
A favorite with the young at heart, the waterpark features a dedicated pool for its water slides. Overlooking the beach, the water park features an open and enclosed water slide with a life guard. Additionally in the area, there is a little kid splash zone open to all guests. 
Pools at the Hyatt Ziva Riviera Cancun
With nine pools across the resort, there's a pool for all, from those looking for a party zone to a quiet spot to read. The main pool offers cabanas on the pool's edge (reservations required) along with lines of loungers. This is the place for aquatic classes along with tunes and pool-side drink and snack service. 
Several of the buildings offers pools, like Tower 7 and its unique pool that goes under the tower and offers ocean views on one side. For adults looking to read a book or even snooze, the Hyatt Ziva Riviera Cancun offers an adults-only pool, next to the Zen Spa. 
Pool and beach towels are conveniently located in the centrally located thatched-roofed hut. 
The Beach at the Hyatt Ziva Riviera Cancun
Within steps from the Main Pool and Habaneros, the beach at the Hyatt Riviera Cancun offers palapa umbrellas with beverage service all steps from the waves. Palm trees sway overhead and the beach area is quiet, compared to the main pool zone. 
The beach is narrow though during my stay, the waves with small, so perfect for littles playing in the sand. In fact, the loungers are close enough for parents to sit in the shade while their kids splash or make sand castles. 
For those concerned with sargassum, a from of algae bloom, the Hyatt Ziva Riviera Cancan contracts a service that removes the algae and recycles it. In fact, during my stay the algae came ashore during the night and the crews started at 7 a.m. clearing it out. 
The Zen Spa at Hyatt Ziva Riviera Cancun
For adults, the Zen Spa offers a hydrotherapy area with a tile-lined steam room, a redwood dry sauna, a cold plunge pool, a hot tub along with a hydrojet shower area. The spa offers a menu of body treatments along with salon services. 
During my stay at the Hyatt Ziva Riviera Cancun, I enjoyed at full body massage. Guests can use the changing area with lockers and robes. Then I waited in the lounging area for my therapists. 
My therapist tailored my session to the problem areas and insured I was comfortable at all times. It was one of the best massages I've had in a while.
Afterwards, I enjoyed the hydrotherapy areas to deepen my relaxation.  With equal time, I experienced the hot and cold therapies. As a person who doesn't enjoy cold water, the cold plunge pool was invigorating after time in the steam room.  
Guests can follow any treatment with some time in the Dynamic Pool, featuring targeted jets and surrounded by private cabanas in a quiet area of the resort. Overall, I enjoyed a full morning at the Zen Spa, between my massage and the hydrotherapies. I highly recommend it for those who need some extra relaxation.  
Other Activities at Hyatt Ziva Riviera Cancun
The Hyatt Ziva Riviera Cancun offers a fitness center. It also features classes from yoga to water-based classes. 
During my stay, I enjoyed at hat painting class. The class leaders handed out nice white straw hats along with lots of stencils for decorating them with the bright paint placed in artist palettes.
Best of all, the instructors will more than will to correct mishaps with the paint. Overall, I added a series of bright hibiscus to my hat. 
Guests should check out the Hyatt Ziva Riviera Cancun schedule for daily events during their stay. Some are an additional fee and require reservations. 
Tips for Planning a Trip to Cancun
The Hyatt Ziva Riviera Cancun is located less than an hour from the Cancun International Airport in Puerto Morelos. The Cancun International Airport serves over 125 worldwide destinations with nonstop service. 
The U.S. dollar is widely accepted in and around Cancun. Though change will be in returned in Mexican Pesos so bring lots of smaller bills for small purchases and tips. 
Excursions
Guests can explore the Mayan ruins at Tulum with an organized tour, like Ekinox Tours that provides transportation, admission along with a history lesson in the culture of the Mayan people. During my trip to Cancun, I toured the Tulum ruins and learned a lot from my experience to the well-preserved archeological site. 
Afterwards our tour stopped at Mirasol Cenote for lunch and a swim in a secluded cenote. This cenote offered showers and changing rooms. 
This post was created after a hosted stay.