As a road tripping maniac that's driven three kids across North America, I hate my car at times. I love to use different forms of transportation. So when the opportunity came up to take the train from Southern California to the Central California Coast, I jumped abroad.After my trip, I came up with 11 tips for taking Amtrak in California.
Tips for Taking Amtrak in California
1: Book the right train.
On my trip to Santa Barbara and Solvang this summer I boarded two different trains, Amtrak's Pacific Surfliner and the Coast Starlight. Each offering a different experience though they share part of the same track.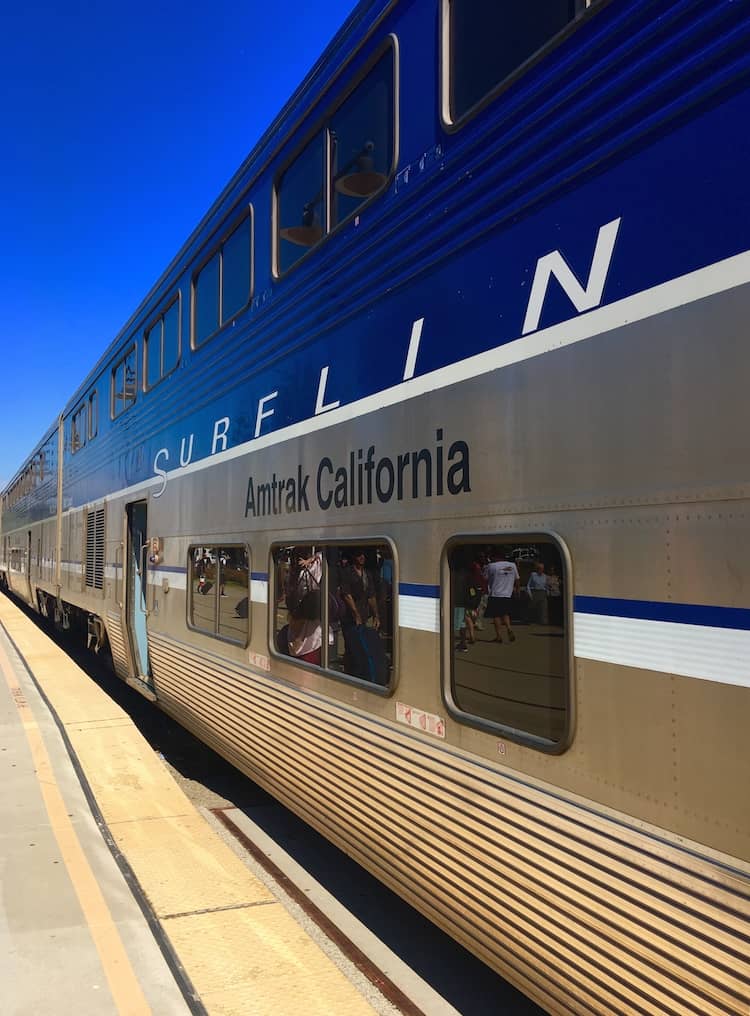 The Pacific Surfliner is a regional route that travels between San Diego and San Luis Obispo, California, stopping at most Amtrak stations along the way. It features a business-class car and coach cars with unreserved seats plus an observation car with a snack bar below.
The Coast Starlight runs between Los Angeles' Union Station and Seattle with limited stops. It offers reserved coach seats, business class, an observation/snack bar car, a dining car, a parlor car plus sleeping cars.
California Driving Ain't a Dream
2: Ditch the car and go car-free.
As I look at my maps app, I blink again hoping that it's a joke. But sadly, it's true. Sometimes driving in Southern California is a nightmare.
With hours eaten up behind the wheel, the dream vacation crumbles as kids melt down in the backseat and this Mom loses it as another driver cuts her off.
I found a solution, ditch the car and go car-free. That's what I did recently when I grabbed an Amtrak train. With dedicated parking at most stations, it's easy to park the car and explore California car-free instead.
Read More 
Transportation that Does More than Transport
3: The customer service difference on Amtrak.
I get it, I used to fly the friendly skies as a flight attendant for a major airline. And those skies aren't friendly anymore.
What surprised me the most on my Amtrak train, customer service still shines on the rails. The conductor and the train stewards were polite and informative.
A steward helps passengers on-and-off the train. If the train hinted at slowing down, the conductor explained what was happening and when we would be on our way again.
I had a coach seat on the train that had to accommodate another train's passengers when it went out-of-service. Passengers were standing everywhere, in the aisles and on the stairs.
But we were all on the train. There's relief in that.
The stewards walked up-and-down the crowded train cars and apologized for the conditions. Then they informed us how many passengers would be getting off at upcoming stations. Then they thanked us for choosing Amtrak.
Wow. So simple but so often ignored. The passengers remained calm and even gave seats to the passengers who needed them the most–injured, elderly and those with disabilities.
Not All Trains Seats are the Same
4: If sitting in a seat is important to you, reserve a business-class or reserved coach seat.
Price sells many things in life in the case of train travel, buy up. As I learned on my weekend trip, things go wrong and when they do the train fills up.
If you and your family are traveling with luggage out of the area, buy a reserved coach seat or business-class seat. This guarantees a seat on the train. A regular coach ticket guarantees passage, meaning you could be standing at peak times or off-schedule operations.
Though I will be honest, when the trains went off-schedule the day I was traveling, I was grateful to be on the train.
Did I have to stand part of my journey? Yes, but the train conductor and the rest of the train staff constantly communicated to the passengers what was going on.
In our case, a train had to be taken out-of-service coupled with a big convention. That meant Amtrak had a busy weekend already then another train's passengers had to be accommodated on my train.
If I had been flying, I would have been stuck at the gate watching planes leave the airport without me. As promised, a lot of the passengers disembarked in LA and I got a seat.
In a situation that could have escalated into some seriously pissed-off passengers. Everyone remained calm by opening a book or their phone and made do.
ThruWay Buses
5: ThruWay Buses make for easy transfers.
For stops beyond traditional Amtrak stations, ThruWay buses take passengers to their final destinations. As the case for my journey to Solvang, California, a charming Danish community, I boarded a charter-like bus at the Santa Barbara Train Station.
My train incurred delays but my ThruWay bus waited for the train to arrive. The process of getting off the train at Santa Barbara and onto an Amtrak ThruWay bus was painless. Requiring a lot less walking than changing planes at a mega airport, like Dallas/Forth Worth.
Coast Starlight
6: Book the Coast Starlight if your itinerary permits.
After exploring Solvang and Santa Barbara for several days, I needed to meet my family near San Francisco. I boarded Amtrak's Coast Starlightat the 1905 historic Santa Barbara Train Station.
Where the Amtrak's Pacific Surfliner is a regional train route that stops at the majority of the stations along its route, the Coast Starlight does not. Running along the west coast from Los Angeles's Union Station to Seattle, the entire journey takes about 36 hours.
Known as Amtrak's the most scenic route, I was blown away. I took the segment from Santa Barbara to Salinas, California, taking about six hours.
My plan was to pull out the laptop and work. But I was glued to my picture window.
This route passes though untouched California coast north of Santa Barbara. For fans of the Pacific Coast Highway, when the PCH heads inland north of Gaviota, the train rolls through. This includes Vanderburg Air Force Base.
My Coast Starlight Experience
7: Pack all you want! Four bags are allowed.
Call me silly, but I felt a bit of old school glamour getting on my train. Maybe it's the oversized sunglasses I was wearing or the fabulous weather in Santa Barbara but I imagined how a starlet would have ridden the train in the 50s. (Now, this 40ish Mom of three is not saying she's a starlet but I had a vacation-induced fantasy. Don't spoil it with reality. Or I'll call you my husband.)
Arriving within minutes of it's scheduled departure, my train arrived at the Santa Barbara Station, located on State St. in downtown. For my journey, I had a reserved coach seat. Finding the correct car was no problem and a steward greeted me at the coach car entrance. Then he asked if I preferred a window or aisle seat.
I grabbed my four bags (yes, I had one standard roll abroad, a backpack plus two shopping bags full of goodies) and stepped onboard. First, I stowed the larger suitcase on the rack downstairs next to the car entrance. Then I took the rest of my items to my window seat upstairs.
My Reserved Coach Seat
8: Forget the airplane luggage hassle.
I had no problem storing my stuff since my train wasn't taking off and traveling 500 m.p.h. through the air so I didn't have to secure it. I left my backpack in my seat and the shopping bags in the open rack above.
No one was fighting for storage space. My bag wasn't deemed oversized and checked either.
After I settled in, the first thing that I noticed was all the space. I could have danced in the space between the edge of my seat and the seat in front of me. Amazing.
I'm an average-sized woman and I've had to wedge myself into some small jet seats lately. It seems I'm always flying in the back of some regional jet that looks smaller than a sparrow. So this train seat was luxurious.
I had a picture window to enjoy all to myself since the aisle seat was vacant. Then I found the standard 110-volt plug. Pulled out my chargers and plugged in my phone and my laptop at the same time.
The Amtrak Experience
9: Explore your train, especially the observation car.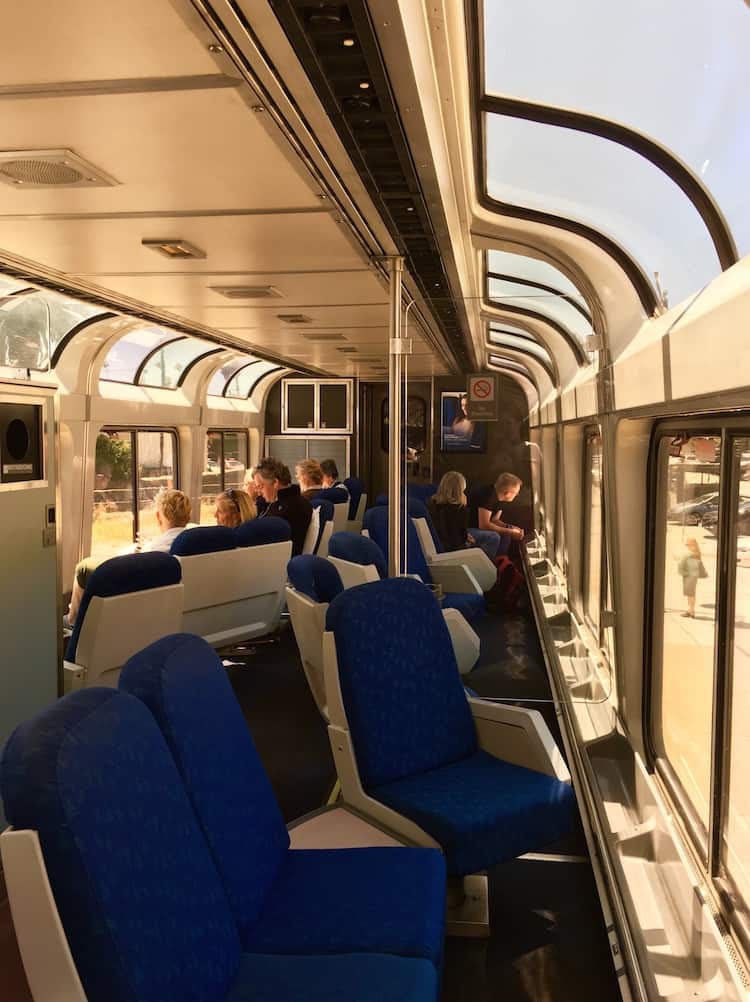 My train pulled a line of train cars. Actually the Coast Starlight train blocks traffic on the streets at the Santa Barbara Station when stopped.
It wasn't long before I was out of my seat and exploring my train. I went to the observation car with its domed skylights and enjoyed the view. This car is a favorite so it can be hard to get a seat at times.
10: Feel free to bring snacks aboard for your journey.
Below the observation lounge, I found the cafe car with a couple of tables. It's kinda like the convenience store of the train. There's a selection of drinks, hot and cold, treats and small meals. Nothing really glamorous so I purchased a sandwich before I boarded my train in Santa Barbara or pack your own.
I met a cabin steward, James Lake, a 12-year Amtrak veteran. He graciously took me on a tour of the rest of the train.
Special Amtrak Cars on the Coast Starlight
11: Ask for a tour.
We walked through the dining car where waiters and waitresses served food made onboard. With a printed menu, including a kids' menu, I found chef-inspired selections. Reservations are accepted for dinner in the dining car, with business-class passengers getting first dibs.
The business class car was next and includes complimentary Wi-fi and bottled water along with an invitation to a wine and cheese tasting in the Pacific Parlour Car (additional fee applies). At Los Angeles and Portland, business-class passengers get access to the Metropolitan Lounges.
After the business class car, I walked through the Pacific Parlour Car, a vintage 1950s railcar. They were originally on the Empire Builder from Chicago to the Pacific Northwest but moved to the Coast Starlight.
Pacific Parlour Car
With a wood interior that reminded me of hotel bars where men in fedoras smoked cigars, I found the ambience enchanting. The Pacific Parlour Car features a full bar with signature cocktails along with coffee drinks and snacks.
Meals are served in the Pacific Parlour Car for breakfast, lunch and dinner. The parlour car offers a separate menu with a more limited selection than the dining car.
On the first level of the Pacific Parlour Car my guide walked me through a small movie theater where Amtrak used to show movies. Unfortunately, this theater is not being used at the time.
After the Pacific Parlour Car, I found the Superliner Sleeper cars, where overnight passengers enjoy a roomette with berths. Since it was booked to capacity for my summertime mid-week train journey, I didn't tour an Amtrak roomette.
After my tour, I returned to my seat and enjoyed the scenery whisk by until my destination.
My Amtrak train journey was part of an hosted press trip. The opinions are my own.
Know Before You Go:
Amtrak doesn't feature in-seat entertainment.
Sleeping cars feature a shared shower in each car.