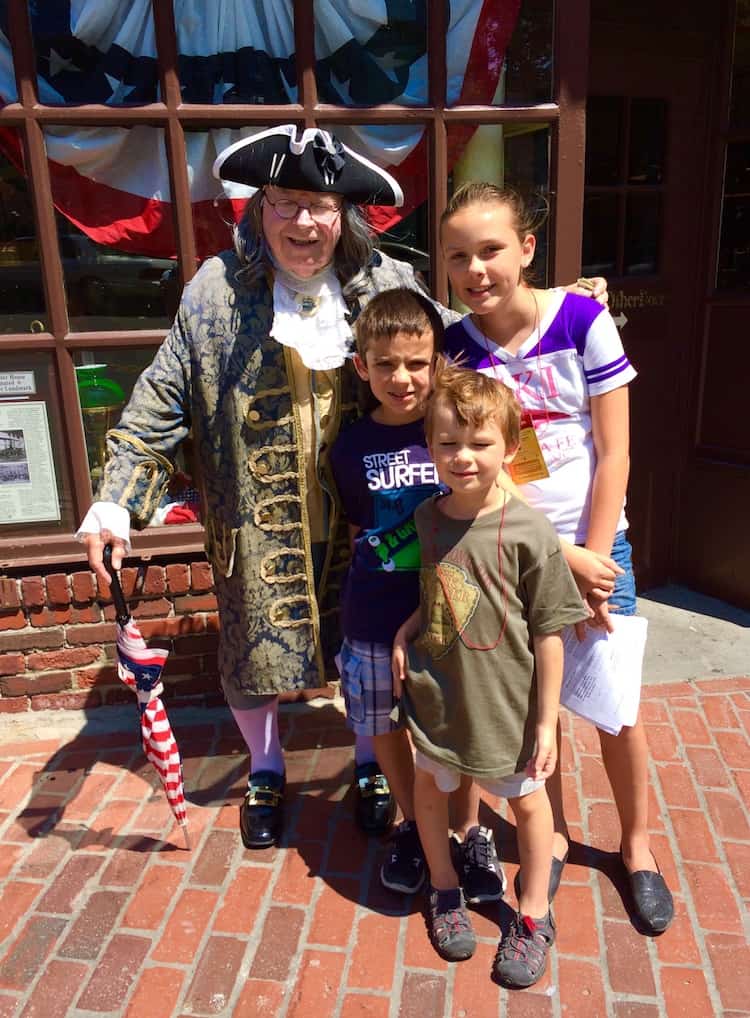 How much can you see Boston in one day with kids? With a little planning, we walked the entire Freedom Trail, earned a Junior Ranger badge, toured Old Ironsides and even walked through Harvard University.
Since Boston is steeped in U.S. history, it's a must for school age kids, like mine, 7,9 and 12. But we're on the homeward stretch of an East Coast road trip that included the Bay of Fundy and Nova Scotia and Prince Edward Island so we only have one day to explore.
After exploring Acadia National Park in Bar Harbor, Maine, during the day.I drove into the night and walked into our hotel in Boston's Back Bay at 1 a.m–powered by Dunkin' Donut's coffee.
See Boston in One Day with Kids
The Boston Common with Kids
During our visit, we stayed in the Back Bay and decided to leave our SUV in the hotel's parking garage. Parking in Boston is nearly impossible so we walked, used ride share and the subway to get around. Cheap eat for breakfast, Dunkin Donuts, it's a Boston thing.
First stop, walk by the Trinity Church, a National Historic Landmark. Designed by Henry Richardson and finished in 1877. It's one of the ten most significant buildings in the U.S. by the American Institute of Architects.
Up next walk towards the Boston Common, the oldest park in the U.S. Dating back to 1634, it was as a cow pasture until 1830. Then the British Army camped in the Boston Common during the Revolutionary War. Today it's the official start of the Boston Freedom Trail.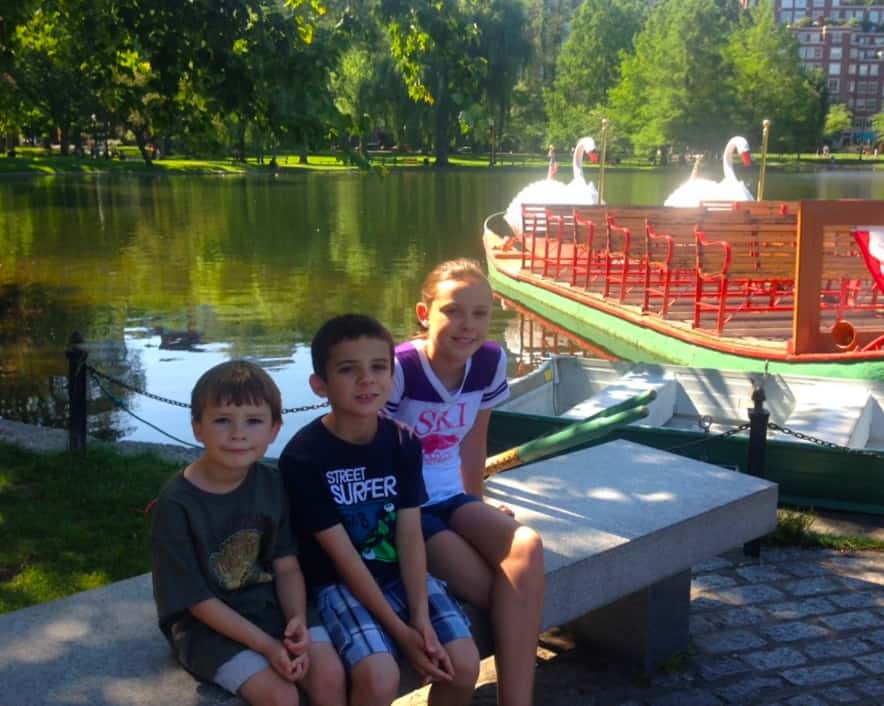 Before history take a boat ride. Next stop the Public Garden for the Swan Boats, a Boston tradition. When in 1877 Robert Paget launched his first swan boat. A must for any visitor and the carful of kids get in line for the first boat at 10 a.m. Admission $4.00 adults/$2.50 kids 2-15, open from mid April until Labor Day.
The Freedom Trail with Kids
The Freedom Trail is a 2.5-mile long paved trail along the streets of Boston. It walks through the top 16 sites of the American Revolution against England.
TheFreedom Trail is a National Park Service site and open year round and free. Though severalbuildings along the route charge admission.
The National Park Service arranges guided tours along with other companies.On my trip I used the official NPS Boston App that includes the Freedom Trail (free).
Since it's a National Park Service site earn a Junior Ranger Badge. The booklets are available at the visitors center on the first floor of Faneuil Hall (open year round from 9 a.m. to 6 p.m.).
Read More
Find the red line in the sidewalk that guides visitors through Downtown Boston and start walking.
Downtown Boston with Kids
Massachusetts State House–Finished in 1798 but it didn't get its distinctive gold dome until many years later. It's still the home to the Massachusetts Commonwealth government and tours can be scheduled in advance Monday through Friday.
Park Street Church and the Granary Burying Ground–Find Paul Revere and John Hancock's gravestones.It was established in 1660 and has 2,300 gravestones including some with soul effigies, a creepy little skull with wings. The kids loved it–who knew.
The King's Chapeland the King's Chapel Burying Ground–Another graveyard to walk through.
Boston Latin School–Founded in 1635, it's the oldest public school in the U.S. Benjamin Franklin is its most notable dropout.
Old Corner Bookstore–Built in 1718 it's the oldest commercial building in Boston.
Old South Meeting House–Built in 1729, it was the largest building in Colonial Boston. Walk in for an in-depth history lesson about the Boston Tea Party. Admission$6/adults $1/kids 5 to 17, open 9:30 a.m. to 5:00 p.m.
Old State House–Built in 1713 to house the Colonial government. The Declaration of Independence was read from its balcony in 1776. On March 5, 1770, five colonists were killed by British soldiers in an confrontation that became the Boston Massacre.
Tour the interactive tour for kids. $10 for adults, free for kids under 18. Open 9:30 a.m. to 5:00 p.m. year round.
Faneuil Hall–Abusy marketplace since 1742, it's been named the cradle of liberty. Colonists protested against the Sugar and the Stamp Acts at Faneuil Hall.
Operated by the National Park Service with a visitor center. Free. Attend a Ranger Programevery 30 minutes from 9:30 to 4:30.
The North End with Kids
Paul Revere House–Built in 1680 though Paul Revere bought the house in 1770. He shared the house with his mother, his wife and nine of his 16 children. He had two wives.
The Paul Revere House looks into the domestic life of Colonial Boston. Admission $5 for adults, $1 for kids 5 to 17. Open everyday from 9:30 a.m. to 5:15 p.m. (4:15 p.m. in winter). Cash only.
Old North Church–Builtin 1723 though two Sons of Liberty put a couple of lanterns in its steeple on April 18, 1775. Signaling the advancement of the British Redcoats to the patriots. Open every day from 9 a.m. to 6 p.m. and 10 a.m. to 4 p.m. in the winter. Donations are requested, $3 per person.
My carful of kids are tired. It's a mile to the USS Constitution so we catch a cab and drive by the Copp's Hill Burying Ground.
Read More 
The USS Constitution with Kids
Commissioned in1797 the USS Constitution, or Old Ironsides, earned its nickname during the War of 1812. It's still an active warship with the US Navy and the tours are lead by sailors (open 10 a.m. to 6 p.m. on Saturdays and Sundays, free guided tour, check website for up-to-date hours).
The carful of kids turn in their booklets at the USS Constitution for our Boston National Historical Park Junior Ranger Badges. It's has been a full day of history for the carful of kids and a great refresher for me.
Cambridge with Kids
After a day of exploring, we still want to visit Harvard so we grab a cab and head over to Cambridge. Though college is years away for my 12-year-old, a campus walk-through never hurts.
Stop by the bookstore for a Harvard t-shirt. Next we stroll through MIT on our way to our first subway experience together.Since it's after hours the T, Boston's subway, isn't crowded.
After a good look at the T map, I find the station closest to our car. Grab a CharlieCard for each one of us at the self-serve kiosk and swipe all the cards to get the kids through the turnstile.
Sweet sound to my ears, the roar of the train pulling into the station. Once inside, I remind the boys to hold on. I hide my smile when the boys trip over each other looking for something to grab when the train lurches forward.
I have to admit, I'm a little relieved–we did it. Sure it would have been easier, faster and a little cheaper to take an Uber. But now the carful of kids rode the subway and that's a valuable experience for later in life.
It's late and the sun has set as the carful of kids straggle up to our SUV. Two seconds and they're asleep but I still have to drive to Connecticut. Now where's that Dunkin Donuts?
Where to Eat with Kids in Boston
For breakfast I grabbed some donuts and coffee at Dunkin Donuts. It's a New England tradition.
For lunch, I suggest the Faneuil Hall Marketplace, behind Faneuil Hall. It's packed with tourists, street performers and food carts on the outside. In the inside find lots of quick service options, perfect for families. I grabbed a bowl of Boston Clam Chowder at Boston Chowda Co. inside.
Another solid option is the Boston Public Market. Open year round and indoors, it features some quick service options for families.
In Cambridge, try Pinocchio's Pizza & Subs Facebook's Mark Zuckerberg haunts during his college days. They serve square pizza in your usual varieties. Since the seating is limited, head to nearby Winthrop Square. Pinocchio's Pizza is located at 74 Winthrop St. from 11 a.m to 1 a.m.
Finding a Hotel Deal in Boston
When I planned my road trip, I cringed when I saw the Boston hotel rates.
I waited and scored a room in a great location within walking distance of all the sights a couple of days before we arrived with a hotel consolidator. Always select a room that's at least a 3.5-star property since the star rating are a little low.
In Boston, I paid $30 for 24-hour parking. I opted to leave it in the hotel's garage parking lot. We just checked out, packed the bags in the back and walked to the Freedom Trail. Street parking is nearly impossible to find in Boston.
Note: This guide includes 2018 times and admission prices.
Cruising?
Boston is a popular cruise ship port-of-call, especially fall color cruises. I sailed aboard Regent Seven Seas.
Know Before You Go
Be in line for the Swam Boat early to make it to the USS Constitution before it closes.
U.S.S. Constitution requires ID for adults and uses airport style security screenings
Give yourself acouple of hours to clear security and tour the boat on a busy day.
Disclosure
Consideration for brands mentioned. This post contains affiliate links.