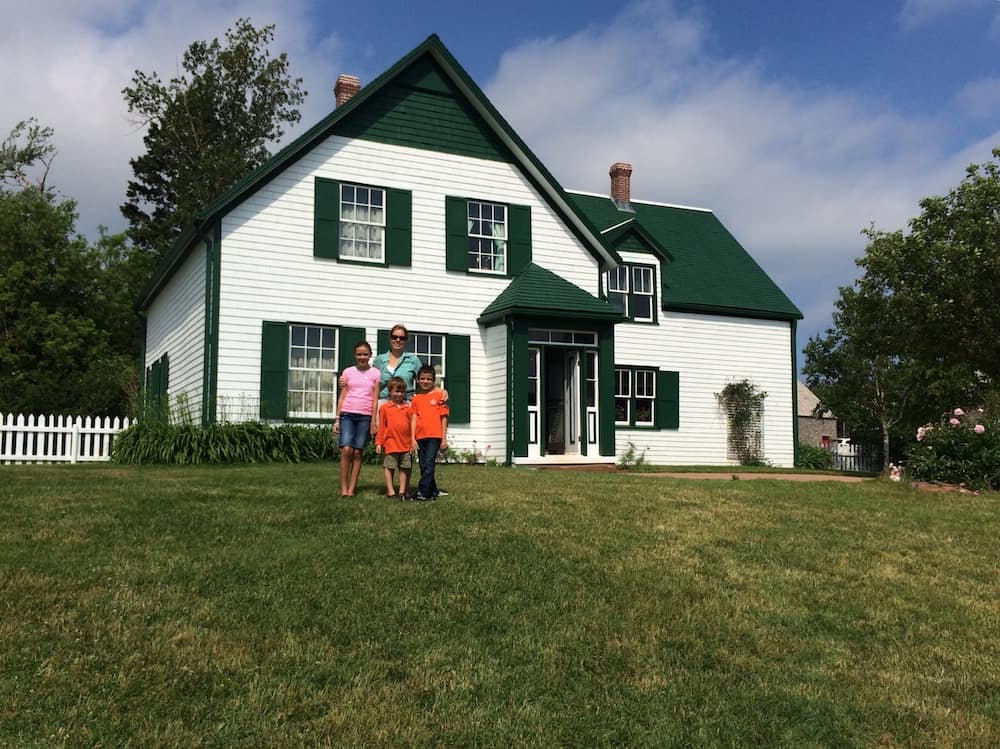 Published in 1908, young readers met a spunky red-haired orphan, Anne Shirley, who mistaken was sent to a brother and sister, Matthew and Marilla Cuthbert, on Prince Edward Island. This children's classic Anne of Green Gables, by Lucy Maud Montgomery, turned into a series of books that enchanted millions of readers from across the globe. Montgomery wrote about a real place and the building has been preserved and now is a Parks Canada site in the Canadian Maritimes. Here are the top things to do at Anne of Green Gables with Kids.
Anne of Green Gables at a Glance
Year Established: 1936
Located: Prince Edward Island, Canada
Season: May to October
Top Features: Anne of Green Gables House
The Anne of Green Gables Books
The book was an immediate success and to date, it has sold more than 50 million copies around the world. Translated into 36 languages, readers travel to see the house that inspired the series. The MacNeill Family Farm, cousins of the author, served as the inspiration and has been preserved to its original 1800s appearance.
Top Things to do at Anne of Green Gables 
Dedicated to preserving the Prince Edward Island setting of the book, Anne of Green Gables. We're surrounded by red-headed girls, young and old, dressed in green gingham dresses with braids, myself included.
Read, Watch or Listen to Anne of Green Gables

Pick your favorite version, in our case, we listened to the audio book on our road trip.

Watch the Interpretive Film
Inside the visitor center, take a few minutes to watch the introductory movie.
Walk through the Barn

Depending on the day, visitors will learn a skill that people from the late 1800s used everyday to survive on Prince Edward Island.

Tour the Anne of Green Gables House
Walk through history in the period-furnished original house that inspired the book series. It's like walking through a life-sized doll house. Don't miss Anne's room.
Walk through the 19th century gardens
Let the kids run around while enjoying the summertime blooms.
Take a hike on Lovers Lane or the Haunted Woods
Visit the Site of Lucy Maud Montgomery's Cavendish Home with a quick family hike though the Haunted Woods.
As a writer and lover of classic children's literature, I recommend buying a book as a souvenir.
Visit the other Anne sites in Cavendish
More than the Green Gables Heritage Place, Cavendish is really Anne-land.
Stop for a Raspberry Cordial at The Cordial Cafe
Offering coffee, baked goods and the infamous Rapberry Cordial in the book.
Green Gables House Tour
The best place to start your tour of the Anne of Green Gables property is at Visitor Center. It offers interpretive displays, along with a book cover display from the Anne books from around the world. In fact, I was amazed to learn how this series is beloved all over the world, especially Japan.
As one of Top Things to do at Anne of Green Gables, the tour of the Green Gables House is self-guided. It was originally owned by the Macneills family, cousins of Montgomery, that was raised by her grandparents. Less than a mile from the house that Montgomery live in, this property was very familiar to her.
Be sure and explore the barn, it offers historical demonstrations during the summer season. My kids loved the buggy they could climb into.
Hiking at Green Gables Heritage Place
Green Gables Heritage Place offers two hiking trails to explore the property. Both are suitable for young children and it is one of the Top Things to do at Anne of Green Gables,
Haunted Wood Trail—Walk to the Site of L.M. Montgomery's Cavendish Home. Easy and .9-km roundtrip.
Balsam Hollow Trail—Originates along Lovers Lane and meanders through the woods and along a brook. Easy and .8-km roundtrip.
Places to Eat at the Green Gables Heritage Place
Stop by The Cordial Cafe for beverages, coffee  or baked goods. We sampled a Raspberry Cordial, just like the one from the books.
It is open during the season from 10 a.m. to 5 p.m. from May until October.
Kids at Green Gables Heritage Place
Explore the property and interact with the costumed guides, including Anne herself. Walk through the Haunted Wood, don't worry it's not really haunted.
Grab a booklet at the Visitor Center and complete the Parks Canada Xplorers Program. Guides kids aged 6 to 11 through the significant features of the Green Gables Heritage Place. After completing the booklet, kids get a souvenir.
Where's Green Gables Heritage Place
Located on Prince Edward Island in the Canadian Maritimes, the Green Gables Heritage Place is located at 8619 Cavendish Road near the northern shore of Prince Edward Island. It's 40 km from Charlottetown, the province capital.
Green Gables Heritage Place is open from May 1 to October 31 for its regular season. Opening hours are 9 a.m. to 5 p.m.
Adult admission is $8.50 CAN and $7.25 CAN for seniors. and youth 17 and under are free. If your family is vising several Parks Canada sites, consider a Parks Canada Discovery Pass.
Other Anne of Green Gables Places to Explore 
Lucy Maud Montgomery Birthplace—Born in nearby New London, L.M. Montgomery was born in a modest home. After her mother died when she was less than two years old, her grandparents raised her. Located at 6461 Route 20 and open seasonally from 10 a.m to 4 p.m. Admission.
The Site of Lucy Maud Montgomery's Cavendish Home—A quarter of mile east of the Green Gables Heritage Site, take a hike to see the remains of L.M. Montgomery homestead. It also features the Old Kitchen Post Office, operating as a book store. Open daily from May until October from 10 a.m. to 5 p.m. Adult admission is $6 CAN.
Cavendish Post Office—The official Cavendish Post Office offers an Anne of Green Gables exhibit since she and her family operated the post office out of the family kitchen. Located at 8555 Cavendish Road and free.
Lodging on Prince Edward Island
During our visit to Prince Edward Island, I rented a small guest house. There is also smaller bed-and-breakfasts or lodges. Though you need to make reservations early, Cavendish offers limited lodging and it fills for the summer season fast.
Where to Eat on Prince Edward Island
During our visit, we dined at the Prince Edward Island Preserve Company. A charming restaurant and tea shop that features local products along with a kid's menu and signature blended teas, jams and jellies.
I started with the Seafood Chowder, a mix of local seafood in a creamy base with potatoes and leeks. Then moved on to the Seafood Bubbly Bake, a combination of shrimp, salmon, scallops and haddock in a cream sauce and topped with a panko crust.
Don't hesitate to order the PEI mussels, known world-wide. The local mussels are a must for every visitor and farmed along the rivers on PEI. I recommend ordering the Raspberry Cream Cheese Pie for dessert.
Located at 2841 New Glasgow Rd in New Glasgow. It's open seasonally from May through October. Serving breakfast, lunch, afternoon tea and dinner, and I found family-friendly dishes and a kids menu.
How to Get to Prince Edward Island
Visitors arrive to Prince Edward Island several ways.
During our visit we took the Northumberland Ferry that departs from Caribou, Nova Scotia, to arrive at Wood Island, PEI.
We arrived early for the 8 a.m. ferry and drive our American-sized SUV onto the ferry. We're directed to the taller of two vehicle levels.
Our ferry featured a small café where we got a breakfast snack. We also found lots of seating and areas to enjoy the crossing outside if the weather is nice.
Odd thing about getting on-and-off Prince Edward Island, there's no charge to ride the ferry to PEI. But you'll have to pay to get off Prince Edward Island, either on the ferry or the bridge.
During our trip we left PEI on the Confederation Bridge, a 13-km bridge that connects New Brunswick with central Prince Edward Island. The Confederation Bridge is a toll bridge and the 2023 fee is $50.25 CAN for a standard auto.
Note: No one is allowed to stay in their vehicle during the crossing but there's enough to occupy passengers on the 75-minute voyage.
The Charlottetown Airport (YYG) offers service from Eastern Canadian destinations on Air Canada.
Nearby Sites to Explore
Prince Edward Island National Seashore–Located near Cavendish the water temperature is warmer than the North Atlantic because of its protected location. In August, it reaches a high temperature of close to 70F, so it's great for splashing and wading.
Dalvay-by-the-Sea National Historic Site—Built in 1895, it's a 25-room summer resort tucked in the park that recently hosted HRH Prince William and Catherine, the Duchess of Cambridge. A public tour isn't offered by enjoy afternoon tea on the weekends.
Charlottetown—Explore the largest city and the capital of Prince Edward Island.
Cruising?
Charlottetown is a cruise ship port-of-call, like Regent Seven Seas Cruises.
More Information
Know Before You Go
PEI is a busy summertime destination and lodging reservations are a must during the peak season.
This post contains affiliate links. Consideration for brands mentioned.