Tops for lovers wanting a European getaway without the red-eye flight, Quebec City offers a long weekend of eating and exploring. Though don't let L'Ile d'Orleans escape your foodie itinerary. About 30 minutes east of Quebec City, I found a foodie destination packed with a vineyard and a jam and jelly purveyor. Read on for the 5 Best Foodie Spots on L'Ile d'Orleans.
5 Best Foodie Spots on L'Ile d'Orleans
Pont de L'Ile d'Orleans
Vignoble Ste-Patronille
Le Delices de l'Ile d'Orleans
Montmorency Falls
Basilica of Sainte-Anne-de-Beaupre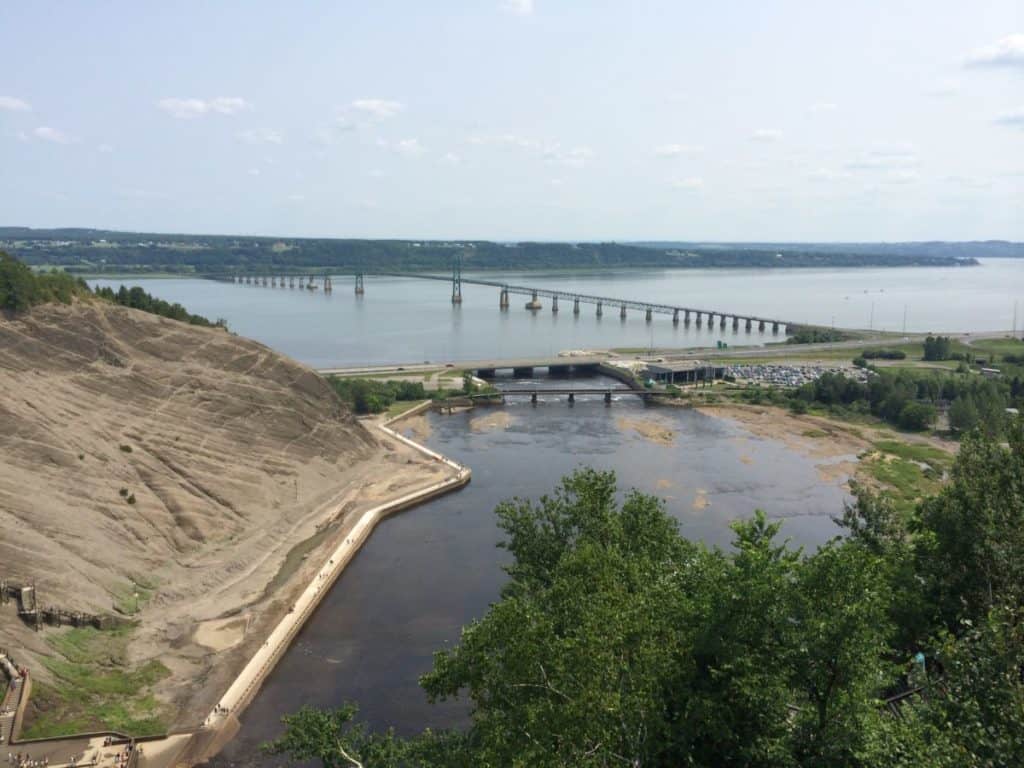 Pont de l'Ile d'Orleans
Get to the best foodie spots on L'Ile d'Orleans by crossing thePont de l'Ile d'Orleans. Built in 1935, it's the last suspension bridge across theSt. Lawrence River headed east. L'Ile d'Orleans offers a day trip destination just minutes outside of Old Quebec with vineyards and tasting rooms.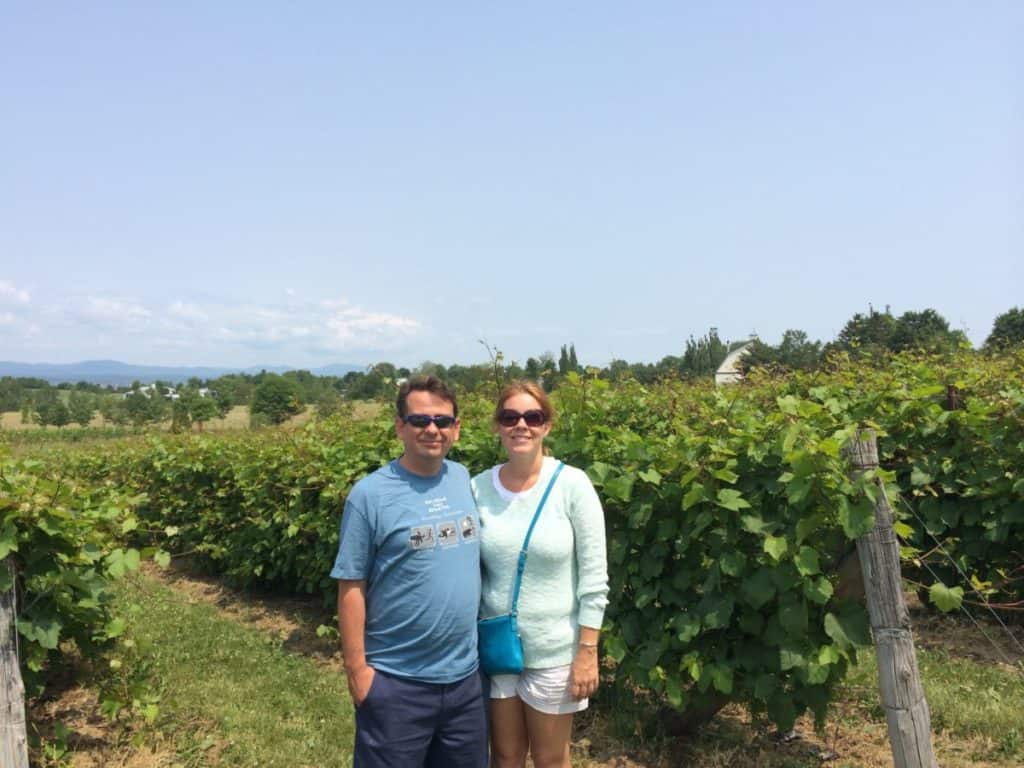 Sample at Vignoble Ste-Patronille
Our first stop isVignoble Ste-Patronille, a vineyard and winery overlooking the Montmorency Falls on L'Ile d'Orleans. There we take the vineyard tour and learn about the grapes that can survive the brutal Canadian winters, primarily white wine grapes. After the tour, we head to the tasting room to sample wine.
If you need a snack, find the Panache Mobile food truck with an attached terrace overlooking the vineyard and the St. Lawrence. It's a spectacular location to enjoy the day.
FindVignoble Ste-Patronille at 8705 Chemin Royal. Open daily mid-April through mid-December, and everyday during the summer.
Foodie Delights at Le Delices de l'Ile d'Orleans
Our next stop,le Delices de l'Ile d'Orleansis another jewel with a private tasting room and a guided tour. Since 1998 they've made jams, jellies, mustards, vinegar and syrups. After our tasting, we loaded up on some items that you don't see back in the U.S., like carrot confit and terrines.
Find Le Delices de l'Ile d'Orleansat 1735 Chemin Royal.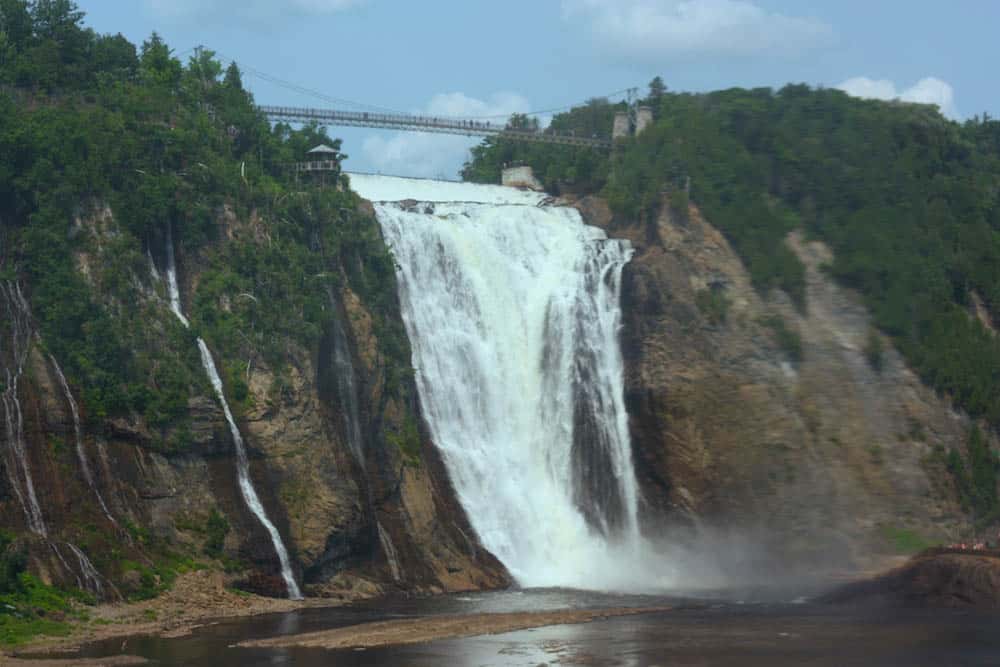 Hike at Montmorency Falls
After sampling for couple of hours, time to walk it off so head over to the Montmorency Falls for a tour. I recommend taking the scenic route and taking the cable car to the suspension bridge and restaurant. Though stairs are available.
After exiting the cable car, walk across the suspension bridge to experience the power of the falls that are almost 100 feet taller than Niagara Falls. Take a few minutes and walk through the gardens around the Manoir Montmorency.
After hiking around the falls it's time for lunch so dine at theManoir Montmorency, open throughthe summer season from 11:30 a.m. to 3 p.m. Find an upscale menu, featuring duck confit, poutines, salmon and tenderloin.
For families, find a dairy bar and three different playgrounds on site as well as two bike paths.
Find Montmorency Falls at 2490 Ave Royale and open 8:30 a.m to 7:30 during the summer months. Cable cars tickets are $14.35 CAN for adults and $7.18 CAN for kids 6 to 17 with kids under 6 free. Paid parking.
Basilica of Sainte-Anne-de-Beaupre
TheBasilica of Sainte-Anne-de-Beaupreanchors its namesake village 20 minutes east of Old Quebec on the St. Lawrence River. Nestled in the foothills of the Laurentian Mountains, it's known as a shrine for miracles with over half-a-million visitors each year.
The basilica's history started in 1658 when a farmer donated two acres for a chapel. When a worker was cured of his ailment, the legend began. On the inside of the basilica, find crutches and walkers attached the pillars as a testament of its healing powers.
Completed in 1946, construction stopped for the Depression and WWII. The interior of the basilica is incredibly light, not the usual dark, somber interior that most of the cathedrals have across Europe.
Head downstairs to theImmaculate Conception Chapelwhere the walls are decorated with delightful tiny mosaics of flowers and animals. As a popular shrine, the chapel is full of candles lit by the faithful.
Find Basilica of Sainte-Anne-de-Beaupre at 10018 Chemin Royale. Open every day from 8:30 a.m. to 5 p.m. and free to enter though donations are accepted.
After exploring L'Ile d'Orleans and the Basilica, time to head back to Old Town. Quebec City has all the history, culture and great food of France without theblow-smoke-in-your-face attitudeor the transatlantic flight. The French-Canadians love to share their jewel of a city with Americans. It's my go-to destination for a couple's weekend away or introducing your own carful of kids to international travel.
Explore Canada
Anne of Green Gables Heritage Place
Cape Breton Highlands National Park
Saint Croix Island International Historic Site
Anne of Green Gables Heritage Place
8 Things to Pack for Driving into Canada
Cruising?
Quebec City is a popular port-of-call for cruise ships. And I visited Quebec City again in 2017 on the Regent Seven Seas Fall Color Cruise.
Disclosure
Consideration for brands mentioned. This post contains affiliate links.