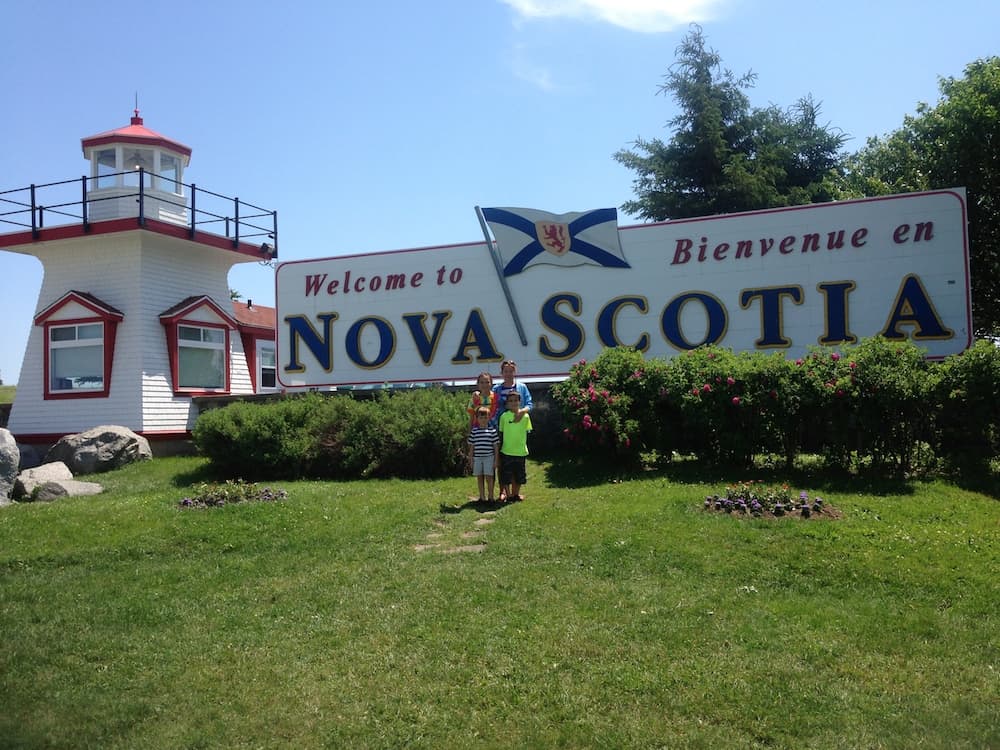 At the eastern tip of North America, find one of the top scenic drives along the coast of the Nova Scotia. Driving the Cabot Trail through Cape Breton Highlands National Park has been on my bucket list for years. So I've got all the details for what to do in Cape Breton with kids.
About Nova Scotia
Borrowing its heritage from Scotland, Nova Scotia celebrates its heritage withceilidhs, or gatherings with traditional Scottish folk music. In 1621 Nova Scotia was founded and granted to Sir William Alexander. UnlikeQuebec and Saint John, Nova Scotia has little French influence, expect around Chéticamp.
Nova Scotia is a peninsula and Halifax is the capital. The Atlantic Ocean is the draw in the Canadian Maritimes so be on the lookout for lighthouses.
What to do in Cape Breton with Kids
Take a Scenic Drive
Hike
Chase Waves at the Beach
Discover Cape Breton at Night
Go Camping
Or Stay at the Keltic Lodge
Drive the Cabot Trail
As one of the top scenic drives in Canada, the Cabot Trail offers rugged beauty as it snakes its way through the Cape Breton Highlands.The Cabot Trailis a 185-mile scenic route that hugs the northernmost coast of Nova Scotia with views of the Gulf of St. Lawrence and the North Atlantic. It wasnamed after John Cabot who landed in Canada in 1497.
With several interpretive areas, discover Cape Breton slowly and stop along the way with scenic overlooks. Stop at the following:
La Bloc
Cap Rouge Exhibit
Veteran's Monument
MacKenzie Mountain
North Mountain Look-off for Beulach Ban Falls
Ingonish Beach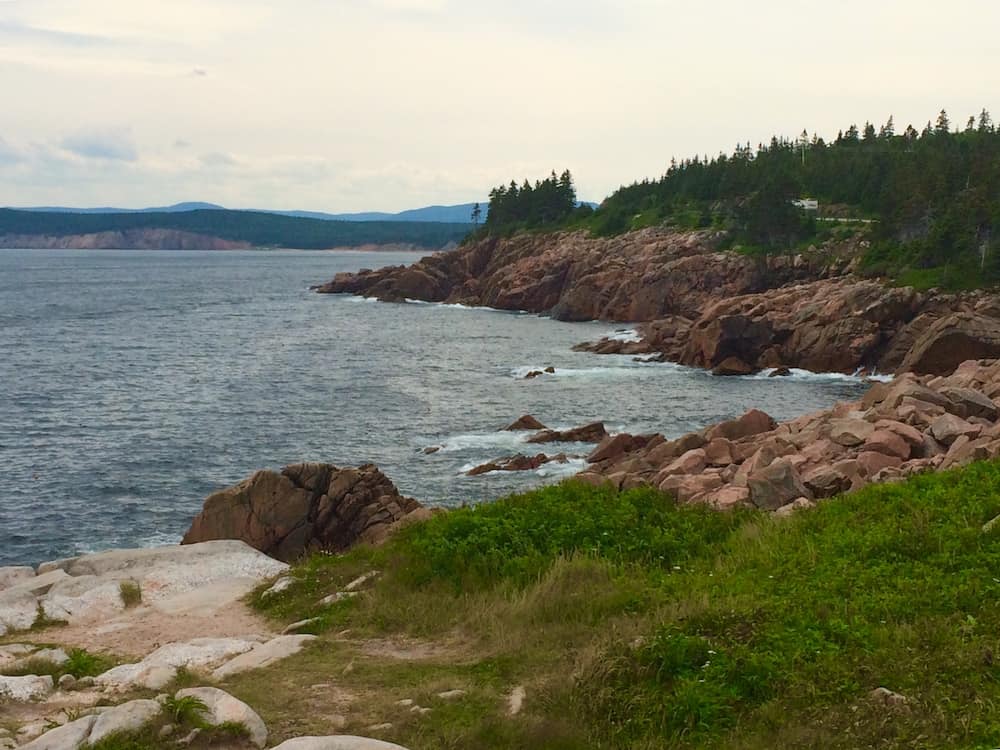 Hiking in Cape Breton Highlands
Grab a water bottle and take a hike in Cape Breton with the kids. Any of the following are easy hikes for families.
| | |
| --- | --- |
| Trail | Distance |
| Le Chemin du Buttereau | 4.6 km |
| Le Buttereau Loop | 1.6 km |
| Corney Brook | 6.5 km |
| Bog Loop | .5 km |
| Benjie's Lake | 3 km |
| MacIntosh Brook | 1.7 km |
| Lone Shieling Loop | .6 km |
| Jack Pine Loop | 2.3 km |
| Jiggling Cove Loop | 2.4 km |
| Green Cove | .2 km |
| Freshwater Lake | 1.7 km |
Or take a guided hike with a park guide.
Meander to Middlehead—Take a guided 4-km hike along the rugged Middle Head Peninsula, near the Keltic Lodge.
Salmon Pools Walk—See where the Atlantic salmon come to sawn along the Chéticamp River Valley.
Cape Breton at Night
Explore the park after the sun sets. Cape Breton Highlands National Park offers several programs during the summer.
Skyline Sunset Hike–Hike through a boreal forest to get to where the mountains meet the ocean just in time for sunset.

Admission and reservations required.

Seeing in the Dark–Take a guided night hike in Cape Breton and see how the senses adjust in low light.

Admission and reservations required.

Lantern Walk Through Time–

With the help of a lantern, take a guided tour to learn about the past in Nova Scotia.

Admission and reservations required.
Cape Breton Beaches
Let the kids chase some waves at one of Cape Breton's beaches. The water is a bit cold for swimming.
Ingonish Beach
North Bay Beach
Broad Cove Beach
La Bloc Beach
Black Brook Beach
Freshwater Lake
Warren Lake
Parks Canada Xplorers for Kids
Similar to theNational Park Service's Junior Ranger Programsin the U.S., Parks Canada offers the Xplorer Program. Kids receive a booklet at the visitor center to complete. It takes about an hour and kids receive a collectible dog-tag charm with the parks name imprinted on it.
Where to Eat in Cape Breton
Find the perfect spot and roll out a blanket for an afternoon picnic. The following offer ideal spots for picnicking.
Ingonish Beach
La Bloc
La Vieux Chemin du Cap-Rouge
Fishing Cove
Grand Anse
MacIntosh Brook
Mary Ann Falls
Top of Franey Mountain
MiddleHead
ParKs Canada offers catering options if you make reservations ahead. It arranges a picnic complete with a blanket and basket for pickup.
Learn to Lobster Boil
Grab your family and learn the art of the lobster boil as the sun sets over the Gulf of St. Lawrence. After scooping up some seawater in the stockpot and dropping in the lobsters, learn about Cape Breton's local history.
Every Wednesday in June July and August at La Boc, Chéticamp. Reservations required.
Aucoin's Bakery
At the eastern edge of Cape Breton in Chéticamp, stop by a local bakery for fresh breads, like baguette or a sandwich loaf, along with sweet or meat pies. Don't forget the sweets, like cookies and brownies. A locals favorite for nearly 50 years, I stopped when I visited Cape Breton.
Located at 14 La Point Road in Chéticamp and open from Monday through Saturday from 7 a.m. to 5 p.m. during the summer season.
Neils Harbor
Stop about midpoint along the Cabot Trail inNeil's Harborto grab some seafood chowder at theChowder House. I found a top-notch cup of chowder and a picnic table to enjoy the ocean view.
Don't miss grabbing a cone from the lighthouse at Neil's Harbor Lighthouse Ice Cream Shop.The owner of the ice cream shop, Scotty, greets every guest and tells the rich history of the area as well as tales from the sea. Scotty delighted us with the locals-only hiking trails as well as what winter is like in his corner of the world.
Both are located at 90 Lighthouse Rd. Neils Harbor.
Camping in Cape Breton Highlands National Park
Cape Breton Highlands National Park offers traditional campsites for tents and RVs. Though my favorite are the equipped campsites and the oTENTiks.
Equipped Campsite
Anequipped campsiteis the way to camp when you're road tripping. Like most kids, the carful of kids will look for kindling or tote sleeping bags but they vanish into the woods when I need help with a tent, leaving me to do the grunt work.
Parks Canada has pitched the tent for you. Each campsite features:
Tent
Sleeping Pads
Stove
High-quality cooking gear
Plates and utensils
The carful of kids are delighted with the campsite and it takes no time to get some burgers sizzling on the camp fire. We top off dinner with some s'mores before crawling into our tent for a pleasant night's sleep. Thanks to our sleeping pads and air mattresses that I don't leave home without.
Equipped campsites are available at the Chéticamp and Ingonish Beach campgrounds.
oTENTiks
An oTENTik is A-frame structure featuring sleeping for five or six, including a series of platform beds, along with a table and four chairs and a bench inside.
Outside most oTENTiks feature a picnic table, a fire ring or grill for outdoor cooking. Bathhouses are usually a short distance away. All cooking is done outside.
OTENTiks are located at Chéticamp, Broad Grove and Ingonish Beach campgrounds. Reservations are a must.
Keltic Lodgeand the Highlands Golf Course
Visit, or even better arrange a tee time, for the legendary Highlands golf course. Built in 1939 by Stanley Thompson it takes design clues from the landscape. Along with borrowing elements from the rich Scottish golf heritage, this 18-hole, par 72 course is a highlight for golfers.
Keltic Lodge offers a secluded property with a range of lodging options from two-bedroom cottages to executive suites. It offers a spa, a pool along with several dining rooms for your stay.
Keltic Lodge is located at 383 Keltic Inn, Middle Head Peninsula, near Ingonish Beach. It's a seasonal property, open from mid-May to mid-October.
Lyme Disease
The Black-legged tick is found throughout the Canadian Maritimes. To prevent Lyme Disease use the following precautions.
Wear light-colored clothing, including long pants and long-sleeved shirts.
Use insect repellant with DEET.
Stay on trails and avoid long grass and brush.
Take a shower shortly after hiking.
Put clothes in a hot dryer for 10 minutes to kill ticks.
Where's Cape Breton Highlands National Park
We visited the Bay of National Park and eastern section ofCape Breton Highlands National Park is338 miles away. Ittook a little over six hours with well-maintained roads and easy to navigate. Chéticamp and Ingonish Beach are gateway towns for Cape Breton Highlands National Park.
Know Before You Go
If you are short on time, enter the Cape Breton Highlands National Park from the Ingonish Beach entrance and enjoy as much as your time allows.
Best of Canada
Anne of Green Gables Heritage Place
Saint Croix Island International Historic Site
Ile d'Orléans near Quebec City
8 Things to Pack for Driving into Canada
More Information
For more information, I recommend the following guides and maps for your trip.