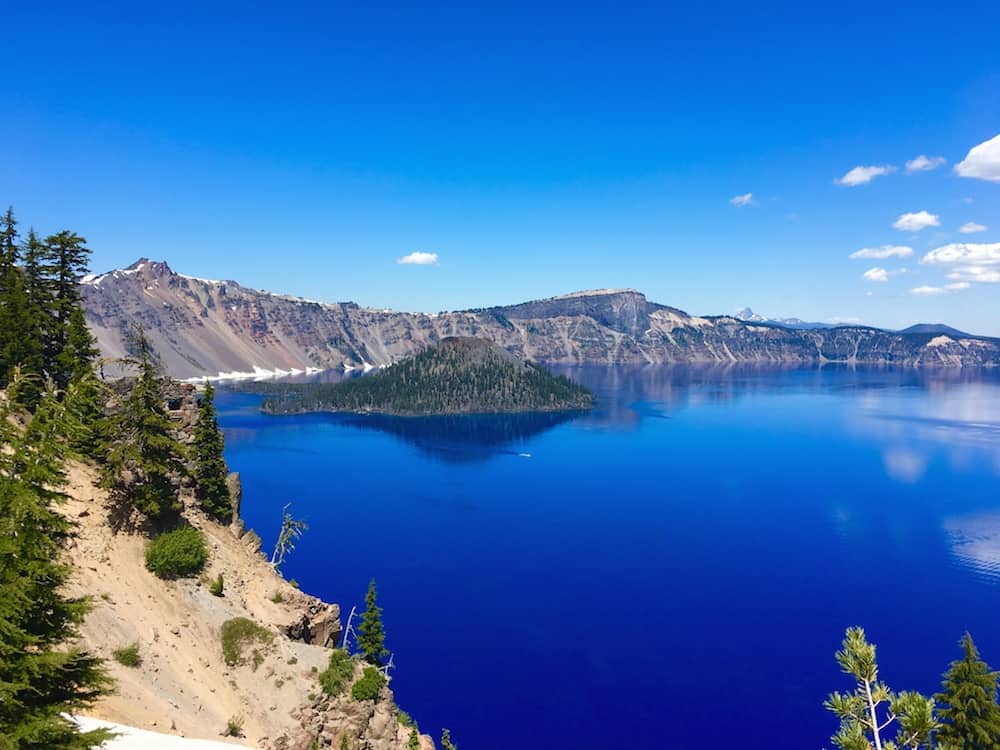 Oregon sits at the edge of the western U.S. and beckons travelers to meander between its coastline and majestic forests. With its volcanic history and  the Cascade Mountains, visitors can see mountain vistas then go underground and explore its caves. The Columbia River offers waterfalls and watersports along with a study in the last Ice Age. Dedicated to preserving landscapes and history, the National Parks of Oregon feature sites dedicated to the people of the region. Find lots of opportunity to learn and explore at any of the top National Parks in Oregon.
Top National Parks in Oregon
Crater Lake National Park
From volcanic destruction one of the most beautiful lakes in North America was born. Known for its surreal blue water and clarity, Crater Lake is best visited from late June through the end of summer when the roads are cleared of snow.
Located in the southwest corner of Oregon, the top sites at Crater Lake  are its Rim Drive and the Crater Lake Lodge. This is one of the top National Parks in Oregon. 
First discovered by gold miners in the 1850s, it was protected in 1902 by Theodore Roosevelt. Crater Lake National Park was the ninth national park created in the NPS system.
What to do in Crater Lake
Stop by the Steel Visitor Center for Junior Ranger booklets, a park map and watch the park movie. Next stop, the Rim Village Visitor Center and walk along Crater Lake's paved path overlooking the lake. 
Head to the Sinnott Memorial Overlook for the best views of Crater Lake along with information on the eruption that created the lake. If time allows, arrange for narrated trolley tours departing from Rim Village.
For the top scenic drive at Crater Lake, take Rim Drive, a 33-mile road that encircles Crater Lake. Stop at the scenic overlooks, like Discovery Point, Waterman Overlook, Phantom Ship Overlook, or Pinnacles Overlook, among others, for unbeatable views of the lake.
Take the 1.1-mile hike down to the lake to board the narrated Crater Lake Boat Tour for the opportunity to explore Wizard Island. Other hikes include, Castle Crest, Lake of the Woods or the accessible trails, The Pinnacles or Plaikni Falls. 
Where to Stay in Crater Lake
Crater Lake Lodge is a restored and upgraded historic lodge with refined dining and lodging in a rugged landscape. Order a drink at the coffee bar head to the rocking chairs overlooking the lake on the lodge's back patio if not staying the night. 
Manzama Village Cabins offers comfortable rooms with attached bathrooms, electricity though no TV, a/c or phones. In the area, Annie's Creek Restaurant and a sundry store sell groceries, camping supplies and more. 
Nearby camping is available. And reservations in advance are advised. 
As a popular national park destination, make lodging and boating reservations as early as possible. Open year-round and 24-hours a day. Admission is $30 per car for a 7-day pass or use an annual pass.
Read More 
The National Parks of Montana
Columbia River Gorge National Scenic Area
The Columbia River separates Oregon from Washington. It's a gorge up to 4,000 feet deep through the Cascade Range that continues for 80 miles to the Pacific Ocean. This is one of the top National Parks in Oregon. 
Top Sites along the Columbia River Gorge
The Dalles Dam
Learn how the Army Corps of Engineers tamed the Columbia River.
Located at 3545 Bret Clodfelter Way, The Dalles. Open Friday, Saturday and Sunday 9 a.m. to 5 p.m. from Memorial Day to Labor Day. Free to enter.
Columbia Gorge Discovery Center
Explore this museum and learn about the pioneers and emigrants seeking fortune along the Oregon Trail. Then learn about the Lewis and Clark Expedition.
Located at 5000 Discovery Drive in The Dallas. Open daily from 9 a.m. to 5 p.m. Adult admission is $10, kids (6 – 16) are $5 with those 5 and younger entering for free.
The Fruit Loop
Explore Hood River, an area bulging with summertime wineries, orchards, farm stands and lavender farms. Drive the 35 miles of country roads to meander with endless fruit stands to sample.
Multnomah Waterfall
As the most visited waterfall, it's a must-do. With a fall of 620 feet, Multnomah Falls is spectacular year-round.
If the parking is full, which happens the majority of the day during the busy summer season, visit the other falls and circle back in the late afternoon. Or take a shuttle service for an additional fee. Food and snacks available at the Multnomah Falls Lodge.
Located at exit #31 off Interstate 84. To park and visit Multnomah Falls, visitors will need to get a timed use permit via Recreation.gov from 9 a.m. to 6 p.m. Memorial Day to Labor Day.
To see more falls, visitors can take the Historic Columbia River Highway (Hwy. 30) to see Horsetail Falls or Bridal Veil Falls.
Vista House at Crown Point
A memorial dedicated to Oregon pioneers and listed on the National Register of Historic Places. Built in 1918, it's perched 733 feet above the Columbia River and the setting sun casts an amber glow in the windows.
Located at 40700 Historic Columbia River Hwy., Corbett. Open from 9 a.m. to 5 p.m. Friday through Monday. It's also a notable scenic overlook.
Oregon Caves National Monument
Just south of Crater Lake National Park, explore a dense forest then take a cave tour at Oregon Caves National Monument. This is one of the top National Parks in Oregon. 
Discovered in 1874 by Elijah Davidson, Oregon Caves beckons cave explorers to the fir-covered Siskiyou Mountains of southern Oregon. Early explorers used candles and a ball of string to navigate the marble passages until President Taft declared it a national monument in 1909. 
What to do at Oregon Caves
Take the Discovery Tour, a 1½ hour trek through the Marble Halls of Oregon. The .6-mile trail passes by stalagmites, stalactites and drapery formations along with flowstone. This tour includes 500 steps and walks by the cave stream. It's not accessible and considered moderately strenuous. Adults (16+) tickets are $10 and kids under 15 are $7 with an interagency pass ticket for $5.  
After our cave tour, we hiked back though the forest, brimming with ferns and firs to Oregon Caves Chateau, the national park lodge. 
Read More
Where to Stay at Oregon Caves
Built in 1934, the Oregon Caves Chateau is a National Historic Landmark. The bark-covered building features cozy rooms along with a restaurant. 
The Chateau's restaurant offers a menu infused with flavors of the Pacific Northwest. After dinner, grab a board game in the lobby and sit next to the crackling fire. 
Nearby camping is available. 
Located at 19000 Caves Highway, Cave Junction, OR 97523. The drive to the visitor center from Cave Junction takes 60 minute  isn't advised for RVs and travel trailers. 
Note: Oregon Caves Chateau is closed for renovations. 
Read More
Newberry National Volcanic Monument
The Newberry National Volcanic Monument is divided into two areas, Newberry Caldera and Lava Lands. Each offers a visitor center with seasonal summer hours staffed by U.S. Forest Rangers.
At the Newberry Caldera hike the Big Obsidian Flow, a 1-mile loop moderate trail with a 500-foot elevation gain. Another notable hike, the Paulina Falls trail is a .25-mile easy trail to an 80-foot twin falls. Or head to the two lakes with hot springs, Paulina Lake and East Lake.
Closer to Bend, Lava Lands Visitor Center offers a shuttle bus to the top of a cinder cone. Lava Butte is a 500-foot tall cinder cone volcano with a lookout. And its a historic and active U.S. Forest Service fire lookout since 1913. (additional fee per person, round trip)
If visiting the Newberry National Volcanic Monument during the summer season (May 1 to Labor Day), explore the Lava River Cave, Oregon's longest lava tube. Lava River Cave requires a 2-mile roundtrip hike and you must provide two light sources.
Located south of Bend, OR, in the Deschutes National Forest. Day passes can be purchased for $5 or use a NPS annual pass. 
Read More
Lewis and Clark National Historic Park
Lewis and Clark National Historical Park offers an introduction to the famous explorers that charted the western U.S. after the Louisiana Purchase. This is one of the top National Parks in Oregon. 
President Thomas Jefferson dispatched Merriweather Lewis and William Clark, both in their early 30s, to discover a water passage to the Pacific Ocean. 
Starting in 1804, Lewis and Clark along with other men in the Corps of Discovery, set out from St. Louis headed west to the Pacific Ocean. Not until November 1805 did the Lewis and Clark Expedition reach the ocean.
Needing a place to spend winter, they built Fort Clatsop. For three months, the Corps of Discovery sewed moccasins, hunted and made salt. In March 1806, they left for the trek back to St. Louis. 
Stop at Lewis and Clark National Historical Park visitor center first. Then explore the replica of the wooden Fort Clatsop, featuring living history programs. We learned about fur trading and the wool Hudson Bay blankets. Though several different programs are offered. 
During the summer, ranger programming is offered from 10 a.m. to 4 p.m. most days at the fort. The visitor center offers an interpretive area and a couple of educational videos. 
Located at 92343 Fort Clatsop, Astoria, OR. Open from 9 a.m. to 6 p.m. during the summer months and 9 a.m. to 5 p.m. for the rest of the year. Admission for adults (16+) is $10 per person for a 7-day pass, or use a NPS pass.
Fort Stevens State Park
Located nearby, Fort Stevens State Park offers hiking trails of differing lengths along with bike rental. Originally built in 1860s, this fort protected the mouth of the Columbia River. And don't miss the shipwrieck, Peter Iredale.
Located at 1675 Peter Iredale Rd. Hammond, OR, 97121. Parking fee $5.
See where the men of the expedition made salt from ocean water to preserve meat for the trek back. The Salt Works, located south in Seaside is off Lewis and Clark Way and offers an interpretive plaque. 
Read More
Mount Hood
Standing as a beacon along the Columbia River Gorge, Mount Hood rises up from the landscape with glaciers and year-round skiing. As the highest point in Oregon and an active volcano, Mount Hood offers a relatively easy drive compared to other mountaintop destinations. 
Mount Hood features six different ski resorts though only one runs lifts season-to-season for summer skiing and boarding. For avid skiers and snowboarders, summer skiing at Timberline offers a bucket list ski destination. Also find summer hiking.
Timberline Lodge is a must for lovers of the National Park Service parkitecture. Built from 1936 to 1938, Timberline Lodge was a Works Progress Administration project. 
Using local materials, like the stone and timber,  local artisans and craftspeople created a rustic property. With six sides, the four-story building features a central fireplace and handmade furnishings and wood carvings.
Located at 27500 E. Timberline Lodge in Government Canyon.
Read More
John Day Fossil National Monument
With 14,000 acres in eastern Oregon, the John Day National Monument comprises three separate park units. The Thomas Condon Paleontology and Visitor Center offers interpretive information and is located in the Sheep Rock Unit.
The Painted Hills unit's rock formations look like a shaded mural of color. It's also a popular site, located 9 miles northwest of Mitchell, OR.
Clamo Unit is located 18 miles west of Fossil, OR, and features plant and animal fossils from 7 to 44 million years ago. 
Located at 32651 Highway 19, Kimberly, OR, 97848. Free to enter
Nez Perce National Historical Park
Learn about the Nez Perce people in a historical park that includes sites in four states—Idaho, Montana, Oregon and Washington. With 38 sites within the park, four are in Oregon: Old Chief Joseph's Gravesite, Lostine Campsite, Joseph Canyon Viewpoint and Dug Bar.
Located at 83365 Joseph Highway, Joseph.
Read More
The National Trails in Oregon 
Ice Age Floods National Geological Trail
At the end of the last ice age 12,000 to 17,000 years ago, massive floods changed the geography in the Pacific Northwest. Find evidence of the floods in four states. In Oregon, head to the Columbia River Gorge at Multnomah Falls, Vista House at Crown Point or Portland Women's Forum Overlook.
The Oregon Trail National Historical Trail
For 2,000 miles and through six states, emigrants used this trail to travel to the west during the 1800s. Learn more about the perils and journey inside the Columbia Gorge Discovery Center.
Located at 5000 Discovery Dr., The Dalles, OR, 97058. Open daily from 9 a.m. to 5 p.m. Adult admission is $9 and kids 6 to 16 are $5.
Lewis and Clark National Historical Trail
As a 4,900 mile-long trail and spans 16 states. Starting in Pittsburgh, Pennsylvania, through Omaha, Nebraska, and it continues along the Columbia River to Astoria to retrace the route of the explorers.
California National Historic Trail
Over 2,000 miles long this trail traversed the deserts and the Sierras to get to northern California and Oregon. Find exhibits at Manzanita Rest Area at Grants Pass on Interstate 5. Or Emigrant Lake Park Exhibits can be found off Highway 66 in Ashland, OR.