Oregon Road Trip Itinerary
Pack it up and explore the Pacific Northwest with nine picture perfect Oregon road trip stops during the summer. First start in Portland (especially if you are flying in) and find with a host of family friendly stops, especially for book lovers and foodies. Then head east for waterfall gazing before exploring the Cascade Range in this Oregon Road Trip Itinerary.
Read More about Oregon
Portland Oregon for Families
During the warmer months, Portland offers lots of sunshine and pleasant temperatures to explore outdoors. Always a hit with families, head to a park first.
Washington Park
Find Oregon Zoo and Portland Children's Museum for a day full of family fun inside of Washington Park.  Or explore the International Rose Test Garden and the Portland Japanese Garden, especially if you love flowers. Located east of downtown Portland, off W. Burnside St.
Pittock Mansion
Built in 1914, it's in the French château style with expansive views of downtown from the gardens. And a must old house fans, including the garden. Located at 3229 NW Pittock.
Burnside Skate Park
So skaters will have to make a pilgrimage to this iconic skate park. Originally built as a rogue skatepark, it's located under the Burnside Bridge and a bucket list skate park for kids. Located at SE 2nd Ave.
Powell's City of Books
Then the book lovers need to browse through Powell's City of Books to find a city block full of new and used books. It offers a great kids book section too. Located at 1005 W. Burnside St.
The Waterfalls along the Columbia River
For waterfall chasers, seeing Multnomah Falls is a must, the most visited of Oregon's waterfalls. Though that's not the only one, find more waterfalls along the Historic Columbia River Highway. If the parking is full at Multnomah Falls, which happens the majority of the day during the summer season, visit another one and circle back around later in the day.
First take the Historic Columbia River Highway (Hwy. 30) and discover more falls. The following waterfalls are located close to their parking lots and don't require lengthy hikes.
Horsetail Falls, 2.5 miles east of Multnomah Falls, along Columbia River Scenic Highway offers a 176-foot waterfall steps from the highway.
Wah-kee-na Falls, .5 miles west of Multnomah Falls, translates into most beautiful from the Yakama language. A 242-foot tiered waterfall awaits with a nearby picnic area.
Bridal Veil Falls requires a short hike from the parking lot, one mile west of exit 28 off Interstate 84. Visitors gaze at the tiered waterfall set among a mossy forest.
Latourell Falls, located in Guy W. Talbot State Park, features a 249-foot plunge fall a short hike from the parking lot.
Multnomah Falls,the grand dame of the Oregon falls, is a 620-foot waterfall. Walk up to the Benson Bridge for a .5-mile one way hike, continue 2.4 miles to the top of the falls. Walk through the historic Multnomah Falls Lodge for souvenirs or a Pacific Northwest meal. Located along Interstate 84 at exit 31, east of Portland.
Read More
Columbia River Gorge National Scenic Area
Discover more along the Columbia River Gorge besides the show-stopping waterfalls. So head to Hood River, a town bulging with summertime wineries, orchards, farm stands and lavender farms.
The main attraction, the Fruit Loop, provides over 35 miles of country roads to meander and endless fruit stands to sample. Since the best tasting cherries are too fragile to ship long distances, sample different cherry varieties. The cherry stands offer more so find stone fruit along with baked goods.
Not to be outdone by fruit, the flower farms, especially lavender, are a heavenly excursion. So stop at Hood River Lavender Farms to harvest an armful of bouquets.
For families wanting to learn about the area, stop by the Columbia Gorge Discovery Center for more about the area's history, located 5000 Discovery Dr. in The Dalles.
Make it to Mount Hood
Standing as a beacon along the Columbia River Gorge, Mount Hood rises up from the landscape with glaciers and year-round skiing. It offers a relatively easy drive compared to other mountaintop destinations.
Mount Hood features six different ski resorts though Timberline is the only resort to run lifts season-to-season for summer skiing and boarding. For avid skiers and snowboarders, summer skiing at Timberline offers a bucket list ski destination.
Timberline Lodge offers guests rustic elegance as a National Park Service lodge. Built from 1936 to 1938, Timberline Lodge was a Works Progress Administration project that used local materials. Located at 27500 E. Timberline Road, south of Hood River.
Climb a Volcano at Newberry National Volcanic Monument
Located where the ponderosa pine forest transitions to the high desert find Bend, Oregon. Known for its volcanic activity, the eastern edge of the Cascade mountain range offers a 1,200 square-mile volcano.
The Newberry National Volcanic Monument is divided into two areas, Newberry Caldera and Lava Lands. Each offers a visitor center with seasonal summer hours staffed by U.S. Forest Rangers along with hiking trails.
If limited on time, head to the Lava Lands Visitor center, located at 58201 S. Hwy 97 near Bend.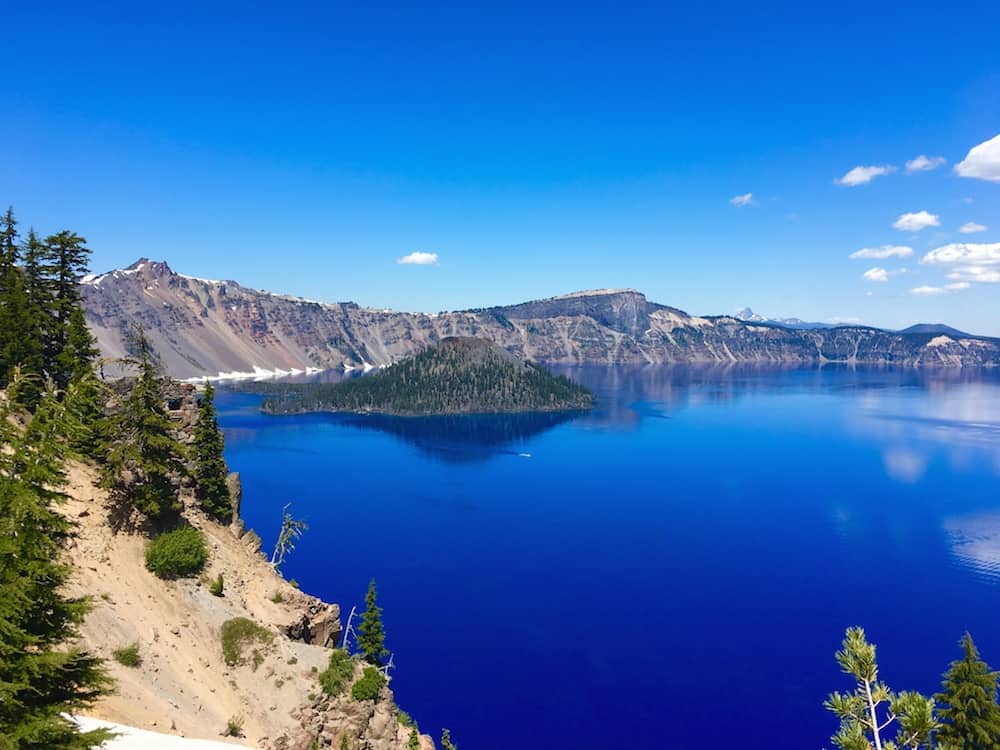 Crater Lake offers a sapphire lake and a historic lodge in Southern Oregon. Photo Credit: Catherine Parker
Crater Lake National Park with Kids
Often inaccessible from fall to spring, a trip to Oregon's Crater Lake National Park is worth the trip (and planning if you want to stay in the parks). The blue of Crater Lake is so blue it looks fake, in a good way. Hike along the rim for the best way to enjoy the view.
For the best time to visit Crater Lake, head out  in late June through the end of summer when all the roads open for the season. First stop by Sinnott Memorial Overlook for the best view of Crater Lake along with information on the eruption that created the lake. It's a former volcano. Then take Rim Drive, a 33-mile road that encircles Crater Lake. Remember to stop at the scenic overlooks, like Discovery Point, Waterman Overlook, Phantom Ship Overlook, or Pinnacles Overlook, among others, for more unbeatable views of the lake.
Completely restored and upgraded, Crater Lake Lodge offers guests refined dining and lodging in a rugged landscape. So grab a drink and head to the rocking chairs along the lodge's back patio to watch the sun set over the lake. There's also a scenic cruise on the lake that goes by Wizard Island.
First protected in 1902 by Theodore Roosevelt, Crater Lake National Park was the ninth park in the National Park Service.
Located in the southern Oregon, Crater Lake National Park is in the Cascade mountain range.
Read More 
Conquer Oregon Caves National Monument
Turn onto a windy road and make your way through a dense forest to get to Oregon Caves National Monument. Discovered in 1874 by Elijah Davidson, Oregon Caves still beckons cave explorers to the fir-covered Siskiyou Mountains of southern Oregon.
Find several tours, like the Discovery Tour or Candlelight Tour. After a cave tour, hike back through the forest, brimming with ferns and firs to Oregon Caves Chateau, the national park lodge. Built in 1934 and National Historic Landmark, the bark-covered building features cozy rooms along with a restaurant though closed for an extensive renovation.
Located at 20000 Caves Highway in south of Crater Lake.
Sample Cheese at Tillamook
Since it's a popular location spot in several movies, Haystack Rock is the star of Cannon Beach. So a walk along the beach is a must for beach lovers.
After walking the beach, recharge with a snack. Tour the Tillamook Cheese Factory for the cheese samples, a cheese shop, a restaurant and to-die-for ice cream. It's located at 4147 Highway 101 in Tillamook.
Read More 
Explore the Lewis and Clark National Historical Park
Get an introduction to the famous explorers that charted the western U.S. after the Louisiana Purchase at the mouth of the Columbia River. First explore the replica of Fort Clatsop, a wooden fort that features living history programs. It is where the Lewis and Clark Expedition camped after making it to the Pacific Ocean.
Dispatched by President Thomas Jefferson, Merriweather Lewis and William Clark wanted to discover a water passage to the Pacific Ocean. Starting in 1804, Lewis and Clark along with the Corps of Discovery, set out from St. Louis headed west. Also  learn about fur trading in North America and the wool Hudson Bay blankets that were traded for fur pelts.
Located near the mouth of the Columbia River in northern Oregon, find the Lewis and Clark National Historical Park at 92343 Fort Clatsop Rd.
This Oregon road trip can be driven in either direction. You can also enter from Northern California and start with Oregon Cakes National Park and drive in a circle around the state.