It's that time of the year, the crisp days of fall call out for a hike through the woods. From Maine to Utah and beyond, travelers will find glowing trees, apple orchards, pumpkin patches and more. Pack a sweater and grab a hot cider for a getaway that blends outdoor activities with indoor relaxation. Here are the top fall destinations across the U.S. for the best getaway.
Top Fall Destinations Across the U.S.
Acadia National Park in Maine
Boston, Massachusetts
Grand Canyon National Park in Arizona
Great Smoky Mountain National Park in Tennessee and North Carolina
Hudson Valley, New York
Montreal, Quebec, Canada
Rocky Mountains National Park in Colorado
Salem, Massachusetts
Waterbury, Vermont
Yellowstone National Park in Wyoming, Montana and Idaho
Zion National Park in Utah
1. Acadia National Park
As one of the most visited national parks on the U.S. East Coast Acadia National Park is a popular Fall color destination. Acadia National Park is the oldest national park east of the Mississippi River and offers a lot of activities.
With rocky shores, evergreen forests and pops of fall color, visitors can explore and see some of the best spots via a hike. The Park Rangers recommend several hikes for leaf peepers. 
Acadia National Park is 270 miles from Boston, Massachusetts. Acadia National Park is open year-round, but there are seasonal road closures from November through March. Admission is $30 per car for a 7-day pass.
2. Boston, Massachusetts
3. Grand Canyon National Park
Located in Northern Arizona, the Grand Canyon National Park is one of the top 10 National Parks and a top destination in the U.S. Even seasoned travelers never tire of its view, scale and muted desert colors.
Open year-round, the South Rim of the Grand Canyon attracts visitors from around the globe as each marvels at its view. Scenic drives offer pockets of aspen and oaks, both of which change color. 
Grand Canyon South Rim is located 59 miles north of Williams, Arizona, on Highway 64. The South Entrance is the most popular gateway taking visitors through Tusayan. The South Rim of the Grand Canyon is open 365 days a year, 24 hours a day. A 7-day private vehicle pass is $35.
4. Great Smoky Mountain National Park
Spanning two states, The Great Smoky Mountains National Park is the most visited National Park in the U.S. With over 520,000 acres there is plenty of space to wander. This mountain park changes into a different landscape through the seasons.
With about 100 native tree species, find several types of maples along with American beech, scarlet oak, sweet gum and hickories. Take a scenic drive for the easiest way to see fall color.
The Great Smoky Mountains National Park is open 365 days a year, 24 hours a day. Unique to the Great Smoky Mountains National Park a parking tag is required for parking. This is a physical tag that can purchased in the area at visitor centers, kiosks or through Recreation.gov. It must be displayed on the vehicle's dashboard.
Daily Parking Pass $5
Weekly Parking Pass $15
5. Hudson Valley, NY

 
With the reflection of the Catskill Mountains shining off the Hudson River, this area of upstate New York has been a fall destination for generations. Pick some apples, sample its wine or dine in its acclaimed restaurants, many with chefs from the nearby Culinary Institute of America. 
From several types of maples to oaks to ginkgo, leaf peepers will go wild for the Hudson Valley. Scenic drives, like U.S. Route 9 and hiking in a park are the best ways to see the fall color. 
Located about two hours north of New York City, Metro North Commuter Rail and Amtrak both serve the area. 
6. Montreal, Quebec, Canada
This urban city offers 300,000 trees so it's actually a great place to enjoy a fall getaway. Even better is the convenience of exploring a city; Montreal boasts a French accent. From its food to its French-speaking residences, visitors can get the feel of a European getaway without the red-eye flight. 
Visitors should head to its parks for the best autumn colors, like Mount Royal Park or Parc Jean Draper. For flower lovers, the Montreal Botanical Garden can't be beat. 
Montreal is about four hours north of Boston for drivers. Montreal offers lots of international flights from the U.S. Though a Passport or Passport Card is necessary for both land and air travel.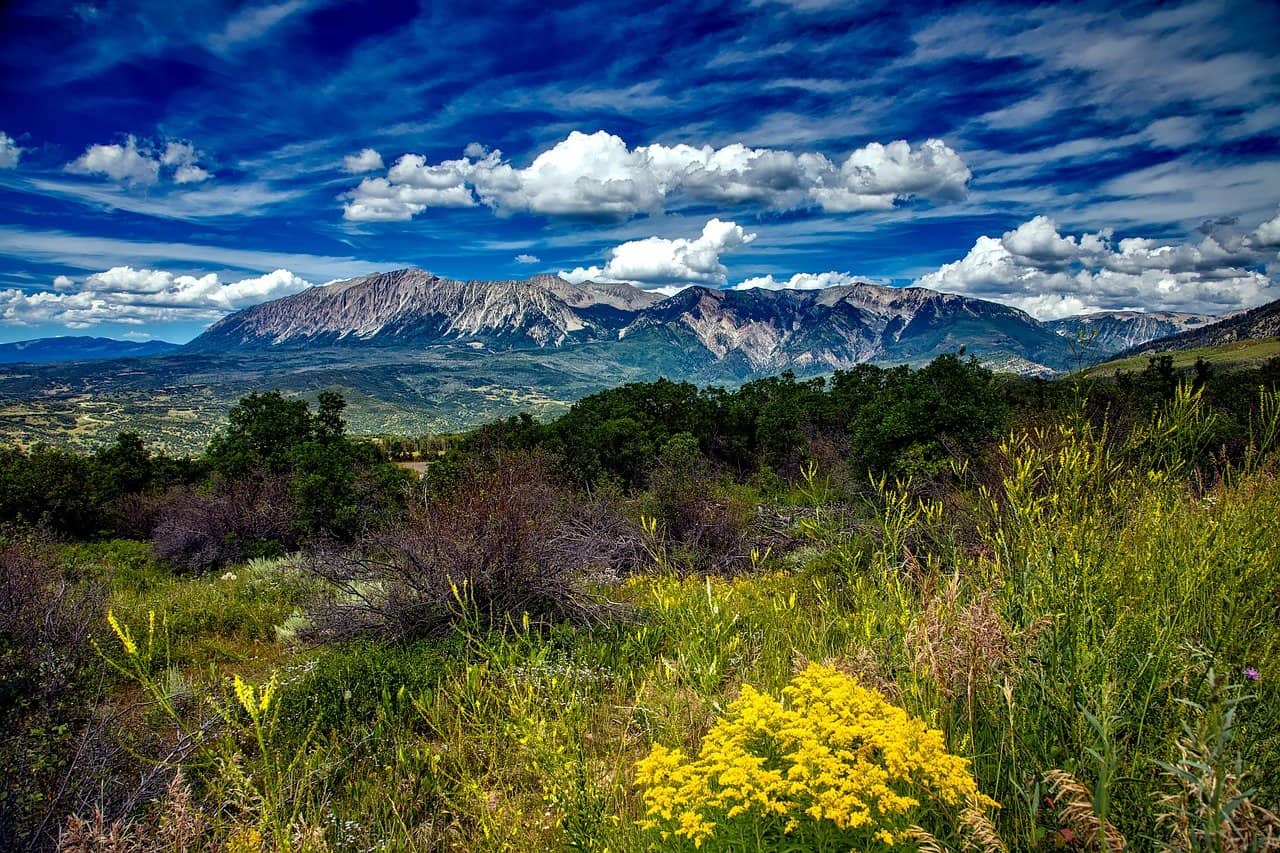 7. Rocky Mountain National Park
With over 70 mountain tops over 12,000 feet, visitors to Rocky Mountain National Park in Colorado can see the rugged wilderness and wildlife of the famed mountains of North America. A park dominated by wilderness, its aspen trees are the star in the fall. 
The easiest way to experience fall color season is a scenic drive, like Trail Ridge Road. Though hiking is another way to enjoy the cool weather and brilliant fall color. Park rangers recommend Sprague Lake, Bear Lake or Albert Falls for the best color. 
Rocky Mountain National Park is open 24 hours a day, 365 days a year. A one-day admission is $30 per car, or a 7-day pass is $35. Find seasonal road closures from October until May.  
To visit Rocky Mountain National Park during its peak season, day visitors will need a timed entry to visit Rocky Mountain National Park from May 26th until October 22th. Two permits are available, Bear Lake Corridor and a General Rocky Mountain National Park permit. The permits offer a 2-hour window to enter the park or area and for more information, visit the NPS site.
8. Salem, Massachusetts
Salem is a world away. From its unique place in history with the witch trials of the 1690s to the maritime industry, this charming town is walkable. 
For October, witches of all ages descend on Salem to retrace its infamous history. From February 1692 and May 1693, the town went into a hysterical fit leading up to the Salem Witch Trials.
Just 14 miles north of Boston, the easiest way to get to Salem is to drive. For those who use public transportation, the MBTA Rockport Line stops in Salem from the North Station. 
9. Waterbury, Vermont
A Fall Color awaits in Vermont for those yearning for cozy sweaters, cider and Vermont cheddar. The trees glow every shade of yellow, orange and red.
Along the route, visitors can sample the bounty of Vermont, from cider and maple-flavored everything. Hiking, covered bridges and scenic overlooks await too. 
Vermont Route 100 is a scenic byway that runs north-south between Vermont's top to bottom. As travelers head through the Green Mountains, farm stands await with pumpkins, maple syrup and more.
10. Yellowstone National Park
Fall comes early in Yellowstone. Visitors will find Quaking  Aspen, Narrowleaf Cottonwood, Willon and Hawthorne trees. 
Though a beautiful time to visit, some of the lodging and services close in early September. The Mammoth Area and the Old Faithful areas are the best for fall visits. 
Yellowstone National Park is located in Wyoming. Open 365 days a year and 24 hours a day. A 7-day pass for $35 per vehicle.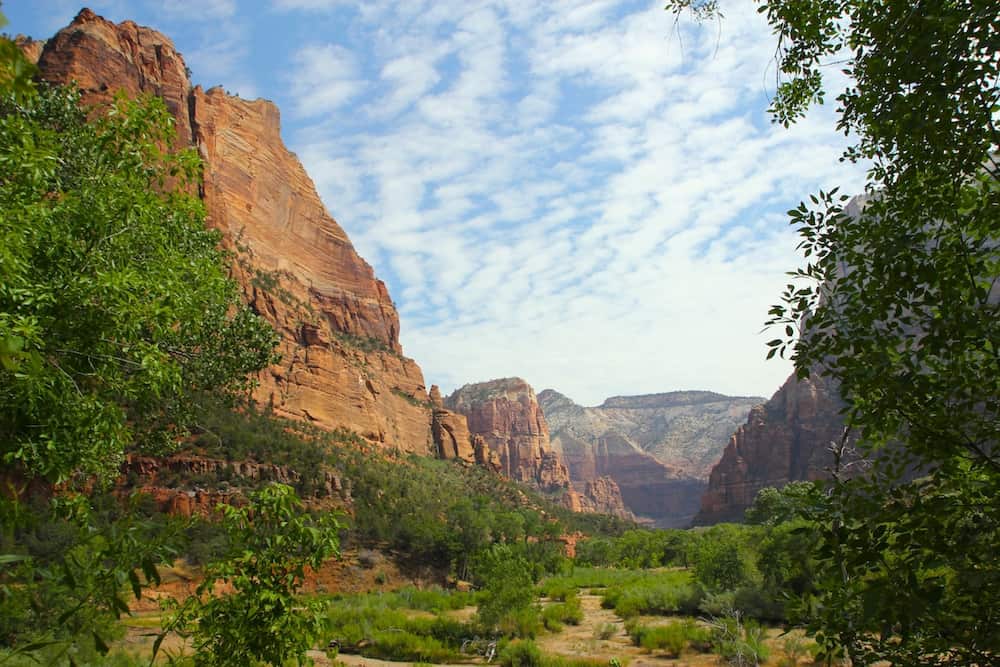 11. Zion National Park

 
Starting at the top of Zion's ridges, fall colors dip into the valley turning the Freemont Cottonwoods a sunny yellow. The contrast of the red sandstone and the evergreen pinyon and juniper trees is stunning. 
Traveling by shuttle bus up the Zion Canyon Scenic Drive is a top thing to do. With mild weather, hiking is another top activity.
Zion National Park is located in Southern Utah. Open 365 days a year and 24 hours a day. A 7-day pass for $35 per vehicle.