Just a few hours north of Dallas/Ft. Worth, southern Oklahoma offers mountains, a former national park, a wildlife refuge and even a chocolate factory. On a recent trip north of the Red River, I explored the area between Lawton and Sulphur, Oklahoma. Here's the ultimate listwhat to do in southern Oklahoma with kids .
What to do in Southern Oklahoma with Kids
I pulled together a list of 11 places for family fun in Southern Oklahoma.
Lake Murray State Park
Just a few miles north of the Texas/Oklahoma border, Lake Murray State Park is the first and largest state park in Oklahoma.
With over 12,500 acres to explore, I found plenty to do. Boating and water sports are the obvious choices. But I also found a golf course, ATV/motorcycle area and hiking. Along with plenty of camping from primitive sites to deluxe RV sites are available.
First I stopped by the Lake Murray Resort that offers a range of accommodations, like newly renovated lodge rooms to historic cabins. I even found some floating cabins in assorted sizes.
Find Lake Murray Resort at 3323 Lodge Road, Ardmore.
Read More
Tucker Tower
Next on the list, a stop by Tucker Tower is a must for families. The historic tower rises up 60-feet above Lake Murray and acts as a beacon on the lake.
The tower is an original Works Progress Administration (WPA) project at the southern end of the lake. Today it houses a museum to the WPA in Oklahoma and the views can't be beat.
Nature Center
Next to check out the Nature Center is a family magnet. With interactive displays kids learn about the animals in the area, always a hit with my kids.
During our visit, my kids earned a Nature Center at Tucker Tower patch by completing a booklet.
Find Tucker Tower and the Nature Center at 13528 Scenic Highway 77, Ardmore. Both are free though donations are accepted.
Bedré Chocolate Factory
Continuing north, I found a chocolate factory with convenient access right off Interstate 35, that bisects the state.
Over 40 years ago, a chocolate factory began in the small town of Ada, Oklahoma. Now it draws all the road trippers traveling through southern Oklahoma. Bedré Chocolates offers a shop full of temptations. So grab a treat with the kids and watch chocolates roll off the production line from the floor-to-ceiling windows.
During our visit, we sampled their classic treat, the meltaways in nearly every flavor available. Along with traditional chocolate, my kids loved the salty snacks dipped in chocolate. As a kid bonus, I found a playscape right outside.
Find Bedré Chocolate at 37 N. Colbert Rd. and open every day from 9 a.m. to 6 p.m. Free to enter.
Chickasaw Cultural Center
Next the Chickasaw Cultural Center blew my family away. With an extensive tribal cultural center across 184 acres, kids have lots of space to explore.
With facilities that include the Chikasha Inchokka' Traditional Village, it hosts reenactments and living history demonstrations. During our visit, we watched a stomp dance along with traditionally-dressed docents demonstrate Chickasaw crafts and agriculture.
Along with the village, I found a café, a gift shop, a fine art gallery along with a lake that kids can feed the fish. Such a beautiful facility that must be explored to appreciate.
Located at 867 Cooper Memorial Dr., the Chickasaw Cultural Center is open from 10 a.m. to 5 p.m., Monday through Saturday, and noon until 5 p.m. on Sunday. Admission varies.
Chickasaw National Recreation Area
Before I visited the Chickasaw National Recreation Area, I had no idea it was the former Platt National Park. Sometimes national park gets reclassified and that's the case for this area.
Though it might not be one of the big national parks, I found an area packed with historic buildings, natural pool swimming and scenic mountain vistas.
With a large recreational lake that beckons boat owners. And the Civilian Conservation Corps (CCC) historic buildings that add history. Finally the resident herd of bison is a must for kids. I found plenty of family fun for a long weekend.
Chickasaw National Recreation area features a couple of units. With the Platt Historic Unit, right outside the town of Sulphur, I found the Travertine Nature Center, the CCC buildings and the swimming areas. Then Arbuckle District offers Lake of the Arbuckles access at each of its three campground areas, Guy Sandy, The Point and Buckhorn. And an additional boat is located at Upper Guy Sandy area too.
The visitor center, Travertine Nature Center is free and open from 9 a.m. to 4:30 p.m. most days. Find it at 1504 Perimeter Rd, Sulphur. The park is open 24-hours a day.
Bison Viewing
Kids love animals so stop at the Bison Viewing Area located off U.S. Route 177, just south of Sulphur. A herd of 10 buffalo call the Chickasaw Natural Recreation Area home.
After several attempts to see the buffalo, we caught the bison near twilight in the viewing area. During our visit, we even saw a couple of baby bison grazing near their mothers.
After exploring the Sulphur area for a couple of days, I decided to take the long road home. We drove over to Lawton, Oklahoma, before heading back to Texas.
About 90 miles west, I found a prairie landscape with rolling hills along wildlife refuge, the Comanche Museum and Cultural Center along with Fort Sill.
Comanche National Museum and Cultural Center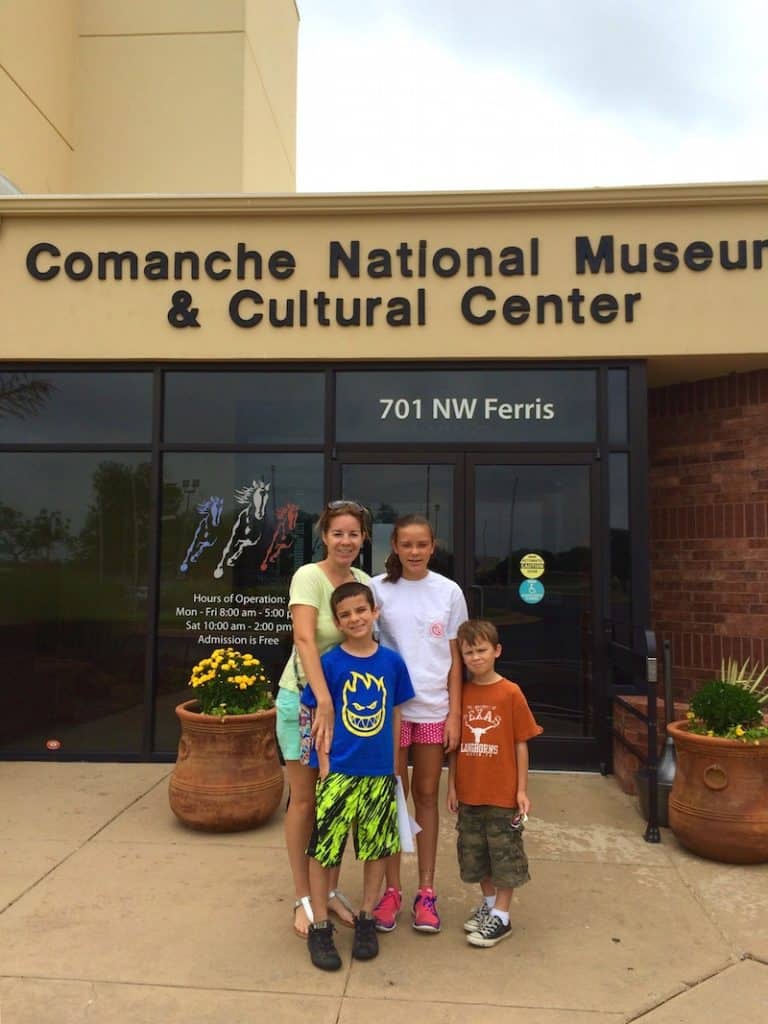 Our first stop, the Comanche National Museum and Cultural Center, is a must for more information on Quanah Parker and the Comanche people.The Comanche Museum focuses on the history of the Comanche people from the beginning until today.
During our visit, we learned about the WWII Comanche Code Talkers. Seventeen Comanche men used their native language to communicate in an undecipherable code that helped to defeat Hitler during D-Day.
The Comanche National Museum and Cultural Center is located at 701 NW Ferris Avenue. Open from 8 a.m. to 5 p.m. Monday through Friday, 10 a.m. to 2 p.m. on Saturday and closed Sunday. It's free and took about an hour to explore.
Fort Sill Army Base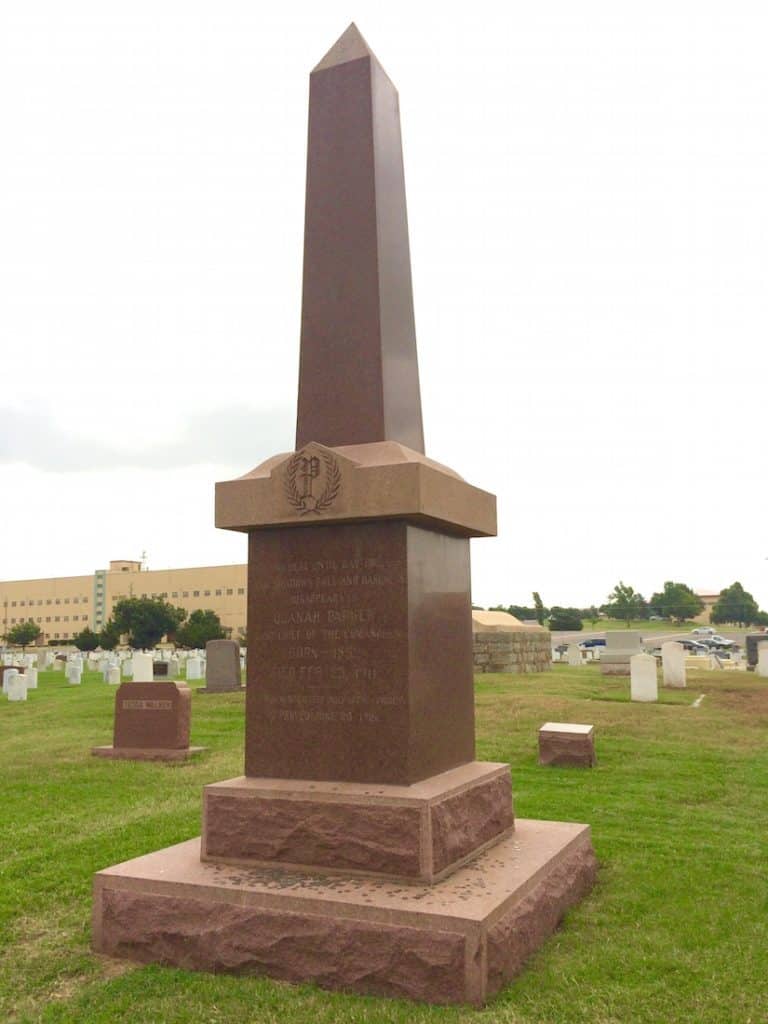 Continue the history lesson and head over totheFort Sill Army Baseto visit theFort Sill Post Cemetery(not be confused with the Fort Sill National Cemetery). As the final resting place of Comanche Chief Quanah Parker, his mother Cynthia Ann Parker and his little sister, Prairie Flower on the high point of the cemetery,Chiefs Knoll.
Visit the Fort Sill National Historic Landmark and Museum for history on the fort. With 38 buildings in the area, there's lots to see.
For artillery buffs, a visit to the U.S. Army Artillery Museum is a must. With an outdoor display, families can walk through to see Howitzers.
Since Fort Sill is an active U.S. Army Base all visitors over 16 must pass a background check at the Ft. Sill Visitor Control Center. It's free and takes about 15 minutes to complete.
Wichita Mountains Wildlife Refuge
As a top Oklahoma park area, Wichita Mountains Wildlife Refuge provides a refuge for free-range buffalo, Texas Longhorn cattle, prairie dogs, deer and elk over 59,000 acres. I suggest looking for animals at dawn and dusk, when they are most active.
First stop off at the Quanah Parker Nature and Visitor Center for an interpretive display. Additionally the Wichita Mountains Wildlife Refuge offers camping with 47 tent sites, 23 RV sites and 20 walk-in sites.
Open sunrise to sunset seven days a week with free admission. Wichita Mountains Wildlife Refuge offers 30 miles of hiking trails though we drove through looking for wildlife.
Holy City of the Wichitas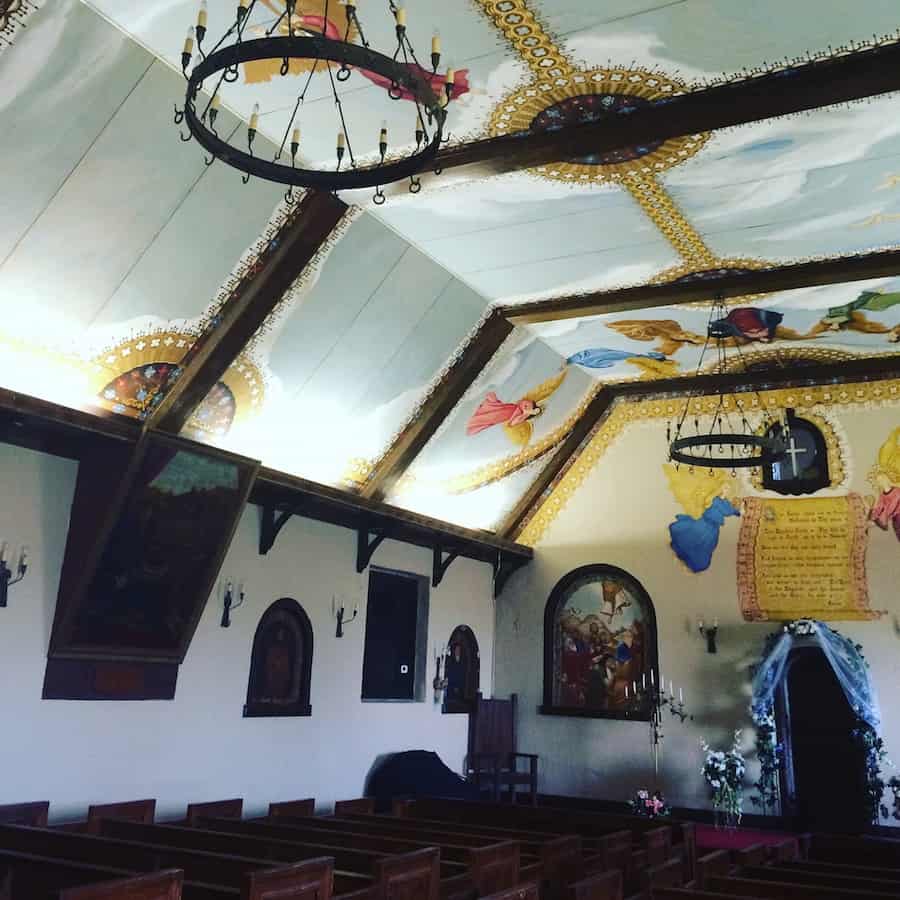 Close to the Wichita Mountains Wildlife Refuge, I found theHoly City of the Wichitas,a shrine west of Lawton.
In 1926, the late Reverend Anthony Mark Wallock started an annual Easter Pageant. In 1934 the 66-acre site got a federal grant and the Federal Works Progress Administration built many of the buildings that remain.
As an annual Easter Pageant,thePrince of Peaceremains thelongest running passion play in the U.S. Depicting the birth, life and death of Christ, the play drew a record crowd in 1939 of 225,000. With the Wichita Mountains as a backdrop, Jerusalem comes alive with Temple Court, Calvary's Mount and the walls of Jerusalem.
Find the Holy City of the Wichitas at 262 Holy City Rd. Open Wednesday to Saturday from 8 a.m. to 5p.m., free.
Where to Stay in Sulphur
Chickasaw Retreat and Conference Center
During my visit to Sulphur, Oklahoma, my family stayed at the Chickasaw Retreat and Conference Center, located next the the Chickasaw National Recreation Area. With over 1,700 acres to explore, the Chickasaw Retreat offers the ultimate refuge for relaxing and reconnecting as a family.
During my stay, I enjoyed a Junior Suite with my family. With a spacious room, I found plenty of room for a roll-away or pack-n-play. In the separate kitchenette I found a small refrigerator, a full-size microwave and separate sink. The luxurious bathroom included a soaking tub for rejuvenating along with a separate shower.
In a separate building, I found a wellness center that rivaled any health club with lots of machines and an indoor track. With a steam room and a dry sauna, relaxing comes easy at the Chickasaw Retreat and Conference Center.
I also found the Sole'renity Spa, with services like manicures and pedicures, massages, facials, wraps and waxes. My kids enjoyed the indoor pool during our stay as well.
Find Chickasaw Retreat and Conference Center at 4205 Goddard Youth Camp, Sulphur, Oklahoma.
The Artesian Hotel
The Artesian Hotel offers refined lodging steps from all the sights in the revitalized downtown Sulphur, Oklahoma. The original hotel opened in 1906 and included five stories and named after the mineral water found on the property during construction.
After an extensive renovation, The Artesian offers visitors and locals a respite of refinement. The 81-room hotel features a traditional bathhouse, an indoor and outdoor pool along with shopping and restaurants. Make an appointment at the kid's spa while you enjoy a treatment of your own at Sole'renity Spa.
Find The Artesian Hotel at 1001 West 1st Street,in the center of the revitalized downtown of Sulphur.
Where to Eat in Sulphur
Springs at the Artesian
During my visit to Sulphur my family enjoyed dinner at The Artisan Hotel restaurant, Springs at the Artesian. In an upscale dining room with seating for 140, I found homestyle-inspired entrees.
For our visit we sampled several entrees for dinner. My 12-year-old son ordered a classic cheeseburger served on a pretzel bun with bibb lettuce. Then my 9-year-old ordered the Chicken pot pie off the kids' menu. With a flaky crust and loaded full of tender chunks of white meat chicken along with a rich béchamel sauce, this kid's entrée would have satisfied me.
For dinner I ordered the Pecan encrusted Tilapia and along with a glass of merlot from the Springs at the Artesian's full bar. To top off dinner, we enjoyed chocolate cake.Open for breakfast, lunch and dinner.
Bedré Café
For a quick lunch we stopped by the Bedré Café, located on the street-level shopping area of The Artesian Hotel. In a 1950s inspired malt shop, I found a large selection of Oklahoma's own, Bedré Chocolates. Along with assorted baked goods and a coffee-house style drinks, Bedré Café scoops up hand-dipped ice cream and along with shakes.
For lunch my family enjoyed a panini of the day along with a turkey club wrap along with a cup of tomato soup. All satisfying though my sons loved the Arbuckle Shake made with vanilla ice cream and Bedré chocolates the most, imagine that. Open 6 a.m. to 8 p.m., every day.
Arbuckle Mountain Fried Pies
Located right off Interstate 35, Arbuckle Mountain Fried Pies provides a regional road trip snack. With both savory and sweet pies, we sampled the cherry and apple along with the pizza-style and beef and vegetable. With super flakey pastry that's filled and pinched before your eyes, the pies are a must when visiting South Central Oklahoma.
Located at Interstate 35's exit 51 in an old Sinclair's gas station and open breakfast through dinner. This is the original location with other shops across north Texas, Oklahoma and Arkansas.
Allergen Alert: All pies are fried in peanut oil.
Fat Bully's Burgers
After exploring the Chickasaw National Recreation Area I pulled the SUV into Fat Bully's that features half-pound burgers and live music. During our visit, we sampled the metric burger and my youngest had a kid's meal. All the burgers sat on toasted buns with trimmings on the side.
Located at 3133 Chickasaw Trail in Sulphur, Fat Bully's serves lunch and dinner, Wednesday through Sunday. Live music on most Saturday nights and amazing sunsets every night.
Disclosure:  This post was created after a media press trip.