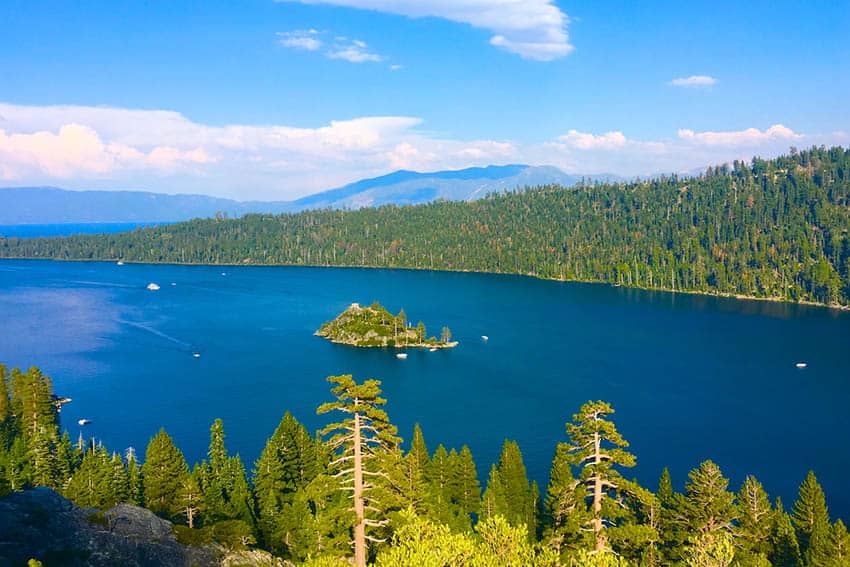 35 Things to do in Lake Tahoe with Kids in the Summer 
Hotels.com wanted me to share my favorites in Lake Tahoe. I've been exploring Lake Tahoe since the late 90s and it's still one of my favorite places in North America.
Straddling the border of California and Nevada, Lake Tahoe, or Tahoe as the locals call it, offers two high seasons. Centered around outdoor fun, the winter brings deep powder and about a dozen ski resorts. And the summer is all about water sports, mountain biking and hiking.
Lake Tahoe is the largest freshwater lake in the Sierra Nevada mountain range. And it's the largest alpine lake in North America. Since it's 1,645 feet (501m) deep, it never freezes in the winter.
Where to Stay in Lake Tahoe
North Lake Tahoe offers great views and easy access from the Reno Tahoe International Airport. Find a mix of hotels and casinos along with smaller condo properties. The state parks and national forests offer natural areas to explore on foot or on a mountain bike.
West Lake Tahoe is the hub for the mountain resorts, aka the ski resorts. The resorts don't offer gambling though find lots of outdoor adventure from novice to pro. Along the lake, charming towns feature pocket parks and beaches.
South Lake Tahoe is the party zone. It's the largest concentration of hotels with casinos, lots of dining and one major mountain resort. And since it's opposite of North Tahoe, same great view.
East Lake Tahoe is the least developed. So it's home to camping resorts along with state parks and national forests.
Weather in Lake Tahoe
Summer in Lake Tahoe offers dry and sunny days. Rain is a rarity. With extremely dry air, it actually feels warmer than it is. So remember a water bottle and sunscreen.
The summer high temperatures hover in the upper 70s F (25C) though heat waves can happen. The summer lows dip into the 40s (4 to 9C) and it can freeze overnight even in the summer. Pack a fleece in your backpack.
During the summer, the surface water temperature ranges from 60 to 70F (16 to 21C). Beaches are popular and find several around the lake, along with boating, sailing and paddling. And the U.S. Coast Guard patrols the lake, keeping everyone safe.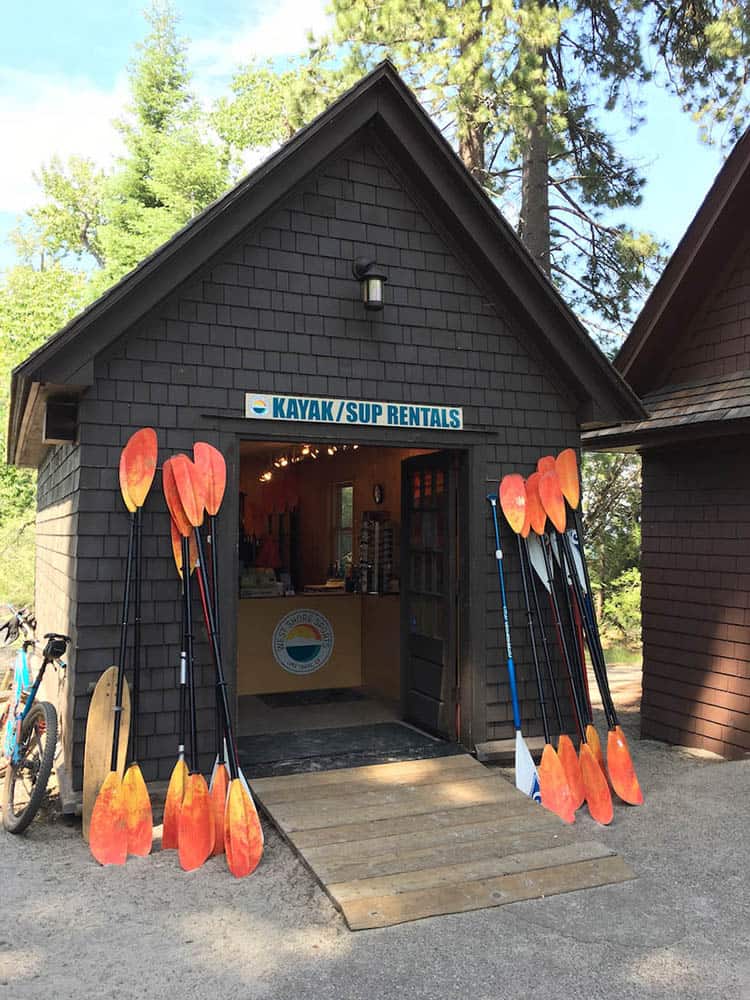 What to do in Lake Tahoe during the Summer
Explore the national forests around Lake Tahoe. Or stroll the streets of the quaint towns that ring the lake. And don't forget to take a boat out on the lake for the ultimate getaway.
Tahoe Rim Trail
For hikers, the Tahoe Rim Trail (TRT) is a popular 165-mile (266 km) long distance trail that rings Lake Tahoe. Hike through the national forests and it shares 50 miles with the Pacific Crest Trail (PCT).
For families, shorter trails can be found around the lake.
Scenic Lake Tahoe Drives
Lake Tahoe offers spectacular scenery in every direction. Highways wind through national forests dotted with craggy mountain peaks. And in-between mountains, find wildflower meadows.
Pack a picnic and drive around Lake Tahoe for the day. It's a 68-mile drive that connects U.S. Route 50, California Highway 89 and Nevada Highway 28.
Interstate 80 eastbound from the San Francisco Bay area is a scenic drive. And U.S. Route 50 into South Lake Tahoe is another scenic route.
Lake Tahoe Horseback Riding
Take in the scenic backcountry around Lake Tahoe on horseback.
Camp Richardson Corral–located at 4 Emerald Bay Rd.
Zephyr Cove Resort Stables–located at 825 U.S. Route 50
Alpine Meadows Stables–located at 355 Alpine Meadows Rd.
Read More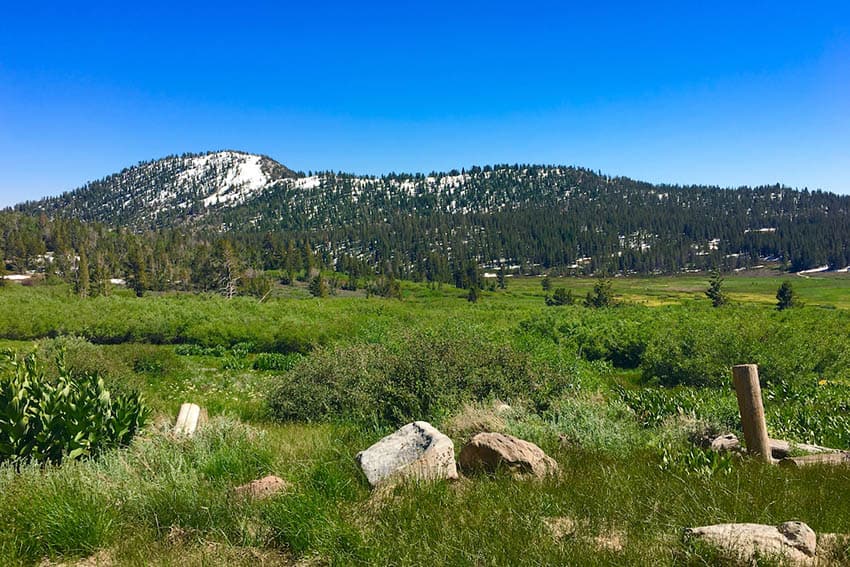 North Lake Tahoe
The northern part of Lake Tahoe includes Incline Village and Crystal Bay in Nevada. Then find California towns like, Brockaway, Kings Beach and Carnelian Bay. This area is closest to Reno, Nevada, with the largest airport—Reno/Tahoe International Airport (RNO).
Sand Harbor Lake Tahoe Nevada State Park
Soak up the sun and see the most photographed rocks in Lake Tahoe. With kayaks and stand-up paddle boards available within the park, it's a favorite spot to explore on the water.
Open year-round. Admission $10. Arrive before 10 a.m. during the summer for parking, especially during the weekend.
Located at 2005 NV-28, five miles south of Incline Village on Lake Tahoe's north shore.
Kings Beach State Recreation Area
Spend a summer afternoon lounging on a sandy beach. A day-use park outfitted with water sports rentals, steps from the sand. Find kayaks, aqua cycle trikes, paddle boards and jet skis. Restrooms, picnic tables and a playground round out the facilities.
Parking $10 during the summer.
Located between Bear and Coon Streets in downtown Kings Beach on the north shore of Lake Tahoe on the California side.
Tahoe Meadows Hike
Take a wildflower hike in the Humboldt-Toiyabe National Forest. Find level terrain and a well-defined 1.3 mile trail to explore a sub-alpine mountain meadow. Walk along Ophir Creek's boardwalk to enjoy the summertime wild flowers. Stop and read the interpretive signs to learn more about Lake Tahoe. Leashed dogs welcome.
Located 3.8 miles west of Mt. Rose Ski Resort on Nevada Highway 431 in the Humboldt-Toiyabe National Forest. Free
Tahoe East Shore Trail
For cyclists wanting a scenic ride, take the newly opened 3-mile trail from Incline Village's Tunnel Creek Cafe to Sand Harbor State Park. Easy.
Free
Flume Trail
A 14-mile one-way mountain bike trail that's above 7,000 feet with amazing views of the lake. Moderate to difficult.
Use the shuttle ($) from Incline Village to Spooner Lake State Park.
Thunderbird Lodge
Tour what's considered by many the top historic home at the Lake Tahoe. Learn about the elusive owner, George Whittell, Jr.
Pick up a shuttle from the North Lake Tahoe visitor center in Incline Village. Admission with four daily tours from Tuesday to Saturday from mid-June to late September. Closed for 2020 season.
Incline Village Skate Park
Drop in at the in-ground concrete skate park.
Located at 939 Southwood Blvd. Free and seasonal.
Scenic Catamaran Cruise
Take scenic cruise on th 55-foot Sierra Cloud for a cruise around the lake.
Departs three times daily from the Hyatt Regency Incline Village Resort from May through September. Admission.
West Lake Tahoe
The western side of Lake Tahoe is entirely in California. Find communities like, Tahoe City, Sunnyside, Tahoe Pines, Tahoma and Meeks Bay. This area is closest to gateway town of Truckee, along Interstate 80.
Read More 
Squaw Valley Ski Resort
Packed with outdoor summertime adventure, it's more than a ski resort. Find hiking, biking and shopping. Take the aerial tram to the outdoor pool, the 1960 Olympic Museum, hiking and Via Ferrate on the Tram Face. Find lodging on-site.
Located at 1960 Squaw Valley Rd.
Northstar California Resort
Learn how to mountain bike during your trip to Lake Tahoe with group or private lessons. Also find 39 different hiking trails along with a scenic chair lift. Northstar also features golf along with lodging on-site.
Located 5001 Northstar Dr.
Tahoe Star Tours
Explore the night skies on a guided tour with Celestron telescopes.
Located in the Castle Peak Parking lot, near Northstar. Admission. Held every Thursday and Saturday from mid June until end of August. Closed for 2020 season.
Ed Z'berg Sugar Pine Point State Park
Hellman-Ehrman Mansion, or Pine Lodge, was completed in 1903 and is one of the grand estates on the western shore of Lake Tahoe. Take a tour to see the furnishings of the timber and stone mansion.
Then spend the day relaxing in the state park with 2 miles of shoreline along with hiking.
Camping is $35 a night and requires a $7.99 fee for online reservations. Day-use parking is $10.
Located 10 miles south of Tahoe City on California Highway 89 in Tahoma, California.
Commons Beach Park
Tahoe City's Commons Beach Park offers a destination for summer getaways. Take a walk along the path and find space for picnicking, swimming along with a playground and restrooms.
Located at 400 N Lake Blvd in Tahoe City, California.
Watson Cabin
Built in 1908 by Robert Montgomery Watson, it's the only remaining original log cabin in Tahoe City.
Located at 560 N. Lake Blvd. Open Thursday to Sunday from late June to mid-September. Free. Call before visiting in 2020.
Tahoe City Farmers Market
Grab a basket and stroll the stalls near Commons Beach for fresh vegetables and flowers.
Held on Thursdays from May through October from 8 a.m. to 1 p.m. Free to attend.
Truckee River Raft Trip
Spend a few hours exploring Tahoe's wilderness the easy way, with a leisurely raft trip. Grab a raft and float 5 miles downriver past pristine scenery and over tame rapids. Suitable for everyone, 2-years-old and older, including dogs. Takes two to three hours.
Located at 185 W River Rd, Tahoe City, California. Admission. Online reservations required.
Gatekeeper's Museum and Lake Tahoe Dam
Visit the Gatekeeper's Museum for a lesson in Old Tahoe. See exhibits on Washoe history, the boating legacy on Lake Tahoe along with highlights from the 1960 Winter Olympics.
The Gatekeeper lived in a cabin to tend to the Lake Tahoe Dam gates for the Truckee River.
Located at 130 W. Lake Blvd. Admission. Call before visiting in 2020.
William B. Layton Park
Located next the Lake Tahoe Dam find William B. Layton Park, a three-acre park on the lake with a self-guided nature walk.
Tahoe Treetops Adventure
With 10 courses from beginner to intermediate, find 97 tree platforms and 27 zip lines along with other obstacles.
Located at Granlibakken Resort at 725 Granlibakken Rd. Admission.
Burton Creek State Park
With 2,000 acres of wilderness at the edge of Tahoe City, it offers 6 miles of unpaved roads for cross country skiing.
Free and open from sunrise to sunset.
Located on Highway 28 near Rocky Ridge Road.
Tahoe State Recreation Area
This area offers a small but popular campground along with a fishing pier.
Camp sites are $35 with a $7.99 reservation fee. The RV trailer limit is 15 feet and a camper or motorhome limit is 21 feet. Find showers and an RV dump station though no hook-ups.
Located .25 miles north of Tahoe City along Highway 28.
Tahoe City Lake Forest Campground
Another campground close to Tahoe City. This campground is small with about 20 sites and doesn't offers showers, hook-ups, or a dump station. The RV limit is 25 feet. Camp for $20 a night.
Located at 2504-2540 Lake Forest Rd. in Tahoe City.
South Lake Tahoe
South Lake Tahoe, like the North Shore is divided by the California-Nevada state line.
D.L. Bliss State Park
With hiking trails, swimming and camping head to D.L. Bliss for a Tahoe weekend getaway. Hike on the Rubicon Trail, the Lighthouse Trail or Balancing Rock Trail, a self-guided .5-mile walk.
Day-use parking is $10 during the summer season. Seasonal camping is $45 for beach front camping and $35 for the rest of the campground. D.L. Bliss campground features showers and a RV dump station. Each online reservation requires a $7.99 fee.
Located at 9881 CA-89, South Lake Tahoe, 17 miles south of Tahoe City.
Emerald Bay State Park and Vikingsholm
As the most photographed spot in Lake Tahoe find a grand summer home open for tours. Emerald Bay State Park offers a historic home tour, a  beach, hiking trails and a spectacular waterfall.
Camping located nearby. Lakeview sites are $45 and the rest are $35. Each online reservation requires a $7.99 fee.
Vikingsholm tour tickets available in the park. Day-use parking fee is $10 and limited parking on site.
Located on CA 89 South, in Tahoma, California.
Note: To visit Vikingsholm requires a steep one-mile hike from the parking lots.  Wheelchairs or strollers aren't advised. Tours of Vikingsholm are cancelled for 2020.
Tallac Historic Site
Nestled next to each other and within walking distance, explore the glorious past of Lake Tahoe. Walk through the Tallac Resort and the remains of Lucky's Casino Resort.
Then move to the Baldwin Estate built in 1921, where a free museum offers glimpses into the domestic life of Old Tahoe. Next up is The Pope Estate, built in 1894. It offers a guided tour through the historic home, restored gardens, working blacksmith shop and artist's cabin along with the guest cottages.
The Heller Estate is the final historic property. It's also known as the Valhalla, and a popular events space.
Tallac Historic Site is west of South Lake Tahoe, next to Camp Richardson. Grounds open daily, tours and buildings are closed in 2020.
Located at 1 Heritage Way, South Lake Tahoe, in California.
Camp Richardson
Live a little old Tahoe when you stay at Camp Richardson. Originally built in 1926, it features a historic hotel, rustic summer cabins, year-round heated cabins along with a campground and RV Park. Also grab the Lake Tahoe Water Taxi to South Lake Tahoe at its marina. And Camp Richardson features a stable for horseback riding.
Located at 1900 Jameson Beach Rd., in South Lake Tahoe.
Heavenly Mountain Resort
Find a scenic summer gondola ride, hiking and an alpine mountain coaster.
Located at 4080 Lake Tahoe Blvd.
South Lake Tahoe
As the largest town on the south shore,  it's actually two towns, Stateline is in Nevada and South Lake Tahoe in California. Find gambling at Harrah's Lake Tahoe, Hard Rock Hotel and Casino and Mont Bleu Resort, Casino and Spa–all in Nevada.
South Lake Tahoe offers lots of dining options. Also find water sports equipment to rent and parasailing.
Lakeside Beach and Marina
This private beach sells day passes to the public. Rental umbrellas and chairs available. Also find a playscape.
Summer adult day pass (18+) $15 and kids (4 to 17) $5.
Located at 4081 Lakeshore Blvd.
South Lake Tahoe Skate Park
Find a concrete park.
Located at 1201 Al Tahoe Blvd in South Lake Tahoe. Open seasonally. Free
East Lake Tahoe
The eastern portion of Lake Tahoe is the least developed. And it's closest to Carson City, Nevada's state capital.
Zephyr Cove
With a one-mile sandy beach find volleyball, rental beach umbrellas along with a marina, stables and scenic cruises.
Zephyr Cove offers camping. like airstream campers, along with RV campsites and tent camping.
Located at 760 U.S. Hwy 50 in Zephyr Cove, Nevada.
Scenic Paddleboat
Take a 2-hour scenic cruise on the M.S. Dixie II, a paddleboat, to see the southern part of Lake Tahoe.
Departs from 760 U.S. Hwy 50. at Zephyr Cove Marina. Admission. Shuttle available.
Cave Rock Lake Tahoe Nevada State Park
See the tunnel bored through Cave Rock. Also a small beach along with a picnic area.
Day use entrance fee is $10.
Located at Highway 89 in Glenbrook, Nevada.
Before You Go
As travel today remains uncertain, please keep your safety and the safety of others in mind at all times. If you are comfortable with traveling, please travel responsibly and within regulation as any travel is at your own risk.
If you do decide to travel at this time, remember:
Wear a face mask. 
Bring hand sanitizer and wash your hands on a regular basis.
Check official websites before your trip for the latest updates on policies, closures and status of local businesses.
Book a hotel with free cancellation in case you need to change your plans at the last minute.
This post was sponsored by Hotels.com.