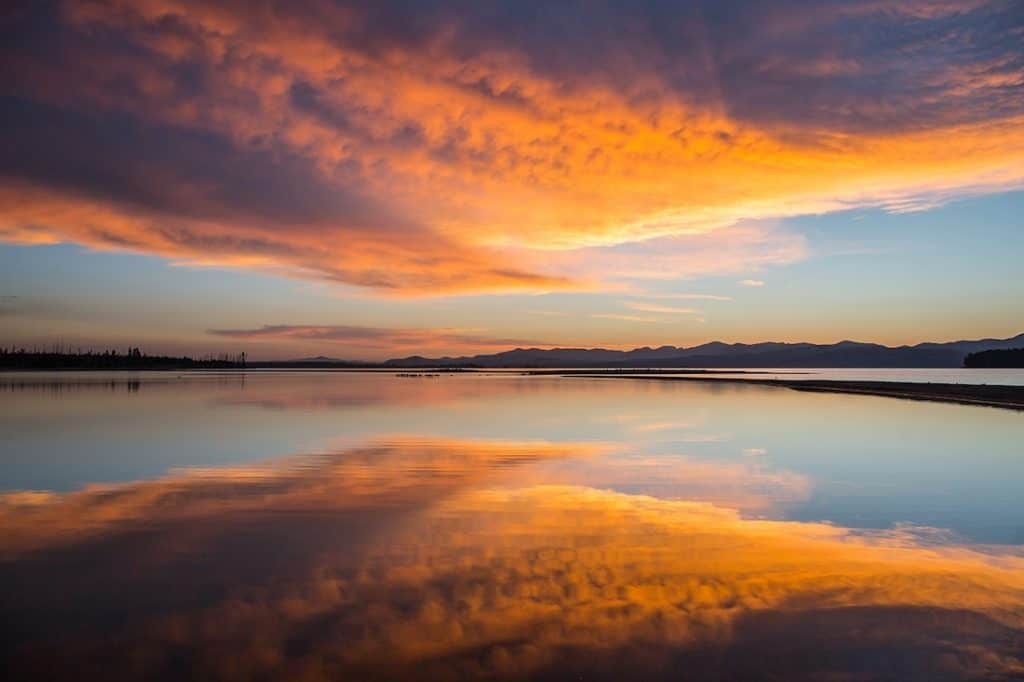 A trip to Wyoming, Montana and Idaho's Yellowstone National Park is a trip of a lifetime. While enjoying the world-class animal viewing, the most geysers in the world and  iconic park lodges, don't miss Lake Yellowstone. It's the largest high-elevation lake in North America. With everything from fishing to scenic boat cruises, explore the area on a  boat or on foot. And a tour of the historic Lake Yellowstone Hotel is a must.  Opening in 1891 it remains the oldest hotel in the National Park Service. Read on for what to do at Lake Yellowstone with kids.
Read More 
What to do at Lake Yellowstone
Enjoy a hike.
Rent a boat.
Cruise to Stevenson Island and see a shipwreck.
Take a free historic tour of Lake Yellowstone Hotel.
Climb aboard one of Yellowstone's historic yellow buses for a scenic tour, departing from Lake Yellowstone Hotel.
Camp in a Cabin.
Sample some Huckleberry Ice Cream.
Lake Yellowstone Activities
Hiking
Hiking is one of the best ways to see Yellowstone National Park. Here's a couple of easy hikes.
Storm Point Loop Trail—Find a 2.3-mile easy roundtrip trail.
Pelican Creek Trail—Find a .6-mile easy roundtrip trail.
Boating and Fishing
Rent a 18-foot motor boat at the nearby Bridge Bay Marina. Boats available from mid-June to mid-September. Rent by the hour or by the day.
Take a one-hour guided scenic cruise on the Lake Queen from the Bridge Bay Marina. See Stevenson Island and the shipwreck SS E.C. Waters. Adult admission (12+) is $19.25 and kids (3 to 11) are $11.25. Not available in 2020.
Take a guided fishing charter to fish for native cutthroat trout and non-native lake trout. Each charter is two hours long and includes all gear.  The rate is $100 a hour for up to six people.
Note: Fishing permits must be reserved at NPS Visitor Centers. The Yellowstone National Park dining room's can prepare your trout on request (not in 2020).
Guided Tours
Take a guided tour of the Lake Yellowstone Hotel to learn about this most refined hotel in Yellowstone. It's a free daily tour, usually offered in the afternoon.
Lake Yellowstone Sunset Tour–A two-hour guided tour showcasing the best of the Lake Yellowstone area (not available in 2020).
Numerous guides specializing in photography, art, hiking and biking along with others can be arranged through NPS approved outfitters.
Read More 
Kids at Yellowstone National Park
The Junior Ranger Program is the go-to program for families to learn more about a National Park Service site. It's free and takes about two hours to complete. My kids love the badges the Park Rangers present them after completing their booklets.
Kids love Yellowstone and kids love animals. So buy a Junior Ranger booklet at the nearest bookstore. In Yellowstone, the Junior Ranger booklets are $3 but kids who complete their booklets get a patch.
Yellowstone National Park divides the Junior Ranger booklet into three age categories with age-appropriate activities. Kids 4 to 7, 8 to 12 and 13 and older (and adults) each complete as many activities as their age.
Try to turn in your Junior Ranger booklet at Yellowstone's National Park Junior Ranger Station, located near the Madison on the western side of the park.
Read More 
Lake Yellowstone Lodging 
Find lots of lodging options at Lake Yellowstone, including the most luxurious rooms in Yellowstone National Park along with cabins that scream family fun. Lake Yellowstone is ideal location for multi-generational travel.
Lake Yellowstone Hotel—The most luxurious lodging in Yellowstone National Park offers several layers of luxury from presidential suites to standard hotel rooms. During a tour, I found marble bathrooms, in-room coffee and tea, along with plush robes.
Lake Yellowstone Hotel's Cabins–Steps from the hotel lobby, the yellow-painted cabins feature all the amenities of standard rooms including bathrooms with showers.
Sandpiper Lodge—Located adjacent to the Lake Yellowstone Hotel, the Sandpiper Lodge offers standard lodge rooms.
Lake Lodge Cabins—Offering a main lodge with rocking chairs along the front porch, sit and savor the lake views. Built in the 1920s with logs, the Lake Lodge features a river rock fireplace and seating. Find several types of cabins at Lake Lodge.
Western Cabins–Built in the 1960s with a mid-century look. The Western Cabins are the largest cabins at Lake Lodge and feature two queen-sized beds.
Frontier Cabins–Built in the 1920s and offer two full-size beds along witha private bath. The cabins function much like a modern hotel room.
PioneerCabins–Built in the 1920s and offer the most basic accommodations. Note: the Pioneer Cabins are closed for the 2019 season for renovation.
Tip: All Yellowstone National Park lodging doesn't feature air-conditioning, TVs or radios. Though Yellowstone boasts mild summers and the temperatures drop in the evening so air conditioning isn't needed.
Our Stay at Lake Yellowstone
The Lake Yellowstone Hotel caters to guests without families. The majority of the well-appointed rooms feature king-sized beds with bathrooms with over-sized tubs along with marble vanities.
For our stay I reserved a Lake Yellowstone Hotel's Frontier Cabin. Convenient option for families, the cabin felt like a free-standing hotel room.
I found a pair of double beds, a coffee maker, a shower with a single vanity located outside the rest of the bathroom. Located together, the cabins open to a grassy area so my kids 13, 11 and 8 played outside with a ball.
Within walking distance to the Lake Yellowstone Hotel and the Lake Yellowstone General Store, families can walk to eat. No cooking allowed in cabins.
History of Lake Yellowstone Hotel
Originally built in 1891 and older than Old Faithful Inn, the Lake Yellowstone Hotel is the Grand Old Lady of the Lake.Where Old Faithful Inn brings the forest indoors, the Lake Yellowstone Hotel offers guests a refined historic hotel, reminiscent of the elegant 19th-century East Coast hotels.
The earliest hotel guests arrived on a steam ship from across the lake or on a stagecoach, like former president Calvin Coolidge. Today like years ago, guests walk into the expansive lobby while musicians play in the sun room. And the lobby's fireplace offers the perfect place to read a book in its plush upholstery.
While building the Old Faithful Inn, Robert Reamer extensively renovated and expanded the Lake Yellowstone Hotel. Since the original hotel lacked distinctiveness Reamer added columns, a porte cochère and a lounge.
By adding refined details, Reamer elevated Lake Yellowstone Hotel's level of luxury. And Lake Yellowstone Hotel still maintains its title as the most luxurious hotel property within Yellowstone National Park.
During my stay at the Lake Yellowstone area, I took the Lake Yellowstone Hotel tour, a must for lover's of national park lodges and history buffs.
Read More 
Where to Eat at Lake Yellowstone
With several options dine overlooking the lake during your stay.
Lake Hotel Dining Room—Inside the hotel, the upscale dining room features a diverse menu of locally sourced entrees. Enjoy white tablecloths and elegant white columns for a date night or family dinner. Serves breakfast, lunch and dinner with options for gluten-free, vegetarian and vegan along with a kids menu. Reservations recommended for dinner.
Lake Hotel Deli–Located inside the hotel, findtake-out sandwiches, baked goods and espresso drinks. Open breakfast, lunch and dinner.
Lake Yellowstone General Store—Located along Lake Loop Road, the octagon-shaped building was built in 1919. Offering a traditional soda fountain counter, we enjoyed Yellowstone's famous huckleberry ice cream. Then my kids found little boxes of cereal and they like while I enjoyed a cup of coffee for breakfast.
Lake Lodge Cafeteria—Located in the Lake Lodge, find hot entrees, deli sandwiches and prime rib in a family friendly cafeteria.
Lodge Lobby Bar—Located in the Lake Lodge, stop by for a cocktail after dinner.
And huckleberry ice cream is available on the dessert menu and at the general store.
Camping near Lake Yellowstone
Lake Yellowstone and the Lake Village area doesn't feature a campground though find camping nearby.
Fishing Bridge RV Park—Yellowstone's only full-service RV campground and open to RVs only. Note: Closed for 2019 for renovations.
Bridge Bay Campground —Features 400 sites with picnic tables and fire grates. Find restrooms with flush toilets and sinks. No showers or coin-operated laundry located in Bridge Bay.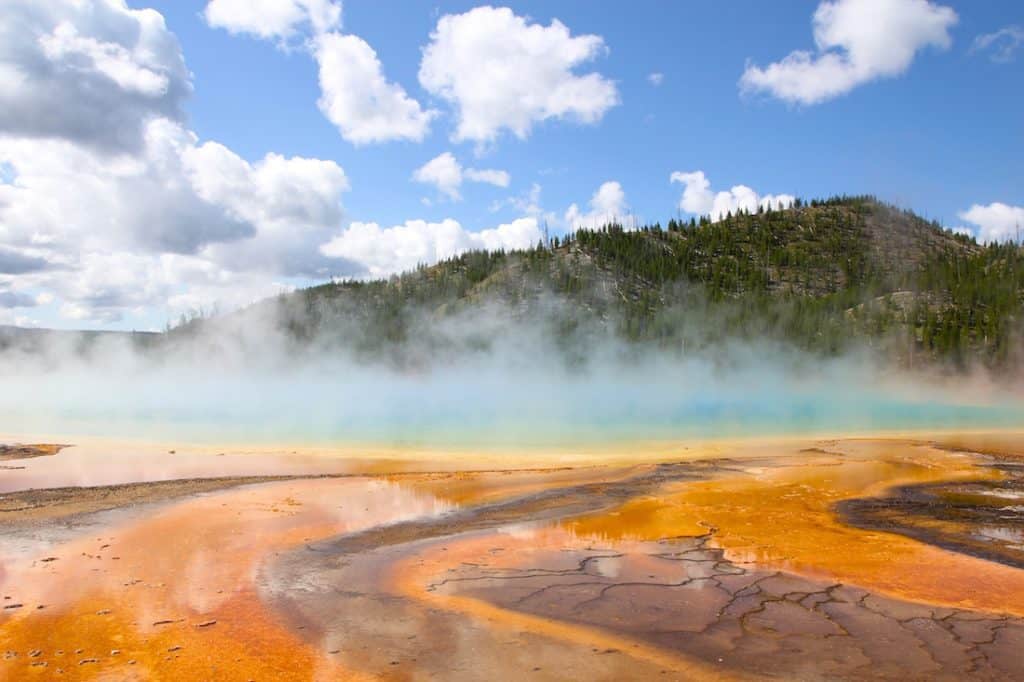 Your First Visit to Yellowstone National Park
On my first visit to Yellowstone National Park, I made every newbie mistake.
Didn't make lodging or camping reservations.
I camped in the same campground and didn't move around the park.
Didn't research activities or tours.
When the time came to plan another trip, I wanted to see more of the park. So I planned a Grand Tour, like the first visitors did over 100 years ago.
First I started in one area and explored before relocating to another area. It minimized the driving and maximized the enjoying it worked out great.
Top Places to Explore in Yellowstone
Grand Canyon of Yellowstone
Lamar or Hayden Valley
Mammoth Hot Springs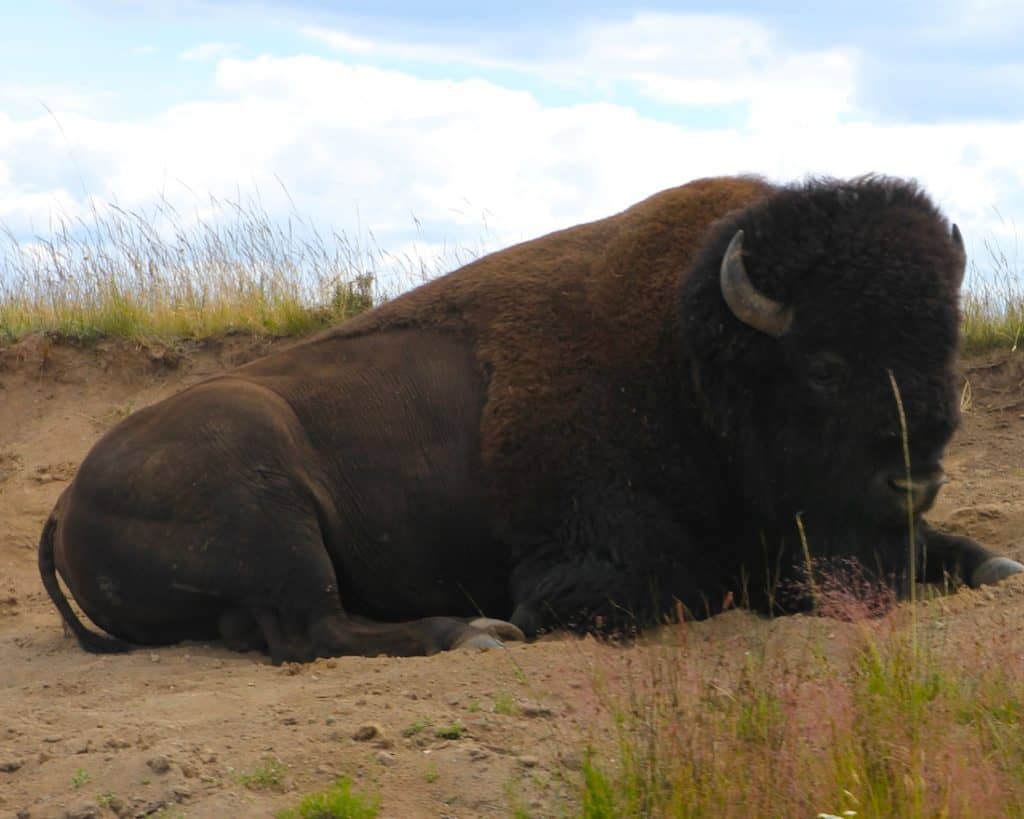 Yellowstone National Park's Animals
Some visitors come for the geothermal features, others want to see animals. Yellowstone National Park offers some of the best animal viewing in the U.S.
I recommend Hayden Valley or Lamar Valley, along the river. The best times to spot animals is dawn and dawn when animals are most active. Check in with the Park Rangers who know where animals frequent or take a guided tour.
Bison
Moose
Elk
Grizzly Bear
Black Bear
Wolf
Bighorn Sheep
Mule Deer
Coyote
Pronghorn
Pika
Marmot
Bear Safety in Yellowstone
Yellowstone National Park features two types of bears: black bears and Grizzly bears. Knowing the difference is important since each species uses different behavior.
Park Rangers offer some guidelines to reduce bear encounters:
Hike in groups of 4 or more.
Keep campsites clean.
Make noise while hiking by wearing bear bells and talking.
Carry bear spray. Keep it accessible when hiking and know how to use it.
Bear spray is advised and can be rented in the park. Visit a visitor center or ranger station for more information.
To find out more information, attend a ranger programs to learn about bears in Yellowstone National Park. I did and it's a great way to learn about bears. My boys loved the bear programs and I felt more confident afterwards.
Where's Yellowstone National Park
The majority of the park is in the northwest corner of Wyoming. Unless you arrange a tour you will need a car to explore.
Two major airports serve Yellowstone National Park. I've flown into both and I prefer Bozeman for convenience, schedule and lower fares.
Bozeman Yellowstone International Airport (BZN)—Bozeman, Montana, offers everything you need to outfit your family for a national park adventure, from food to equipment.
Jackson Hole Airport (JAC)—The busiest airport in Wyoming is a regional airport. Jackson is a quaint town with an Old West flavor.
Yellowstone National Park offers cafes, general stores and restaurants. Though be prepared to picnic for lunch and grab some snacks and sandwich ingredients in Bozeman or Jackson.
Getting Around YNP
Yellowstone National Park is open 365-days a year and 24-hours a day. Use an America the Beautiful annual pass ($80) or purchase a 7-day pass for $35 per vehicle.
Yellowstone National Park offers five entrances.
West Entrance—For families that are trying to add to their state count. Enter or exit through the west entrance to add Idaho.
North Entrance—Closest entrance for Bozeman, Montana
Northeast Entrance—Scenic highway to Billings, Montana
East Entrance—Scenic highway to Cody, Wyoming
South Entrance—The busiest entrance and gateway to Grand Teton National Park and Jackson, Wyoming.
Seasonal closures affect Yellowstone National Park. July and August are the only months that all roads and facilities are open.
Read More 
Know Before You Go
Keep safe by remaining on boardwalks and following posted rules.
Keep 25 yards between people and wild animals. And keep 100 yards between people and bears.
Yellowstone National Park is a top national park destination. Reservations are available 13 months in advance.
Since the most popular hotel rooms were sold-out secured reservations by checking for daily cancellations.