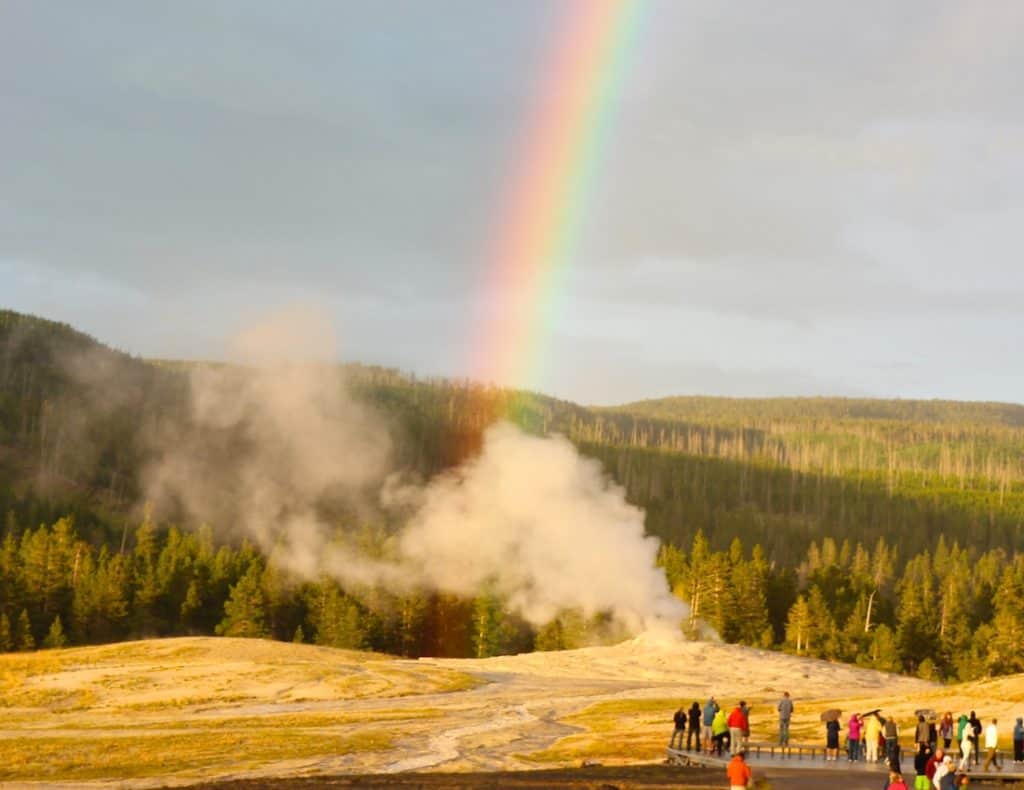 As an iconic piece of architecture in the U.S., the Old Faithful Inn is the most requested lodge in Yellowstone National Park. The nearly indestructible log building survived the historic Yellowstone Fire of 1988, a 7.8-magnitude earthquake and harsh winters that blow snow high up the sides.  After seeing all 50 states and staying in countless hotel rooms, it's one of my favorite places to stay in my favorite park in the world. Its the organic feeling that the building holds, like it grew out of the ground beneath it. The walls of the Old Faithful Inn are made with its knotty pine logs and hand-crafted details. Read on for what it is like to stay at Old Faithful Inn with kids.
Old Faithful Inn with Kids
During my first visit to Yellowstone National Park twenty years ago, I fell in love with Old Faithful Inn. So onto the bucket list it went and I vowed to spend the night one day. Luckily for me, I got to share the experience with my kids.
For my last  family trip to Yellowstone National Park, it was the first property I reserved. Then I planned the rest of my itinerary around that reservation. It is also one of the hardiest reservations to get for the summer season. I secured it after another reservation cancelled (so if you want to stay, check those frequently).
It's a must for those who enjoy unique lodging, rich in authentic details. For families who want to spend some time together without Wifi and TVs, this is the place.
My Stay at the Old Faithful Inn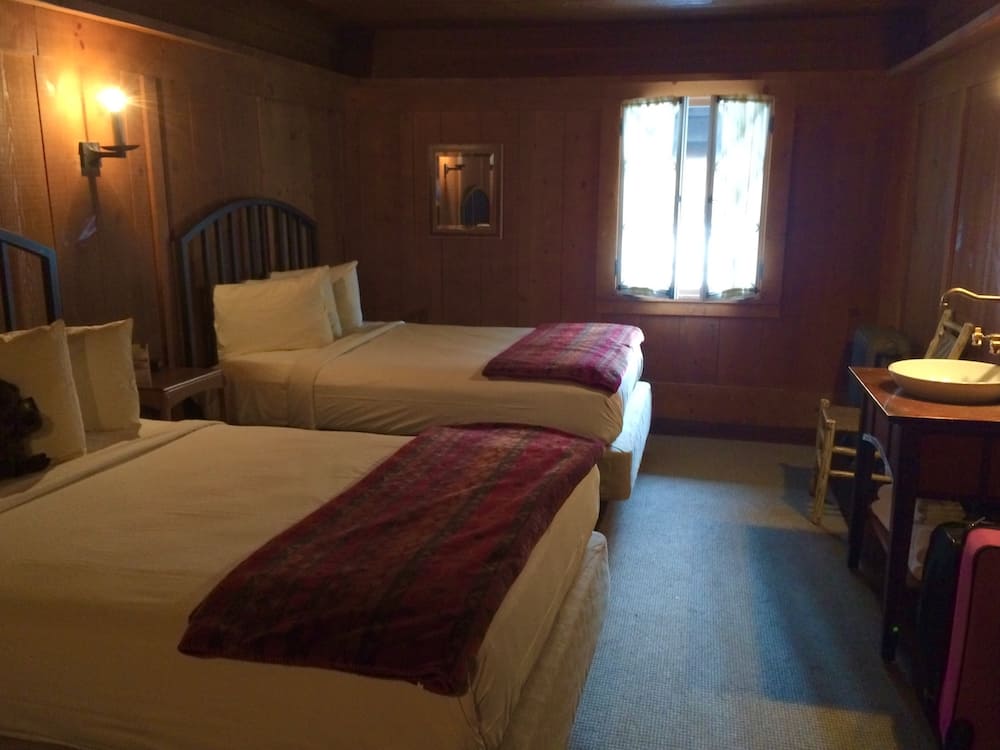 After arriving at the original front desk, Old Faithful Inn staff greeted me with the epitome of western hospitality. Such a treat, calling the Old Faithful Inn home for two nights. Since the day was young, I left our luggage with the bell hop, we headed out to explore Yellowstone.
My Room at Old Faithful Inn
With Yellowstone at your doorstep, who spends a ton of time in a hotel room? We didn't so the spartan amenities in our room, didn't bother us. It's a great place to sleep and change clothes.
Features of the Old House Rooms
I found our room charming, with the use of antiques and original wood paneling. Though the room was a bit dark with just a few candlestick light fixtures mounted on the walls.
Pair of antique queen beds made with updated white linens and a rustic-inspired coverlet
Pair of chairs
Vanity outfitted a vessel sink and hot and cold water along with a mirror.
Chest of drawers with a mirror
Wall hooks
Towels
Bathrobes
Ice bucket with two artisan glasses
Missing Conveniences in the Old House Rooms
I lived without these but maybe your family can't.
Toilet
Shower and Tub
Wi-Fi
Coffee maker
Air Conditioning
TV
Telephone
Clock radio
Since our room didn't feature entertainment, my carful of kids officially unplugged for our trip through Yellowstone. Data is hard to find and slow, Wi-Fi is scare and overloaded. Take your pictures and forget about posting. Tell the office you can't be reached.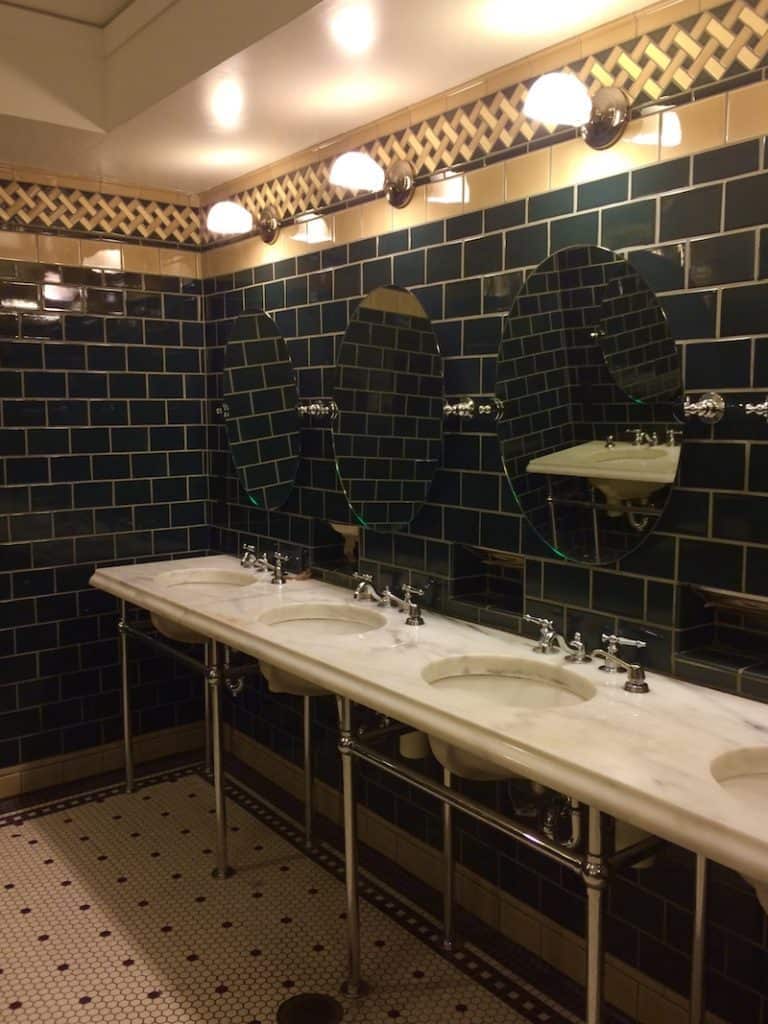 The Bathrooms at Old Faithful Inn
For my trip,I reserved an Old House Room with a shared bath. My room featured a vessel sink on a vanity with a mirror. Convenient for brushing teeth and washing faces. I also found bathrobes, towels and slippers to use during the stay.
Since my room lacked a private bathroom, we used the shared bathroom down the hall. With several toilet stalls along with a few showers stalls, I thought it would be crowded. During my visit, I never saw anyone in the bathroom. Though I got up early to dress and shower.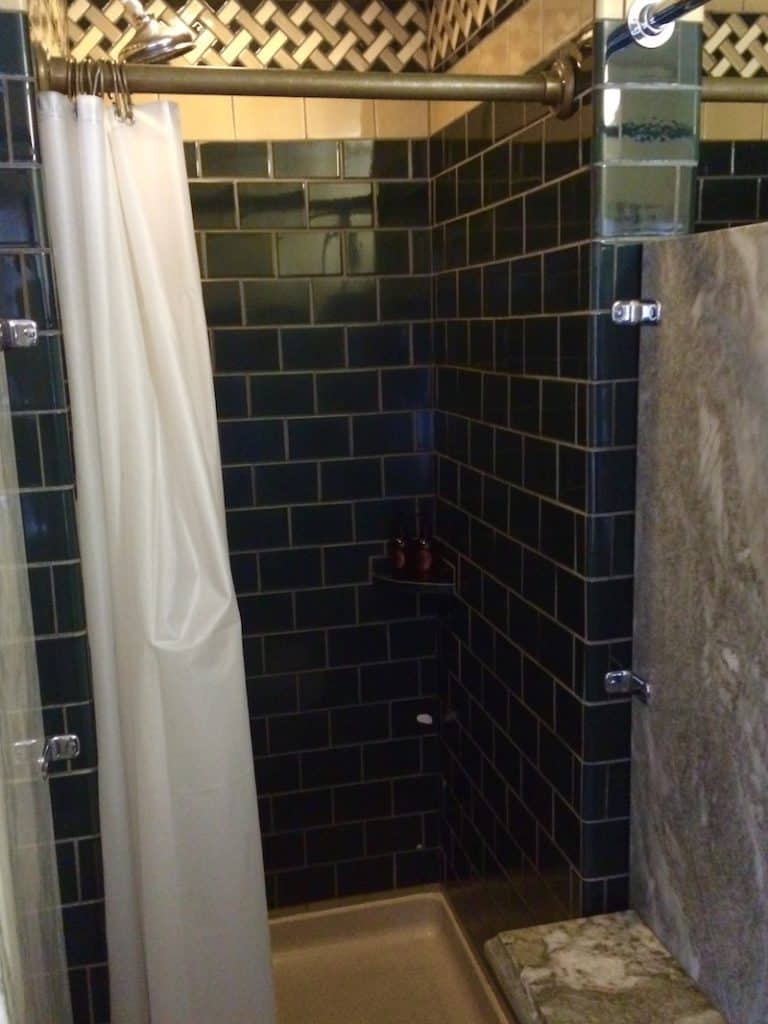 Though it was the design features that set this shared bathroom apart. With marble vanities and period chrome pedestal sinks, it felt deluxe. I loved the subway tile along with the herringbone accent tiles. Add hex tile on the floor, the shared bathrooms at the Old Faithful Inn was better than most private bathrooms in modern hotels.
Missing a Tub Bath on Vacation?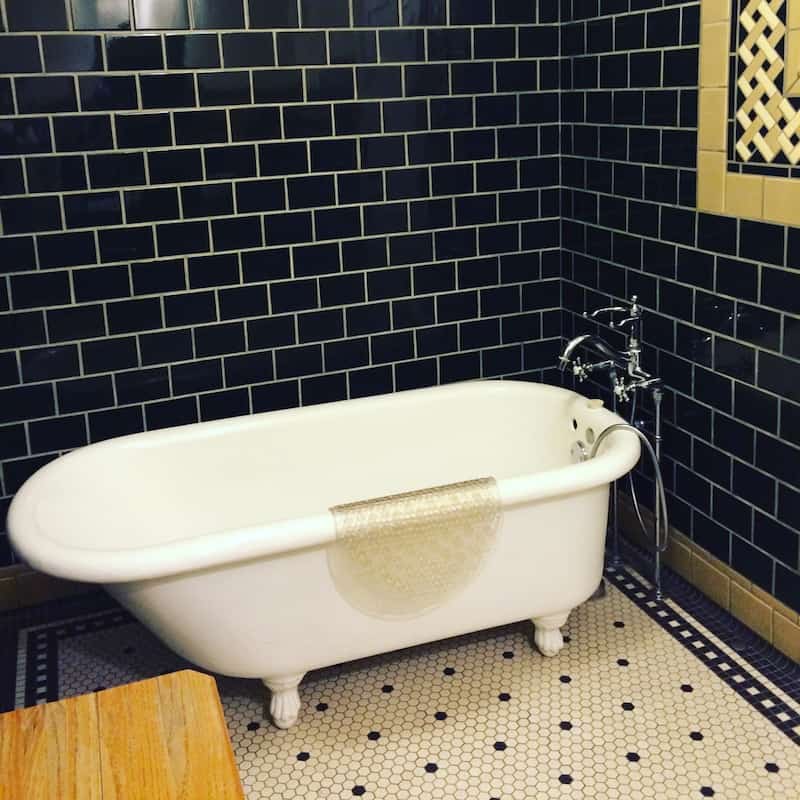 As I walked down a tiny, dark hall that seemed to be still sleeping, I found the sign I wanted. As I turned the doorknob, the door opened to a room as dark as a starless night.
I fumbled around and felt for the light switch. With a flick, I illuminated a hidden treasure of the Old Faithful Inn–a clawfoot tub!
It's not advertised and I found it by accident. Old Faithful Inn features tub rooms. Tiled with subway tile and stocked with signature Old Faithful Inn toiletries. It's a little slice of heaven.
Note: I had to bring my towel from my room. And I was the first user of the day. The door locks for privacy.
Types of Rooms at Old Faithful Inn 
I stayed in the Old House Room without a bath because that was available for my dates at the time of my reservation. Though Old Faithful Inn offers several options for travelers.
Suite with a Geyer View–Get a lot of the amenities in these rooms like, a stocked mini fridge, coffee maker, hair dryer, telephone, alarm clock along with a fan. The suites feature two queen beds, a separate sitting room along with a full bathroom.
Junior Suite–The junior suites feature two queen beds, a small sitting area along with a full bathroom. Also find a coffee maker, hair dryer, telephone, alarm clock along with a fan and a stocked mini fridge.
Deluxe Hotel Room–One or two queen beds with a full bathroom and a coffee maker, hair dryer, telephone, alarm clock along with a fan.
Standard Hotel Room–One or two queen beds with a full bathroom (or a shower only bathroom) and a coffee maker, hair dryer, telephone, alarm clock along with a fan.
Old House Room with Bath–One or two queen beds with a full bathroom along with a hairdryer, alarm clock and fan.
Old House Room without a Bath–One, two or three queen beds with a sink in the room and a communual bath down the hall. Also find a hairdryer, alarm clock and fan.
All rooms offer heat though no air-conditioning. Fans are available.
Dining at Old Faithful Inn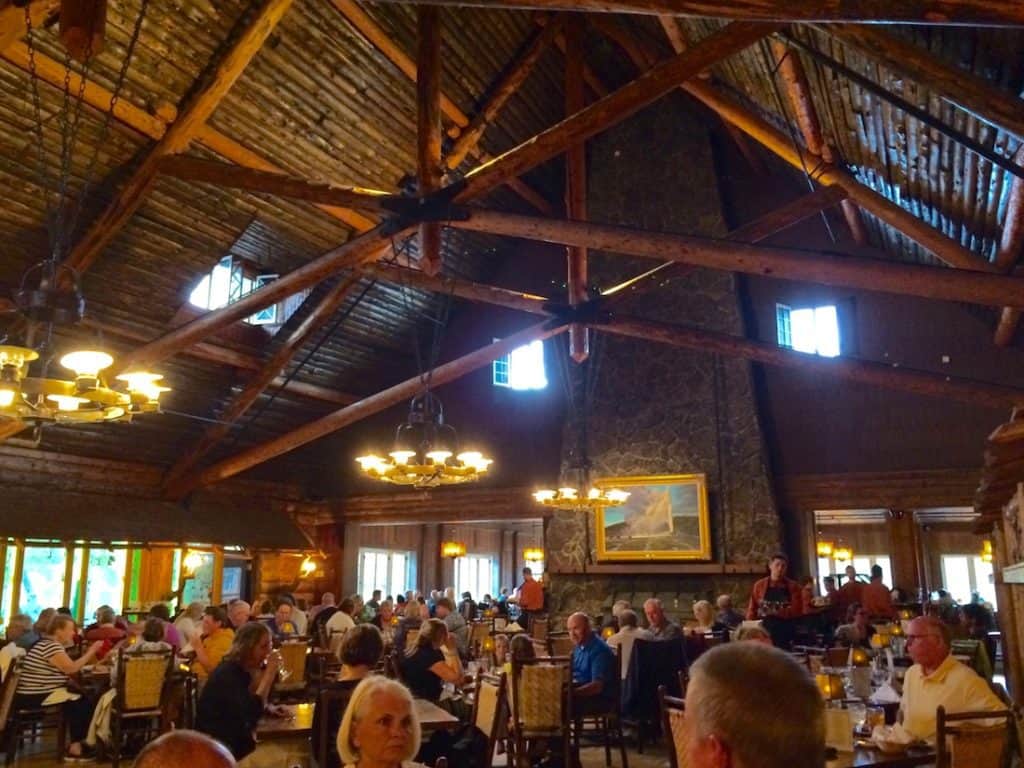 During my stay at Old Faithful Inn, I made reservations for dinner in the Old Faithful Inn's Dining Room. Don't let the reservations throw you, all the dining at Yellowstone National Park, is hiking boot friendly, even at dinner.
With a seasonal menu, I found local flavors to satisfy a hungry post-hiking appetite. The dining room at Old Faithful Inn features a kids menu along with everyone's favorite, huckleberry ice cream.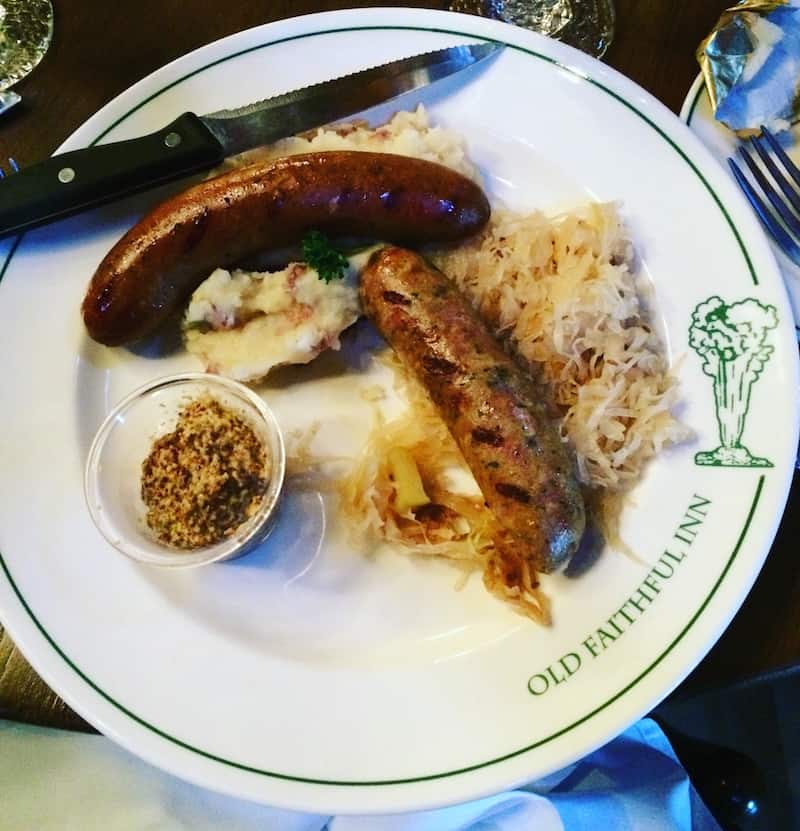 Breakfast and Lunch feature open-seating. My family was too busy exploring to eat lunch in the dining room. Though breakfast featured traditional and western inspired entrees a-la-carte along with a large breakfast buffet. Kids got the cereal they liked too.
Old Faithful Inn features the Bear Paw Café, perfect for families with deli-style offerings along with ice cream. Grab a drink and head to the second-floor outside balcony to see Old Faithful Geyser blow from the bench seating.
During the day, we stopped by the Old Faithful General Store for lunch. This original log structure serves typical family-friendly food along with restrooms and souvenirs. A gas station is next door with ice and groceries too.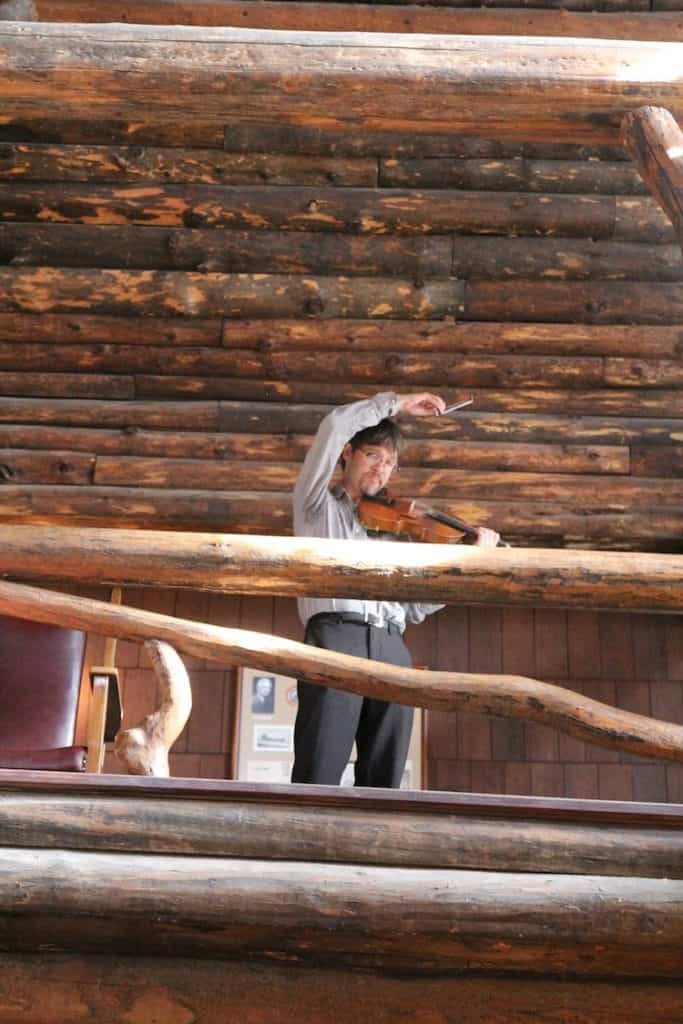 Evenings at Old Faithful Inn
During the day, the Old Faithful Inn is like Grand Central Station with hotel guests and park visitors walking through the lobby. Though after dark Old Faithful Inn returns to its guests.
Most nights diners warm their hands next to the fireplace before heading to dinner. Others sit on the sofas and read books. Some sit at the antique double-sided desks outfitted with stained glass lamps to write out postcards.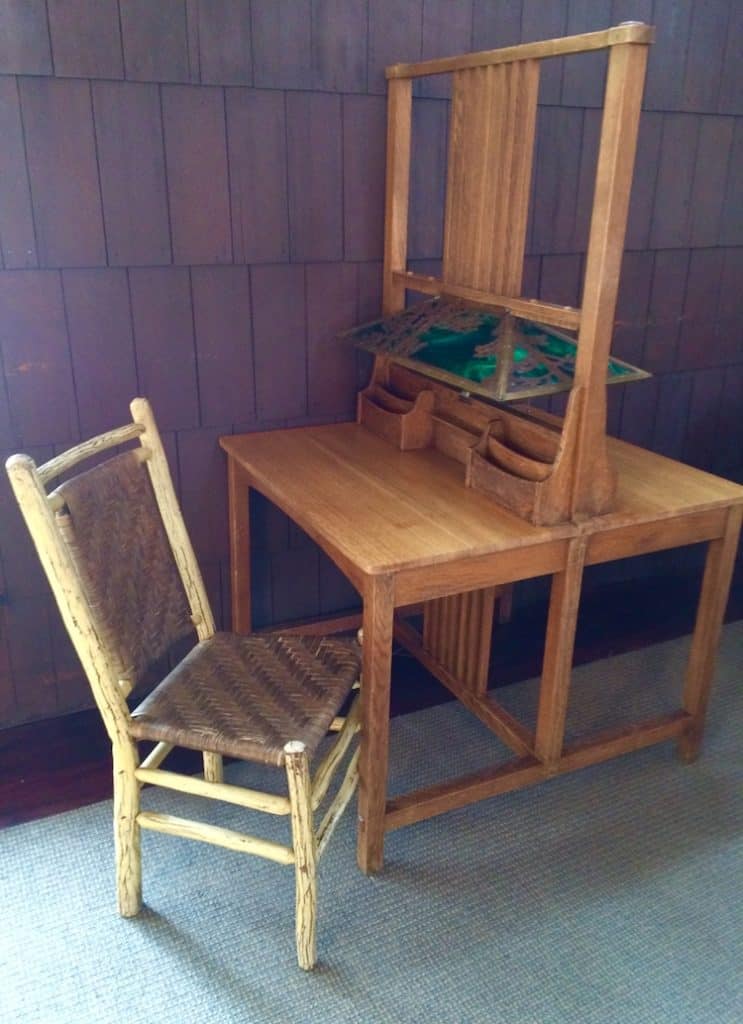 From the second-floor mezzanine, the music starts up in the evening. Depending on the day, musicians play classics to fill the cavernous space with sound. Most guests actually gather in the common areas before retiring to their rooms for the night.
Families gather at gaming tables, shuffling cards or huddling around board games, located on-site.
Adults looking to unwind can grab a cocktail at the Bear Pit Lounge. The Mezzanine Bar on the second floor serves coffee and cocktails as well.
Some  guests compare notes on animal sightings or best hikes in the park. The sense of community at national park lodges is one its delights. It's why I prefer to stay in the park instead of outside in a featureless hotel.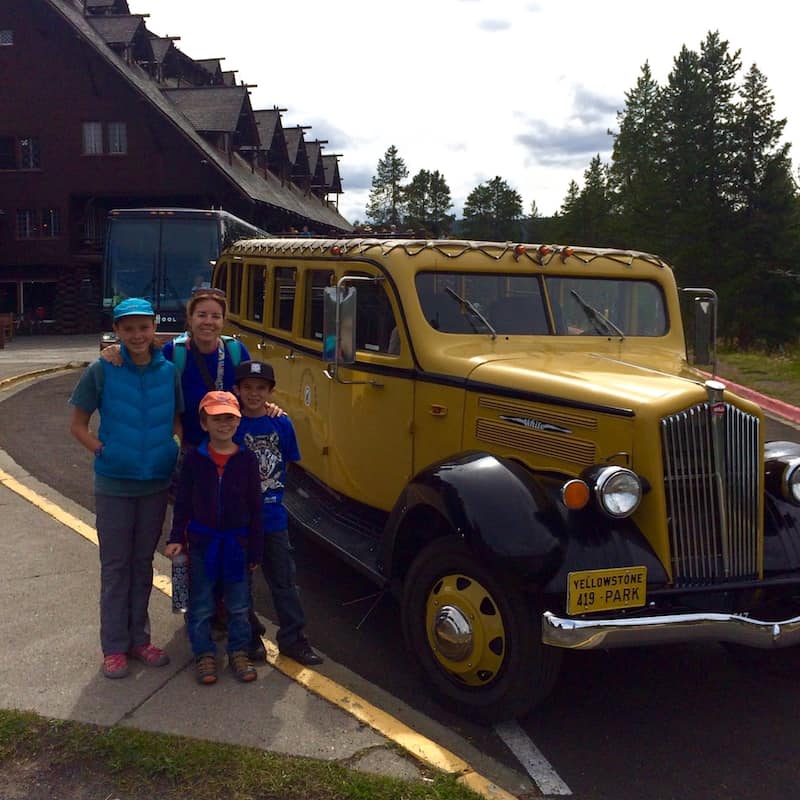 Free Activities around Old Faithful Inn
As one of the draws in Yellowstone National Park, families will find lots of activities and tours originate out of the Old Faithful Area.
Old Faithful Geyser—Check in to see when it's erupting, usually every 90 minutes.
Old Faithful Visitor Education Area—The Old Faithful Visitor Center offers a theater with frequent movies and a full-size geyser model in the Young Scientists Exhibit Room. Ranger programs originate outside.
Daily Tours of the Inn—Take a free tour of Old Faithful Inn to see the hand-crafted details.
Junior Ranger Program—The kids can earn a Yellowstone Junior Ranger patch or Young Scientist Patch. The booklet is $3 at the bookstore but kids who complete the booklet get a souvenir badge.
Hiking around Old Faithful
Old Faithful offers many trails perfect for families. Most trails originate from the Visitor Center and feature level grades.
Old Faithful Geyser Loop–.7-mile roundtrip
Geyser Hill Loop—1.3-mile roundtrip
Observation Point Loop—2.1-mile roundtrip
Morning Glory Pool—2.8-mile roundtrip
Black Sand Basin—4.0-mile roundtrip
Biscuit Basin Loop—5.2-mile roundtrip
Bike Rental
Rent some bike and explore on two wheels instead of hiking. They are available in the Old Faithful Area at the Old Faithful Snow Lodge and rented by the hour or by the day.
Guided Tours from Old Faithful Inn
Take a guided tour during your Yellowstone Trip. Here's some of the offerings at Old Faithful Inn. Reservations are required and each is an additional charge.
Firehole Basin Adventure–In a three-hour tour, take one of the vintage buses through firehole basin
Geyer Gazer–During our stay we took a guided tour to drive along Firehole Lake Drive. Our tour guide, Steve, drove us in one of the remaining eight vintage buses to all the geyser hotspots in a shorter 1 1/2 hour tour.
Picture Perfect Photo Safari—Take a guided morning tour with a photographer to get the best shots.
Yellowstone in One Day–Limited on time, then a guided all day tour is the way to go.
Circle of Fire Tour–All day tour of the top features, especially the geothermal ones. It is the oldest tour offered.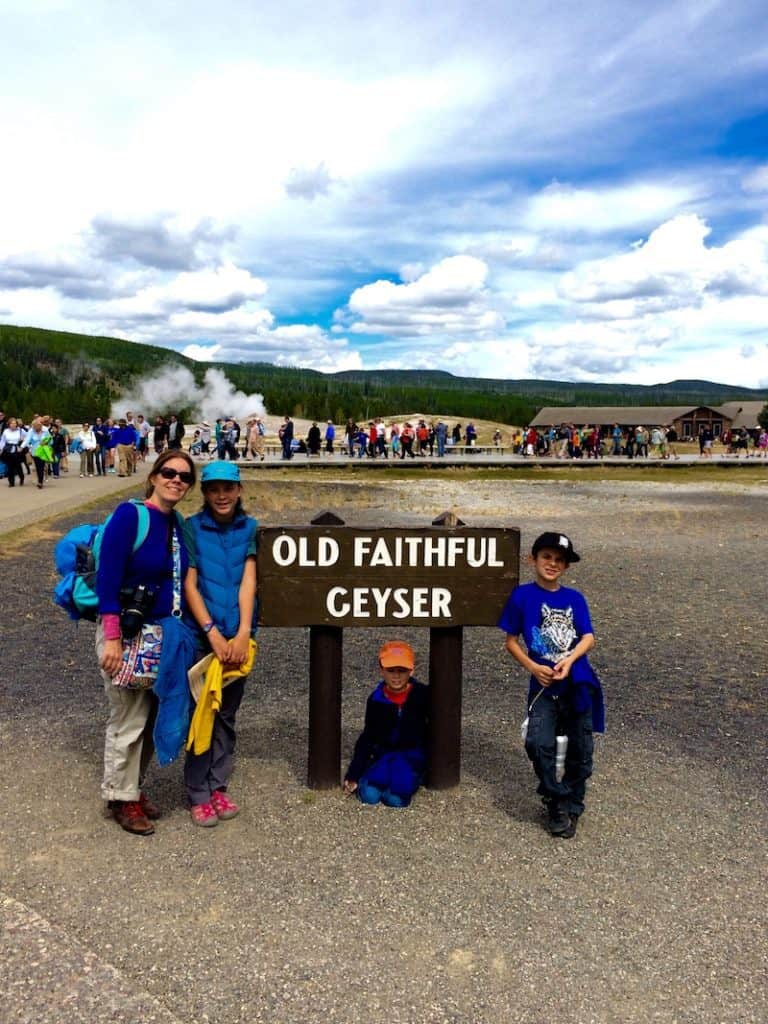 Old Faithful Geyser
Hike through the Upper Geyser Basin to see some of the world's largest concentration of geysers in the world. The Yellowstone's hydrothermal features demonstrate its volcanic energy with three powerful eruptions over the last two million years.
With magna close to the surface, see the water bubble and boil away in the Upper Geyser Basin. Geysers are the star of the geothermal show when they blow water and steam over a hundred feet into the air.
Old Faithful Geyser erupts on average about every 90 minutes, though the range can be 50 to 127 minutes. With an eruption that lasts for 1.5 minutes to over 5 minutes, each eruption spews at least 3,700 gallons of water over a hundred feet into the air.
Though check out other interesting geothermal features in the Upper Geyser Basin.
Hot Springs—Pools of hot water in an array of colors
Fumaroles—A steam vent without a lot water
Mudpots—Hot sulfuric acid breaks down the rock into a smelly clay that bubbles on the surface.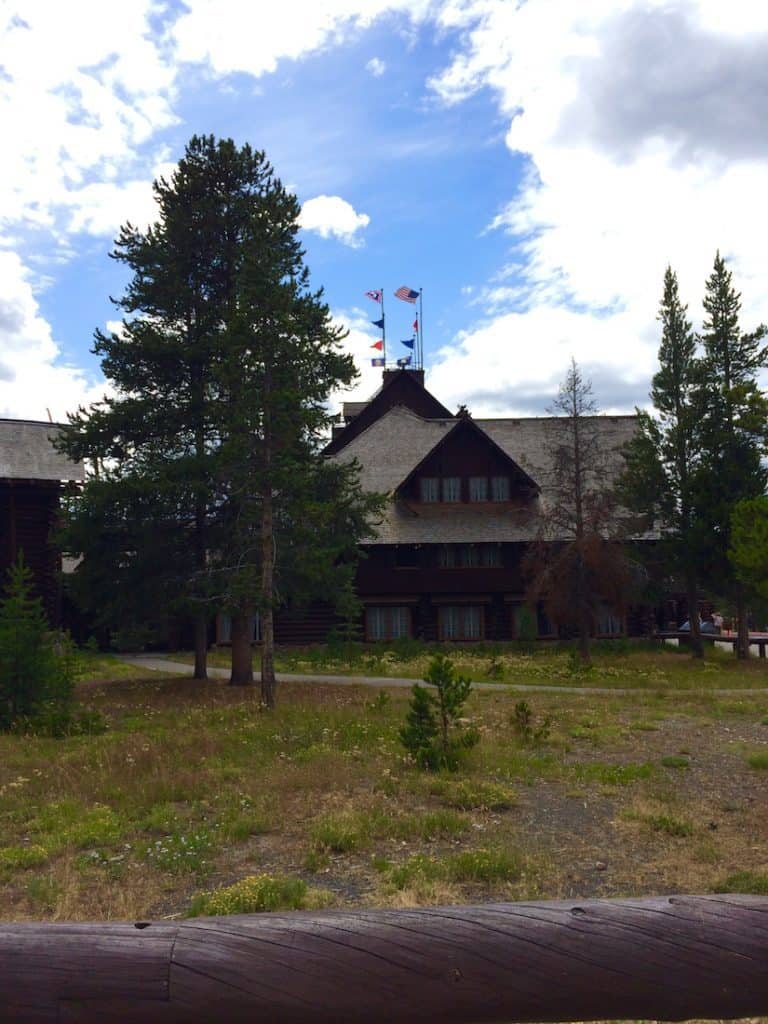 History of Old Faithful Inn
Walking through the pair of red doors and into the towering lobby, I experience all the wonder with my kids. The largest log cabin hotel in the world was conceived and built by a relatively unknown 29-year old architect, Robert Reamer.
With building materials harvested within a few miles of the construction site, Reamer recreated a forest indoors. Anchored with a towering fireplace made of local rhyolite rock, Old Faithful Inn opens up like an old world cathedral.
Using twisted supports made of lodgepole pine and stacked logs, Old Faithful Inn rises up seven-stories. Punctuated with dormer windows to cast dappled light across the the lobby floor, much like the light filters through the forest.
The hand-forged hardware was made on-site and the clock attached to the fireplace is a work of metal art. Through the years, Old Faithful Inn still uses much of the original Old Hickory furniture, especially in the lobby and the dining room.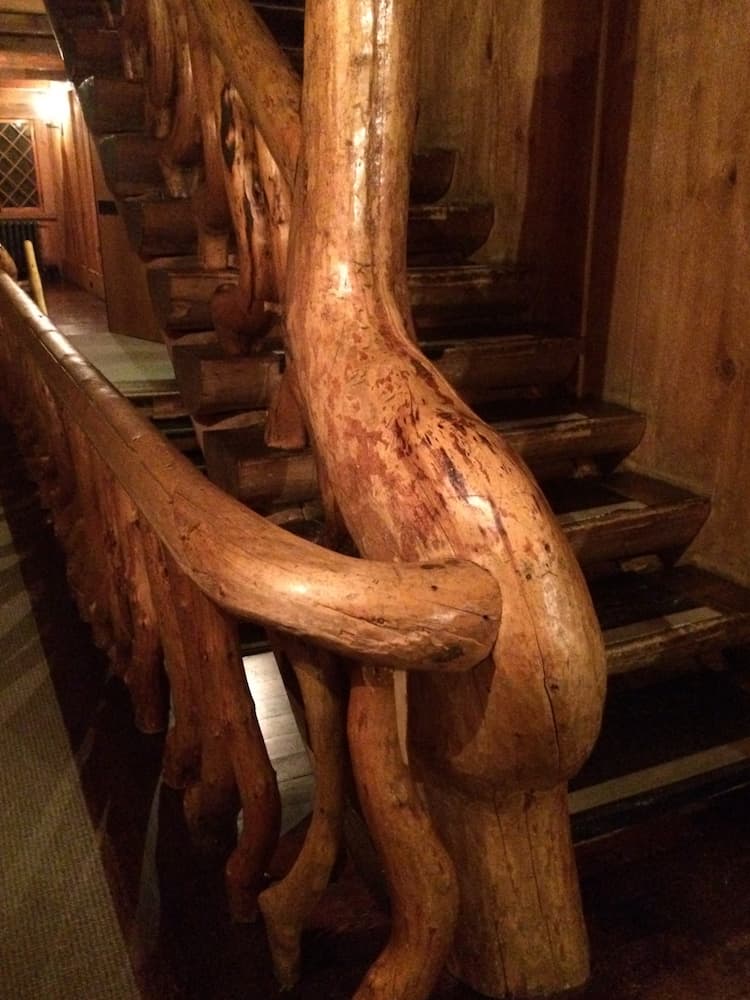 The original section, Old House, took just 13 months to construct and opened on June 1, 1904. By using woodland details and on-site craftsmanship, Reamer created a new architectural style, National Park Service Rustic. A style that would dominate the park lodges of the West.
The American Institute of Architects named it one of the 150 favorite buildings in the U.S. Old Faithful Inn is also a National Landmark.
Getting an Old Faithful Inn Reservation
It is a seasonal property and opens in early May and closes in early October.
Is a reservation to stay at Old Faithful Inn hard to secure? YES. Since guests can reserve a room 13 months in advance, rooms go fast. I don't plan my summer trips until January. So when I checked for available rooms, I didn't find any.
I stalked the reservation system several times a week for months looking for a cancellation. Perseverance prevailed and I picked up two consecutive days in the original section of the Old Faithful Inn called Old House.
Was that a lot of trouble? Yes. Is it worth it? Absolutely.
When we drove up and I saw Old Faithful Inn, standing tall and proud with her flags waving. After earthquakes and epic wildfires, I knew my effort was not in vane. I had to share this experience with my kids.
Read More
Where's Yellowstone National Park
It's 320 miles northeast of Salt Lake City. Unless you arrange a tour you will need a car to explore.
Two major airports serve Yellowstone National Park. I've flown into both and I prefer Bozeman for convenience, schedule and lower fares.
Jackson Hole Airport (JAC)—The busiest airport in Wyoming is a regional airport. Jackson is a quaint town with an Old West flavor.
Bozeman Yellowstone International Airport (BZN)—Bozeman, Montana, offers everything you need to outfit your family for a national park adventure, from food to equipment.
Yellowstone National Park offers cafes, general stores and restaurants. Though be prepared to picnic for lunch and grab some snacks and sandwich ingredients in Bozeman or Jackson.
Getting Around Yellowstone
Yellowstone National Park is open 365-days a year and 24-hours a day. Use an America the Beautiful annual pass ($80) or purchase a 7-day pass for $35 per vehicle.
Yellowstone National Park offers five entrances.
West Entrance—For families that are trying to add to their state count. Enter or exit through the west entrance to add Idaho.
North Entrance—Closest entrance for Bozeman, Montana
Northeast Entrance—Scenic highway to Billings, Montana
East Entrance—Scenic highway to Cody, Wyoming
South Entrance—The busiest entrance and gateway to Grand Teton National Park and Jackson, Wyoming.
Seasonal closures affect Yellowstone National Park. July and August are the only months that all roads and facilities are open.