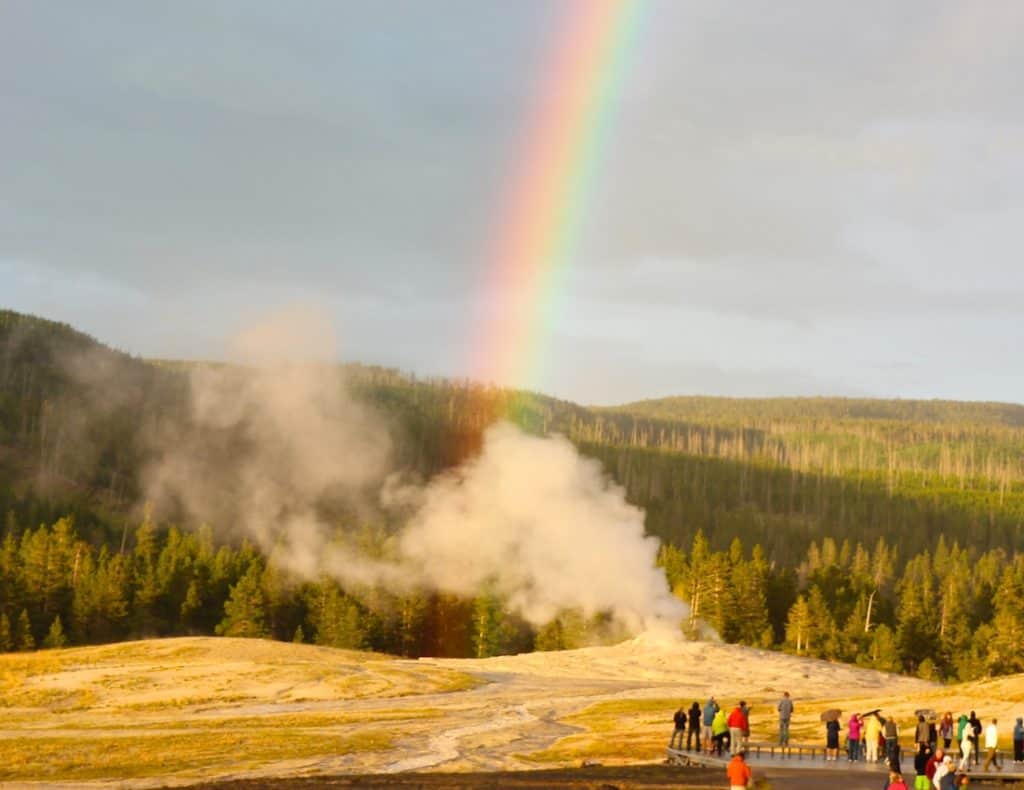 As the first national park in the world, Yellowstone is a top U.S. destination with travelers from across the world. Visitors flock to the park for its geothermal features, historic lodges and wildlife viewing. Located in the western corner of Wyoming, Yellowsotne is so large it oozes into Idaho and Montana. As one of the top things do to in Yellowstone, visitors should their trip at  Old Faithful. With the geyser and its Inn leading the way, visitors can find lots of other activities in the area, rainbow-colored pools and hissing mud pots. Here are the top 9 things  to do at Old Faithful with kids.
Yellowstone  a

t a Glance

Year Established: 1872
Located: Northwestern Wyoming, Idaho and Southern Montana
Size: about 3,471 square miles
Top Features: Geothermal Geyers, Wildlife Viewing and Historic National Park Lodges
Top 9 Things to do at Old Faithful with Kids
See Old Faithful Geyser erupt

Walk through Old Faithful Inn

Spot an animal

Hike to the Morning Glory Pool

Have a huckleberry ice cream cone at Yellowstone General Store

Attend a RangerProgram at the Old Faithful Visitor Education Center

Walk through Biscuit Basin to see Sapphire Pool

See Grand Prismatic Spring

Earn a Junior Ranger Badge
What Makes Old Faithful Special 
In 1872 the Old Faithful area prompted the creation of the world's first national park. With three powerful eruptions over the last two million years Yellowstone is home to the powerful hydrothermal features and volcanic energy.
The volcanic activity under the surface supercharges the ground water, giving rise to a total of 500 geysers in Yellowstone National Park. Yellowstone National Park boasts 60% of the world's geysers.
Though only six are predictable enough for park rangers to post a daily eruption schedule. The all-time favorite being Old Faithful geysers that brings the crowds from every corner of the earth.
Old Faithful Geyser might be the star blowing water and steam over a hundred feet into the air. Though 150 geysers are in a one-mile radius in an area called the Upper Geyser Basin. With magna so close to the surface, the water turns to mist and boils away in the Upper Geyser Basin. 
Nearby basins include Biscuit Basin and Black Sand Basin, a parking lot and walking trail from Old Faithful. Midway Basin features the show stopper Grand Prismatic Spring, another must for any trip.
Old Faithful Geyser
Old Faithful Geyser erupts on average about every 90 minutes, though the range can be 50 to 127 minutes. Each eruption lasts at least a minute sometimes over 5 minutes with eruptions spewing at least 3,700 gallons of water over a hundred feet into the air.
The schedule is located in front of the visitor center. If you require a seat, arrive to the viewing platform early. Old Faithful Geyser features a boardwalk and the eruption is visible from the Old Faithful Inn as well. It is one of the top things to do at Old Faithful with kids.
Though check out other interesting geothermal features in the Upper Geyser Basin.
Hot Springs—Pools of hot water in an array of colors
Mudpots—Hot sulfuric acid breaks down the rock into a smelly clay that bubbles on the surface.
Fumaroles—A steam vent without a lot water
Old Faithful Visitor Education Center
For visitors wanting to learn more, visit the interpretive areas dedicated to the volcanic activity. With a Young Scientist exhibit room, kids can learn about geysers and volcanoes with hands-on models, like a geyser model. It is one of the top things to do at Old Faithful with kids.
The Old Faithful Visitor Education Center hosts free ranger programs throughout the year.
It is located next to Old Faithful Geyser. It is open from 8 a.m. to 8 p.m, during the summer season and from 9 a.m. to 5 p.m. for the rest of the year.
Hiking around Old Faithful
Old Faithful offers several trails perfect for families. Most trails originate from the Old Faithful Visitor Education Center and feature level grades. It is one of the top things to do at Old Faithful with kids.
Old Faithful Geyser Loop–.7-mile roundtrip
Geyser Hill Loop—1.3-mile roundtrip
Observation Point Loop—2.1-mile roundtrip
Morning Glory Pool—2.8-mile roundtrip
Black Sand Basin—4.0-mile roundtrip
Biscuit Basin Loop—5.2-mile roundtrip
Biking in the  Old Faithful area
Find dedicated bike trails around the Old Faithful. Bikes are allowed on vehicular roads though use caution as this area is a top destination in Yellowstone with lots of traffic, including motor coach traffic. It is one of the top things to do at Old Faithful with kids.
Old Faithful General Store to Morning Glory Pool Bike Trail—A paved 2-mile roundtrip bike route. 
Lone Star Geyser Bike Trail—A 4.8-mile roundtrip trail to the named geyser.
Fountain Freight Road Bike Trail—A 3-mile roundtrip repurposed gravel bike trail, closed to vehicular traffic. 
Bikes are available for rent at the Old Faithful Snow Lodge. Open from Memorial Day weekend until Labor Day weekend. Find adult, kids, trailers and bike trains along with helmets for rent from one hour to all day. 
Guided Tours 
The NPS concessionaire Xanterra  operates guided tours in Yellowstone National Park. During my most recent trip, I took a guided geyser tour on one of the restored Yellow Coaches. With an evening departure, our experienced guide took our group to the Fire Hole, an area between Old Faithful and Madison on the west side of the park.
The tour is one-and-a-half hours long and included lots of information about the volcanic and geological features of the area. It is offered daily during the summer season, though find other guided tours with special interests like animal viewing and photography.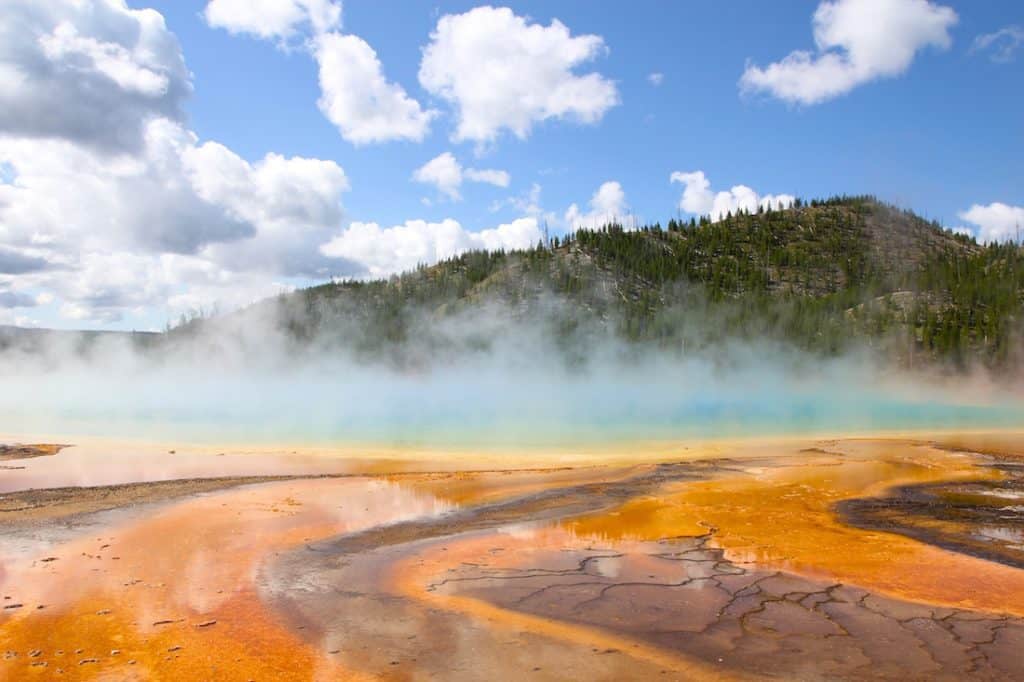 What's Close by
Old Faithful Geyser is part of the Upper Geyser Basin though there's more to see along the Firehole River. It's a hot bed of geothermal activity in the western portion of Yellowstone National Park.
Black Sand and Biscuit Basin—Closest to Old Faithful but you might want to drive.
Continental Divide— The point that divides the North American watershed runs though Yellowstone National Park. Kids want a photo next to the sign. South of Old Faithful at Craig Pass
Midway Geyser Basin—See Grand Prismatic Spring, the most photographed pool in Yellowstone. Arrive early or late in the day for the best light and parking. It is one of the top things to do at Old Faithful with kids.  North of Old Faithful
Lower Geyser Basin—Drive Firehole Lake Drive to see Great Fountain Geyser and the Fountain Paint Pot. North of Midway Geyser Basin and Old Faithful.
Old Faithful Inn
Opening its doors in June 1, 1904, Old Faithful Inn is a symbol of Yellowstone. Built of local forest products, a young architect Robert Reamer dreamed up the idea of bringing the forest indoors.
With a whimsical design and hand-crafted details, Old Faithful Inn is an architectural landmark and one of top notable buildings of the U.S., according to the American Institute of Architects. Though kids love the fact it's the largest log cabin hotel in the world.
Personally, it's one of my favorite hotel stays of my career. After enjoying dinner in the rustic log cabin dining room, I sipped a cup of coffee and listened to a violinist fill the seven-story lobby with music. My kids played board games at a card table that dot the common areas.
If not staying in the Old Faithful Inn, walk through or better yet take a free tour. The second floor offers a coffee and cocktail bar. Grab a drink and head to the second story outside balcony to see Old Faithful Geyser erupt. It is one of the top things to do at Old Faithful with kids.
Where to Stay around Old Faithful
Yellowstone National Park offers a range lodging options from basic cabins to luxury suites. With nine properties and over 2,000 rooms across Yellowstone, visitors can find the lodging that suits their budget and needs.
Old Faithful Inn—Built in several stages and offering lodging options from suites to rooms with sinks only.
Old Faithful Snow Lodge and Cabins—The newest full service hotel in Yellowstone National Park, Snow Lodge offers a range of rooms along with cabins with plumbing and electricity.
Cabins at Old Faithful Lodge—The log lodge was built in the 1920s. Find cabins with full bathrooms and some with just a sink.
The Old Faithful area doesn't offer camping. Find the closest camping facilities at Grant Village or Madison.
Where to Eat Around Old Faithful
Old Faithful Inn
Old Faithful Inn's Dining Room—Have dinner is a log cabin dining room with original furnishings. Serving breakfast, lunch and dinner, with reservations accepted at dinner though the dress code is casual. Kids menu available.
Bear Paw Café–Perfect for families with deli-style offerings along with ice cream. Breakfast, lunch and dinner
Mezzanine Bar—Located on the second floor serving coffee and cocktails from 9 a.m. to 9 p.m.
Bear Pit Lounge—Next to the Old Faithful Dining Room, serves bar food and a full bar. Open until midnight.
Old Faithful Lodge
The Cafeteria in Old Faithful Lodge—A cafeteria serving lunch and dinner from 11:30 a.m. to 6:30 p.m.
Old Faithful Lodge Bake Shop—Grab baked goods, sandwiches and ice cream in the lobby from 6:30 a.m. to 10 a.m.
Old Faithful Ice Cream Shop–Open from noon to 8 p.m.
The Old Faithful Snow Lodge
Snow Lodge in Old Faithful is the only lodging and dining open year-round in the Old Faithful area.
Old Faithful Snow Lodge Dining Room—Offering breakfast and dinner with seasonal menus and locally sourced ingredients.
Firehole Lounge—Next to the Dinging Room, offers a full bar and an appetizer menu.
Geyser Grill—Offers quick service options, like burgers and sandwiches. Open for lunch and dinner from 11 a.m. to 7 p.m.
Old Faithful General Store
Old Faithful General Store—An original log structure serves typical family-friendly food, like hamburgers and ice cream, including the popular huckleberry ice cream. Find restrooms and lots souvenirs and sundries. Open from 9 a.m. to 6 p.m.
Junior Ranger Program
The Junior Ranger Program is the go-to program for families to learn more about a National Park Service site. It takes about two hours to complete. My kids love the badges that the Rangers present them after completing their booklet.
Kids love Yellowstone and kids love animals. So buy a Junior Ranger booklet at the nearest bookstore. In Yellowstone, the Junior Ranger booklets are $3 but kids who complete their booklets get a patch. So it's one of the top things to do at Old Faithful with kids.
Yellowstone National Park divides the Junior Ranger booklet into three age categories, with age-appropriate activities. Kids 4 to 7, 8 to 12 and 13 and older each complete as many activities as their age.
Old Faithful Visitor Education Center also offers a Young Scientist Patch Program. Buy the $5 booklet at the visitor center's gift shop. The visitor center also checks out a pack of equipment needed to conduct experiments. Best suited for students spending a couple of days in the Old Faithful Area to finish the program. This program is more in-depth than the Junior Ranger Booklet and will require more time. Though patches and keychains are rewarded to those who finish.
Try to turn in your Junior Ranger booklet at Yellowstone's National Park Junior Ranger Station, located near the Madison on the west side of the park.
History of Yellowstone National Park
On March 1, 1872 Yellowstone National Park became the first national park in the world. An idea that's flourished across the world.
Though Yellowstone's significance began long before. Approximately two million years ago, a super volcano erupted in Yellowstone forming a caldera, or basin. Find it at the center of Yellowstone National Park measuring 45 miles across, now home to the largest concentration of geysers in the world.
The railroad arrived to the northern edge of the park in 1883. Then the first roads started to bisect the park allowing visitors more access to the geothermal features and the animals. More people meant more building with Lake Yellowstone Hotel and Old Faithful Inn a few of the surviving early lodges.
It was on the western frontier so the U.S. Army built a fort to keep the law and chase away the poachers. See the old Fort Yellowstone at Mammoth Hot Springs.
Yellowstone is a UNESCO World Heritage Site, attracting visitors from around the world.
If it's Your First Visit
On my first visit to Yellowstone National Park, I made every newbie mistake.
Didn't make reservations.
I camped in the same campground and didn't move around the park.
Didn't research.
When the time came to plan another trip, I wanted to see more of the park. I planned a Grand Tour, much like the first visitors did over 100 years ago.
I started in one area and explored before relocating to another area. It worked out great, minimized the driving and maximized the enjoying.
Top Places to Explore in Yellowstone National Park
Old Faithful isn't the only thing to see in Yellowstone National Park. Explore the other corners on the park for more family fun.
Grand Canyon of Yellowstone
Lamar or Hayden Valley
Mammoth Hot Springs
The Animals of Yellowstone National Park
Some visitors enjoy the geothermal features, others want to see animals. Yellowstone National Park offers some of the best animal viewing in the U.S. It is one of the top things to do at Old Faithful with kids.
I recommend Hayden Valley or Lamar Valley, along the river. Best times to spot animals is dawn and dawn when animals are most active. Check in with the Park Rangers who know where animals frequent or take a guided tour.
Bison
Moose
Elk
Grizzly Bear
Black Bear
Wolf
Bighorn Sheep
Mule Deer
Coyote
Pronghorn
Pika
Marmot
Bear Safety in Yellowstone
Yellowstone National Park features two types of bears: black bears and Grizzly bears. Knowing the difference is important since each species uses different behavior.
Park Rangers offer some guidelines to reduce bear encounters:
Hike in groups of 4 or more.
Make noise while hiking by wearing bear bells and talking.
Carry bear spray. Keep it accessible when hiking and know how to use it.
Keep campsites clean.
Bear spray is advised and can be rented in the park. Visit a visitor center or ranger station for more information.
To find out more information, attend a ranger program to learn more about bears in Yellowstone National Park. I did and it's a great way to learn more about bears. My boys loved the bear programs and I felt more confident afterwards.
Where's Yellowstone National Park
It's 320 miles northeast of Salt Lake City. Unless you arrange a tour you will need a car to explore.
Two major airports serve Yellowstone National Park. I've flown into both and I prefer Bozeman for convenience, schedule and lower fares.
Bozeman Yellowstone International Airport (BZN)—Bozeman, Montana, offers everything you need to outfit your family for a national park adventure, from food to equipment.
Jackson Hole Airport (JAC)—The busiest airport in Wyoming is a regional airport. Jackson is a quaint town with an Old West flavor.
Yellowstone National Park offers cafes, general stores and restaurants. Though be prepared to picnic for lunch and grab some snacks and sandwich ingredients in Bozeman or Jackson.
Getting Around Yellowstone
Yellowstone National Park is open 365-days a year and 24-hours a day. Use an America the Beautiful annual pass ($80) or purchase a 7-day pass for $30 per vehicle.
Yellowstone National Park offers five entrances.
North Entrance—Closest entrance for Bozeman, Montana
Northeast Entrance—Scenic highway to Billings, Montana
West Entrance—For families that are trying to add to their state count. Enter or exit through the west entrance to add Idaho.
East Entrance—Scenic highway to Cody, Wyoming
South Entrance—The busiest entrance and gateway to Grand Teton National Park and Jackson, Wyoming
Seasonal closures affect Yellowstone National Park. July and August are the only months that all roads and facilities are open.
Know Before You Go
Stay on the paths and boardwalks in Yellowstone's geothermal areas.
Check in at the Ranger Station to see the approximately geyser eruption times for Old Faithful, Castle and Grand geysers.
Kids might be sensitive to sulfuric acid smell.
The Junior Ranger Booklet includes animal spotting activities.