Looking for a mountain getaway that's full of adventure and not crazy mountain driving? The Badlands and the Black Hills of South Dakota offer five national park sites, like Mount Rushmore National Memorial and Wind Cave National Park, all within an hour's drive.
Kids love cabins so check out the cabins in Badlands National Park. Dad wants to see animals and I found plenty in South Dakota. Badlands even offers a quaint gift shop with local arts and crafts for Mom.
Badlands National Park
Established as a national monument in 1939, Badlands National Park became a national park in 1978. It encompasses 244,000 acres and includes the largest expanse of protected prairie ecosystem in the National Park Service.
Badlands National Park borders the Buffalo Gap National Grassland so it offers habitats for several animal species, like buffalo, fox, bighorn sheep and the black-footed ferret. It also offers some of the richest mammal fossils beds, including a tyranosausus Rex.
Where to Stay in Badlands National Park
Lodging
To fully experience Badlands National Park, I stayed in a Cedar Pass Lodge cabin. The quiet rock formations sparkled as the sun broke and a symphony of birds celebrated the arrival of another day. From my cabin's back porch, I watched cottontail rabbits nibble on prairie grass as I enjoyed my morning ritual of coffee in my favorite flannel shirt.
Constructed in 2013, the Cedar Pass Lodge cabins resemble the original 1928 cabins. Open seasonally from April 15 until October 15, Cedar Pass Lodge features 26 free-standing and duplex cabin units.
Camping
Cedar Pass Campground offers 96 sites ($22-$37) with running water, flush toilets and covered picnic tables. Sage Creek Campground (free) provides a primitive campground on the west side of Badlands National Park.
Where to Eat in Badlands National Park
The Cedar Pass Restaurant, located in front of the Cedar Pass Lodge cabins, serves breakfast, lunch and dinner from April 15 until October 15 from 8 a.m. until 7 p.m. Serving local favorites, like fry bread, Indian tacos and buffalo burgers, along side locally-sourced fish and beef, South Dakota beer and wine is also available.
Another must is the Wall Drug Store in Wall, South Dakota. It's a must for road side attractions and family-friendly eats. Got a full review.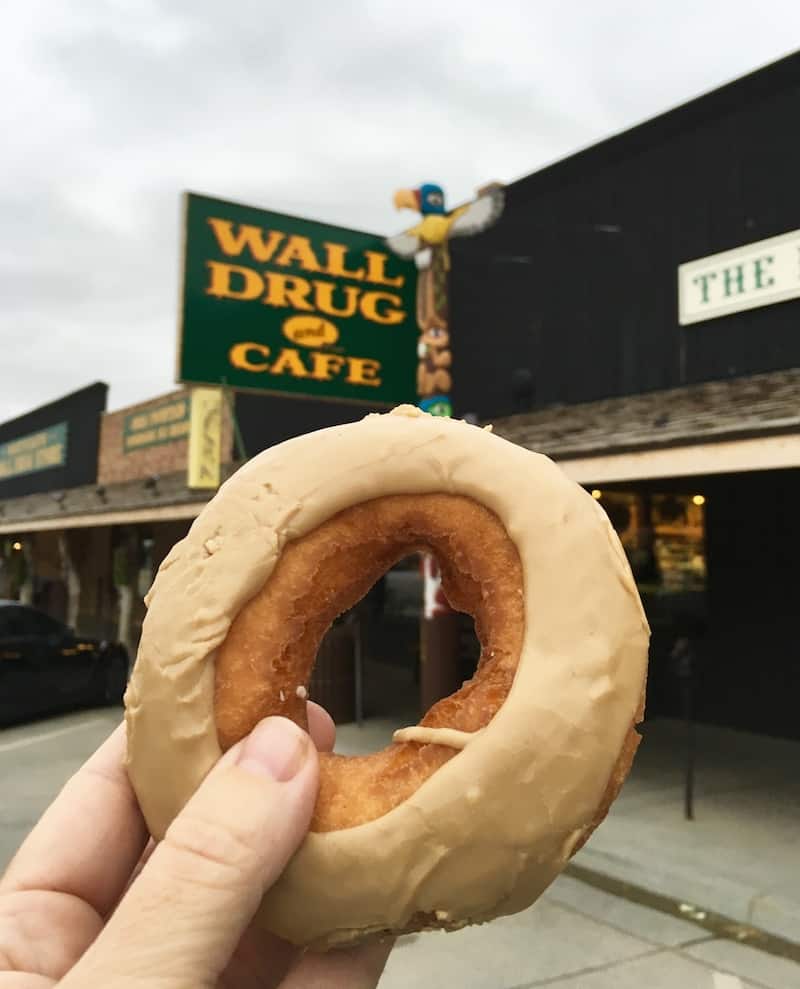 What to do in Half a Day
I explored Badlands National Park in half-a-day though I concentrated on the north unit of the park. Look out for animals, during my visit I spotted big horn sheep, wild turkeys, a coyote, prairie dogs and a cottontail rabbit.
Stop at the Visitors Center
Check in at the Ben Reifel Visitor Center for Junior Ranger Booklets, NPS passport stamps and maps. The visitor center shows an interpretive movie, features a gift shop and restrooms. Open from 8 a.m. to 4 p.m. year round, open 7:30 a.m. to 7 p.m. during the summer.
Take a Hike
Several family-friendly hikes originate near the Ben Reifel Visitor Center. The Door Trail and the Window Trail start near restrooms. The Fossil Exhibit Trail offers short interpretive trail, just right for families with younger kids.
Take the scenic drive
Enter the park at Northeast Entrance or the Pinnacles Entranceand take the scenic drive, Badlands Loop Road or Highway 240. Stop at the Pinnacles Overlook for animal spotting at dusk. I found picnic tables at Bigfoot Pass Overlook.
Attend a ranger program
During the summer season, Badlands National Park offers ranger programs for all ages. Topics alternate and range from geology, paleontology, fossils, night sky viewing and a couple of special programs for junior rangers. Check in at the Ben Reifel Visitor Center or consult the park newspaper for days and times.
Badlands National Park with Kids
The Junior Ranger Program is the go-to program for families to learn more about a National Park Service site. It's free and takes about two hours to complete. My kids love the badges that the Rangers present them after completing their booklet.
Badlands National Park hosts special Junior Ranger Programming at 11 a.m. daily during the summer. Topics vary by day though my kids participated in the Fun in the Sun program to earn the Badlands Junior Ranger badge.
Badlands National Park offers several other Junior Ranger programs. The night sky program gets kids exploring the night sky. For the dinosaur-loving kids, check out the Junior Paleontologist badge. The Historic Preservation Junior Ranger badge is offer as well.
Family Fun in Badlands National Park
Badlands National Park offers several hiking trails. And  biking is also popular in the park. Back country camping is available and permits aren't required.
Horses are permitted in the Badlands Wilderness Area. A portion of Sage Creek Campground (primitive) is designated for horse use.
More Family Fun in South Dakota
The Badlands and Black Hills of South Dakota offer a week of family fun.
Getting to the Badlands National Park
Badlands National Park, located 75 miles east of Rapid City, South Dakota, offers the nearest regional airport. The Northeast Entrance is located 8 miles south of Interstate 90.
Badlands National Park features two units, the North Unit and the Stronghold Unit. It's partially located in the Pine Ridge Indian Reservation and borders the Buffalo Gap National Grassland.
Getting Around the Badlands National Park
Badlands National Park is open 365-days a year and 24-hours a day. Admission is $20 per vehicle for a 7-day pass or you can use and America the Beautiful annual pass ($80).
Know Before You Go
Watch out for South Dakota's poisonous snake, the Prairie Rattlesnake.
Give large animals, like buffalo and bighorn sheep, 25 yards for your safety.
Bring water bottles, visitor centers feature bottle fillers.
I found limited cell service.
Ground fires are prohibited in Badlands National Park. Camp stoves are permitted in campgrounds and picnic sites.
Disclosure:
Consideration for brands mentioned. This post contains affiliate links.