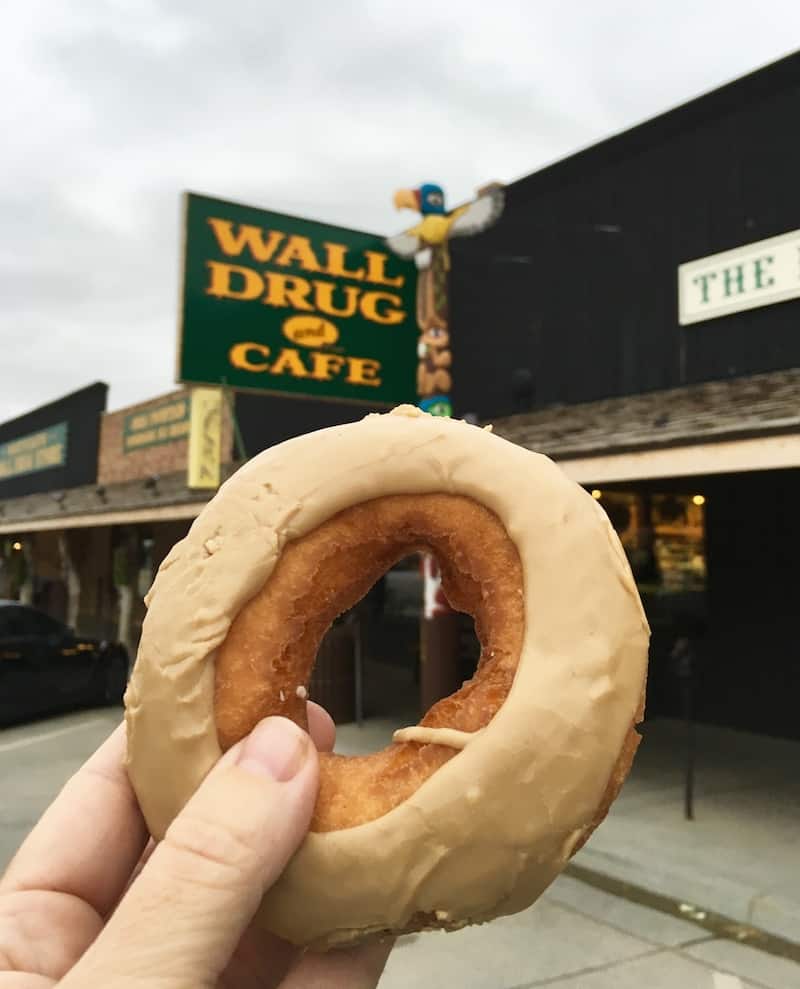 How did a Drug Store along the Highway in South Dakota become one of the top road trip stops in the U.S. Outside of Badlands National Park, Wall Drug Store started giving away free ice water before most cars had air conditioning.  Now Wall Drug Store takes up an entire block and sells sundries, souvenirs and snacks. Visitors can grab a bison burger in its restaurant, snap pics on a jackaloupe, and leave with a free souvenir bumper sticker. Road trips need fun stops, filled with good food, quirky souvenirs and stuff you forgot at home. Seriously, Wall Drug is a must for any trip through South Dakota and one of the top destinations.  Here are the top things to do at Wall Drug Store in South Dakota.
Top Things to do at Wall Drug Store
Get some thing to Eat

So some Shopping

Head to the Backyard
What to Eat at Wall Drug
It started wtih free water and a 5¢ coffee, though there's a lot of choices at Wall Drug Store today.
Wall Drug Cafe
With over 500 seats, the Wall Drug Restaurant is a family-friendly eatery with the knotty-pine walls and marble-topped tables. The menu features locally-sourced South Dakota bison burgers, American favorites like meatloaf, house-made rolls, donuts and pie.
With the largest privately-owned collection of western art and illustration in U.S. in the dining room, be sure to take a look at the walls. The Wall Drug Restuarant serves breakfast, lunch and dinner and offers a kids menu. It is open from 8:30 a.m. – 7 p.m. daily.
Soda Fountain Ice Cream Shop
Since the 1930s, Wall Drug has served up ice cream favorites at its Soda Fountain Ice Cream Shop. Visitors can choose from soft-serve, hard pack ice cream along with shakes, sundaes and malts.
Open seasonally.
Prairie Parlor
Located in the Backyard, the Prairie Parlor makes hotdogs, pizza and tacos, perfect for kids. It also serves up coffee drinks, perfect for road tripping adults.
Don't forget the road trip snacks, Wall Drug Store offers lots of options.
Read More
Shopping at Wall Drug
I dare anyone to find a place with more shopping in Wall, South Dakota. From Black Hills gold, silver and turquoise jewelry to a wall of lined with cowboy bootsm there a lot to see in Wall Drug Story. Shoppers will find lots of western wear, like hats and  handbags.
For those camping in one of South Dakota's five national park, find the gear that you forget at home. There's a stocked camping store including vintage-looking enamelware.
Wall Drug is the place for your South Dakota souvenirs. If they don't carry it, it wasn't made.
Family Fun at Wall Drug
Don't miss The Backyard it offers everything from an arcade to a giant jackalope to sit on. The miniature Mount Rushmore sculpture is close enough to touch.
Train Station Water Show
Branding Iron Arcade
Wall Drug Mining Company
Miniature Mount Rushmore
A giant Jackaloupe
Roaring T Rex
The enormous T. Rex, similar to the one found in Badlands National Park, roars to life ever few minutes. Kids can  pan for treasure at one of three mines in the Backyard area.
During the summer, take off the shoes and run through the Backyard's Train Station Water Show. Kids will love the arcade too. Adults can grab a cup of coffee at the Prairie Parlour.
Read More
History of Wall Drug Store
It's nearly impossible to miss Wall Drug since its billboards dot the interstates across the entire Midwest. It all started with free ice water. And really, don't. It's an iconic roadside attraction.
In 1931, Dorothy and Ted Hunstead opened the only drugstore in a speck of a town: Wall, South Dakota. After five years of struggling to get the business off the ground, the Hunstead family needed customers to walk through the door.
Then one hot, dusty afternoon, Dorothy decided to put up signs along the highway to Badlands National Park offering Free Ice Water. It worked, visitors started walking through their doors for a cool drink and found all the stuff they forgot to pack.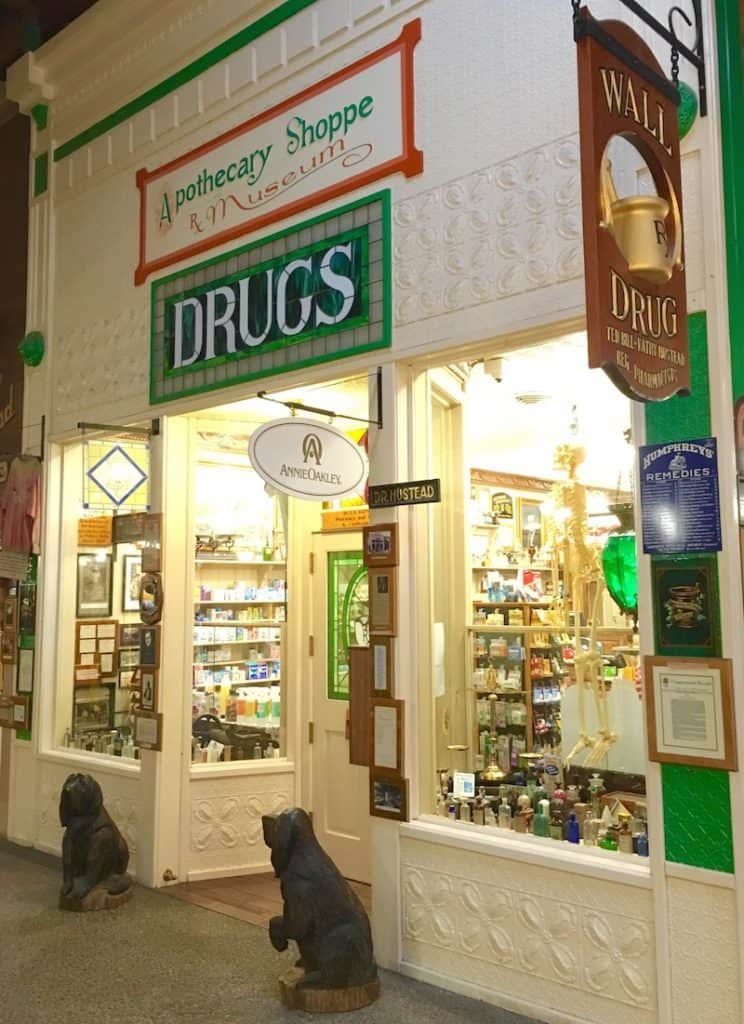 Wall Drug Store Today
The Hunstead Family still offers free ice water, 5¢ self-serve coffee and a free bumper sticker. Today, Wall Drug is one of the top attractions in South Dakota.
A rambling space covers a city block features sundries and souvenirs. Also find specialty clothing, like boots, leather goods and cowboy hats. There's lots of parking along the street and around the block. It is conveniently located to Badlands National Park and not far from the Black Hills of South Dakota.
Read More
Top Things to do at Wall Drug
The Western Art collection  should not be missed. Gracing the knotty-pine walls, find over 300 pieces of original art, especially western oil landscapes. Including two pieces painted by the Mount Rushmore architect, Gutzon Borglum. In all, the art collection is worth more than $3 million.
Need a place for quiet reflection? Find it in the peaceful Traveler's Chapel.
The Pharmacy Museum offers a quaint look at the apothecary storefront from years ago.
The stuffed and mounted animal heads excite the animal spotters.
The kids pose for pictures with wood-carved cowboys.
Where's Wall Drug Store
Wall Drug is located conveniently off Interstate 90 that cuts east-west across South Dakota. Its address is 510 Main Street, off Interstate 90 exits 109 and 110, near Badlands National Park. It's open daily from 8 a.m. to 8 p.m.  The Pharmacy is open Monday to Friday from 8:30 a.m. – 5 p.m.
Consideration for brands listed.