Weekend Itinerary for Galveston Island in Texas
A quick day trip  from Houston, or a long weekend from Dallas or Austin,  Galveston Island offers miles of beaches for shelling or sunning along with several museums and  lots of attractions. Here's what you need to do your weekend itinerary for Galveston Island in Texas.
Friday
Learn about the history of Galveston by touring one of its cultural sites. Start with the Moody Mansion or the Bishop's Palace. Both are historic mansions from the Victorian era. 
Moody Mansion
Built in 1893 the home's full name is the Willis Moody Mansion. The Moody family bought the house in 1900, shortly after the 1900 hurricane that devastated the island.
It's built in the Romanesque style and features 31 rooms. Find it in the East End Historic District.
Located at 2618 Broadway Avenue J. Open from 10 a.m. to 5 p.m every day except major holidays. Adult admission is $15 and youth from 6 to 17 are $7 and kids 5 and under are free.
Bishop's Palace
Located in the East End Historic District, this 19,000 square-foot Victorian style home survived the devastating 1900 Hurricane. It's made of stone and features four floors and elaborate interiors so it's an impressive structure. 
Originally named the Gresham's Castle, the Roman Catholic Diocese of Galveston bought the building to be used as the Bishop's residence.  
Located at 1402 Broadway Avenue J. Open from 10 a.m. to 5 p.m.  every day except Tuesdays. Adult admission is $14 and youth from 6 to 18 are $9 and kids 5 and under are free.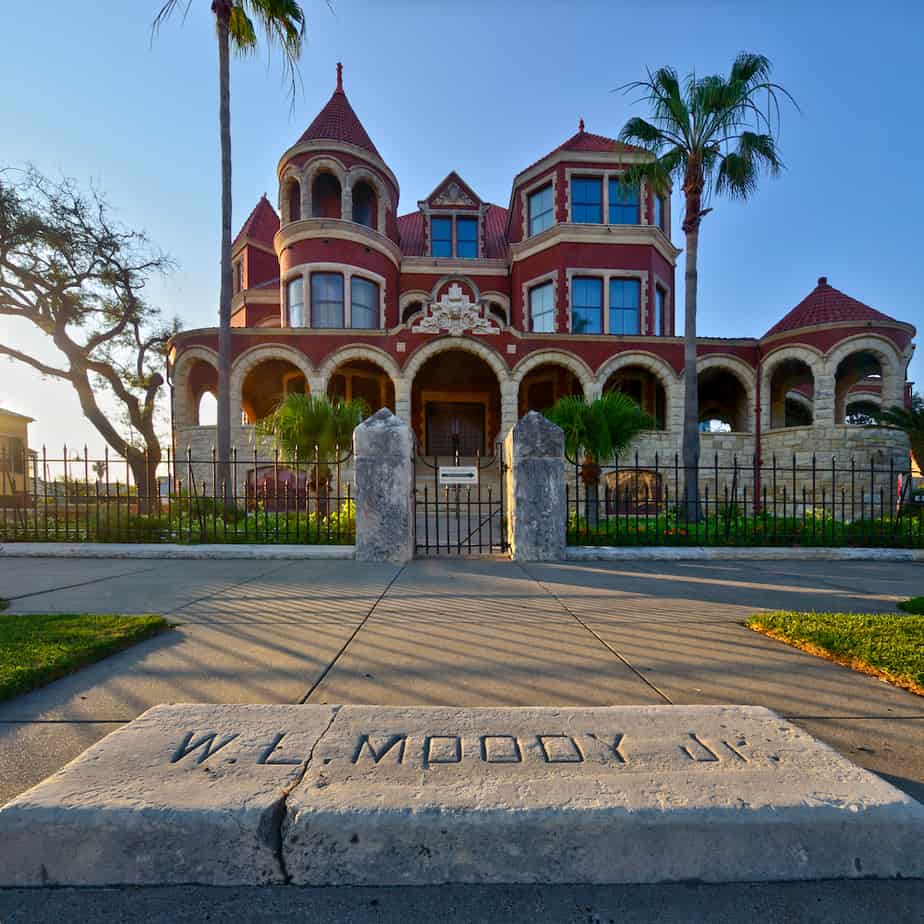 Read More 
Lunch
Since 1976 Shrimp N Stuff been frying up fish and shrim. It's a locals hang-out off the Seawall. Located at 3901 Avenue O. 
The Bryan Museum
Located in the former Galveston Orphan's Home built in 1895, learn about the history of Galveston and the entire state of Texas. In 2015 it opened as The Bryan Museum. And it houses the world's largest collection of historical artifacts and artwork about Texas and the American West. 
Located at 1315 21st. St. open from 11 a.m. to 5 p.m Wednesdays through Sundays (closed Mondays and Tuesdays). Adult admission is $14, students are $10, kids from 6 to 12 are $5 and kids 5 and under are free.
Galveston Seawall
After the devastating Hurricane of 1900, Galveston build a seawall. Now extending 10 miles, it protects the island from storm surges. Find murals along the seawall and stairs lead to the water below. It's a must for your Weekend Itinerary for Galveston Island in Texas.
It's on the National Register of Historic Places.
Dinner
The Spot offers a multi-level views of the Gulf of Mexico. Find live entertainment along with seafood and burgers. Located at 3204 Seawall Blvd. 
Gaido's Famous Seafood Restaurant is probably the most popular restaurant on Galveston Island. Opening in 1911, it's got a varied menu though don't wander in a wet bathing suit and sandy feet. Located at 3828 Seawall Blvd.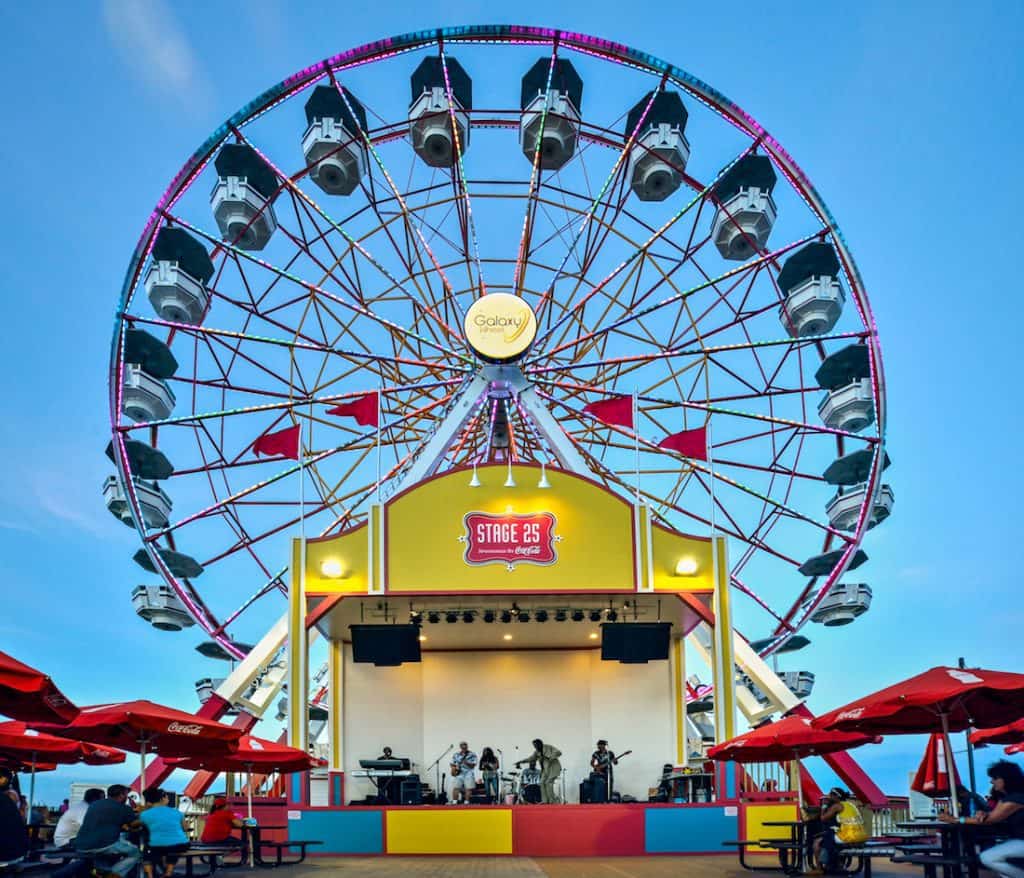 Evening Entertainment
Galveston Island Historic Pleasure Pier
Like Santa Monica and Coney Island, Galveston offers family-friendly pier amusement park. Pleasure Pier opened in the 1940s, then Hurricane Carla destroyed it in 1961. Replaced by the Flagship Hotel in the 1960s, Hurricane Ike destroyed the hotel in the 2008.
In 2012, a re-imagined Pleasure Pier opened with 16 rides, midway games along with shopping and dining. 
Located at 2501 Seawall Blvd. Its hours follow the tourist season so check its website for operating days and hours.
Read More
Saturday
The Strand
As a National Historic Landmark District, walk the brick-paved streets of The Strand. In the mid-1800s Galveston boomed as a port and financial center for Texas. It is another must for your Weekend Itinerary for Galveston Island in Texas.
The first wooden buildings didn't withstand the hurricanes. So brick or stone buildings replaced them. And the oldest buildings in the Strand Historic District dated back to 1850s.
Find boutique shopping like Hendley Market at 2010 Strand St. for vintage and funky finds. Or browse the art galleries in the area.
Walk to the Saengerfest Park for the Welcome to Galveston mural and the giant chess pieces. And find the painted turtles, decorated by local artists along the way. Each turtle is to rise awareness for Texas own, Kemp's Ridley sea turtles. And after Hurricane Ike damaged trees sculptors shaped the trunks into tree sculptures. 
1877 Tall Ship Elissa and the Texas Seaport Museum
Built in 1877 in  Aberdeen, Scotland, the Elissa sailed around Europe. Eventually landing in Greece, the Galveston Historical Foundation rescued the Elissa about a 100 years later. First the iron hull had to be repaired for a tow across the Mediterranean Sea to Gibraltar. Then before her tow across the Atlantic, more repairs were required. 
As a three-masted barque she sails with 19 sails, the Elissa is one of the oldest sailing ships today.
Located at 2200 Harborside Dr. Open every day from 10 a.m. to 5 p.m. Adult admission is $10 and youth from 6 to 18 are $7, kids 5 and under are free. 
Note: The Texas Seaport Museum is under going a renovation and will reopen during the Summer of 2021. The Elissa is moored at Pier 21.
Galveston Railroad Museum
As a must for train enthusiasts, walk through a recreation of the 1932 Gulf, Colorado and Santa Fe Depot. Then explore the rail cars, like a pullman (sleeping) car, dining car and a post office car.
Take a look at the specially painted Santa Fe warbonnet engines reminiscent of the Texas Chief that operated from Galveston to Chicago. Then explore the rest of the locomotives and freight cars at the Galveston Railroad Museum. 
Find model trains like the HO gauge and O gauge displays. (Closed for renovation through Spring 2020). And the train china display showcases dining on rails. (Also closed for renovation until Spring 2020).
Saturdays only from 11 a.m. to 2 p.m.—Take Harborside Express train ride that travels one mile in an open air caboose. Ride lasts for 15 minutes and tickets are $5 for 3 and up.  
Located at 2602 Santa Fe Place. Open every day from 10 a.m. to 5 p.m. Adult admission (13 and up) is $12 and kids from 3 to 12 are $6, and babies two and under are free.
Lunch
Grab a poboy sandwich at Old Strand Emporium, at 2016 Strand St. Then sample some sweets at  La King's Confectionary at 2323 Strand St.
Afternoon
Stewart Beach
One of the best beaches in Texas, Stewart Beach offers restrooms, showers, volleyball courts, a concession stand, rental chairs and umbrellas and a playground. And it's the closest beach to downtown Galveston. 
Parking is $12 during the week, Monday to Thursday and $15 for the weekends. Located at 201 Seawall Blvd. 
Galveston Island State Park
For a quieter beach, Galveston Island State Park offers birding along with beach camping. And it's a popular place to fish that doesn't require a fishing license. 
Located at 14901 FM 3005 on the west end of the island. Adult admission (13+) $5 and kids 12 and under are free. 
Evening Entertainment
Head back to the Strand for the evening. Consider the following.
Hearsay on the Strand for craft cocktails and an inventive menu. Located at 2410 Strand Street. Stuttgarden Tavern for a wall of taps and German-inspired pub grub. Located at 111 23rd St.
Another stand out, The Rooftop Bar at historic The Tremont House for views and extensive cocktail and wine list. Located at 2300 Mechanic Street.
Read More
Sunday
Depending on the time of the year and your group, head to Moody Gardens or Schlitterbahn Galveston.
Moody Gardens
Follow the way to the pyramids. As an educational facility focusing on conservation, the centerpiece of Moody Gardens is its  three glass pyramids.
The tallest of the pyramid is the largest aquarium in Texas.  Find displays like the Gulf of Mexico rigging display, a jellyfish gallery, a penguin exhibit along with a Caribbean ship wreck. Also experience animal encounters inside the aquarium along with touch tanks.
The rainforest pyramid is 10-stories high and houses 1,000 plants and animals, like giant Amazon river otter along with Saki monkeys. Many of the animals are free roaming. Find animal encounters inside the rainforest pyramid as well.
The Discovery pyramid focuses on science exhibits. Additionally there's a 3D and 4D theater along with a ropes course and zip line. 
Colonel paddlewheel boat take an hour-long cruise. And the Palm Beach area offers white sand along with a lazy river, wave pool, tower slides and splash pad. 
Moody Gardens offers a convention center, on-site hotel and golf course. 
Located at 1 Hope Blvd. Open every day with seasonal hours. Several different tickets available for 1 and 2 day value passes to tickets to individual attractions. 
Schlitterbahn Galveston Island Waterpark
With 26 acres, Schlitterbahn Galveston Island offers three distinct areas with 33 attractions. Home to the world's tallest water coaster, MASSIV,  Wasserfest is an indoor waterpark with a convertible roof to extend the waterpark season. 
Also find the Blastenhoff and the Surfenburg areas with raft rides, water coasters, wave pools, river rides along with heated pools and kids areas. 
Located at 2026 Lockhead St. Open daily for school breaks, Spring Break (mid March) and Summer mid May until mid August. Weekends only March through May and September to December. Admission varies. 
Read More
Where to Stay
Hotel Galvez and Spa
The Hotel Galvez and Spa offers a luxurious historic property with Gulf of Mexico views. Though it's surprisingly family-friendly.  It's a AAA four-diamond property with tropical landscaping.
The weekend brunch is tops in the Houston area. The elegant public rooms evoke the timeless charm from another era. And don't forget the ghost tour. 
Located at 2024 Seawall Blvd.
San Luis Resort and Spa
As a modern resort that the kids will love, San Luis Resort also features views of the Gulf of Mexico. Lounge at The Cove, a tropical pool with poolside bar and cabanas for an afternoon of fun. It's also a AAA four-diamond property on 32 acres. 
Located at 5222 Seawall Blvd. 
Read More