As the largest city on the coastal bend of Texas, Corpus Christi offers both indoor and outdoor activities. For outdoor enthusiasts, it offers miles of open beaches paired with the vibrant Laguna Madre nestled in-between the mainland and its barrier island. With mild and sunny weather from March until November. it's ideal for beachgoing and fishing,  Corpus Christi features an art museum, a science and history museum along with the Texas State Aquarium and the USS Lexington. Corpus Christi is ideal for your Texas beach getaway. Here's the Top Things to do in Corpus Christi, Texas.
Read More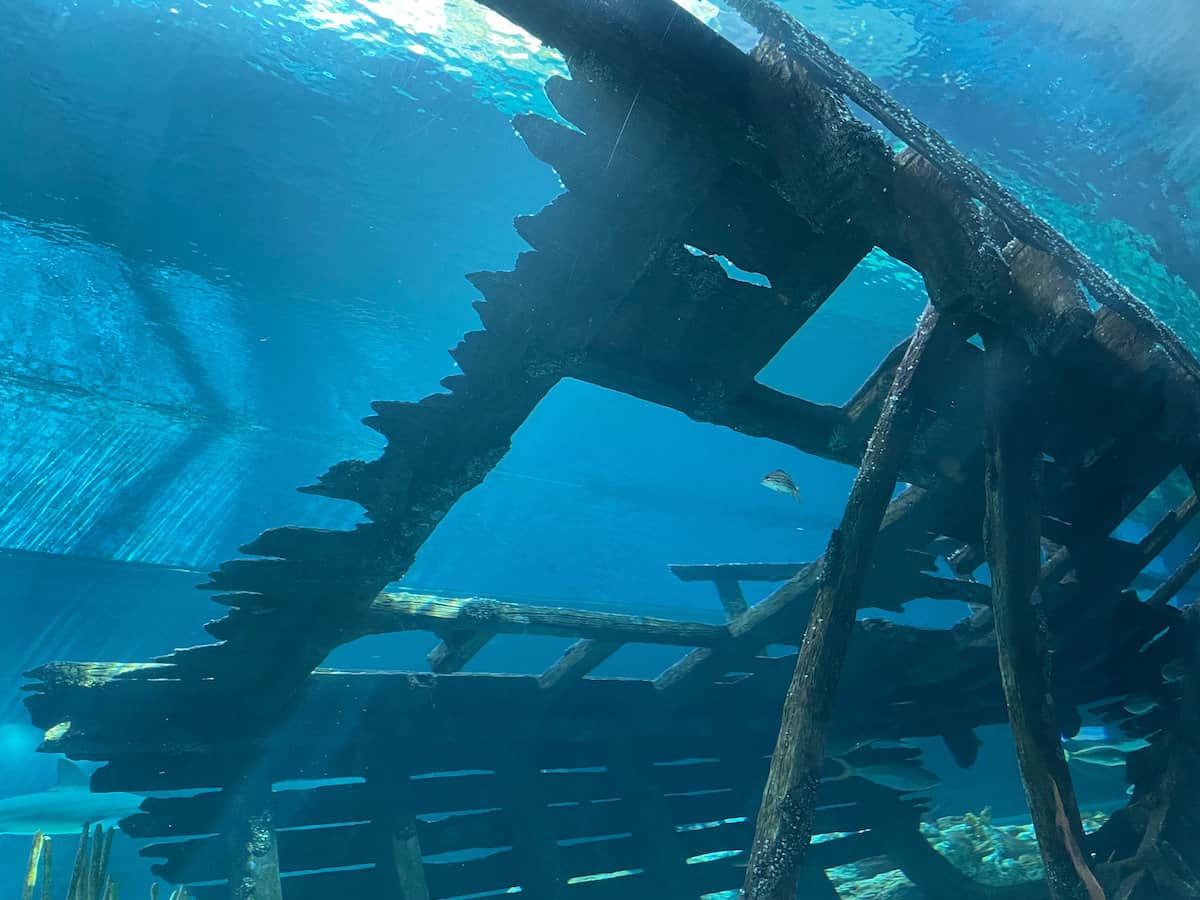 Texas State Aquarium
Located basically next door to the U.S.S. Lexington, the Texas State Aquarium is one of the top things to do in Corpus Christi. Learn about the aquatic animals of the Gulf of Mexico along with birds and river otters. 
Popular exhibits include the sunken shipwreck with sharks, Dolphin Bay with daily shows and Tortuga Cay for the turtle program. The Texas State Aquarium offers feeding and touch tanks as well. See the stingray feeding at the Stingray Lagoon or get up and close to the Caribbean Flamingos and Scarlet Ibis along with macaws. 
Additional encounters include snorkeling with the sharks. If that's too much, then fish feeding is also a popular animal encounter. Both require an additional admission. 
The Texas State Aquarium offers a 4D theater, a splash pad along with a cafe.
Located at 2710 N. Shoreline Blvd. in Corpus Christi. Open daily from 10 a.m. to 6 p.m. Adult admission is $39.95 and kids (3 to 12) are $29.95 with discounts for students and seniors.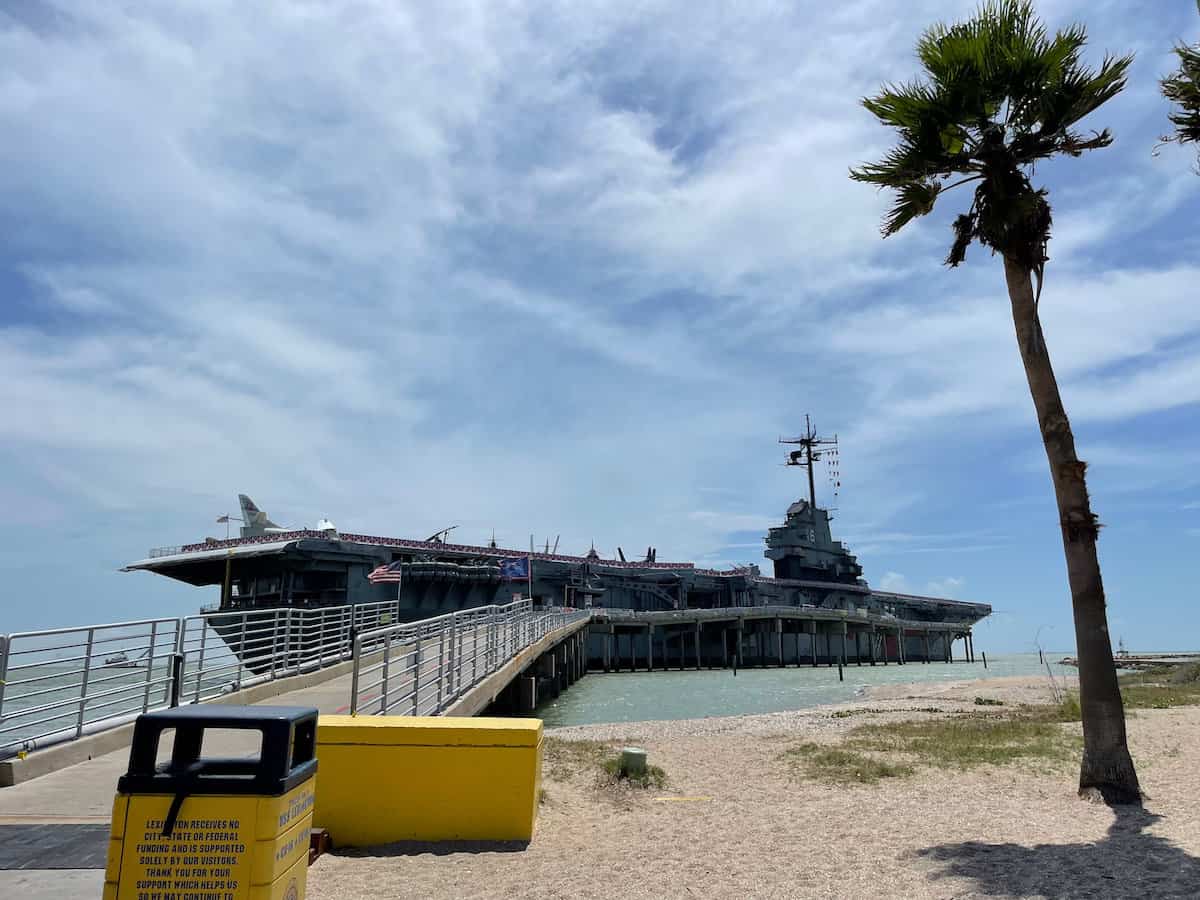 USS Lexington
Looming large on the Corpus Christi Bay, it's hard to miss the USS Lexington. It is also one of the top things to do in Corpus Christi, Texas.
Tour a vintage WWII Essex aircraft carrier (CV-16), during your trip. Nicknamed the Blue Ghost, its decks include the flight deck outfitted with several aircraft of the era.
Take the self-guided tour or hop on a guided tour, like the Hard Hat Tour, the Flight Operations Tour and even Paranormal tours (yes it is rumored to be haunted). For those deep into all things paranormal, the USS Lexington offers a late night paranormal investigation. Additional admission required and advance registration required for all guided tours.
Plan to spend half-the-day exploring the USS Lexington to see its multiple decks. It also offers a 3D Mega Theater, escape rooms, a flight simulator and a cafe. Don't leave without enjoying the view of downtown Corpus Christi and the Corpus Christi Bay for its flight deck.
Located at 2914 N. Shoreline Boulevard in Corpus Christi. Open daily from 9 a.m. to 6 p.m. from Memorial Day until Labor Day, and 9 a.m. to 5 p.m. for the rest of the year. Adult admission (18+) is $18.95, youth (13 to 17) is $16.95 and kids (4 to 12) it's $13.95. Parking is available for $5.00.
Art Museum of South Texas
In a building designed by notable architect Philip Johnson, it was completed in 1972 and constructed of poured concrete and shell aggregate. In 2006, it was expanded and the space was doubled. Mexican architect, Ricardo Legorreta, oversaw the expansion that blended the two spaces into one. 
With 1,850 works in its permanent collection, including an impressive display in the Spanish Colonial collection with pre-Columbian works along with silver pieces and oils. It also features contemporary art work at the Art Museum of South Texas, like glass artist, Dale Chihuly.
Located at 1902 N. Shoreline Blvd. in Corpus Christi. It is open from Tuesday to Saturday from 10 a.m. to 5 p.m. and Sunday from 1 p.m. to 5 p.m., closed Monday. Adult admission is $8, $4 for students (13 and older) and free for those 12 and younger. For the remainder of 2022, the admission is free. 
Corpus Christi Museum of Science and History
For most visitors, including myself, the display covering Texas shipwrecks brings people through the door. 
Just past the entrance, learn about explorer Sieur de la Salle and his ship, La Belle, that sunk in Matagorda Bay in 1686. With artifacts from the actual ship visitors learn about seafaring at the time. 
In addition to La Belle shipwreck, the Corpus Christi Museum of Science and History displays artifacts from the San Esteban and the Epiritu Santo that sunk off Padre Island in 1554. The display includes part of a keel along with silver coins and a gold bar. 
There's more to the Corpus Christi Museum of Science and History, like local history including the Kenedy Gallery. It features furniture from the Victorian era as it tells the story of early Corpus Christi with vignettes including a saloon and general store. 
Located at 1900 N. Chaparral St. in Corpus Christi Open from Monday to Saturday from 10 a.m. to 5 p.m. and Sunday from noon to 5 p.m. Adult admission (13+) is $12, kids (3 to 12) are $9 and those 3 and younger are free with discounts for the military and seniors. 
Texas Surf Museum
For surfers, walk through the Texas Surf Museum for an overview of the surf culture in Texas from its beginning. Visitors will see surf boards and vintage memorablia from the pioneers of surfing in Texas.
Located at 309 N. Water St. in Corpus Christi, Open Monday to Saturday from 11 a.m. to 7 p.m. and Sunday from 11 a.m. to 5 p.m. Free to enter and donations are accepted.
Read More 
Outdoor Activities in Corpus Christi
With Corpus Christi's location on the Corpus Christi Bay and the intercoastal waterway, the entire region is home to sporting and outdoor activities year-round. 
Corpus Christi Hooks at Whataburger Field
From spring until fall, the Corpus Christi Hooks play under the stadium lights at Whataburger Field. The double AA affiliate team for the Houston Astros, the Hooks take to their outdoor field where every seat is a good set. 
The Whataburger Field features suites, berms and lots of seats overlooking the field with the Harbor Bridge and views of the ship channel in the distance. Find an assortment of dining, including a Whataburger at the field. For the kids, there's a playground and even a pool.
Located at 734 E. Port Ave. in Corpus Christi. Like most baseball fields, the tickets are readily available and start at $8 for berm seating with reserved seats going for $15. 
Glow Row–Guided Glow-in-the-Dark Kayak Tour
Explore the wildlife rich Laguna Madre during your visit to Corpus Christ. It's home to a number  of bird and marine species, with most being more active after the sun sets. 
With Glow Row, get a 75-minute guided kayak tour in a clear acrylic tandem kayak with LED lights powered by a LED paddle. Along the route, glide over shallow water to see fish, crabs along with seagrass under the kayak. 
Paddle along the calm waters while carp jump out of the water then see needle gars slice through the water. Even the cranes and herons fish overnight under the cover of darkness. Use the stars above to pilot the kayak around small islands and near docks and piers. 
With a choice of tours, find one that fits your interest and location with tours departing from North Padre Island, Port Aransas, Rockport and beyond. Reservations required and prices start at $39.95 per person. Glow Row Glow-in-the-Dark tours operate from March until November. Weight limit of 400 pounds per vessel. 
Read More 
Best Beaches in Corpus Christi
Padre Island National Seashore
As the longest undeveloped barrier island in the world, Padre Island National Seashore is more than a beach. It is a vital part of the ecosystem with natural dunes, coastal prairies and the Laguna Madre, one of six hyper-saline lagoons in the world.
That said, the beach is spectacular and visitors can enjoy a beach day on miles of beach. Outside of the visitor center and the first mile of drivable beach, there is plenty of room. Though visitors won't find restrooms or cell service on the beach away from the visitor center. In total, the beach is 60 miles long and requires a 4×4 after the first few miles. 
In addition, kite boarding is popular on the Laguna Madre at Bird Island. Lessons are even offered. Shelling is popular along the beach. Fishing is allowed with a valid Texas Fishing License with a saltwater stamp. 
Padre Island offers refuge for many species, including migratory birds and the Kemp's Ridley sea turtle, the most endangered sea turtle species. Each spring, mother sea turtles come ashore and lay nests in the sand then head back to the Gulf of Mexico. Since 1978, teams of scientists and volunteers have dug up the eggs to ensure their safety. The eggs are buried in the safe sand corral area away from predators. Then the tiny hatchlings are released in June as crowds watch and keep seabirds from snatching the tiny turtles as they march towards the water.
Camping at Padre Island National Seashore
Padre Island National Seashore features two campgrounds for first-come, first-serve camping. The Malachite campground is located close to the Visitor Center and on the Gulf side of the park. Find flush toilets and cold-water rinse off showers along with a dump station. Sites do not have hook ups. The Bird Island Campground is located on the Laguna side of the park. Chemical toilets only in the campground and additional services are located at the Malachite Visitor Center.
Located at the end of Park Road 22. Open 24 hours a day and 7 days a week. One-day car pass is $10 and a seven-day car pass is $25.
Mustang Island State Park
With five miles of coastline, Mustang Island State Park  is a popular beach close to the JFK causeway. With its coastal sand dunes that reach heights of 30 feet, it's a bit more quiet. 
Mustang Island State Park is popular with beach-goers and birds. Over 400 different bird species have been recorded  during the spring and fall migrations. The Mustang Island Paddling Trail features 20 miles to explore on the Corpus Christi Bay side of the park. 
Camping is available with 48 sites with water and electricity along with 50 primitive sites. Bathhouse with showers is located in the park. 
Located at 9394 State Highway 361 in Corpus Christi. Open from 8 a.m. to 5 p.m. Adult admission is $5 and kids 12 and under are free. Camping is additional.  
Whitecaps Beach
With its located south of both Mustang Island State Park and the South Packery Channel, this beach is popular with locals. It is one of the closest beaches to the JFK Memorial Causeway. 
Located off Park Road 22 at the end of Whitecap Blvd. Open 24 hours a day and 7 days a week. Corpus Beach Pass required. 
JP Luby Beach
Popular with water sports enthusiasts, JP Luby is busy with surfers, who know it as one of the best spots in the area to surf. This beach offers beach chair rentals also find a bathhouse along with picnic tables and grills. 
Located off Park Road 22 at the end of Zahn Rd. Open 24 hours a day and 7 days a week. Corpus Beach Pass required.
Birding in Corpus Christi
As a part of the Central Flyway, birds are frequent visitors in Corpus Christi, especially in spring and fall. To add some birding to your trip, head to a nature reserve or park.
Blucher Park 
Near the center of Corpus Christi, this park has been a nature preserve since 1942. With nearly 4 acres, it is a major spot on the Great Texas Coast Birding Trail. It offers lots of tree cover and a few trails with water sources for the birds.
Located at 209 S. Tancahua St. in Corpus Christi. Blucher Park is open 24 hours a day, 7 days a week. It is free to enter.
Hans and Pat Suter Wildlife Refuge
South of Downtown Corpus Christi and next to Oso Bay, birders can enjoy a 1-mile nature trail with an 800-foot boardwalk. The area blends marshy flats with native grasslands and mudflats for a variety of habitat. Additionally find picnic tables and viewing platforms at the Hans and Pat Suter Wildlife Refuge.
Located at 6001 Ennis Joslin Rd. in Corpus Christi. It is open from 5 a.m. to 11 p.m. and free to enter.
Where to Eat in Corpus Christi Texas 
Catered Picnic by Pretty Picnics
Make your beach day even better with a catered picnic on the beach by Pretty Picnics. With a variety of packages, find the perfect backdrop for your day (or special event like birthdays or date nights). For my pretty picnic experience, we enjoyed a fringed white canopy covering our  low table with rattan ottomans and a beach rug. 
We enjoyed a charcuterie board with fruit, cheese and deli meats along with sweet treats including white chocolate dipped strawberries. The perfect end to a special beach day or getaway.
Arrange in advance at several locations and most picnics are two hours long. 
Quick Breakfasts in Corpus Christi 
Lucy's Snackbar
From breakfast to night, Lucy's Snackbar offers barista-made coffee drinks along with breakfast favorites like the Yogurt Bowl to the smashed avocado toast. For daytime snacking, the crudite is popular along with the Grain Bowl. Find a selection of wine and beer as well. 
Located at 312 N. Chaparral St. Open Monday to Saturayd from 7 a.m. to 10 p.m. and Sunday from 8 a.m. to 5 p.m.
Bien Mérité
An authentic French bakery in Corpus Christi with croissants proofed and baked to perfection. With several variations, like the Raspberry Pistachio, they are a must. Also available, the French Breakfast Plate and Caprese Toast. The barista-made coffee starts the day off right. 
The lunch menu offers continental sandwiches like Chicken Curry and Caprese Salad. Don't miss the dessert case with macarons then find cookies as big as a pancake. The cakes by the slice (including gluten-free and vegan) are eye-popping. Bien Mérité a must for the dessert lover. 
Located at 1336 Staples St. Open daily from 7 a.m. to 4 p.m.  
Best Bets for Lunch
 in Corpus Christi 
Whataburger on the Bay
It's the national burger of Texas. While in Corpus, grab a burger at the two-story Whataburger with a deck with a water view. Ask for spicy ketchup for a treat, and most skip the fries and opt for the onion rings instead. 
Located at 121 N. Shoreline Blvd. Open 24 hours a day. 
Snoopy's Pier
Overlooking the Laguna Madre at Marker 37, Snoopy's Pier has been serving up baskets of fried seafood with fries and hushpuppies since 1980. It has expanded over the years and it does some of the seafood processing in-house to guarantee freshness. 
Also find crab cakes, burgers and a few salads in a family-friendly indoor/outdoor dining area. For sweet treats, head next door to Scoopy's for ice cream. 
Located at 13313 S. Padre Island Dr. Open Sunday to Thursday from 11 a.m. to 9 p.m., Friday and Saturday from 11 a.m. to 10 p.m. 
Doc's Seafood and Steaks
With a deck overlooking the intracoastal waterway, Doc's Seafood and Steaks offers a more refined menu of seafood and steaks with table service. Diners find grilled and blackened seafood on its menu along with fish sandwiches and salads. For land lovers, Doc's cooks up burgers and the chef's cut steak along with chicken. 
For those looking to watch the sunset with a cocktail, the first floor is for you. The Waterline by Doc's offers an extensive cocktail and frozen drink menu with live music on select nights. 
Located at 13309 S. Padre Island Dr. Open Sunday to Thursday from 11 a.m. to 9 p.m., Friday and Saturday from 11 a.m. to 10 p.m.
Elizabeth's at the Art Museum
With it's floor-to-ceiling windows overlooking the water, Elizabeth's is your destination for a lazy brunch or lunch with a menu infusing Mediterranean flavors with the freshest ingredients. Order staples like the Fattoush Salad or the Hummus to get your meal started. The bread board is a must too. 
The seasonal flatbreads combine sweet and savory flavors to elevate both. like the Strawberry Bacon with brie and mint. Don't push away from the table without nibbling on the Lemon-Rosemary Cake with a cream cheese buttercream and blueberry compote. You can nap later. 
Located at 1902 N. Shoreline Blvd. Open for lunch from Tuesday to Sunday from 11 a.m. to 3 p.m. and for dinner Friday and Saturday from 5 p.m. to 10 p.m. Reservations recommended. 
How to get around Corpus Christi
You will have to have a car for driving around Corpus Christi. The Corpus Christi TRA public transportation system isn't convenient for most travelers. Ride Share services are available in Corpus Christi.
Though the downtown area has scooters by Lime and Blue Duck. Download each's app and upload a credit card, then grab a scooter to cruise up and down Corpus Christi's seawall and beyond.  
For arrival by air, the Corpus Christi International Airport offers flights on American Airlines, Southwest Airlines and United Airlines. 
Beach Access
To enjoy the beaches in Corpus Christi, you will need to purchase a Corpus Christi beach permit. For $12, vehicles can enter and drive on the beach. Permits are available at most grocery stores and gas stations.  
To enter the Padre Island National Seashore, a day-use permit is require and purchases online or at the park. 
Disclosure: Consideration for brands mentioned
Where to Stay in Corpus Christi Texas