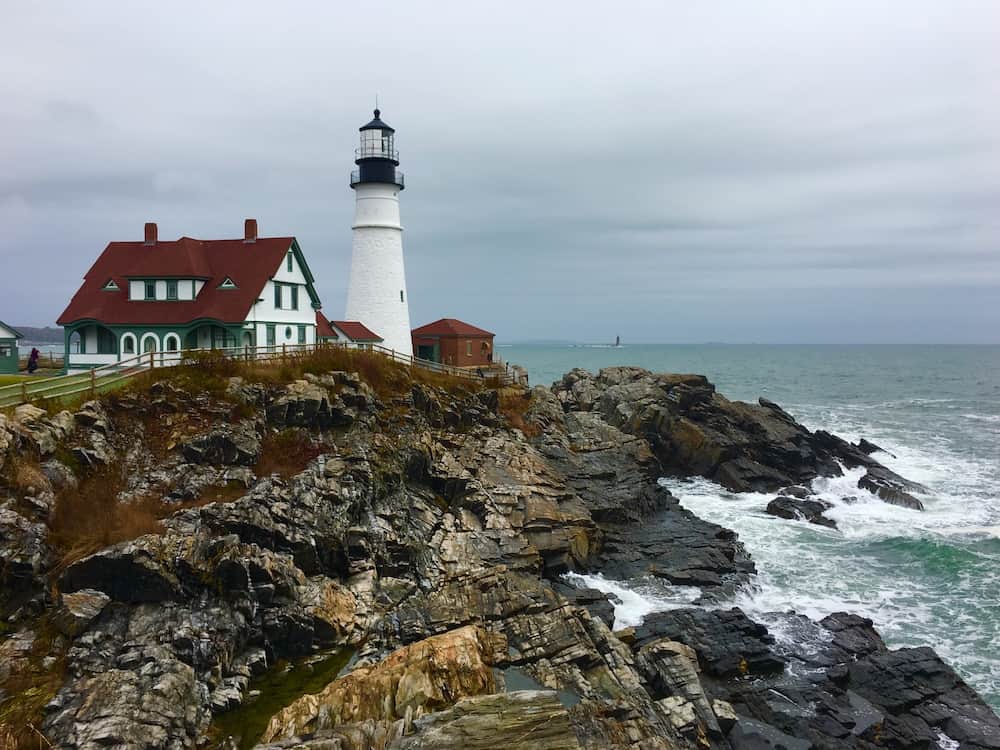 Maine at the tip of the northeast corner of the U.S. is famous for its lighhouses, its seafood and its wicked everything, including the winters. It's largest city, Portland, offers the best of all, including lighthouses, lobsters and wicked baked goods and shopping. Read on for things to do in Portland Maine with kids.
6 Things to do in Portland Maine with Kids
Portland Head Light
Portland Breakwater Light
Spring Point Ledge Light
Walking Old Port 
Eating Maine Seafood
Shopping for Made in Maine Goods
Read More 
Lighthouse Hopping
Explore the lighthouses around Portland. Find small lighthouses, like the Bug Light. Or gaze at a lighthouse that looks like a landscape painting, Portland Head Light.
Portland Head Light
It's an iconic Maine scene and one of the most photographed lighthouses in the U.S. Located in nearby Cape Elizabeth, it was built in 1787. The Portland Head Light still guides the way to a safe harbor as North Atlantic waves crash against the rocky shoreline.
The Portland Head Light is in the Fort Williams Park. Find a museum, a summer season snack stand, picnic tables and hiking. Fort Williams Park is open every day from 6 a.m. to 6 p.m. and free.
The Portland Head Light Museum is open from late April until October 31 from 10 a.m. to 4 p.m. Adult museum admission is $2 and $1 for kids 6 to 18.
Fort Williams Park is located at 12 Captain Strout Circle and the Portland Head Light Museum is located at 1000 Shore Road.
Portland Breakwater Light
Since it's a smaller lighthouse the locals call it the Bug Light. Built in 1875, it's offers a panoramic view of the Portland Harbor. As a bonus, learn about the liberty boats built for WWII in the park.
Cross the Casco Bay Bridge and find the Portland Breakwater Light at the end of South Portland Greenbelt Pathway. Free
Spring Point Ledge Light
Another lighthouse across the Casco Bay Bridge, the Spring Point Ledge Light keeps ships safe in the Portland Harbor. Constructed in 1897, it's a caisson-style lighthouse and the only working one in the U.S.
Since it's at the end of a breakwater, I won't recommend walking to it with kids. The stacked blocks are slippery. Located on the Southern Maine Community College at 2 Fort St. Free
Read More 
Walk around Old Port
Soak in the sights of Maine in Old Port. Walk down cobblestone streets and browse the old wharehouse storefronts selling unique products along with boutique and iconic Portland dining.
What to Eat in Portland
A cup of clam chowder and a lobster roll is a must your trip to Portland. I recommend restaurants along Commercial St. in the Old Port area.
Portland Lobster Company
Features local Maine seafood like whole lobster, along with lobster rolls. Or sample its clam chowder.
Located at 180 Commercial St. Open seasonally  from 11 a.m. to 9 p.m.
Gilbert's Chowder House
Here's your destination for seafood chowder. I sampled the original clam chowder and it was creamy and satisfying. Gilbert's also offers fish chowder, corn with chicken chowder along with seafood chowder. Located at 92 Commercial St. and open 11 a.m. to 9 p.m.
The Holy Donut
Home to the potato donut. With a texture like a cake donut, I recommend the Dark Chocolate. Though lots of daily and seaosonal flavors. New location opening this summer. Arrive before noon for best selection.
Located at 177 Commercial St. and opens this summer.
Standard Baking Company
Grab  fresh baked cookies, breads, croissants and breakfast pastries from a family-run bakery. The kitchen even offers a window.
Located at 75 Commercial St. and open daily from 8 a.m. to 2:30 p.m.
Don't leave Maine without a Whoopie Pie, the official state treat of Maine. Find soft chocolate cake cookies sandwiched with whipped marshmallow-cream like filling nearly everywhere.
Where to Shop around Portland
Walk along the brick-paved streets in Old Port area for local and unique shops.
Lisa-Marie's Made in Maine 
Find unique and artisan-made products, like blown glass buoys.
Located at 35 Exchange St. Open daily from 10 a.m. to 6 p.m.
Sherman's Maine Coast Book Shop
Browse for local interest and best selling books at an independent book seller.
Located at 49 Exchange St. Open daily 9 a.m. to 6 p.m.
Portland Dry Goods
A destination for high-end casual wear for women and men.
Located at 235 Commercial St. Open daily from 10:30  a.m. to 5 p.m.
Danforth Pewter
Made in Vermont, its items are New Enland musts. Find gift items, housewares and jewelry all made from pewter.
Located at 111 Commercial St. Open daily from 10 a.m. to 5 p.m.
L.L. Bean Flagship Store
A destination for the serious shopper, it's a must. Visit the nearby Freeport, Maine, outpost for iconic wicked good clothing and gear.
Located at 95 Main Street and it's open every day and 24-hours a day.
Cruising
Portland, Maine, is a popular port-of-call like the Fall Color Cruise on Regent Seven Seas.
Make It a Road Trip
The Carful of Kids road trip to see the continent. Think about adding these destinations to your itinerary.
More Information
I recommend the following guides and maps for your trip.
Disclosure
Consideration for brands mentioned. This post contains affiliate links.