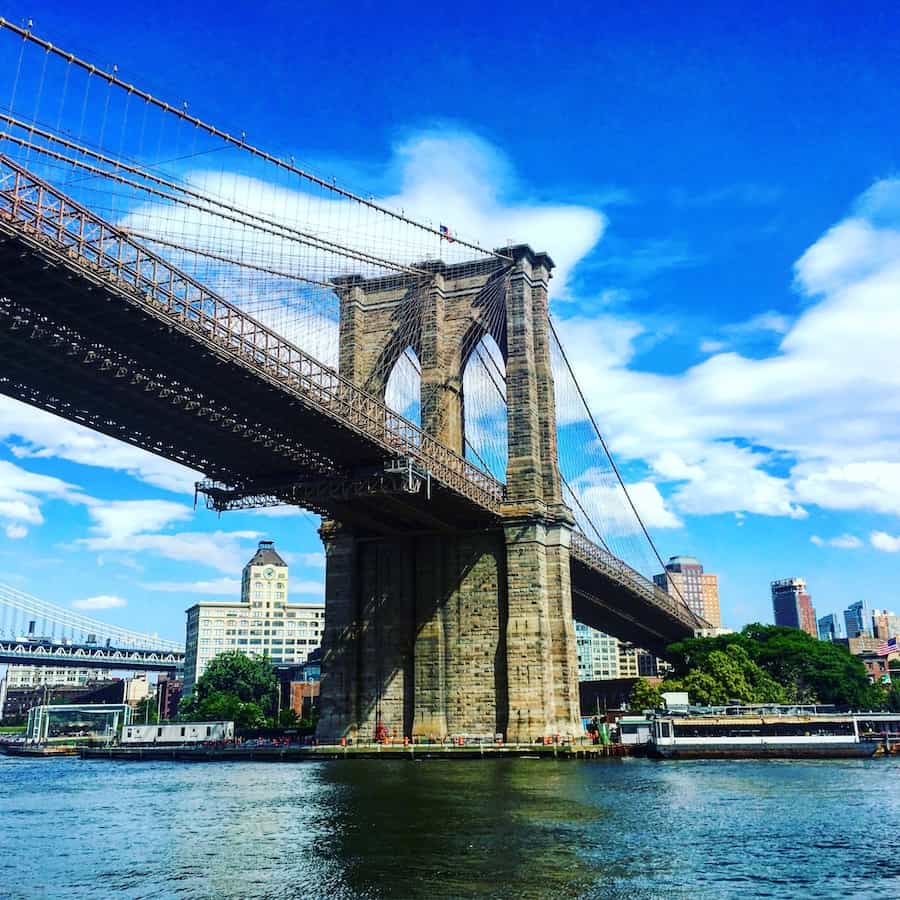 New York City a nonstop destination that tops the must do list for teens. It offers an energy that teens crave. Pack some comfy walking shoes since NYC offers urban trekking at its finest. I lived in NYC for two years, though I didn't introduce my kids to the metropolis until they could walk all day without whining. In a city that never slows down, travel lessons abound. The skills I learned in NYC helped me navigate any city in the world. Find museums to parks and shopping to snacking, New York City offers a week of fun with teens in this 4 day NYC itinerary.
Top Attractions in that 4 day NYC Itinerary
Day One Downtown Manhattan with Kids
Start at the southern tip of Manhattan and see the oldest part of New York City first. Catch a ferry to the Statue of Libery and see some of  best views. A must for families along with most visitor to NYC.
Tip: All the destinations are walkable so put on the walking shoes and grab a bottle of water to explore. An umbrella and a rain jacket are great additions to your backpack too.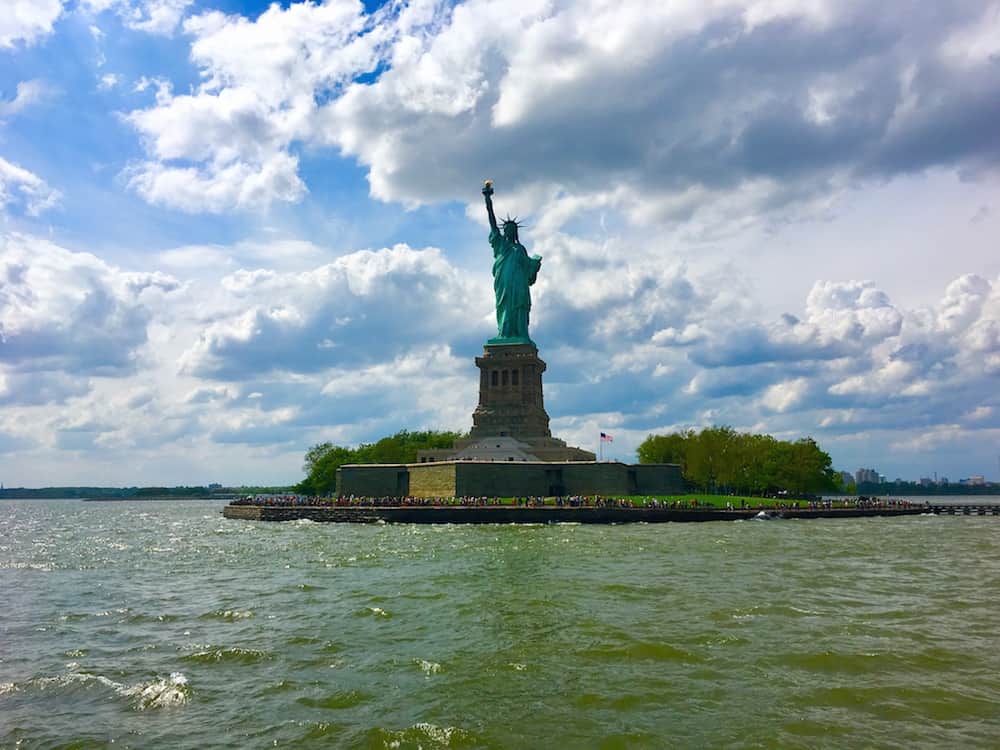 Statue of Liberty and Ellis Island – First Stop
New York City Harbor
Admission Varies based on age
How to get there: Depart your hotel and grab some breakfast before heading south to the southern tip of Manhattan at Battery Park. Use MTA subway stop Whitehall St/South Ferry on the 1 or the R train.
Make the effort and visit the Statue of Liberty, especially if you are traveling with kids. When I lived in NYC I never visited it. Instead I opted to take the Staten Island Ferry to see it from the water. Don't make my mistake.
As a symbol of freedom and liberty known world-wide, the Statue of Liberty sits on a 12-acre island in the middle of New York Harbor. Learn about its construction in the museum under the pedestal. Then climb the stairs to the top of the pedestal or head to the crown to capture views of downtown Manhattan (additional tickets required). Take lots of pictures and stand at the base and look up at her in wonder.
Operated by Statue Cruises, the ferry departs from Battery Park in Lower Manhattan. Explore the Statue of Liberty first then re-board the ferry to tour Ellis Island, an additional stop. First ferry leaves at 9:00 a.m. and last one departs at 3:00 p.m. with extended hours during peak seasons. Ferry ticket required for everyone and admission based on age.
Statue Cruises also operates a Statue of Liberty Ferry from New Jersey.
Note: For 2021, the pedestal and crown remained closed and theaters operate at reduced capacity.
Read More
Ellis Island
From 1892 until 1954, Ellis Island welcomed 12 million immigrants to the United States. The Ellis Island Immigration Museum walks visitors through the facility that processed close to 5,000 people a day.
Concessions are available at the Statue of Liberty National Monument and Ellis Island Museum or grab some to-go before boarding the ferry.
Tip: To tour both islands, give yourself the morning. Reservations are a must and book months in advance for the pedestal tour and six months in advance for the crown tour ( For 2021, the pedestal and crown remained closed and theaters operate at reduced capacity). A Junior Ranger Booklet is available. All passengers will go through airport-style security screening.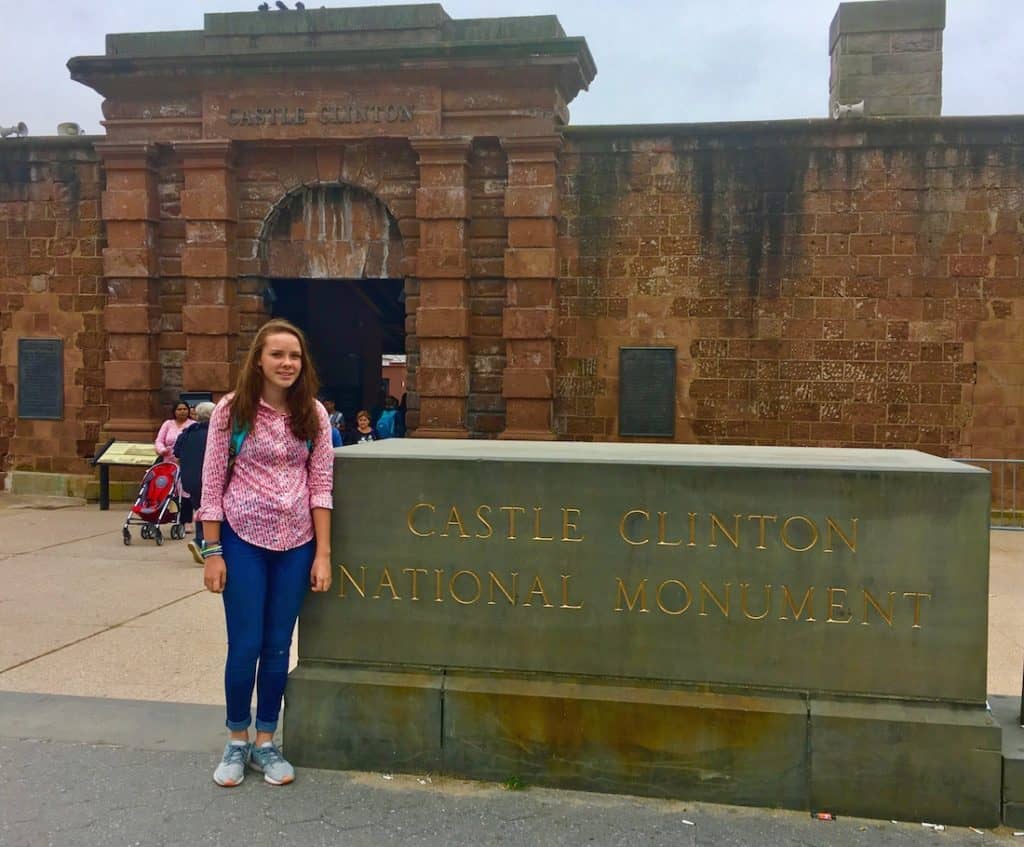 Castle Clinton and Battery Park – Second Stop
Battery Park
Open Seven Days A Week From 7:45 a.m. to 5 p.m.
Free
After disembarking the Statue Cruises ferry, explore the Castle Clinton National Monument for more immigration history, located steps from the ferry dock. For war buffs in the family, it's also a fort from the War of 1812 with antique cannons. Junior Ranger booklets are available.
SeaGlass Carousel
After the history lesson, walk over to the newest carousel in New York City, SeaGlass Carousel, in Battery Park. Built in 2015, hop on a fish to whirl around the pavilion to classical music. Open from Thursday to Sunday from 11 a.m. to 9 p.m. Admission is $5 per person.
Walking Tour of Lower Manhattan
Top Sites
Charging Bull and Fearless Girl

Trinity Church

New York Stock Exchange

Federal Hall

9/11 Memorial
Walk up Broadway from Battery Park, a quick .5-mile walk, to take some selfies at the Charging Bull Statue, though Fearless Girl has been moved, Broadway at Morris St.
Continue up Broadway and walk by Trinity Church, located at 75 Broadway at Wall St. The first church was built in 1698 and rebuilt two times. A notable building from the American Revolution and people fleeing the 9/11 attacks found shelter in the church from falling debris.
Next walk by the New York Stock Exchange (NYSE), at 11 Wall St., unfortunately tours aren't available so grab another picture. In front, find Fearless Girl, the statue dipicting a 4-foot tall girl urging more women on corporate boards.
I would pick either the Federal Hall National Monument or the 9/11 Museum to tour, depending on interest and time.
Federal Hall National Monument – Fourth Stop
Federal Hall National Monument
26 Wall Street
Open Monday Through Friday From 9 a.m. To 5 p.m.
Free
Federal Hall served as the first Capitol of the United States, the Supreme Court and the Executive Branch offices. George Washington took the oath of office as the first President of the United States at Federal Hall as well.
Located at 26 Wall Street, Federal Hall's visitor center is at the Pine Street entrance. It's open Monday through Friday from 9 a.m. to 5 p.m. During the summer, it's open Saturdays as well. Free to enter and Junior Ranger booklets available.
Note: Federal Hall National Monument remains closed.
To get to the 9/11 Memorial, head north from Federal Hall to Cedar St. Walk a couple of blocks west to Greenwich Street then take a right. The memorial is in the following block.
9/11 Memorial and Museum – Fifth Stop
180 Greenwich St.
9/11 Memorial
Open from 10 a.m. to 5 p.m.
Free
9/11 Museum
Open from 10 a.m. to 5 p.m.
Admission depending on age, 6 and under free
How to get there: For the 9/11 Memorial, head north from Federal Hall to Cedar St. Walk a couple of blocks west to Greenwich Street then take a right. The memorial is in the following block.
As a former American Airlines flight attendant that lived through that horrific day, I visit the 9/11 Memorial to remember my former colleagues. The memorial is somber space that gives visitors a place to reflect.
For visitors with more time, reserve tickets to the 9/11 Museum, located steps from the memorial. It uses artifacts from the World Trade Center and actual recordings of emergency calls. Touring the museum is an emotional experience though the area around the WTC has recovered, experiencing a rebirth.
Tip: Please be respectful of other visitors at the Memorial and Museum. Advance reservations required.
Time to eat so head to a downtown NYC icon.
Dinner at Katz's Delicatessen – Sixth Stop
Katz's Delicatessen
205 E. Houston St.
Open 8 a.m. to 10:45 p.m.
How to get there: Walk east along Cortlandt St. to the MTA Fulton St. Station for the Brooklyn-bound J train (it will be headed north). Exit the Essex St. Station and walk north along Essex Street to 205 E. Houston St.
Katz's Delicatessen is an NYC icon. The pastrami-on-rye sandwiches are pricey but I ordered half and got a bowl of Matzo ball soup. This location is as original as it gets, with locals dining alongside the travelers.
Tip: You can order at the counter and seat yourself or sit at a table with table service. Don't lose the paper ticket the waiter gives you, you will have to hand it to the person working the door.
Time for dessert so walk to Little Italy.
Dessert in Little Italy – Seventh Stop
Ferrara Italian Bakery
195 Grand St.
Open Monday to Thursday from 10 a.m. to 9 p.m. Friday and Saturday from 9 a.m. to 11 p.m. and Sunday from 9 a.m. to 9 p.m.
How to get there: From Katz's Deli, walk south on Orchard St. for two blocks until Grand St. and head west eight blocks (about half a mile).
Stop at Ferrara Italian Bakery for a cappuccino and cannoli fix with table service. Or grab a gelato on the street and walk around Little Italy as it sparkles at night.
Time to head back to your hotel so grab one of the three MTA Subways at Canal Street with service on the N, 6, Q, Z trains.
Read More
Day Two – Exploring Midtown and the Theatre District
Fill up your culture tank and head to Midtown.  Midtown offers all the big city thrills one expects from a trip to NYC. Wear the walking shoes and the Broadway shows that appeal to families don't require dressy outfits.
Rockefeller Center and Plaza– First Stop
Rockefeller Center
45 Rockefeller Plaza
Free, Tours Additional Admission
How to get there: After breakfast near the hotel, take the MTA subway D or F and exit the 47-50th St./Rockefeller Center Stop.
Developed by the Rockefeller family, it's a complex of buildings and outdoor space in Midtown. In addition to the buildings, find a summertime cafe and a wintertime ice skating rink. Inside and out find quick service food outlets and shopping like the LEGO store. Though one of the top activities is checking out the NYC skyline for the observation tower.
Top of the Rock
Admission based on age
Open daily from 10 a.m. to 10 p.m.
After reserving tickets online, bypass the ticket line for the Top of the Rock. After a quick elevator ride, explore three different floors all with incredible views. With the best views of Central Park, this is also the best way to see landmarks like the Chrysler Building and Empire State Building.
Radio City Music Hall
Admission based on age, reservations highly recommended
Open daily from 9:30 a.m. to 5 p.m.
Next, tour the legendary theater and home to the Rockettes. After the Top of the Rock tour, stay at Rockefeller Center and tour Radio City Music Hall. Art Deco theater features rich architectural details from a bygone era along with some of Bob Mackie's Rockettes costumes.
Note: Tours not offered until July 2021 at earliest.
If it's time to feed the kids I recommend grabbing a bite at Rockefeller Center. Between the Plaza and the concourse level, I found close to 30 different places to eat.
Museum of Modern Art MoMA — Second Stop
11 W. 53th St.
Open From Daily10:30 a.m. To 5:30 p.m., 7p.m. on Saturdays.
Admission For Adults, Kids Under 16 Free. Timed Entry reservations required
How to get there: From Rockefeller Center, walk .5-mile north along 5th or 6th Avenues to the MoMA, located at 11 W. 53th St.
With a city full of the best art museums in the U.S. where should you start? I suggest the Museum of Modern Art, or MoMA.
If your kids have short attention spans, head straight for the Fifth Floor. That's where I found Starry Night by Vincent Van Gogh, Dance by Henri Matisse along with works from Andy Warhol, Frida Kahlo and Pablo Picasso.
Kids under 16 get in free and the MoMA hands out guides for family visits. Walk through the gift shop for unique souvenirs. After art comes architecture so head to a grand Gothic Cathedral located on 5th Ave.
St. Patrick's Cathedral — Third Stop
Fifth Ave. Between 50th  nd 51stSt.
Open Monday to Friday from 6:30 a.m.to 2 p.m., Saturday 7:30 a.m. to 6:30 p.m. and Sunday from 9 a.m. to 5 p.m.
Free
How to get there: From the MoMA, walk three blocks down Fifth Ave. to 51st St.
Regardless of religion, St. Patrick's is one of the pieces of architecture. Take a few minutes and walk through the Neo Gothic Cathedral in the center of midtown. During my last visit, I saw a girls' choir performing and the acoustics were unbelievable.
Up next, walk .5-mile to a grand train station and some dinner.
Grand Central Terminal — Fourth Stop
89 E. 42nd St.
Terminal Open From 5:30 a.m. To 2 a.m.
Dining Concourse Open From 7 a.m. To 9 p.m. Monday Through Saturday, Sunday 11 a.m. To 7 p.m.
Free To Enter
How to get there: From St. Patrick's, walk down 5th Ave for seven blocks to 43rd St. then walk east for two blocks.
Walk through the Beaux Arts Masterpiece and my favorite building in New York City. As the largest train terminal in the world, Grand Central Terminal is a top destination for locals and travelers with dining and shopping along with commuter trains and subways.
The ceiling of the main concourse features an astronomical ceiling, a four-sided brass clock and Tennessee marble was used for the stairs and the floor. The exterior features granite with expanses of divided-light windows and sculptures.
Lots of options for dining, The Oyster Bar, is the oldest business in Grand Central and offers an iconic NYC dining spot. Or walk to the concourse level for more casual dining, with options like Shake Shack and Jaquest Torres Ice Cream. Grand Central Market offers prepared food, coffee, cut flowers and specialty food items.
After dinner, it's time to see a Broadway show. If this is your kids' first theater production, I recommend a Disney on Broadway show.
Theater District for a Show — Fifth Stop
The theater district runs from 40th to 54th Streets and from 6th to 8th Avenues.
How to get there: Grab a MTA S Train in Grand Central Terminal and exit at Times Square Station.
With audiences full of families, a Disney on Broadway production is my choice for kids' first theater performance. Packed with tunes they know by heart, elaborate sets and glittering costumes, kids stay glued to their seats. During my last visit, we saw Aladdin.
Tip: Sure, you can hope for last-minute reduced seats though I reserved my seats way before my trip to ensure my family sat together.
Note: Broadway performances will resume Fall 2021.
Times Square – Sixth Stop
Intersection of Broadway and 7thAvenue
After a show, celebrate a great trip with the brightest lights in the city. The best time to walk through Time Square is after dark. Times Square also features street performers and lots of shopping.
Tip: Times Square is also a major MTA subway stop with service on the N,Q,R,S,1,2,3, and7trains.
Junior's Restaurant and Bakery – Seventh Stop
1515 Broadway at 45th St.
Open From 7 a.m. to 10 p.m.
With all the walking, it's time for dessert. I recommend heading north on Broadway to Junior's for cheesecake. Topping the best cheesecake list for years, it's a dense, not-too-sweet and creamy NY-style cheesecake. I ordered the plain and didn't share. It also holds for next day snacks if you have a refrigerator.
Top of the Rock – Eighth Stop
Rockefeller Center
45 Rockefeller Plaza
Free, Tours Additional Admission
How to Get There:From 47th St. and Seventh Ave. (Times Square) walk north two blocks to 49th St. then head east for one long block to Sixth Ave.
If you purchased the Sun and Stars ticket at Top of the Rock, head back to the Rockefeller Center. After sun sets the crowds ease up and the lights of New York City twinkle. (Not available in 2021.)
Day Three — Central Park & NYC Animals
Animals live in New York City, lots of them. Then find more animals at the Natural History Museum and Central Park, both favorites among kids. After learning the history of New York City and its early residents, it's time to learn about its famous park.
American Museum of Natural History and the Hayden Planetarium — First Stop
American Museum Of Natural History
Central Park West At 79th St.
Open Wednesday to Sunday From 10 a.m. To 5:30 p.m.
Admission Depending on Age. Timed entry reservations required
How to get there: After enjoying breakfast at your centrally located hotel, take the A or B MTA subway train and exit the 81st / Museum of Natural History.
A must for families, even my teen daughter spent hours exploring the American Museum of Natural History and the Hayden Planetarium. A sprawling museum that could take all day so hit the highlights, like the Hall of Dinosaurs, "Lucy" the early human, the giant blue whale and the Theodore Roosevelt Rotunda along with the Hall of North American Mammals.
Carve out a little time for the Hayden Planetarium to learn more about the world beyond our atmosphere. It's located on-site and requires an additional timed ticket.
Tip: I recommend eating lunch at the Natural History Museum and the Museum Food Court on the lower level features family favorites. During our visit we enjoyed salads though pizza, burgers, sandwiches and a selection of desserts are available. Reserve tickets to the Hayden Planetarium before arriving to make the best use of your time.
After exploring the museum, walk across the street to Central Park.
Tip: First load a Central Park map on your phone and find your phone's compass. Even after living in New York City for several years, I still get turned around in the park since all its paths curve and meander.
Walking Tour of Central Park — Second Stop
Enter Central Park right across the street from the Natural History Museum and grab some water from a street vendor lining the park's edge.
Head for the Swedish Cottage and stay out of the Ramble, a thicket of woods. I used my phone's compass to navigate out of it and I lived in the city for years.
After Swedish Cottage, walk through Shakespeare's Garden and tour Belvedere Castle (donations accepted for tour) to grab a NYC skyline photo from the top.
Next head south to Conservatory Water for a charming area dedicated to the young-at-heart. Rent a wind-powered sail boat ($11 for 30 minutes) or just enjoy the scenery.
The Hans Christian Anderson Statue is close along with the Alice in Wonderland Statue. Both offer must dos for families.
If the kids want to paddle a boat, head to Loeb's Boathouse to rent one ($20 an hour, cash only). Then grab an ice cream cone at the Loeb Boathouse Café Express for an afternoon snack. It also serves light meals from 8 a.m. to 5 p.m.
Up next, Bethesda Terrance, Fountain and Arcade, tops for pictures of the park. If the kids need a pretzel, find a street cart near Bethesda.
Next walk south along The Mall, a wide sidewalk shaded with trees. Another must for families, the 1908 Carousel is open April though October from 10 a.m. to 6 p.m. Admission is $3 per person, cash only.
After riding the Carousel, walk by the Chess and Checker House and play a game. Then move on to The Diary, a visitor center for Central Park.
Another must for families, the Central Park Zoo boasts a sea lion exhibit that visitors can see while walking along a free path through the zoo.
Find lots of playgrounds sprinkled throughout Central Park so take a minute and let the kids play.
Read More
The Plaza Hotel Food Hall — Third Stop
The Plaza Hotel Food Hall
1 W. 59th St.
Open From 11 a.m. To 8 p.m. (Temporarily closed)
How to get there:From Central Park exit at its southeast corner, The Plaza Hotel is across 59th Street.
After romping through the park for the afternoon, take a break and eat. I recommend The Plaza Hotel Food Hall. The food hall is around the corner from the lobby and in the basement offering lots of options for families.
I found sandwiches, salads and pasta in family-friendly quick service formats. Even the city's best desserts can be found at The Plaza Food Hall, like Lady M Crepe Cakes, Billy's Bakery and Chef Daniel Boulud's Épicerie Boulud.
After grabbing dessert, shop downstairs at the gift shop selling Plaza merchandise. And for Moms with girls, the Eloise Shop is a must.
After sitting for a bit and recharging, walk about .5-mile east on 60th St. to the Roosevelt Island Tram.
Roosevelt Island Tram — Fourth Stop
At the intersection of 59th St. and 2nd Ave.

How to get there:FromThe Plaza Hotel on 59th St. walk five blocks east to Second Ave, about half a mile.
Take the family on a tram ride for free, if you purchased a MTA MetroCard for the subway (or $4 roundtrip). The bright red tram cars climb up and over the East River to get to Roosevelt Island. Get off and re-board to return to mid-town for some of the best views of Midtown.
After a full day, head back to your hotel. The MTA Lexington Ave./59th St. Station offers service on the N,R,4,5, and6trains, two blocks from the tram station. Another day of exploring awaits in New York City.
Day Four More to Explore
After three packed days, NYC still offers more neighborhoods to explore. Start the day in the trendy neighborhood of Chelsea in Lower Manhattan, packed with boutiques, foodie destinations and one of the NYC hot spots–High Line Park.
Chelsea — First Stop
Chelsea Market
75 9th Ave.
Open 7 a.m. to 9 p.m.
How to get there:From your centrally located hotel, take the downtown-bound C or E trains to the 14th St. Station. Walk west on 14th St. to 9th Ave. Chelsea Market is one block north.
Chelsea Market is a food hall and shopping complex across several floors. After grabbing a bite at any number of places for breakfast, wander around the market for unique shopping.
Head across the street to the High Line for an urban hike, a top destination.
High Line Park — Second Stop
High Line Park
Runs from Gansevoort St. to 34th St.
Open 7 a.m. to 9 p.m.
Free
How to get there:Located across the street from Chelsea Market, take the elevator to the High Line from the western side of Chelsea Market Building.
Next walk High Line Park, an elevated walking path and park created from an abandoned New York Central Railroad Spur on the west side. Created in 2009, High Line is a destination for locals and travelers alike. As a bonus it's free, unless if you want to grab a snack or a quick coffee along the route.
Take the High Line to its northern end at 34th St. After returning to the street level, hail a cab to the next destination, Circle Line Circles for a NYC cruise.
New York City Cruise — Third Stop
Circle Line Circles
Departs from Pier 83 at W 42nd
First Cruise at 10 a.m.
Admission based on age and type of cruise
How to get there:You can walk from High Line Park to Pier 83 via 10th Ave. but it's 13 blocks. Or hail a cab.
Sure you can take a bus tour but a scenic cruise is better. No street traffic and lots of fabulous city views and as a bonus, see NYC's bridges from the water.
Tip: Check out the schedule before arriving to see which cruise appeals to you. During peak periods reservations are recommended.
After cruising the open water of the New York Harbor, time to explore another ship at the Intrepid Museum. But take a lunch break first.
Gotham West Market –Fourth Stop
600 11th Ave.
Open 11 a.m. to 9 p.m.
How to get there:From Pier 83 walk along W. 43rd St. to 11th Ave. Gotham West Market is one block north.
Food Halls offer lots of options, especially for families, and I rely on them for eating in NYC on the cheap cheap. The Gotham West Market offers options like burgers and noodle bowls along with a bar and desserts.
Read More
Intrepid Sea Air & Space Museum — Fifth Stop
Pier 86 W.46th St. at 11th Avenue
Open Daily from 10 a.m. to 5 p.m.
Admission based on age. Kids 4 and under and free. Timed entry reservations required
How to get there:From Gotham West Market, walk west W. 43rd St. to Pier 86.
As a top destination for kids along with the American Museum of Natural History, the Intrepid Sea Air and Space Museum is a must for school-age kids. Don't let the aircraft carrier throw you off, I found more than military aircraft.
Clamber across the deck of the USS Intrepid to see a retired Concorde (I miss seeing her at JFK), and of course seeing one of the retired space shuttles is a must. The Space Shuttle Enterprise is one of several on display across the U.S.
If you or your group doesn't have problems with claustrophobia, explore the USS Growler, a submarine.
After exploring the Intrepid and seeing the Space Shuttle, time to switch gears again. This time I offer some choices.
The Metropolitan Museum of Art
1000 5th Ave.
Open Thursday to Monday from 10 a.m. to 5:00 p.m.
Admission based on age, kids under 12 free. Timed entry reservations required
As the largest art museum in the U.S. you can explore The Metropolitan Museum of Art all day and still not see it all. So check out the map when you enter and concentrate on your interests.
My favorites are The Temple of Dendur, the Medieval Art for it imposing display and the American Wing. Yet don't miss the extensive collection of European Masters.
Tip: Need a break? Grab a snack or light meal at any of the cafes located in The Met.
A Baseball Game
NY Yankees Stadium
1 E. 161 St., Bronx
Tickets Required
How to get there: From Midtown, take the Bronx-bound D train to the 161st St./Yankee Stadium Station. Yankee Stadium is just outside the subway station and for a game the subway is the best way to get to there.
The energy at a Yankees game could power a medium-sized city on its own. If you have baseball fans, make the effort and see a game.
If it's an away game, take the Classic Tour instead. Led by a tour guide, visitors see all the best of Yankees Stadium, like the historic baseball artifacts. (Admission based on age.)
Tip: For baseball fans, this is a must. Check the schedule way in advance and purchase tickets before your trip. Be ready for some fun, Yankee fans are loud and the energy at the games is electric, even for non-fans.
Using A NYC MetroCard With Kids
Use the subway to get around, a must-have skill for teens who will be exploring on their own in a few years.To explore NYC via the subway, head to the nearest subway station to purchase a MTA pay-per-ride subway card.
I prefer to use the MetroCard vending machines but cards can be purchased at the subway station booths. The vending machines accept credit cards and usually faster than the booths, which might be closed.
Each fare is $2.75 when using a MetroCard and you get a 5% bonus when you load more than $5.50 on each card. A single ride ticket is $3 via the vending machines or booth.
The MTA unlimited passes come in 7-day and 30-day options. Stick with a pay-per-ride card unless you will ride the subway more than 14 separate times.
Tips and Hints for the NYC Subways
MetroCards can be used on subway trains and local buses.
$1 new card fee applies to all new cards.
Free transfers between trains in the same station.
Metro cards bend easily so keep your cards in a protected place, like a wallet.
If this is your first trip to NYC, stay away from Express trains and buses.
Up to three kids 44″ and under can ride for free with an accompanying adult.
Free kids usually crawl under the turnstile before the paying adult swipes their card or use the nearby accessible gate.
Get a card for each person to swipe so you don't look like a tourist. Kids 12 and older should be able to navigate swiping Metrocards and moving through turnstiles.
Know if you are traveling Uptown (Bronx/Queens) or Downtown (Brooklyn). Trains and subway platforms will be labeled and maps are in each train car along with multiple spots in the subway station.
Since there are lots of stairs to navigate, pack your lightest stroller.
Hold hands if traveling with smaller kids, especially during peak periods.
Make sure your child knows to go to a NYPD officer or MTA personnel if lost. Give kids a card with contact information in case of emergency.
Plan a Youth Group Trip to NYC
Don't rule out taking a group of kids to NYC, I did. I kept costs within budget with a week-long stay at the HI Hostel on the Upper West Side and lots of cheap NYC eats.
I told the teens we're urban camping and hiking. Packed with backpacks and walking shoes, we saw the city.
Cruising?
New York City is a frequent port of-call for cruise ships, like Regent Seven Seas Cruises.
What to pack in your NYC Bag:
Water bottle
Protein bars
Hand Sanitizer
Bleach Wipes
Hand Wipes
Umbrella
Packable Rain Jacket or Poncho
Phone Battery Charger and Cord
Cash
Something to sit on for parks
More Information
I recommend the following guides and maps.
Know Before You Go:
Travel like a New Yorker and take the subway. I've got the directions for you. Or grab a cab or other car service.
Free public restrooms are hard to find. Pack hand wipes, bleach wipes and hand sanitizer to clean up. McDonald's is reliable but be prepared to buy a dink to get the key.
Wear comfortable shoes, you'd be surprised how much walking you can do in NYC.
The streets of New York are safe but be aware who and what is around you at all times.
Consideration for brands mentioned. This post contains affiliate links.