As the top destination in Texas, San Antonio blends history and fun into a bite-sized vacation for kids. From the crowd-pleasing River Walk to the San Antonio Zoo to several museums perfect for kids, families will find lots to do for a long weekend getaway. In addition to fun attractions for kids, the food in San Antonio is a favorite with kids and teens. With tacos, nachos and queso leading the way, Tex Mex favorites are also kid favorites. Here are the top things to do in San Antonio with kids.
The Alamo
Long before the battle that made the Alamo famous in 1836,  it was called the Mission San Antonio de Valero. It offered protection and sustenance for people in 1718.
Secularized in 1793, the original residents continued to live and farm this area. As Texas Revolution escalated the Alamo became the center of the conflict. On March 6, 1836, after nearly two-week long siege, the battle broke out between William B. Travis, commander of the Alamo and General Santa Anna and the Mexican troops.
Though the defenders of the Alamo were lost in the battle, the history lives on and now the Alamo reminds people of heroic struggles against overwhelming odds. In 2015, the Alamo and the four other San Antonio missions were designated a UNESCO World Heritage site.
The Ralston Family Collections Center is a new facility that opened in 2023 to house the Phil Collins Collection. The legendary singer and Texas Historian has been collecting artifacts for years. He donated his collection in 2014 to the General Land Office and the people of Texas. To enter the new collection, a separate ticket is required. Adults enter for $14 and kids (12 and younger) enter for $10.
The Alamo is located in downtown San Antonio at 300 Alamo Plaza. To enter the church (the Alamo), online reservations are  required for a timed entry ticket. There is a guided 45-minute tour several times a day. Tickets are $35 for kids (12 and younger) and $45 for adults.  Open daily from 9 a.m. to 5:30 p.m. Free to enter.
Read More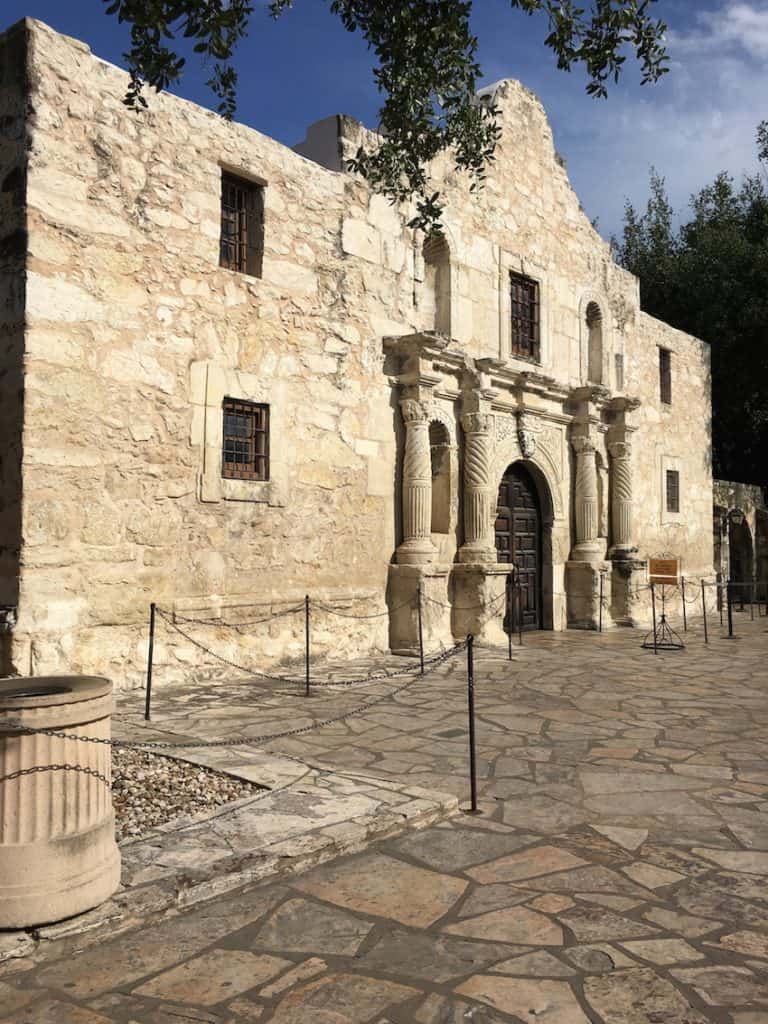 The River Walk
Since 1946 the iconic River Walk, or Paseo del Rio, has delighted San Antonio visitors and locals alike. The river bend section that loops around the restaurants and hotels in downtown is the most famous section.
Though is extends for 15 miles in total, The  Museum Reach heads north to Breckenridge Park. The  Mission Reach connects the   San Antonio Missions. Both sections can be walked, biked, or explore on a kayak.
The stone and iron bridges that cross the San Antonio River add to its ambience. The River Walk is also a destination for public art. This is one of the top things to do in San Antonio with kids.
The River Walk is free to stroll. Open daily, 24 hours a day.
San Antonio River Boat Cruise
The fiesta-color river boats are an icon on the San Antonio River. A few years ago, the boats switched to electric and now fully accessible. A San Antonio River Boat Cruise  is as much a part of the River Walk experience as sipping a margarita while listening to mariachi band.
During our cruise, our boat captain and tour guide piloted us down the San Antonio River while pointing out the history, infamous residents and architecture that defines the River Walk. Each tour takes about 35 minutes. Great for all ages.
The Rio San Antonio Cruises are operated by Go Rio. Open for 10 a.m. until 10 p.m. General admission is $14.50 and $8.50 for kids (1 to 5). Tickets are available online. Several ticket locations at 849 E. River Walk, 706 River Walk and 731 River Walk.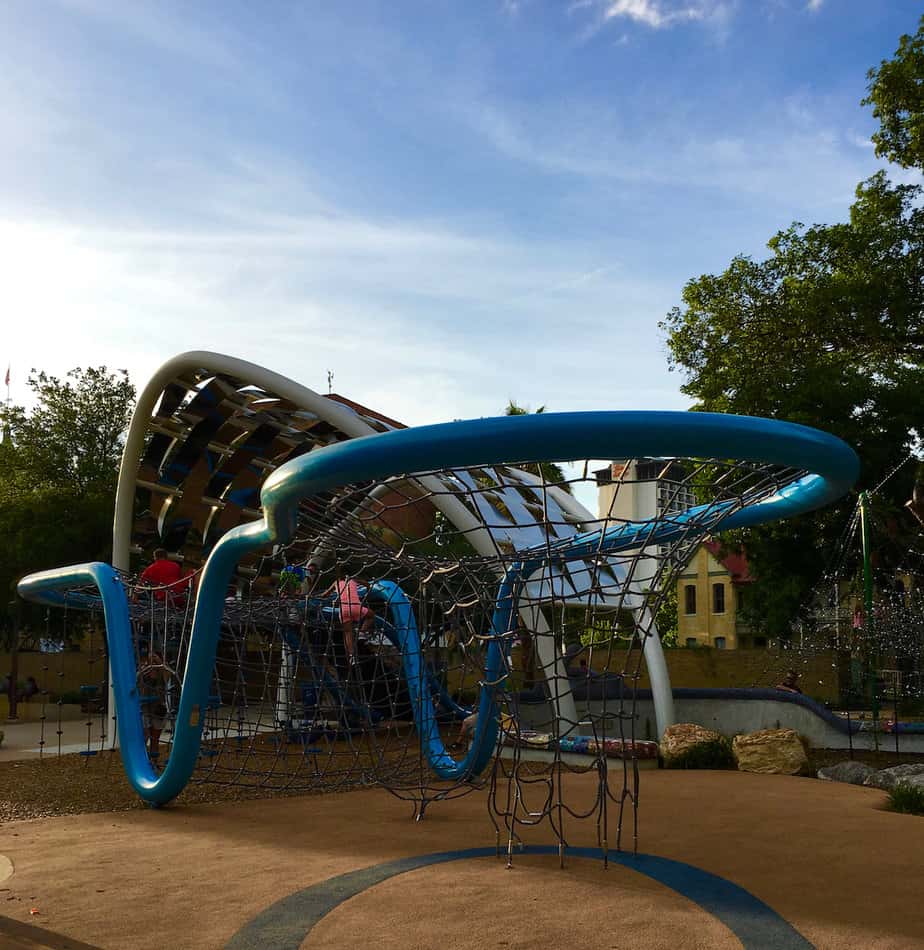 Yanaguana Garden
This downtown play scape wows even the older kids. Yanaguana Garden, named after the Payaya Indians that inhibited this area, offers challenging climbing structures, a sandscape, a splash pad, public art areas, Ping-Pong tables, changing rooms and restrooms.
The Yanaguana Garden is located in HemisFair Plaza at 434 S. Alamo St. It's open every day from 7 a.m. to midnight and is free to enter.
Tower of the Americas
Built for the HemisFair, a world's fair in 1968, the iconic tower is as much a symbol of San Antonio as the River Walk. Rising 750 feet above the ground, riding the elevator is part of the fun and my boys pressed their faces against the glass on the way up.
Located at 739 E. Cesar E. Chavez Blvd. Open daily at 10 a.m. until 10 p.m. 11 p.m. (on Friday and Saturday). Adults admission is $16.50, $12 for kids (4 to 12) and kids 3 and under are free.
Read More 
The HemisFair Plaza
In 1968, San Antonio hosted the World's Fair. This area features the Tower of the Americas, Yanaguana Garden and the UTSA Institute of Texan Cultures,
The HemisFair Plaza is located at 434 S. Alamo St. Open from 7 a.m. to midnight every day. Free to enter.
UTSA Institute of Texan Cultures
The UTSA Institute of Texan Cultures is a cultural heritage museum dedicated to the 26 cultures that settled Texas. Each culture or country has an area filled with artifacts, costumes and antiques.
Located at 801 E. Cesar E. Chavez Blvd. Open Thursday to Sundday from 10 a.m. to 4 p.m. This museum is free to enter though accepts donations.
La Villita Historic Arts Village
Listed on the National Register of Historic Places, this historic area protects the first neighborhood in San Antonio from the 1700s. It is a charming area with pedestrian walkways that house galleys, boutiques along with several restaurants.
Located at 418 Villita St., between the River Walk and HemisFair Plaza, next to the Paseo Del Rio Hilton. Free to enter.
Briscoe Western Art Museum
The Briscoe is more than western landscapes and my boys loved the Briscoe. The life-sized stagecoach, wind mill and the Alamo diorama were hits with them. I
The antique guns and military uniforms added to the adventure for them. I liked the western landscapes and the cowboy scrulptures.
Located at 210 W Market St. along the River Walk, Open Thursday through Mondat from 10 a.m. to 5 p.m. Adult sdmission is $14 for adults and kids 12 and younger are free.
Breckenridge Park 
As an 343-acre park north of downtown, it is a top thing to do in San Antonio for kids. It houses the San Antonio Zoo, the Witte Museum and the Japanese Tea Gardens. There are several other museums in the area.
Located at 3700 N. St. Mary's. Free to enter and attractions are extra.
San Antonio Zoo
Since 1914 the San Antonio Zoo has delighted kids and adults alike. With 750 species across 56 acres, it was one of the first cageless zoos in the U.S. It is home to endamaged species and actively breeds several.
The San Antonio Zoo offers an area for animals of the African savannah and plains. In addition, visitor will find a bird house, an aquarium and Big Cat alley.
Located at 3903 N. St. Mary's St. Open daily from 9 a.m. to 5 p.m. Standard adult admission is $31.99, kids (3 to 11) are $27.99 and kids under 3 are free for advanced tickets.
Miniature San Antonio Zoo Train 
Winding through Breckenridge Park, the San Antonio Zoo Train stops at the Witte Musuem and the Japanese Tea Gardens. It departs from the San Antonio Zoo Depot.
Located at 3903 N St Mary's St Building A. Open daily from 9 a.m. to 5 p.m. (7 p.m. on Friday, Saturday and Sunday). General admission tickets are $5 a person (kids 3 and younger are free).
Japanese Tea Garden
Set in an old rock quarry that dates back to 1899, this garden features paths and foot bridges that meander through the tropical oasis. Kids love to walk along the paths and pass shallow ponds shocked with Koi fish. The Japanese Tea Garden also feature a waterfall.
Located at 3853 N. St. Mary's, Open every daily from dawn to dusk. Free to enter.
Witte Museum
With its expansive dino display, this is the ideal afternoon (indoor) activity with kids. With an eye towards Texas dinosaurs, visitors learn about the plant and meat eaters of the area. 
It also offers exhibits about Texas History along with the animals of Texas.
Located at 3801 Broadway. Adult admission is $15, students (13 to 18) are $14 and kids (4 to 12) are $10 with those under 3 entering for free. Open daily from 10 a.m. to 5 p.m.
The DoSeum
As San Antonio's Museum for Kids, my boys loved the DoSeum with exhibits like spy-training and a crazy tree house. The DoSeum had my boys touching, doing and tinkering from one room to the next.
Located at 2800 Broadway Open Monday to Saturday from 8 a.m. to 8 p.m. and Sunday from noon to 5 p.m. General admission is $16 for everyone over 1-year-old. Babies are free.
San Antonio Botanical Gardens
This 38-acre garden features indoor and outdoor exhibits. The kids might not read about the plants though it's an interesting place to explore with kids.
Located at 555 Funston Place. Open daily from 8 a.m. to 7 p.m. Adult admission starts at $15 and kids (3 to 13) start at $13.
McNay Art Museum
Named after the benefactor and founder, Marion McNay, its collections include 19th and 20th-century European and American art. It features a sculpture garden on the grounds of McNay's Spanish Colonial home.
Located at 6000 N. New Braunsfels Ave. Open from Tuesday through Sunday with varies hours. Adult admission is $20, students (13 to 19) are $14 and kids (12 and younger) are free.
King William Historic District and Southtown
The historic King William neighborhood features Victorian homes, hip restaurants and food trucks. It is home to art galleries and night clubs along with San Antonio's vibrant restaurant scene. For a home tour, head to the Villa Finale at 401 King William Street.
Located south of Cesar E. Chavez Blvd. and bordered by S. St. Mary's St. and the San Antonio River. Free to stroll.
The San Antonio Missions
The UNESCO WorldHeritage Site and a national historical park dedicated to the four other compounds built by Spanish Franciscan friars in the 1700s. Each of the four missions are two to three miles from each other close to the San Antonio River.
After visiting the Alamo in Downtown San Antonio, visitor can discover Mission Concepión, Mission San José, Mission San Juan and Mission Espada.  Mission San José features a NPS Visitor Center and guided tours.
Mission Reach Hike and Bike trail is a great way to visit the San Antonio Missions. It's 16-miles roundtrip. This might be a little too far for a young family, though lots of adults and older kids enjoy the scenic ride along the San Antonio River.
The San Antonio Missions National Historical Park is open every day, hours vary from mission to mission. All are open from 10 a.m. to 5 p.m. The missions are closed on Thanksgiving Day, December 25 and January 1. All the missions are free to enter.
San Antonio Museum of Art
The San Antonio Museum of Art is located in the old Lone Star Brewery building and houses art from 5,000 years of human history. Its collections are from across the world and from ancient world to contemporary art.
Locatedat 200 W. Jones Ave, on the the Museum Reach of the River Walk. Open Tuesday through Sunday from 10 a.m. to 5 p.m.  (7 p.m. on Tuesday and Firday). Adult admission is $20, students (13 to 18) are $10 and free for kids 12 and younger.
The Contemporary at Blue Star
Showcasing contemporary art in San Antonio for 13 years, the Blue Star Contemporary Art Museum is part of a complex with coffee shops, restaurants and shops.
Located at 116 Blue Star along the San Antonio River Walk's Museum Reach. Open from Wednesday to Sunday with varying times. Free to enter.
Where to Stay in San Antonio
Enjoy the best of downtown San Antonio with a stay along the River Walk.