Top Alaskan Cruise Ports of Call
With so many cruise ships offering Alaskan cruises, it's hard to decided. Consider where you want to visit and go for there. Here are the Top Alaskan Cruise Ports of Call to help you decided where to visit on your Alaskan cruise.
Vancouver, British Columbia
As a large port for western Canada, the majority of cruises depart or arrive at Vancouver. The city features a major international airport with shuttles to the cruise ship port downtown. There's lots of hotels within walking distance of the seaport and find places to rent bikes close-by if you want to explore.
Vancouver pulls its cultural influences from around the Pacific Ocean. So sample the rich and diverse food scene with tastes of Asia, like Chinese dim sum or Japanese ramen, while in town.
Top Places to See in Vancouver Before or After a Cruise
Canada Place 
This is the building in which you will board, or disembark, for your cruise. It features sail structures on its roof and an icon of Vancouver. It offers several interpretive areas to explore if you have some time before your cruise.
Located at 999 Canada Place.
Fly Over Canada
Experience Canada like you are flying over it with your feet dangling in an immersive ride.
Located at 201 – 999 Canada Place. Open daily with varying hours. Admission based on age.
Stanley Park
Bike or walk through Stanley Park for totems, food carts and lots of people watching. There's a tea house in Stanley Park along with the Second Beach Swimming Pool.
Bike rentals are located downtown during the summer. Vancouver offers bike lanes.
Located on the western edge of Vancouver. Free to enter.
Lions Gate Bridge
See Lions Gate Bridge from several points in Vancouver and while you depart from Vancouver on your cruise.
Vancouver Aquarium 
See over 65,000 animals at the Vancouver Aquarium. It also features a 4-D theater.
Located at 845 Avison Way, Vancouver. Open daily from 10 a.m. to 5 p.m. Admission based on age.
Museum of Anthropology
Walk though the  to learn more about the First Nations of the Pacific Northwest, both Canada and the U.S. Also see the art and culture of groups and communities from across the globe.
Located at 6393 NW Marine Dr, Vancouver. Open 10 a.m. to 5 p.m. from Tuesday to Sunday. Admission based on age.
Capilano Suspension Bridge
Walk over an old-growth fir forest on a wood-planked suspension bridge. As a bonus, there's a free shuttle from Canada Place.
Located at 3735 Capilano Road in North Vancouver. Admission based on age. Open daily and hours vary with season.
Cruising the Inside Passage
All Alaskan cruise itineraries include at least one sea day, sometimes two. Spend the day on a deck using binoculars to catch glimpses of light houses, bald eagles or fishing boats at work.
Sailing in the Inside Passage is unique since glaciation made deep channel between the mountains. The deep waters allow for deep-draft vessels to sail close to the mountains. You really can almost see into the windows of the lighthouses.
A bonus for first time cruisers, the waters of the Inside Passage are relatively calm compared to open ocean cruising.
Read More about Alaska
Top Things to do in Ketchikan Alaska
Ketchikan is a popular Alaskan cruise port of call. It features a walkable downtown area, lined with shopping, galleries and restaurants and pubs. Most cruise ships dock at the edge of downtown.
Cruise passengers can arrange a flight seeing tour to witness the majesty of the Misty Fjords National Monument, located nearby. The aircraft depart from the water nearby.
As you walk the streets of Ketchikan, learn about the symbolism used on the totems like the plants and animals of the temperate rainforest. Or better, arrange for a hike in the rainforest to see its animals, like the black bear.
Find the official visitor center for the Tongass National Forest, the largest national forest in the U.S. in Ketchikan. The Tongass runs all the way to Skagway along the Alaskan panhandle and includes two ice fields, Stikine and Juneau.
Did you know that national forests offer Junior Ranger programming too? Yes! So visit the Tongass National Forest's Southeast Alaska Discovery Center on Ketchikan's Main Street for an overview of the largest national forest in Alaska. Kids will learn about the unique plants and animals of the temperate rainforest, like the banana slug. Walk through the interpretive area to learn more about salmon and watch the park film. It's a must for families.
Admission is $5 for 16+ and free for kids. Open from 8 a.m. to 4 p.m. daily during the summer season, May 1 to September 30. Located at 50 Main St., visitors can walk from the cruise ship dock.
And Ketchikan is the canned salmon capital of the world.
Top Things to do in Juneau, Alaska
As the capitol of Alaska, it's a small city. Juneau also offers a real airport, unless some of the ports-of-call that rely on float planes. Juneau is less-touristy and the downtown area is a mix of shopping and muncipal buildings.
Mendenhall Glacier
During most cruises, the itineray includes a tidewater glacier viewing. Since Mendenhall Glacier not on the water, it's a mountain glacier. A trip to Mendenhall Glacier is worth the effort.
As  a National Forest site, Mendenhall Glacier offers several hiking trails, like the .25-mile Photo Walk, suitable for most. The Nugget Fall hiking trail is a 1-mile trail that leads to the falls close to the glacier.
Kids can explore the area then fill out a booklet to earn National Forest Ranger Badge, special Mendenhall Glacier badge. This badge is only available at the Visitor Center located on-site.
Mendenhall Glacier is located about 13 miles from the cruise ship docks. Take an excursion, find a tour operator that offers a shuttle service to the glacier or take a cab. Open from 8 a.m. to 7:30 p.m. during the summer season. Adult admission is $5 for a day pass and kids 15 and under are free.
Mt. Roberts Tramway
With the tram station located steps away from the dock, the Mt. Roberts Tramway is an easy DIY excursion. Take the tram car up 1,760 ft to a fantastic view (if the weather is clear).
At the top, find a nature center with an interpretive area. In the Chilkat Theater, see a 18-minute film covering the region and its people. There is three hiking trails at the top of Mt. Roberts, from the 2-mile Mount Roberts Trail to the 7-mile Granite Creek Trail.
The Timberline offers a menu focused on the seafood of the region along with a selection of beer, wine and cocktails.
Located at 490 S. Franklin St. Open May to September with varying hours. Adult round-trip tram ticket is $45 and kids (3 to 12) are $30.
Glacier Gardens Rainforest Adventure
For plant lovers, explore Glacier Gardens for a guided one-hour tour of its gardens aboard an open-air shuttle. See the plants of the temperate rain forest along with a creek that runs through the property.
Located at 7600 Glacier Highway, 7 miles away from the cruise ship docks. Open from 9 a.m. to 6 p.m. daily from May 1 to October 1. Adult admission is $28.30 and kids (6 to 12) are $16.75. Transportation to Glacier Gardesn is not included
Bucket List Excursions based out of Juneau 
For cruisers wanting to check off some bucket list items, Juneau offers some unique excursions. The helicopter tours to guided glacier trekking to dog-sledding excursions seem thrilling. Whale watching cruises to see the summer feeding grounds of humpback whales get you close to the majestic creatures.There's also the opportunity for seaplane sight-seeing flights over the temperate rainforest and the glaciers. Finally, all-you-can-eat seafood cookouts are favorites.
Read More 
Top Things to do in Skagway, Alaska 
Skagway is a lot of cruise passenger's favorite port. During my cruises, it has always been the case. The town of Skagway is a restored mining town and it's interesting to walk the streets looking at old wooden buildings. Find lots of places to visit without taking an organized excurion though if you have the budget, one excursion is a stay-out.
White Pass and Yukon Route Railway
Skagway is the home to the White Pass and Yukon Route Railway. The narrow gauge scenic train trip is a stand-out for cruisers, not just families. After blasting through rock, the first train rolled out of Skagway in 1898 at the height of the Alaska gold rush. The White Pass and Yukon Route Railway climbs 3,000 feet in 20 miles as passengers whisk by pristine mountain scently. As a bonus, the train depot is a short walk from the cruise ship port.
Klondike Gold Rush National Historical Park
The Gold Rush swaggered into Alaska and Canada's Yukon Territory during the 19th century. Then the tiny town busted with lawlessness as it turned into a boomtown. To learn more about the history of the area, head to the Klondike Gold Rush National Historical Park. First up, watch the interpretive film to learn about the gold rush and how would-be miners climbed the treacherous White Pass Trail.
If your group has school age kids, head to the The Pantheon, a restored saloon and part of the Klondike Gold Rush National Historical Park. This building is dedicated to Junior Rangers and earning a free badge. It offers several hands-on stations with iPads prompts for kids to learn how to be a gold prospector on the Alaskan and Yukon frontier along with knowledgeable rangers on-site.
Free admission for everyone. Open from 8:30 a.m. to 5:30 p.m. daily May until September during the summer. The Klondike Gold Rush National Historical Park Visitor Center is located at 291 Broadway in the historic White Pass and Yukon Route building and includes 15 restored buildings across Skagway.
Klondike Gold Rush National Historical Park also has a sister location in Seattle, Washington.
Skagway Museum 
Learn about the local history of Skagway at its museum.
Located at 700 Spring St. Open Thursday to Monay from noon to 4 p.m.
Walk down Broadway St. 
The main route for cruise passengers, walk down Broadway St. to the Klondike Gold Rush National Historic Site along many shops. There's even a shuttle if you get tired. The SMART shuttle runs every 30 minutes along Broadway St. with stops every other block from 9 a.m. to 5 p.m.
Jewell Gardens and Glassblowing
Take a tour of the 5-acre garden that's a collection of annual, perennial, native along with a producing vegetable garden. There's even a model train that chugs through the garden.
Sign-up a glassblowing session where you will make a one-of-a-kind ornament. Then they will mail your ornament back to you after it cools off. There's even a restaurant on-board, Poppies, open from 11 a.m. to 4 p.m.
Located at 1.5 Klondike Highway, about 2 miles from the Skagway port. Open April through October from 9 a.m. to 5 p.m. Glassblowing experiences vary. Adult admission to the gardens is $12.50 and kids (12 and under) are $7.50. Visitors can take the SMART Shuttle to the garden that runs every 30 minutes along Broadway St. with stops every other block.
Grizzly Fall Zip Line 
With a shuttle pick-up close to the cruise ship port, spend an amazing day exploring the rainforest near Skayway. With a series of 10 zip lines, riders even pass over a waterfall.
Located in nearby Dyea. Admission based on age, along with height and weight restrictions.
Mollie Walsh Playground
Skagway is an excellent town to explore on foot with the kids in tow. Find a playground along with public restroom at 25 6th Avenue.
Read More
What to see at Hubbard Glacier
As the largest tidewater glacier in North America, it boast a 400-foot face, it's 76 miles long and 1200 feet deep. As your cruise ship sails Disenchantment Bay, use binoculars to view the marine life and birds.
If your cruise itinerary includes visiting Hubbard Glacier, it's actually part of Wrangell-St. Elias National Park. And it's the largest national park in the National Park Service system.
If exploring the Hubbard Glacier on a cruise then a stop by the visitor center is impossible since cruise ships don't dock at the Hubbard Glacier. Though kids can still earn  a Junior Ranger badge.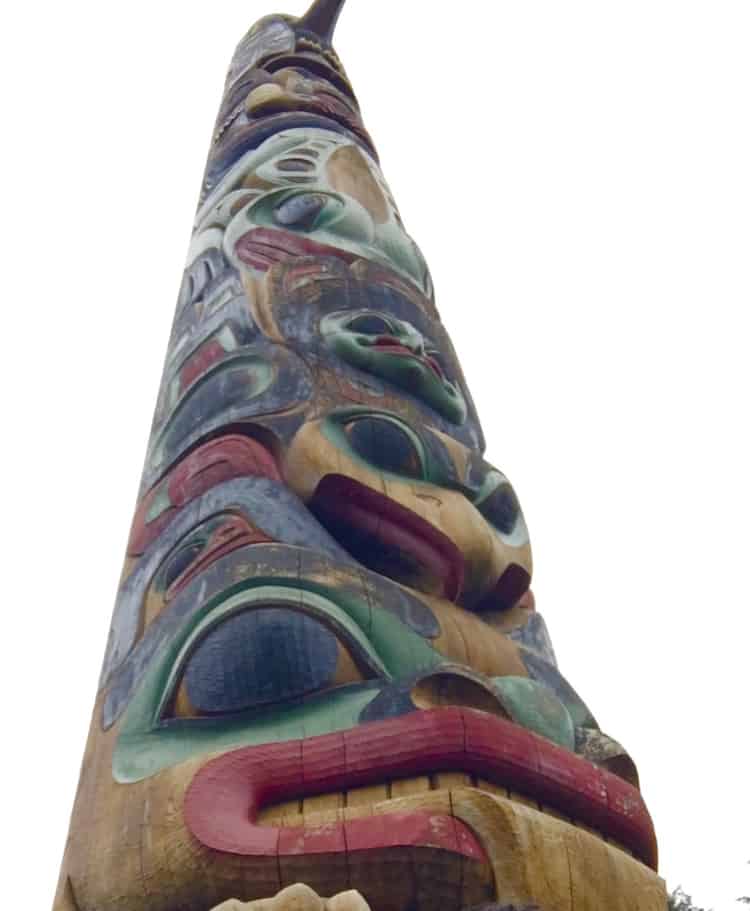 Top Things to do in Sitka, Alaska
Most first-time cruisers are surprised to learn about Sitka's Russian heritage. In fact, the island was under Russian control until it was transferred to the U.S. in 1867. There are several locations preserving the Russian  history.
Baranof Castle State Historic Site
As your ship docks, Castle Hill overlooking Sitka Sound is the spot where Alaska was transferred to the U.S. in 1867. It is now the Baranof Castle State Historic Site though the castle no longer exists.
Traditional Folk Dancing
Enjoy a traditional folk dance with dancers in traditional Russanian folk costumes at the New Archangel Dancers, located at 208 Smith St.
St. Michael's Orthodox Cathedral
The St. Michael's Orthodox Cathedral is a replica of the original church that was destroyed by fire. The Sitka residents saved many of the church's artifacts during the fire. It is located in the middle of the street at 240 Lincoln St.
Sitka National Historical Park
The Sitka National Historical Park's visitor center offers a a short interpretive film about the area.  You can also walk among their collection of totems in Totem Park or see artisans at work on traditional crafts.
Visit the  Russian Bishop's House, for more Russian history. It was the home of the Russanian Orthodox Church from 1842 to 1869 and is one of the few examples of Russian colonial architecture in North America.
Free admission for everyone at both locations. Open from 8 a.m. to 5 p.m. daily during the summer. The Sitka National Historical Par's visitor center is located at 106 Metlakatla Street. The Russia Bishop's House is located at 501 Lincoln St. and both locations are walkable from the cruise ship's tender dock.
Alaska Raptor Center 
Learn about Sitka's effort to rehabilitate injured bald eagles at the Alaska Raptor Center. It features several enclosures for raptors unable to return to the wild. In addtional to bald eagles, there are owls, hawks and ravens. Located at 1000 Raptor Way.
Icy Strait Point
Learn about the rich heritage of native Alaskan culture at a tribal dance. Or visit nearby Hoonah, the largest Tlingit village. Icy Straight Point is a hub for outdoor excursions.
ZipRider
Ride on the longest zip line in the world with six 5,330-foot ziplines with a descent of 1,300 feet. This zip line feature a seat instead of just a harness for a more comfortable ride.
ATV Rides 
Ride through the Alaskan wilderness and see wildlife in the pristine forest.
Whale Watching Cruises
On a smaller vessel, passengers get up close to pods of humpback whales as they feed in the Alaska waters.
Bear Viewing 
Another must for any trip to Alaska is seeing bears in the wild. Take a guided trip along the Spasski River to see bear along with other Alaskan wildlife.
Top Things to do in Victoria, British Columbia
Stroll the charming streets of the inner harbor with its neo-Baroque style buildings and colorful flower beds along the Inner Harbor. It is walkable from the cruise ship dock and there's also a bus.
Royal BC Museum
Discover the history of British Columbia in the Royal British Colombia Museum. Founded in 1886, it features large interpretive displays of the First Nations of Canada as it shares the arts and culture of each.
Located at 675 Belleville St. Admission based on age.
Beacon Hill Park
Walk through a 200-acre park with lush plantings and water features.  Located at 200 Cook St.
Hotel Fairmont Empress 
Overlooking the inner harbor, the Empress Hotel isa National Historic Stie of Canada. Walk through its lobby and gardens or reserve a spot to enjoy afternoon tea in its lobby. Located at 721 Government St.
Craigdarroch Castle
Tour the Victorian era Baronial Mansion built in 1890 by Robert Dunsmuir. It was designated a National Historic Site of Canada. It is walkable from Wharf St. along Fort St.
Miniature World
This a must for kids and for anyone that loves miniatures. It's not all dollhouses either, see 85 different dioramas from different time periods from across the world.
Located at 649 Humboldt St.
Butchart Gardens
One of the top gardens in North America, this area was once a quarry. The gardens cover 55 acres and feature 900 varieties of plants. It's a top destination in BC.
You will need to take a tour to visit, or have a car. Located at 800 Benvenuto Ave. in Brentwood Bay.
Take a Specialty Tour
From walking tours to biking tours, take a tour of Victoria to suit your interests. There's haunted tours, foodie tours, beer tours and the list goes on.
Seward
As a frequent point of disembarkation, Seward offers a scenic location to explore before or after your cruise. Located in the shadow of Mount Marathon and on Resurrection Bay, get a dose of rugged Alaskan landscape.
The historic downtown offers a gateway into Alaska's past. Steward is a gateway to the Kenai Fjords National Park. So find the visitor center in the center of town or arrange a visit to Exit Glacier.
Kenai Fjords National Park
As the gateway to mainland Alaska, find the Kenai Fjords National Park visitor center in Steward. Pick up a Junior Ranger booklet and tour the visitor center. Arrange a boat cruise to see the fjords up close or take a cab to Exit Glacier Nature Center for hiking.
Free admission for everyone at both locations. Kenai Fjords Visitor Center is open from 9 a.m. to 7 p.m. daily during summer from Memorial Day to Labor Day. Located at 1212 4th Ave.
The Exit Glacier Nature Center is open from daily 9 a.m. to 5 p.m. during the summer and located at 24620 Herman Leirer Rd.
Some cruisers arrange a land excursion to Denali National Park, home of Denali Peak, formerly known as Mt. McKinley. As the highest peak in North America, it's 20,310 feet tall. Cruisers can take a train to train to Denali and once there, a bus is used for sight-seeing since the main road is closed to private vehicles.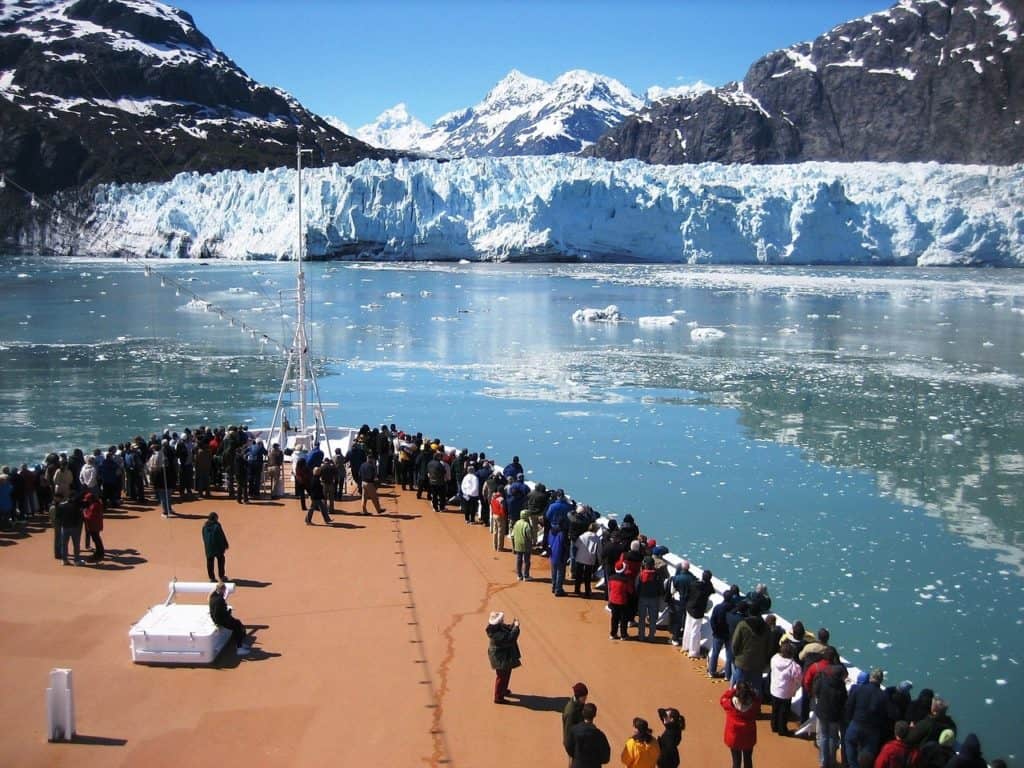 What Cruise Ships Sail into Glacier Bay National Park
A highlight of Alaskan Itineraries, sailing into Glacier Bay National Park offers views of the Fairweather Mountains along with up-close views of tidewater glaciers.
Since the National Park Service regulations the number of large cruise ships this is a factor for would-be Alaska cruisers. Most itineraries start at the Icy Strait and the NPS park rangers board the ships for interpretive programming for adults and kids. Cruising Glacier Bay for at least 8 hours, cruisers see marine life, like bald eagles and seals.