With over 1,440 square miles of wilderness center around the Olympic Mountains, Olympic National Park is a year-round destination. In addtion to the mountains, it's home to several ecosystems, like the old-growth rainforests, beaches and lakees along with the mountaintop vistas, Best of all, Olympic National Park is within two hours of Seattle, Washington. Here's how to visit Olympic National Park in one day.
Olympic National Park in One Day
It is huge, in fact it is the nearly the entire peninsula so don't try to see it all in one day. Instead, concentrate on one area, like the  southern area. Start with a hike through the rain forests at Lake Quinault with its old-growth forests and lake activities.  Then do some tide pooling on the Pacific Ocean.
Alternativly, the northern area offers Hurricane Ridge then explore the Lake Crescent area. Finally end the day with a soak in the hot springs at Sol Duc. Each route offers hiking, concessions and a visitor center or ranger station. Both are about a two-hour drive from Seattle.
Read More
Lake Quinault Rain Forest
The temperate rain forests of Olympic National Park offer shaded trails dripping with moss in every shade of green. This area is a must if entering Olympic National Park from the south.
My kids loved hiking along the rain forest trails where streams and small waterfalls break the silence of the spruce and cedar forests. Additionally find water activities at Lake Quinault.
Hiking around Lake Quinault
Lake Quinault offers trails, a ranger station and a general store for snacks.
Rain Forest Trail–A .5-mile loop
Graves Creek Nature Trail–A 1-mile loop
Quinault Loop Trail–A 4 to 8-mile loop trail
Be sure and hike to the world's largest Sitka spruce on the .3-mile trail, located close to the Lake Quinalt Post Office.
Water Sports at Lake Quinault
Lake Quinault offers SUPs, kayaks and canoes for rent by-the-hour or by the day. Lake Quinault also offers three different guided boat tours.
The Beaches of Olympic National Park
Olympic National Park touches the Pacific Ocean on the west side. Tide pools and rugged beaches dominate the landscape. Stop by the Kalaloch Ranger Station (open seasonally) for a special Junior Ranger booklet to complete while exploring the beach.
Rudy Beach and Beach 4 offer tide pool opportunities. Be sure to check on the low tide times at the ranger station. My kids loved exploring the tide pools looking for ribbed limpets, acorn barnacles and giant green anemones even more than hiking in the rainforest.
Kalaloch Beach offers a campground, lodging and a restaurant along with an expansive sandy beach. Ruby Beach offers the more parking than Beach 3 and Beach 4. All beaches are conveniently located along U.S. Route 101.
Hurricane Ridge
Hurricane Ridge offers visitors the only accessible viewpoint of the the Olympic Mountains. A 17-mile drive from Port Angeles, the Hurricane Ridge Visitor Center offers an introductory film and concessions are located nearby.
The towering peak of Mount Olympus rises up 7,980 feet as the tallest point in the Olympic National Park. Part of the Olympic Mountain Range, it's home to 266 glaciers. Alpine wildflowers that sway in the mountain breezes make Hurricane Ridge a favorite with visitors.
From Port Angeles, the drive to Hurricane Ridge takes about an hour. First you drive through old growth forests the road ascends pass the tree line. Then find meadows with wildflowers during the summer or covered in snow in winter. 
Start at the Hurricane Ridge Visitor Center to learn about the mountains and glaciers in Olympic National Park. Get information and maps for your visit. If you have time, watch the short documentary shown at the visitor center. 
Hiking around Hurricane Ridge
Find several hiking trails near the Hurricane Ridge Visitor Center. 
Meadow Loop Trail—Trails from .25 to .50-mile depart from the parking lot. 
Hurricane Hill—A 1.6-mile one way trail that departs from the end of Hurricane Ridge Road. 700-foot elevation gain. 
Klahhane Ridge—A 2.8-mile trail that joins the Klahhane Ridge Switchback Trail. Departs from the Visitor Center. 
Located 17 miles south of Port Angeles, open daily during the summer. Weekends only during the winter due to snow. 
Lake Crescent
Lake Crescent is located 20 miles east of Port Angeles, Washington. The glacial blue water of Lake Crescent is surrounded by evergreen forests making a stunning landscape.
Visit Storm King Ranger Station (open seasonally) for information and a starting point for several hikes. Head to Bovee's Meadow for picnic tables. Grab-and-Go food is avaiable at Log Cabin Resort. Picnic and camping supplies are at Fairholme Store.
Water Sports at Lake Crescent
Rent a paddleboard, kayak or canoe at Lake Crescent Lodge by the hour or day. Explore the clear lake.
Boat tours are also available. Departing from Lake Crescent Lodge, the guided tour lasts an hour-and-a-half.
Hiking around Lake Crescent
Marymere Falls–A .9-mile trail, one way departing from Storm King Ranger Station for a stunning view of the 90-foot waterfall.
The Moments in Time Nature Trail–A .6-mile loop, perfect for those wanting a shorter hike.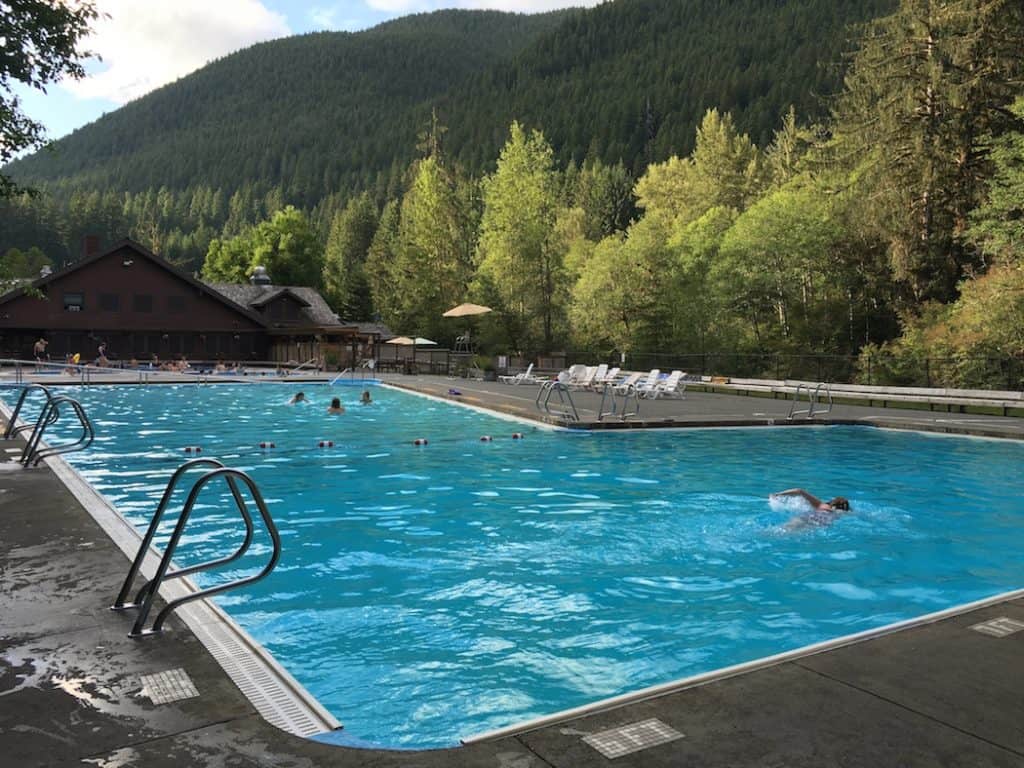 Sol Duc Hot Springs
After a long day of hiking, soak in a mineral-rich hot springs at Sol Duc Hot Springs Resort. A family-friendly environment offers a fresh-water swimming pool and three small soaking pools. Also find changing rooms, a restaurant, cabins and lodge rooms.
Each pool offers a different temperature. The smallest pool starts at  99F/37C. The medium pool is 104F or 40C. The largest soaking pool  is 101F/38C. The swimming pool's temperature varies with the season from 50 to 85F/10 to 30C.
My kids spent the majority of their time in the fresh-water pool while I relaxed in the hot springs. I could keep an eye on them while soaking. Kids under 4 must remain in the coolest hot spring pool.
Located at 12076 Sol Duc Hot Springs Rd. Open daily from 8 a.m to 9 p.m. (and 9 p.m. in the summer) from late April until the end of October. Each session is 1 1/2 hours.  Adult session admission is $18 and kids 4 to 11 are $12.
Read More
History of Olympic National Park
A British Captain gave Mount Olympus its name back in the 1700s though the Native Americans, like the Quinault and the Hoh, lived and hunted on the peninsula for a millennia before. Theodore Roosevelt protected the Olympic Peninsula as a national monument in 1909. After a visit in 1937, Franklin D. Roosevelt designated the monument a national park in 1938.
Olympic National Park offers three distinct ecosystems to explore. For this reason, The United Nations designated Olympic National Park a biosphere reserve in 1976 and later proclaimed it a UNESCO World Heritage Site in 1981.
Lodging in Olympic National Park
During my visit to Olympic National Park, I stayed at Lake Quinault Lodge, located on the southern edge at Lake Quinault in the Olympic National Forest. Featured on the PBS series, Great Lodges of the National Parks, it offers modern amenities and kids' activities in a family-friendly environment.
The north side of Olympic National Park offers several options from the rustic to the refined. Lake Crescent Lodge also offers gracious rooms in a historic lodge. Log Cabin Resort offers family-friendly camping cabins and kayaks. Sol Duc Hot Springs offers lodging close to the Hot Springs pool.
Read More 
Olympic National Park with Kids
The Junior Ranger Program offers families a way to discover a national park site together in about 2 hours. Olympic National Park offers kids several Junior Ranger patches and badges to earn during their visit.
Find Olympic National Park Junior Ranger booklets at visitor centers and ranger stations. At the visitor center, kids can check out a Discovery Packet, a backpack filled with field guides, binoculars and magnifying lens to explore Olympic National Park more thoroughly.
The Ocean Stewards Patch guides kids 4 and up through the diverse marine life in the park. And kids get a souvenir patch.
Read More
Where's Olympic National Park
Olympic National Park is on the Olympic Peninsula, west of Seattle, Washington. Port Angeles and Forks, Washington, offer services for travelers, like gas, groceries and lodging outside of the park.
Quinault Rain Forest Ranger Station at the southern entrance of Olympic National Park is 146 miles from Seattle-Tacoma International Airport (SEA or SeaTac as the locals call it). Hurricane Ridge Visitor Center, in the northeast portion of the park, is 147 miles away from the airport.
No reliable public transportation around the park. Though private tour companies offer tours.
Getting Around Olympic National Park
Olympic National Park is open 365-days a year and 24-hours a day. Use an America the Beautiful annual pass ($80) or purchase a 7-day pass for $30 per vehicle.
Olympic National Parks is not a drive-through park, meaning roads don't bisect the park. U.S. Route 101 wraps around the Olympic Peninsula and park roads dead-end at ranger stations or visitor centers.
Read More
Know Before You Go:
Olympic National Park doesn't have roads that bisect the park.
Be prepared for rain, carry rain jackets at all times.
If swimming at Sol Duc Hot Springs, limit the time kids soak in the hot springs pools, usually an hour is enough.
Olympic National Park is a bear habitat.
Be Bear Aware
The National Park Service recommends the following guidelines to reducing encounters.
Make noise when hiking, kids are good at this.
Be aware of the possibility of bears at streams.
Store food when not eating or preparing in the bear-proof storage lockers.
Keep 100 years between you and bears.
Put all trash in a bear resistant trash container.