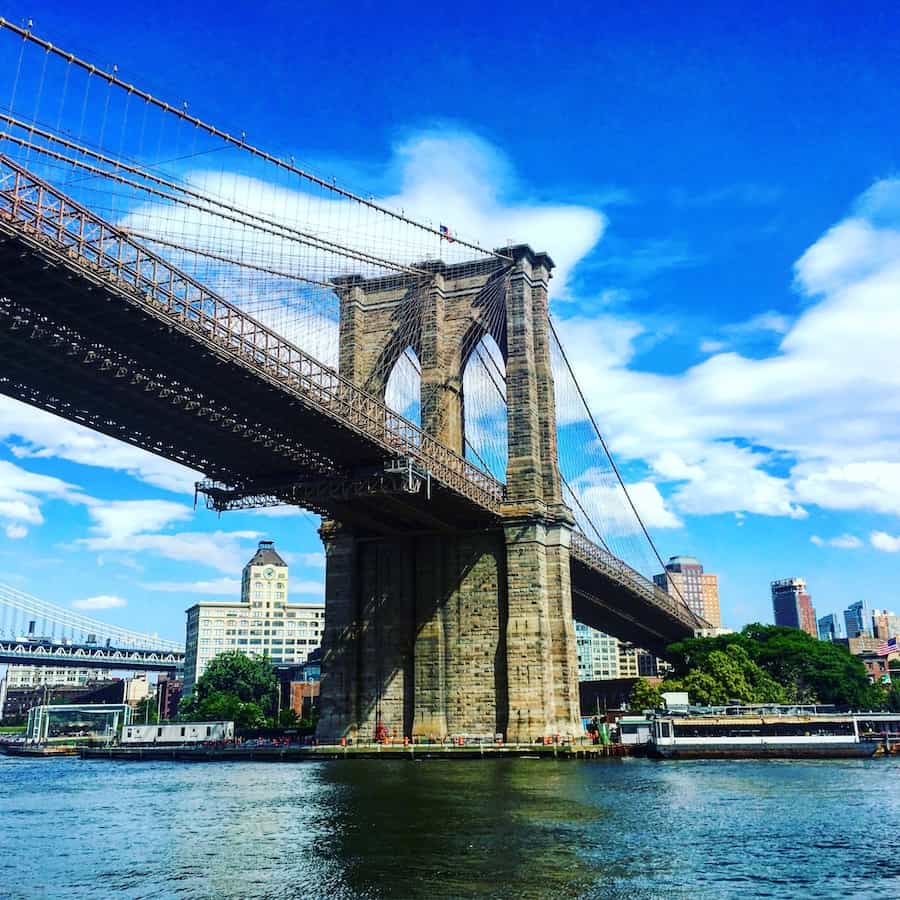 New York City is an world class destination.  From the museums to the park to the Statue, find days of activities and attractions. Head to the top of  the tallest buildings for a view from above. Take a ferry or cruise for a view from the water. Walk the streets to peak in stores and more. Here is the Top 70 Places to see in New York City for your next vacation.
A Broadway Show in the Theater District
Catching a show tops many people's to-do list during their trip to NYC. The productions in New York are more elaborate than the traveling stories with different sets and more special effects. This is one of the top things to do in Midtown Manhattan.
For school-age kids, one of the Disney productions is an excellent introduction to live theater. Packed with tunes they know by heart, elaborate sets and glittering costumes, kids stay glued to their seats. For older kids, Harry Potter kept my dudes (18 and 14-years-old) entertained for the entire show, and they said they would attend another production with me (yea!).
The theater district runs from 40th to 54th Streets and from 6th to 8th Avenues. Choose from matinees or evening performances.  Purchase tickets before your trip.
Bryant Park
Depending on the season, find different activities at Bryant Park, from a winter ice rink and a holiday market to summer picnicking, it's a favorite with locals and visitors alike. Additionally there is bistro tables, a handful of quick-service food outlets along with a carousel ($4 a ride, open daily with seasonal hours).
Located between 5th and 6th Ave. between 40th and 42nd Streets.
Circle Line Circles
Sure you can take a bus tour but a scenic cruise is better. No street traffic and lots of fabulous city views and as a bonus, see NYC's bridges from the water.
Tip: Check out the schedule before arriving to see which cruise appeals to you. During peak periods reservations are recommended.
Departs from Pier 83 at W 42nd St. First Cruise at 10 a.m. Admission based on age and type of cruise and you can use a CityPass.
Read More 
Empire State Building 
As the favorite building and known worldwide, the Empire State Building is a symbol of NYC. Opening in 1931, it's an Art Deco masterpiece and National Historic Landmark.
Head to the Observation Deck on the 86th floor, the backdrop to many a movie. Another observation deck on the 102th floor.
Located at 20 34th St. Open from 10 a.m. to midnight. Admission based on age and you can use a CityPass.
FAO Schwartz
The legendary toy retailer now lives at Rockefeller Center with life-sized stuff animals, games, toys and even candy. It's a must even for big kids.
Located at 30 Rockefeller Plaza, Open daily 11 a.m. to 7 p.m. (8 p.m. on Friday and Saturday). Free to enter.
Flatiron Building
Though its undergoing a renovation, the Flatiron Building is still one of the most recognizable buildings in New York City.
Located at 175 5th Ave.
Grand Central Terminal
Walk through the Beaux Arts Masterpiece and the largest train terminal in the world. It's a hub for subways and commuter trains along with a shopping and casual dining center. 
The ceiling of the main concourse features an astronomical ceiling, a four-sided brass clock and Tennessee marble was used for the stairs and the floors. 
Located at 89 E. 42nd St. Terminal Open From 5:30 a.m. to 2 a.m. Free to enter.
High Line
Created from an abandoned New York Central Railroad Spur, the nearly one and a half miles elevated walking path and park is a must. Created in 2009, High Line is a destination for locals and travelers alike. As a bonus it's free, unless if you want to grab a snack or a quick coffee along the route.
Located from Gansevoort St. to 34th St. with multiple entrances, some with elevators. Open 7 a.m. to 11 p.m. during the warmer months. Closes at 7 p.m. during the winter. Free
Read More
Intrepid Sea, Air and Space Museum
Clamber across the deck of the USS Intrepid to see a retired Concorde and one of NASA's retired space shuttles. The Space Shuttle Enterprise is one of several on display across the U.S.
Then explore the USS Growler, a submarine. Along with several different different military aircraft.
Located at Pier 86 W.46th St. at 11th Avenue. Open 10 a.m. to 5 p.m. Admission based on age and you can used a CityPass.
Junior's Restaurant and Bakery 
With all the walking, it's time for dessert. I recommend NYC-style cheesecake. Topping the best cheesecake list for years, it's a dense, not-too-sweet and creamy cheesecake. I ordered plain and I didn't share. It also holds for next day snacks if you have a refrigerator. I might have eaten leftovers for breakfast.
Located at 1515 Broadway at 45th St. and 1626 Broadway at 49th St. Open Sunday and Monday from 7 a.m. to 11 p.m. Tuesday to Thursday from 7 a.m. to midnight and Friday and Saturday from 7 a.m. to 1 p.m.
Macy's Flagship Store
Visit the Herald Square location for floors of shopping. Its front displays are legendary during Christmas.
Located at 151 W. 34th St. Open Monday to Thursday from 10 a.m. to 9 p.m., Friday and Saturday from 10 a.m. to 10 p.m. and Sunday from 11 a.m. to 9 p.m.
Madison Square Park
With the original Shake Shack, this park is a good stop for lunch. Find lots of tables, mostly in the shade.
Located at 11 Madison Ave. Open daily from 6 a.m. to 11 p.m.
MoMA
See some of the most recognizable works of art, head straight for the Fifth Floor of the Museum of Modern Art. Find Starry Night by Vincent Van Gogh, Dance by Henri Matisse along with works from Andy Warhol, Frida Kahlo and Pablo Picasso. Great for kids with short attention spans.
Kids under 16 get in free and the MoMA hands out guides for family visits. Walk through the gift shop for unique souvenirs. 
Located at 11 W. 53rd St. Open From 10:30 a.m. To 5:30 p.m. Adult admission. 
The Morgan Library and Museum
Explore Pierpont Morgan's three-story library, rotunda and study. The opulent interiors are a must for readers and Harry Potter fans since it looks like Hogwarts.
Located at 225 Madison Ave. Open Tuesday though Thursday, Saturday and Sunday from 10:30 a.m. to 5 p.m. and Friday from 10:30 a.m. to 7 p.m. Closed Monday. Admission based on age.
Museum of Mathematics
In a facility dedicated to math, learn how it provides structure along with pattern to the world. With hands-on exhibits learn about the importance of math in the everyday world.
Located at 11 E. 26th St. Open daily from 10 a.m. to 5 p.m. Admission based on age.
New York Public Library
Between the iconic stone lions, this building is the headquarters for New York Public Library. It opened in 1911 and is in the Beaux Arts style.  The steps in front of the buidling are also a popular place to eat a snack. Visitors can walk through the first four floors and the ground floor features rich architectural details.
Located at 476 5th Ave. Open Monday to Saturday from 10 a.m. to 6 p.m. Free to enter.
Radio City Music Hall
Next, tour the legendary theater and home to the Rockettes. After the Top of the Rock tour, stay at Rockefeller Center and tour Radio City Music Hall. Art Deco theater features rich architectural details from a bygone era along with some of Bob Mackie's Rockettes costumes.
Located at 1260 6th Ave. Tours are for private groups only at this time.  Reservations required.
Rockefeller Plaza
Walk through Rockefeller Plaza with seasonal displays, like the Christmas tree, ice skating rink, or summertime cafe. Promethus statue is another must during your visit to Rockefeller Plaza.
The LEGO Store feaatures  NYC landmarks built in LEGOs, a must for all ages.  Find a Food Hall inside of Rockefeller Center's concourse level. Free to enter. 
Located at 45 Rockefeller Plaza. Plaza. Open 24 hours a day.
Top of the Rock
With the some of the best views of Central Park, heading up to the observation area of the Rockefeller building  is also the best way to see landmarks like the Chrysler Building and Empire State Building.tickets online. A quick elevator ride later, explore three different floors all with incredible views.
Located at 30 Rockefeller Center. Open from 9 a.m. to 11 p.m.  Admission based on age. Reservations are a must during the busy season. A CityPass can be used for the Top of the Rock.
Roosevelt Tram
The bright red tram cars climb up and over the East River to get to Roosevelt Island. Get off and re-board to return to mid-town for some of the best views of Midtown.
Located at the intersection of 59th St. and 2nd Ave. Ride for free, if you purchased a MTA MetroCard for the subway, or $4 roundtrip.
St. Patrick's Cathedral
Regardless of religion, St. Patrick's is one of the pieces of architecture. Take a few minutes and walk through the Neo Gothic Cathedral in the center of midtown. During my last visit, I saw a girls' choir performing and the acoustics were unbelievable.
Located at Fifth Ave. Between 50th  & 51st St. Open daily from 9 a.m. to 5:30 p.m. Free to enter, though donations accepted. There is also an iPad-led audio tour available, narrated by Cardinal Timothy Dolan.
The Edge 
Not for everyone, though if the idea of standing on a glass floor 100 floors above the street below sounds fun, there's your chance. And there's more, you can harness up and climb on the outside of the building, 1,100 feet above the ground. The observation deck seems tame with its angled glass walls that allows visitors to lean against the glass and see below. Also find a champagne bar if you need a drink, before or after.
Note: The outdoor areas close in inclement weather.
Located at 30 Hudson Yards. Open daily from 8 a.m. to midnight. Admission based on age. Reservations are required.
The Vessel
A 16-story sculpture with 154 flights of stairs inner connected  with 80 landings. It was originally opened to the public in 2019 though it was closed in 2021, and remains closed.
Located at 20 Hudson Yard.
The Shed
Is a performance and display space for the creative arts ranging from performance art, to visual art to pop culture.
Located at 575 Hudson Yard
Times Square
As a top NYC destination, Time Square offers 24-7 lights and energy. Though head to Times Square in the evening or after a show to see just how bright it truly is.
Find street performers, art installations, shopping and dining.
Located at the intersection of Broadway and 7th Avenue. Always open and free to enter.
United Nations Headquarters
As the headquarters for the United Nations,  the complex includes gardens along with the General Assembly , the Secretariat and Conference Buildings. For an in-depth tour, reserve the guided one-hour tour (available in six languages)
Located at 46th St. and 1st Ave. Open Monday to Friday from 9 a.m. to 5 p.m. Admission for the tour is $22 for adults and $12 for kids 5 to 12 (kids under 5 not allowed on tours).
Read More
Top Places to go in Central Park
As the first landscaped public park in the U.S., the merchants and landowners wanted to develop an area like the ones of Paris and London for all to use. In 1853 money was designated to its developement and land in the center of Manhattan was acquired. With irregular terrain, the land was less desireable for development though home to farmers and their animals and crops.
In 1857, the park's commission selected Frederick Law Olmstead and Calvert Vaux. Many of the iconic details of the Central Park were part of their Greenward Plan. Thousands of workers reshaped the landscape and the park officially opened in 1859.
Alice in Wonderland Statue and Hans Christian Andersen Statue
Located near Conservatory Water on the east side of the park, kids can actually climb this bronze statue featuring Alice, the Mad Hatter and White Rabbit. The Hans Christian Andersen Statue is steps away. 
Located near E 74th St.
American Museum of Natural History
Hayden Planetarium
A sprawling museum that could take all day so hit the highlights, like the Hall of Dinosaurs, "Lucy" the early human, the giant blue whale. And then explore the Theodore Roosevelt Rotunda along with the Hall of North American Mammals. 
Carve out a little time for the Hayden Planetarium to learn more about the world beyond our atmosphere. It's located on-site and requires an additional timed ticket for a show.
The Natural History Museum offers a Museum Food Court on the lower level featuring family favorites. 
Located at Central Park West at 79th St. and Open from Wednesday to Sunday 10 a.m. To 5:30 p.m. Admission based on age. Reservations recommended. Planetarium an additional ticket. 
Belvedere Castle
As the highest point in Central Park the views are the draw. Originally designed by Central Park's architect, Frederick Law Olmstead who wanted a whimsical castle.
Located mid park at 79th St. Open from 9 a.m. to 7 p.m. during the summer and 10 a.m. to 5 p.m. for the rest of the year. Free 
Bethesda Terrance and Fountain
If limited on time, then head to Bethesda first. One of the original elements in Central Park, it was built in 1859. And the grand fountain, is one of the top NYC pictures.
Located at 72nd Transverse Drive (one of the roads that bisects the park).  
Bow Bridge
As one of the most romantic spots in NYC, Bow Bridge is a favorite with couples. Built in 1859, it's located mid park at 74th Street Transverse, west of Bethesda Terrace.
Central Park Carousel
A must for families, the 1908 Carousel is covered and features 57 horses. 
Located in south east corner of Central Park at 65th St. Open April though October from 10 a.m. to 6 p.m. Monday through Thursday and until 7 p.m. on Friday to Sunday. Admission is $3 per person, cash only.
Walking Tour
A whole day or more can be dedicated to exploring Central Park. Arrange a professional tour or DIY one. 
Central Park Zoo
This compact zoo can be explored in two hours, perfect for younger kids and babies. The highlights are the sea lions, penguins, snow monkeys and grizzly bears. Head to the adjacent facility, Tisch Children's zoo for more exploring with the littles.
Located at 64th St. and 5th Avenue and open daily from 10 a.m. to 5 p.m. (5:30 p.m. on Fridays and Saturdays) from first week of April through November and open until 4:30 p.m. for the rest of the year. Admission based on age. 
Chess and Checker House 
It is an official Central Park visitor center in the children's district. Though you will still find people playing board games on the table ringing the building.
Located at mid park at 64th Street.
Conservatory Water
Head to a charming area dedicated to the young-at-heart. Rent a wind-powered sail boat or just enjoy the scenery.
Located on the east side in-between 72nd and 75th streets. Free
DiMenna Children's History Museum
Geared towards older kids, learn about the 350 years of history on New York City along with the U.S. at large.
Located at 170 Central Park West. Open Wednesday to Sunday from 11 a.m. to 5 p.m. ( 8 p.m. on Friday). Admission based on age and 4 and younger enter for free. Timed entry reservation recommended.
Guggenheim Museum
Head to the top of the Frank Lloyd Wright masterpiece and meander down through the collection. Focusing on modern and contemporary art, it can be explored quickly. 
Located at 5th Avenue and 89th Street. Open Sunday through Wednesday and Friday from 11 a.m. to 6 p.m. and Saturday until 8 p.m. Closed Tuesday. Admission based on age.
The Dairy
With Swedish story book architectural elements, the Dairy harkens back to the time with the park had grazing animals. In the late 1800s, it was used by children and served milk and refreshments. Now it is a visitor center for Central Park.
Located just south of the 65th Street Traverser as it bisects the park.
The Imagine Mosaic in Strawberry Fields
Stroll this quiet zone and official peace park to honor the work of John Lennon. Along with his work with The Beatles, John Lennon advocated for peace. 
Located along Central Park West in-between 71st and 74th streets, in the shadow of his former home, The Dakota. 
Literary Walk
A formal promendade in the park, this wide and straight walk is lined with benches and American Elms. On the lower section of the walk, find statues to literary figures, like William Shakespeare. In addition, find the Women's Rights Pioneer Statue. It's lovely during all seasons.
Located from the 66th Street Traverse to the 74th Street Traverse.
Loeb's Boathouse 
It's a restaurant, cafe and bar along with rental rowboats, just north of Bethesda Terrace. One of the most photographed spots in Central Park. From April through November, boats can be rented by the hour ($20 a hour), weather permitting. Cash only.
Hungry? Head to Loeb Boathouse Café Express, next to the fancier Loeb Boathouse Restaurant, for drinks or an ice cream cone. Open 8 a.m. to 5 p.m. from Spring to Fall and open until 4:30 p.m. during the winter. 
Located at Park Dr. N at 72nd St.
The Metropolitan Museum of Art
A sprawling museum that will test the will of a toddler so head for the highlights. The Temple of Dendur on the first floor. Or head to the European Paintings on the second floor. See Vincent van Gogh, Henri Matisse and Andy Warhol. 
Cafes located in several locations for a break. Family guides available and special tours on select days. 
Located at 1000 5th Avenue. Open Sunday to Thursday from 10 a.m. to 5:30 p..m. and Friday and Saturday until 9 p.m. Admission based on age.
Playgrounds of Central Park
Kids live in NYC too. So sample some of the amazing playgrounds in Central Park that are sprinkled throughout the park.
Heckscher Playground
A favorite among locals and visitors alike. Find water play, climbing structure and swings in areas based on age. Located midpark in-between 61st and 63rd streets. 
Ancient Playground
This playground is better for museum goers. Take a few minutes so the kids can run and climb before or after exploring The Met. Located next The Metropolitan Museum of Art. 
Billy Johnson Playground
The draw at this playground is the granite slides. Go faster with a piece of cardboard. Find two slides, the original and faster one and a new shorter slide that accommodates kids of differing abilities. Located at 67th Street and 5th Avenue. 
Adventure Playground
A playground close to the American Museum of Natural Science with lots of climbing structures. A great spot to run out some energy before-or-after a museum visit. Located on the west side of the park at 67th Street.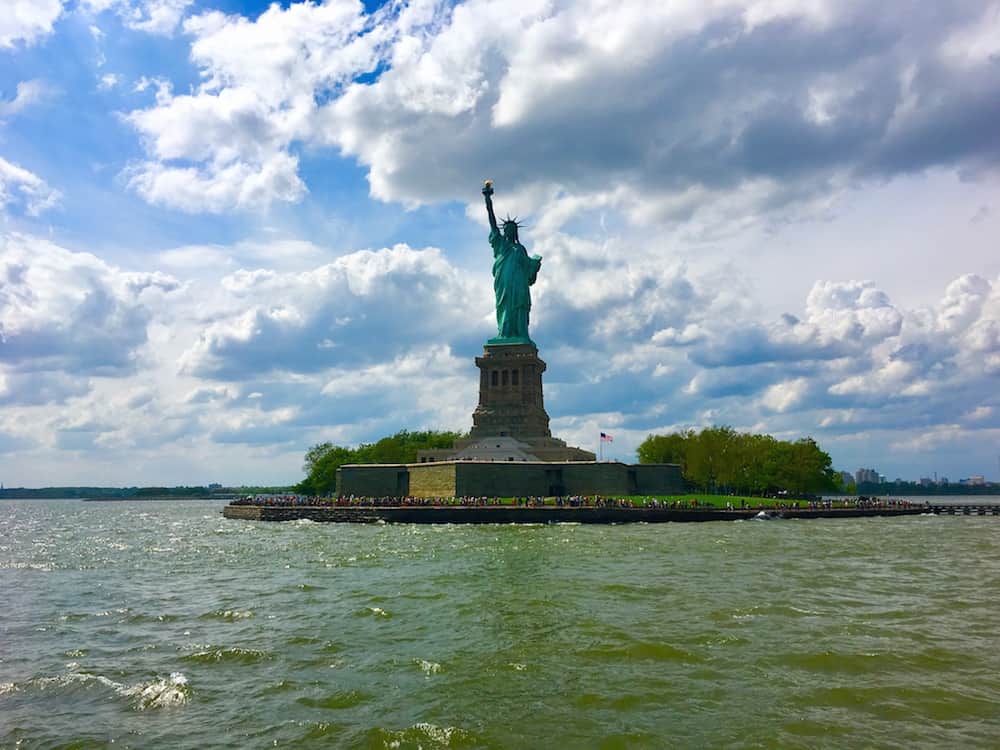 Top Places to go in Lower Manhattan
Statue of Liberty National Monument
As a symbol of freedom and liberty known world-wide, the Statue of Liberty sits on a 12-acre island in the middle of New York Harbor. For a first-time visit to NYC, visit the Statue of Libery. It's one of the top things to do in Lower Manhattan with kids. The trip will take half-a-day and it's a memorable experience seeing the details of Lady Liberty up close.
While on Liberty Island, learn about its construction in the museum. Then climb the 215 stairs to the top of the pedestal to capture views of downtown Manhattan (additional tickets required) along with the copper patina.
Operated by Statue Cruises, the ferry departs from Battery Park in Lower Manhattan (an additional ferry departs from New Jersey). Explore the Statue of Liberty first then re-board the ferry to tour Ellis Island, an additional stop. First ferry leaves at 9:30 a.m. and last one departs at 3:30 p.m. with extended hours during peak seasons. Ferry ticket required for everyone and  based on age. Reservations are required for the ferry and a special ticket is required for the pedestal. Food outlets available on Liberty Island along with lockers for items not allowed on the pedestal.
Ellis Island
From 1892 until 1954, Ellis Island welcomed 12 million immigrants to the United States. The Ellis Island Immigration Museum walks visitors through the facility that processed close to 5,000 people a day. While at Ellis Island, you can look up family names to see if they immigrated through Ellis Island.
To visit both the Statue of Liberty and Ellis Island, give yourself half the day. Reservations are a must and book in advance to visit the pedestal. A Junior Ranger Booklet is available. All passengers will go through airport-style security screening.
The National 9/11 Memorial and Museum
The outdoor memorial offers a peaceful fountain with the names of those lost along the perimeter of the fountain. It is lighted at night and the flow of water drowns out the sounds of city life.
Inside the 9/11 museum, a collection of artifacts, narratives, archives and interactive technology, remembers the 2,996 people that lost their lives on September 11, 2001. It retells the story of the tragic day along with the months of recovery. 
Located at 180 Greenwich St. The 9/11 Memorial is open from every day from 9 a.m. to 8 p.m. Free. The 9/11 Museum is open from Wednesday to Monday from 10 a.m. to 5 p.m. and admission based on age with reservations recommended. If you are visiting several museums during your visit, consider a CityPass.
Note: Due to the sensitive nature of the museum, skip it with small children.  
Battery Park
At the southern tip of Manhattan, Battery Park offers green space to explore with gardens, walkways and lots of views of the New York Harbor. Walk through the perennial gardens, the Battery Woodland and the Bosque Fountain during your visit. 
The playground is a kid magnet and offers some unique climbing structures as well as several assessible features. It is one of the top things to do in Lower Manhattan with kids. For snacks, food trucks line the streets next to Battery Park, or grab a snack at one of the kiosks in the park. 
Located at State St. and Battery Plaza. Free to enter. 
SeaGlass Carousel
Built in 2015, hop on a fish to whirl around the pavilion to classical music. This carousel moves up and down from the floor and twirls around in smaller circles so it feels like dancing. This is also one of the top things to do in Lower Manhattan with kids.
Located in Battery Park. Open seven days a week from 11 a.m. to 9 p.m. and admission is $5.50 per person.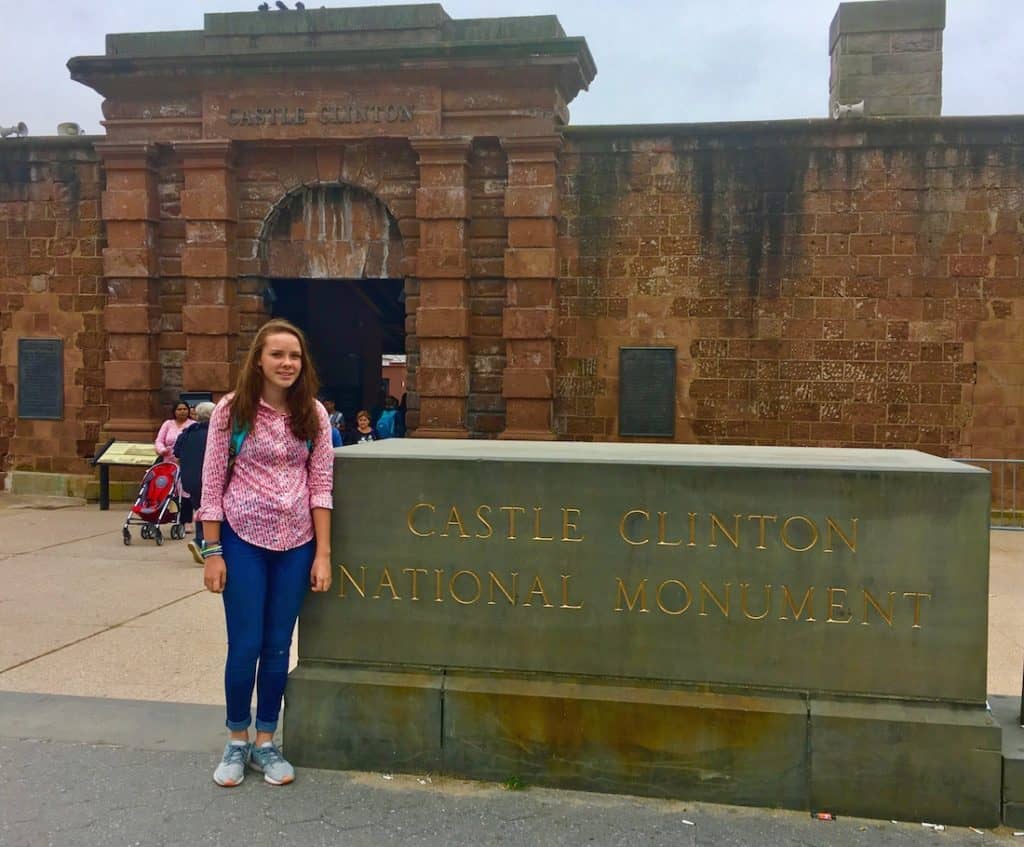 Castle Clinton National Monument
After visiting the Statue of Liberty, explore the Castle Clinton National Monument for more immigration history, located steps from the ferry dock. For war buffs in the family, it's also a fort from the War of 1812 with antique cannons.
Located in Battery Park and open seven days a week from 7:45 a.m. to 5 p.m. Free to enter. Juior Ranger booklets available.
National Museum of the American Indian
Located in the Alexander Hamilton Customs House, a Beaux Arts Building that's a National Historic Landmark, explore the New York branch of the Washington, D.C. Smithsonian museum. With 700 Native American artifacts and arts, it's part of the George Gustav Heye collection, started in 1903. This museum is organized geographically and includes items from North American as well as South and Central America.
Located at 1 Bowling Green. Open Daily from 10 a.m. to 5:30 p.m. Free to Enter and reservations not Required
South Street Seaport Museum
Learn about the rise of NYC and its role as a port city. The South Street Seaport Museum offer five historic vessels. Tour the Ship Wavertree and the Lightship Ambrose, located nearby.
Located at 12 Fulton St. Open Wednesday through Sunday from 11 a.m. to 5 p.m. Closed Monday and Tuesday. Admission based on age. Harbor cruises are available and require a separate ticket.
Staten Island Ferry
Tight on time but want to get a closer view of the Statue of Liberty without taking the official tour. Then hop the Staten Island Ferry offering passenger service. Departing every 15 to 30 minutes, it's a free harbor cruise. Since it's free, it's one of the top things to do in Lower Manhattan with kids.
Located in Battery Park. Open seven days a week and 24-hours a day.
NYC Ferry at Wall Street
For the Wall Street Ferry Port, you can catch a ferry to popular spots like DUMBO, Governors Island and even Midtown and the Upper East Side along with several locations in Queens and Brooklyn. With open air decks, it's a run ride with exceptional views of Lower Manhattan.
Located at South Street at Pier 11. Ferries run from 6 a.m. to 10 p.m. It's $2.75 to ride one way and tickets (or the app) are available at the ferry dock.
Brooklyn Bridge
Walk over the first bridge that spanned the East River, started in 1870 it was completed in 1883. The towers feature Gothic Revival Towers made of limestone and granite with a pedestrian walkway above the vehicle traffic below. In total the Brooklyn Bridge is 1.1 miles long and the DUMBO area offers lot of dining and acitivities. Best of all, you can take the ferry back to Manhattan.
Oculus-World Trade Center
As a transportation hub, retail and dining area along with stunning work of architecture, the Oculus is modern version of Grand Central Terminal. Designed by Santiago Calatrava, visitors should enter from the street level to see the volumous space Calatrava created. For the exterior, it's meant to look like a dove flying from a child's hands.
Underground,find several NYC subway lines as well as PATH trains to New Jersey.
Located at the intersection of Fulton St. and Greenwich St. Free to enter and open daily from 5 a.m. to 1 a.m.
One World Observatory
Rising up in lower Manhattan, head to the 102nd floor of the 1 World Trade Tower for a view of lower Manhattan along with the New York City harbor. Anchoring the revitalization area most effected by 9/11, this building offers a guiding light to the future especially as the sun sets and glass glows.
Located at 180 Greenwich St. Open from 9 a.m. to 9 p.m. most days. General admission is $35.
East Side Tenement Museum National Historic Site
Walk through history in a preserved tenement building on the Lower East Side. Tour the building that housed 7,000 working class immigrants from 1863 until 1935. Though not great for younger kids, my teen really enjoyed this museum. It's one of the top things to do in Lower Manhattan with older  kids.
With specialized tours focusing on Irish immigrants, Jewish immigrants and sweatshop workers along with neighborhood tours, get an understanding of an immigrant's life over a hundred years ago.
The Visitor Center at 103 Orchard St. Open every day from 10 a.m. to 6:30 p.m. Admission based on age.
New York City Fire Museum
As the official museum of the New York City's Fire Department, learn about its history in the 1904 firehouse. See the antique equipment, some of it horse-drawn. Then take a moment to reflect at the  NYCFM 9/11 Memorial that honors the 343 fallen firefighters.
Located at 278 Spring St. Open every day from 10 a.m. to 5 p.m. Admission based on age.
Fearless Girl Statue
Looking the Charging Bull in the eyes, Fearless Girl, gathered international attention. But she's moved to outside the New York Stock Exchange, looking up at the building.  The bronze statue is a beacon for strong-willed girls worldwide. 
Located at 11 Wall St. Free
Federal Hall National Monument
Located on Wall Street, this building served as the first Capitol of the United States, the Supreme Court and the Executive Branch offices. George Washington took the oath of office as the first President of the United States at Federal Hall as well.
The visitor center is located at the Pine Street entrance. The Federal Hall National Monument is open Monday through Friday from 9 a.m. to 5 p.m., and during the summer, it's open Saturdays as well. Free to enter.
Little Island
Created from piers, Little Island is one of the newest areas to explore in Lower Manhattan. Located at Pier 55, the island and its gardens appear to float about the water. Enjoy a stroll to its high point for views of the Hudson or attend a live performance. It's one of the top things to do in Lower Manhattan with kids since they like exploring island with its winding walkways.
Located at West 13th St. at Hudson River Park. Opens daily at 6 a.m. and closed at midnight during the summer, 11 p.m. in the spring and fall and 9 p.m. during the winter. Free to enter.
Whitney Museum of American Art
Anchoring the southern end of High Line Park, The Whitney showcases contemporary art from the 20th and 21st century with a focus on living artists. 
Located at 99 Gansevoort St. Open every day from 10:30 to 6 p.m. during the summer. Closed on Tuesday during the school year. Admission based on age.  
African Burial Ground National Monument
Learn about the final resting place of more than 400 African-Americans in lower Manhattan. A mass burial site from the 17th and 18th century retells the story of free and enslaved people in colonial New York.
The visitor center is on first floor of the Ted Weiss Federal Building at 290 Broadway in lower Manhattan. The Visitor Center and Memorial are open Tuesday through Saturday from 10 a.m. to 4 p.m.  Free to enter.
Chelsea Market
On the main floor, locals and tourists traise through for standards like Sarabeth's, Los Tacos No 1,  L'Art del Gelato amoung others. The tables might be limited at peak times.
Located at 75 9th Ave.
Friends Apartment 
In the iconic TV show from the 1990s, the outside of this building was featured as their apartment building. It is located at 90 Bedford St.
Where to Stay
Disclosure: Consideration for brands mentioned.