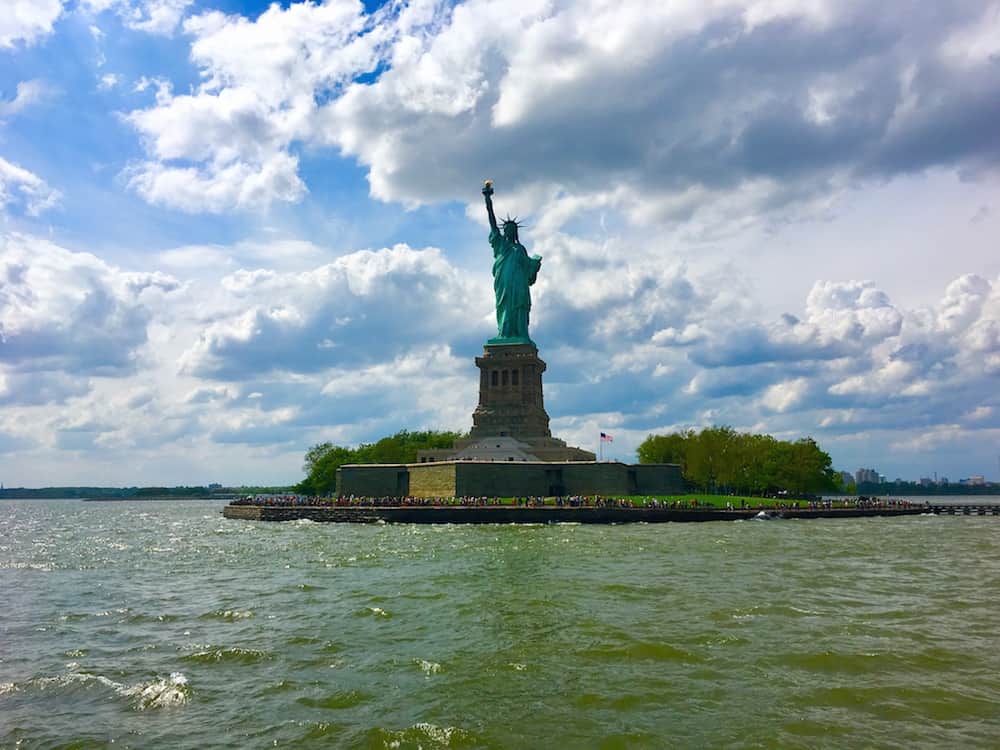 Best New York City National Parks with Kids
New York City offers a family getaway packed with the arts, history and every food imaginable. It's one of my top family destinations since there's so much to see. Of course, New York City offers more museums that most families can explore in a week though most don't know about the national parks. So here's a list of the best New York City National Parks with kids.
Read More 
Statue of Liberty National Monument
As a symbol of freedom and liberty known world-wide, the Statue of Liberty sits on a 12-acre island in New York Harbor. Tour the museum to learn about the statue's construction or climb the stairs to tour the pedestal base or crown (additional ticket required).
First take the ferry, operated by Statue Cruises, that departs from Battery Park in Lower Manhattan or Liberty State Park in Jersey City, New Jersey, to explore the Statue of Liberty. First ferry leaves at 9:30 a.m. and last one departs at 3:30 p.m. with extended hours during peak seasons. Tickets required and reservations are must.
Ellis Island
From 1892 until 1954, Ellis Island welcomed 12 million immigrants to the United States. So the Ellis Island Immigration Museum walks visitors through the facility that processed close to 5,000 people a day.
Ellis Island is part of the Statue of Liberty National Monument. Since it's a separate island in New York harbor, the only way onto the island is by the Statue Cruises ferry, an additional stop. No additional fee is required to tour and hours are the same as the Statue of Liberty, open from 9:30 a.m. to 3:30 a.m.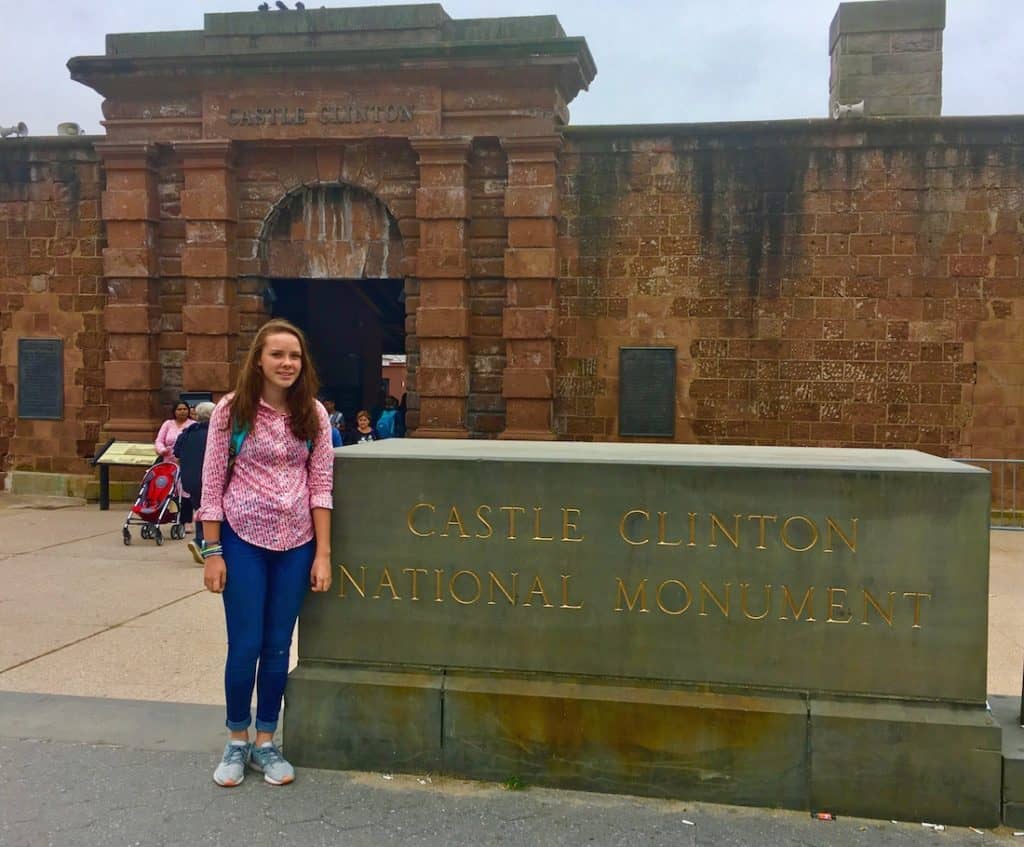 Castle Clinton National Monument
Located next to the Statue of Liberty's ferry dock, a sandstone fort became the first immigration station. Before Ellis Island opened, 8 million people passed through Castle Clinton. Originally built from 1808 to1811 as a fort, the building transitioned from defense to immigration.
Located in Battery Park at the tip of lower Manhattan, the Castle Clinton National Monument is open seven days a week from 7:45 a.m. to 5 p.m. Free to enter.
Read More
Federal Hall National Monument
Located on Wall Street, this building served as the first Capitol of the United States, the Supreme Court and the Executive Branch offices. George Washington took the oath of office as the first President of the United States at Federal Hall as well.
The visitor center is located at the Pine Street entrance. The Federal Hall National Monument is open Monday through Friday from 9 a.m. to 5 p.m. During the summer, it's open Saturdays as well. Free to enter.
Lower Eastside Tenement Museum National Historic Site
Walk through history in a preserved tenement building in the Lower East Side. Tour the building that housed 7,000 working class immigrants from 1863 until 1935. With specialized tours focusing on Irish immigrants, Jewish immigrants and sweatshop workers along with neighborhood tours, get an understanding of an immigrant's life over a hundred years ago.
Visitor center is located at 103 Orchard St. and open every day from 10 a.m. until 6:30 p.m. (8:30 p.m. on Thursdays). Reserve tours in advance and admission varies according to tour.
African Burial Ground National Monument
Learn about the final resting place of more than 400 African-Americans in lower Manhattan. A mass burial site from the 17th and 18th century retells the story of free and enslaved people in colonial New York.
The visitor center is on first floor of the Ted Weiss Federal Buildingat 290 Broadway in lower Manhattan. The Visitor Center is open Tuesday through Saturday from 10 a.m. to 4 p.m. and the outside memorial open until 5 p.m. Free to enter.
Governor's Island National Monument
Quietly protecting New York City, Governor's Island served as a military post and command headquarters from 1794 until 1966. Then served as a U.S. Coast Guard command unit. Finally Governor's Island hosts seasonal summer events.
Located in the New York Harbor, take a ferry (adults $2 and kids under 13 free) from Battery Maritime Building or Pier 6 in Brooklyn.
Read More 
General Grant National Memorial
Visit the largest mausoleum in North America at the General Grant National Memorial. Former President Ulysses S. Grant and his wife, Julia, reside in the 1897 granite and marble tomb.
Located on Riverside Drive and 122nd Street, the visitor center is open from Wednesday to Sunday from 9 a.m. to 5 p.m. Free to enter.
Hamilton Grange National Memorial
Tour the historic country home of Alexander Hamilton, first Secretary of the Treasury. Named after his ancestral home in Scotland, "The Grange" now resides St. Nicholas Park.
Open from 9 a.m. to 5 p.m. Wednesday through Sunday, Hamilton Grange National Memorial offers tours. Free to enter.
Stonewall National Monument
Visit the first national monument dedicated to LGBT rights in the West Village. At the site of the Stonewall Riots on June 28, 1969, the Stonewall National Monument received its national monument designation in 2016.
As a new monument, Stonewall National Monument doesn't offer a visitor center yet. Though the monument includes Christopher Park, located across the street at the intersection of Christopher Street and W. 4th St.
Theodore Roosevelt Birthplace National Historic Site
Walk through a Victorian era townhouse where Theodore Roosevelt, the 26th U.S. president, spent his childhood. With five decorated rooms, learn about how "Teddy", a sickly child, used exercise to strength his body and spirit.
Located at 28 E. 20th St. the Theodore Roosevelt Birthplace National Historic Site is open Tuesday through Saturday from 9 a.m. to 5 p.m. Free to enter.
What to do with Kids at National Parks
The Junior Ranger Program is the go-to program for families to learn more about a National Park Service site. It's free and takes about two hours to complete. My kids love the badges that the Rangers present them after completing their booklet.
Most national park sites in New York City offer Junior Ranger Programs. Ask a ranger at the visitor center for a booklet to complete, based on age.
Read More
Know Before You Go
Make reservations for the Statue of Liberty as soon as possible, especially for pedestal and crown access. During the busy summer season, tickets sell out months in advance.
For the ferry ride to the Statue of Liberty, visitors pass through airport like security. To tour the pedestal and crown, visitor can't carry backpacks though lockers are available for rent.
And give Statue of Liberty and Ellis Island at least half-a-day to tour.
More Information
I recommend the following guides and maps to help plan for your trip.
This post contains affiliate links. Consideration for brands mentioned.