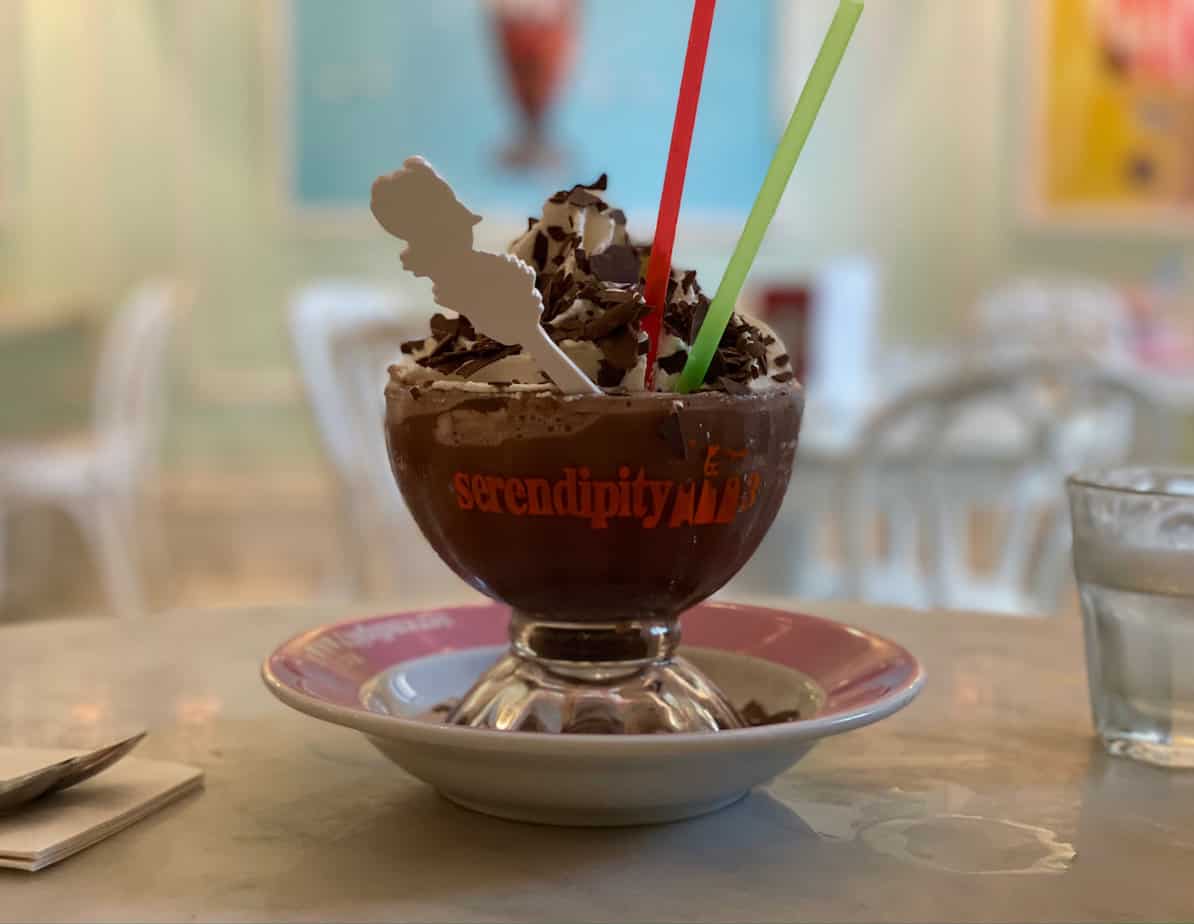 A trip to New York City is fabulous for teens. My teens enjoyed the energy of NYC and there is so much to see. With  the museums just steps from the Broadway Shows,  there are lots to do during a trip.  After living in the city in my 20s, I love to return with my teens. However after several NYC trips , one thing that is always an issue is finding somewhere to eat that doesn't break the bank, especially with kids that could care less about food. Good news, there are lots of places to find food kids will eat.  I'm sharing my list of the best places to eat in NYC with teens.
Places to Eat in NYC with Teens
No judgment but feeding teens can be tricky, especially in a group. Some have allergies or other food restrictions and some teens are just plain picky.  I have planned several trips to NYC, including a  youth group trip to NYC. It is one of the toughest things to plan, especially when you are eating out several times a day.
Remember, NYC hotel rooms are small and mini-fridges are widely available. I also have a rule. We don't eat at places we can eat at home. Unless a restroom break is needed, then we definitely slip into Starbucks or McD's for a drink and restroom break.
Note: Expect to ask for a key or code to use the restrooms in NYC.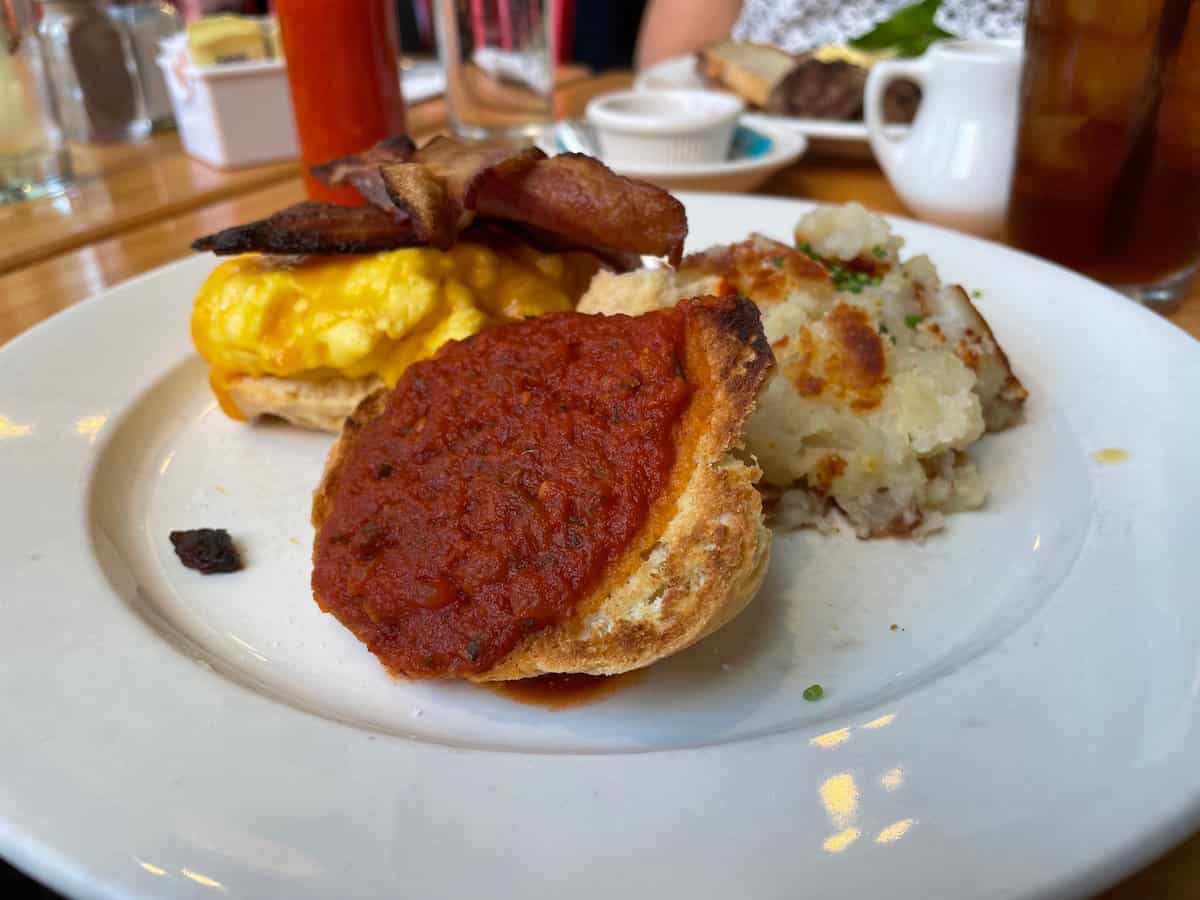 Where to Eat Breakfast in NYC
Trip to NYC can be exhausting with a lot of walking each day. So Breakfast is important. Most hotels in NYC don't offer the free breakfast option that many hotels do in other destinations. However, I've found lots of places to eat in NYC for breakfast with kids, especially if they like baked goods. Here are the best places to eat in NYC with teens.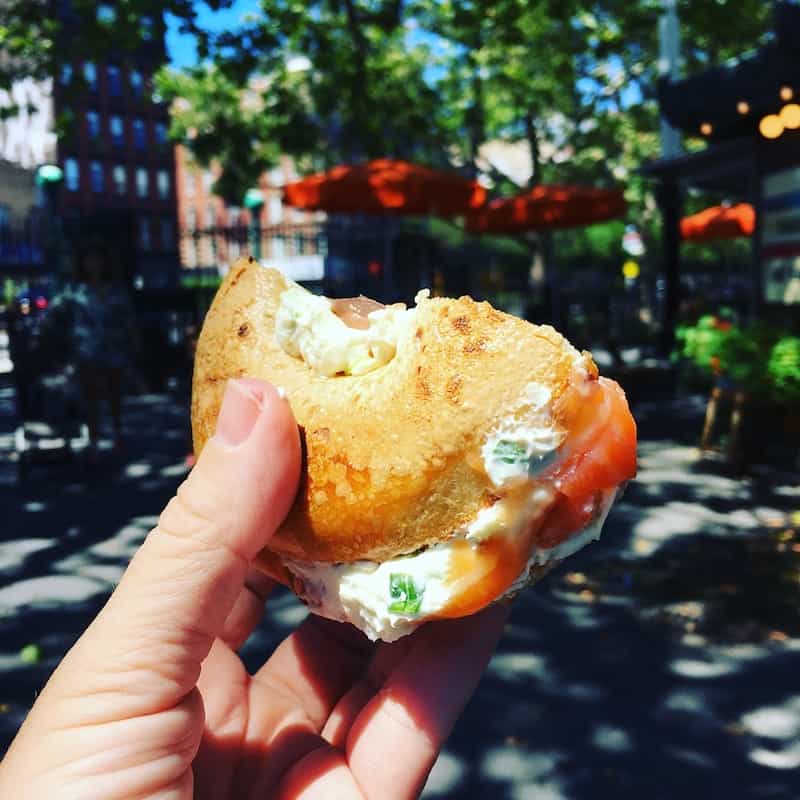 Top NYC Bagels 
A bagel is a must for NYC and not all bagels are the same. I recommend making the effort to sample some of the best bagels in the city. As a bonus, most kids will eat a bagel and it's filling enough to hold teens until lunch. Best of all, they are fairly cheap and can be eaten on the go or throw in a backpack for later.
For about $4 you get a bagel schmeared with flavored cream cheese. For $15 you can get melt-in-your-mouth smoked salmon with scallion cream on a toasted everything bagel, my favorite. Order a regular coffee (NYC term for coffee with cream and sugar) to complete your breakfast. However, bagel shops offer juice, soda and bottled water for non-coffee drinkers.
Absolute Bagels
Located at 2788 Broadway in the Upper West Side and open daily from 6 a.m. to 7 p.m.
Russ and Daughters
Located at 179 E. Houston in the Lower East Side and open daily from 8 a.m. to 4 p.m.
Ess-A-Bagel
Locations:
108 W. 32nd St. and open from open daily from 6 a.m. to 5 p.m.
831 3rd Ave. and open from open daily from 6 a.m. to 5 p.m.
Time Out Market at 55 Water St. in Brooklyn and open daily from 8 a.m. to 4 p.m.
Zabar's Cafe
Located at 2243 Broadway St. and open daily from 8 a.m. to 5 p.m. (9 a.m. on Sunday).
Murray's Bagels
Located at 500 6th Ave in Greenwich Village and open daily from 6 a.m. to 4 p.m. (7 a.m. on Saturday and Sunday).
Don't forget to grab a black-and-white cookie, it's a NYC icon. Easily shared and available at most delis and bakeries.
Other Places for Breakfast in NYC
Bagels are great. And the best bagels are the best. However there is more to breakfast in NYC.
Clinton Street Baking Co. and Restaurant
Its pancakes are legendary. The menu offers traditional breakfast items, like eggs-to-order, pan-fried potatoes and biscuits as well.  Arrive when it opens for easier seating; expect a wait on weekends and after 10 a.m.
Located at 4 Clifton Street. Open daily from 9 a.m. to 10 p.m. with a break from 4 p.m. to 5:30 p.m. most days.
Dominique Ansel Bakery
This bakery in Soho in SoHo ( South of Houston) is famous for the cronut.  It's a cross between a donut and a croissant. Our group didn't like it since it's way too sweet. Order its other croissants and baked goods instead and ignore the sometimes snotty counter help.
Located at 189 Spring Street and open daily from 8 a.m. to 7 p.m.
Balthazar 
If you want a special treat on your trip and the budget isn't a concern, Balthazar is an iconic French-style brasserie that serves an excellent breakfast. Inside, diners will find polished brass, hex tile on the floor and waitstaff in white shirts with black ties. The menu ranges from pastries to oysters from the raw bar along with coffee drinks and Bloody Mary's. There's quiche, eggs Benedict and more.
It is also an excellent option for dinner. Its menu is packed with French favorites, like Steak Frites.
Located at 80 Spring St. and open daily from 8 a.m. to close (9 a.m. on Saturday and Sunday). Brunch is served from 9 a.m. to 4 p.m. Reservations are recommended.
Best Burgers in NYC for Teens
I've got three kids and they love their burgers.
Shake Shack
With locations across the city, it's a place to grab a burger, a shake and an order of fries. It even sells wine and beer in the can for parents who need a break. The burger are fresh and made to order but I found lines at all hours. So check out its an app.
Locations across the city and open for lunch and dinner.
P.J. Clarke's
Opened in 1884, it's a bar with a legendary burger. Best for a casual dinner with the whole family. There are several locations; however the original is the best.
Located at 915 3rd Ave. and open daily from 11:30 a.m. to midnight.
Other locations include: 44 W. 63rd St., 250 Vesey St.
Food Halls across New York City
Consider a food hall to find your group with a selection of quick service outlets that share a common dining space. I relied on food halls to feed my teens because they can pick and purchase what they wanted. As a bonus, food halls offered lots of seating and tipping is not required. I found some of the top chefs from around the globe offered their quick-service concepts in the food halls.
Chelsea Market
On the main floor, locals and tourists traipse through for standards like Sarabeth's, Los Tacos No 1,  L'Art del Gelato amoung others. The tables might be limited at peak times.
Located at 75 9th Ave.
Hudson Eats
Located at 239 Vesey St. in Brookfield Place.
Gotham West Market
Find long tables for dining, and I grabbed pizza from Corner Slice.
Located at 600 11th Ave.
Grand Central Terminal's Dining Concourse
Walk through the transportation hub and enjoy the Beaux-Arts building before herding the teens downstairs to eat. I found lots of options, including Shake Shack.
Located at 89 E. 42nd St.
Rockefeller Food Court
The Under 30 area offers a host of places that are under $30  and include unique shopping as well.
Located on the lower level at 30 Rockefeller Plaza.
Time Out Market in Dumbo
If you're headed to Brooklyn, then grab a bite with options like Ess a Bagel, Sugar Hill Creamery and more.
Located at 55 Water St.
Best NYC Museum Eats
After breakfast, we head to a museum most days since New York offers some of the best museums in the U.S. Most museums offer cafés for a quick bite while exploring their collections. I found this to be a convenient option to feed the kids though sometimes the offerings are limited and a bit pricey.
Museum of Modern Art (MoMA)
The MoMa offers several restaurants though Café 2 is the most kid-friendly. With a seasonal menu prepared by a chef, we enjoyed one of its paninis and a salad. Snacks are available in the courtyard as well. 
Located at  11 W. 53rd St.
The Metropolitan Museum of Art (The Met)
With several restaurants, The Eatery on the ground floor offers the best option for kids. We enjoyed grab-and-go salads and soup during our visit.
Located at 1000 Fifth Avenue.
Solomon R. Guggenheim Museum
 Features a small coffee bar with snacks at its Cafe Rebay overlooking Central Park. 
Located at 1071 Fifth Avenue,
The American Museum of Natural History
Find a Food Court on the lower level featuring family favorites. During our visit we enjoyed salads though pizza, burgers, sandwiches and a selection of desserts are available.
Located at Central Park West at 79th St.
Best Delis in NYC
No trip to New York City is complete without sampling a pastrami on rye. Then slurp some matzo ball soup and finish it off with a black and white cookie. It's one of the best places to eat in NYC with teens.
Katz Delicatessen
An icon. The pastrami on rye sandwiches are pricey but they are stacked full of meat. If it's your first visit, grab a seat in the back with table service.
Located at 205 E. Houston St.
Barney Greengrass
Serving sandwiches since 1908, it's a time capsule.
Located in the upper west side at 541 Amsterdam Ave. Doesn't take credit cards. 
Best Pizza in NYC
Lots of pizza joints come and go, basically there's pizza on every corner. Here are some of the iconic pizza places that have been around for generations. 
John's of Bleecker Street
Serving pizza by the slice since 1929. And it's sold by the pie only.
Located at 278 Bleecker St. 
Joe's Pizza
This West Village joint started baking pies in 1975 and now offers several locations.
Located at 7 Carmine St. 
Lombardi's Coal Oven Pizza
It opened in 1905 and is the oldest pizza joint in NYC.
Located at 32 Spring St. 
Arturo's Coal Oven Pizza 
It's less popular with tourists and opened its doors in 1957.
Located at 106 W. Houston St. 
Prince Street Pizza
This pizza joint serves up square pies.
Located at 27 Prince St. A
Sal and Carmine's Pizza
Because you want to tell the friends back home that Sal made your pizza.
Located at 2671 Broadway in the Upper West Side.
Hotdogs, Pretzels and Food Carts
A NYC hotdog topped the kids' list and as a budget bonus, hotdogs are super-cheap. Not particularly healthy or vegetarian but they're a New York City icon and one of the best places to eat in NYC with teens.
Gray's Papaya
Featured in several movies and a must-do for movie fans, find hotdogs and fresh fruit juices. Hot dogs start at $2.95 a piece I found standing room only.
Located 2090 Broadway St. at 70th St,
Nathan's Famous Hotdogs
It offers several locations and carts across the city. The original is located in Brooklyn's Coney Island at 1310 Surf Ave. 
Chelsea Papaya

 
Located at 171 W. 23rd. St. #1
Hotdog Cart
Find one along most streets in NYC and especially Central Park. Grab a hotdog, a drink and even a pretzel.
The Halal Guys
Another food cart that serves up Mediterranean food, from lamb kebabs to falafel. It often has a line. There are now locations across the city (and the U.S.).
Located at W. 53rd St. at 6th Ave., 307 E. 14th St., 31-10 Thompson Ave.
More Places to Eat in NYC with Teens
Serendipity 3
If deserts are your thing, then a trip to Serendipity 3 needs to be on your itinerary. Its frozen hot chocolate is what brings the families through the door. Order one for the table and share it. It's sweet but decadent. The entrees are good with a kid-friendly menu.
Located at 225 E. 60th St. Reservations recommended.
Junior's Restaurant and Bakery
 It's a diner with amazing cheesecake. For my family, it's a tradition to have cheesecake after a Broadway Show. The cheesecake is available to go and holds well.
Located at 1515 Broadway and 1626 Broadway.
Ellen's Stardust Diner
Find a  kid menu, not the norm for NYC restaurants. And the waitstaff sings while serving up diner fare.
Located in Times Square at 1650 Broadway. 
Tom's Restaurant
It's the backdrop for Seinfeld fans.
Located at 2880 Broadway near Columbia University.
Xi'an Famous Foods
With several locations across the city, the hand-pulled noodles are the go-to item. For the foodies, I enjoyed the spicy cumin lamb hand-ripped noodles. Knocked me over into a carb-induced coma but worth it.
Locations: 96 8th Ave., 45 Bayard St., 328 E. 78th St., 8 Liberty Place and 328 E. 78th St.
Best Desserts in NYC
Walking in NYC is exhausting, I recommend frequent dessert stops. I found lots of super yummy desserts for under $10 and available to-go.
Magnolia Bakery
Known for its cupcakes and its banana pudding is a must for fans. Though I loved the individual cheesecakes too. The shops are girly-cute and some offer seating.
Locations: 401 Bleeker St., 838 8th Ave. in the Moynihan Train Station, 89 E. 42nd St. in the Grand Central Terminal, 1794 Broadway at 58th St., 200 Columbus Ave., 20 Hudson Yards level 4, 1240 Avenue of the Americas at Rockefeller Center, 1000 3rd Ave. in Bloomingdale's.
Milk Bar
This is the place that made Cereal Milk a thing. Try it and decide if it's your thing.
Located at 1196 Broadway, 561 Columbus Ave., 246 Mott St., 251 E. 13th St., 74 Christopher St., 1196 Broadway St.
La Maison Du Chocolate
Your home for divine chocolate. I sampled their èclair and angels sang. Skip it for the teens since they will eat it in one bite and the chocolate angels will cry.
Locations: 1018 Madison Ave., 30 W. 49th St., 10 Columbus Circle. 383 W. 31 St. Unit 56 in Penn Station,
Lady M Confections 
Sample a crêpe cake, like the signature mille crêpes cake with layer after layer of crêpey goodness. The best thing I ate in the city but I love my desserts.
Locations: 41 E. 78th St., 36 W. 40th St., 1178 Broadway, 30 Rockefeller Plaza, 101 Liberty St. Ste 1415.
Épicerie Boulud
Chef Daniel Boulud's quick service outlet tempted me with an assortment of desserts. I choose the raspberry pistachio tart, a tiny work of food art. Also a good stop for breakfast or lunch.
Locations: 1900 Broadway at 64th St., 1 Vanderbilt Ave. at 42nd St., 185 Greenwich St.
Ladurée
Sample the delightful French macarons for an afternoon treat. I loved the rose and orange blossom macarons the best. Grab some macarons to go in a pretty box for a souvenir.
Locations: 398 W. Broadway in SoHo, 864 Madison Ave., 76 Thompson Ave., 20 Hudson Yards, 10 Columbus Circle, 421 8th Ave. at Penn Station,
Ferrara Italian Bakery
Get your cannoli and cappuccino fix with table service. Or grab a gelato from its walk-up counter and walk around Little Italy.
Located 195 Grand St. in Little Italy.
Best Ice Cream in NYC
Sometimes the best places to eat in NYC with teens are ice cream shops, especially in summer.
Soft Swerve 
It's an Instagram sensation that topped my teen's must-eat list. Ube, a purple root vegetable from the Phillipines, is the flavor of choice here. My daughter had to try it so we stopped by. Not my thing but the kids loved it.
Located at 85B Allen St. in Chinatown, 379 3rd Ave., 85 Bayard St.
Mr. Softee
Often imitated, the Mr. Softee trucks are a part of the street landscape of NYC. Take a moment and enjoy a cone while you explore.
Trucks across NYC.
Van Leevwen Ice Cream
It offers vegan ice cream as well as unique flavors, like the Mac-n-Cheese.
Locations: 48 1/2 E. 7th St., 20 Hudson Yards, 172 Ludlow St., 120 Macdougal St., 432 3rd Ave., 45 Spring St., 1250 6th Ave., 224 Front St., 61 W. Houston St., 1625 2nd Ave., 448 Amsterdam Ave., 253 Columbus Ave., 152 W. 10th St., 310 Greenwich St.
Places to Eat in NYC with Teens at DUMBO Brooklyn Bridge
During our trip, we walked across the Brooklyn Bridge to add another borough to our list. If that sounds arduous, take the ferry for $2.75 for a fun and economical way to get to Brooklyn.
Grimaldi's Pizza
Your destination for a coal-fired pizza.  Make reservations for larger crowds since tables seating more than four are hard to get.
Located at 1 Front Street and it has locations across the U.S.
Brooklyn Ice Cream Factory
This Brooklyn Heights favorite makes its ice cream in-house with traditional flavors.
Located at 14 Old Fulton St.
Time Out Market
Grab a bite with options like Ess a Bagel, Sugar Hill Creamery and more. It has lots of tables.
Located at 55 Water St.
Know Before You Go:
Public restrooms are hard to find. Even McDonald's requires a purchase so buy a bottled water and take a scheduled potty break.
Pack hand sanitizer, hand wipes and bleach wipes to clean up everything from hands to tables.
Where to Stay