The kids voted and they want to head to New York City for their teen trip. I couldn't wait to get there until I realized I would have to feed them regularly on a budget. Since I used to live in NYC, I had a few ideas. But I still had to research so I'm sharing my list of where to eat in NYC with teens on the cheap.
Our Trip to NYC
Years ago, our scout group decided to go to New York City when they graduated from eighth grade. So after raising money for years, our group boarded a plane for NYC.
Since urban travel skills and traveling on a budget topped our travel lessons list, we booked a week at a hostel.Hosteling International's Hostel on the Upper West Sideprovides private rooms for youth groups under 18 with bathrooms down the hall and an inexpensive café.
Our teens came up with a list of must-dos and then I added notable buildings and museums. Since our budget was tight, we bought NYC MetroCards and used the subways along with ferries and the tram to get around.
Where to Eat in NYC with Teens
Feeding teens can be tricky. Some have allergies or other food restrictions and some teens are just plain picky.
For youth group trips, the budget offers additional restrictions as well. Then the space needed to accommodate a teen group for meals offers more challenges in NYC where space is limited, especially in restaurants.
Breakfast
Our hostel offered a traditional breakfast for an additional charge. Though we wanted to sample some of the best bagels in the city.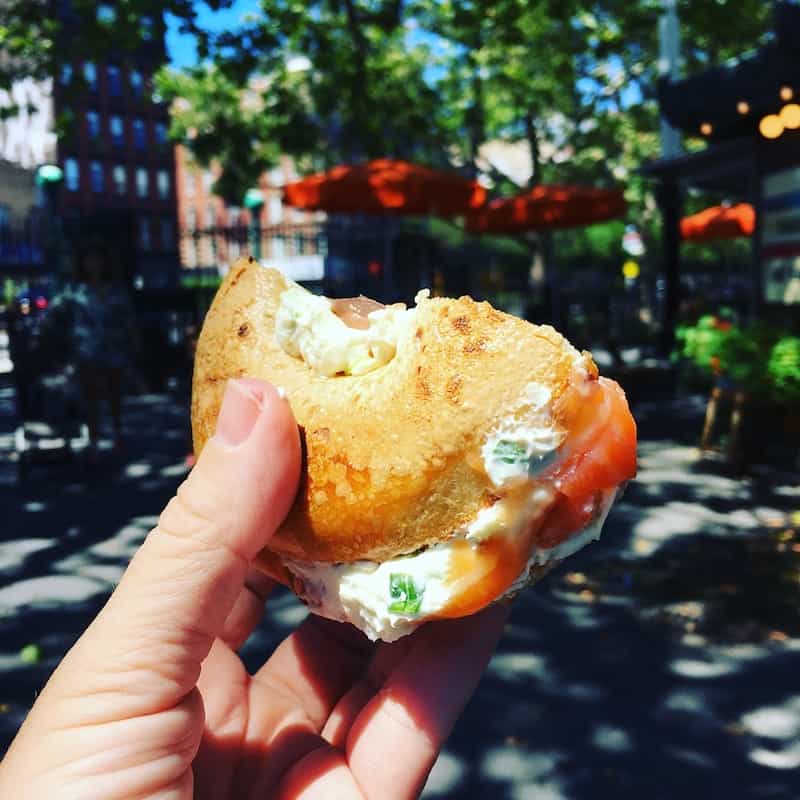 Top Bagels and More
A bagel is a must for NYC and not all bagels are the same. I recommend making the effort to sample some of the best bagels in the city. As a bonus, most kids will eat a bagel and it's filling enough to hold teens until lunch.
For about $3 you get a bagel schmeared with flavored cream cheese. For $10 you can get melt-in-your-mouth smoked salmon with scallion cream cream on a toasted everything bagel, my favorite. Order a regular coffee (NYC term for coffee with cream and sugar) to complete your breakfast. Though bagel shops offer juice for non-coffee drinkers.
Try one of the following for the best bagels in Manhattan.
Absolute Bagels, located at 2788 Broadway in the Upper West Side.
Russ and Daughters, located at 179 E. Houston in the Lower East Side.
Murray's Bagels, located at 500 6th Ave in Greenwich Village.
Dominique Ansel Bakery, located 189 Spring Street in SoHo (NYC term for South of Houston), is famous for the cronut. But skip it since it's way too sweet, even for my teen. Order one of their other croissants instead and ignore the sometimes snotty counter help.
Museum Eats
After breakfast, we headed to a museum most days since New York offers some of the best museums in the U.S. Most museums offer cafés for a quick bite while exploring their collections. I found this to be a convenient option to feed the kids though sometimes the offerings are limited and a bit pricey.
Museum of Modern Art (MoMA), 11 W. 53rd St., offers several restaurants though Café 2 is the most kid-friendly. With a seasonal menu prepared by a chef, we enjoyed one of its paninis and a salad.
The Metropolitan Museum of Art (The Met), 1000 Fifth Avenue,offers several restaurants though The Great Hall Balcony Café offers the best option for kids. We enjoyed a grab-and-go salad and soup during our visit.
Solomon R. Guggenheim Museum,1071 Fifth Avenue, features a small coffee bar with snacks at its Café 3.
The American Museum of Natural History, Central Park West at 79th St.,offers several restaurants though the Museum Food Court on the lower level features family favorites. During our visit we enjoyed salads though pizza, burgers, sandwiches and a selection of desserts are available.
The Loeb Boathouse Express Café, East 72nd and Park Drive North, offers another option close to several museums in Central Park. With breakfast items, burgers, soups and salads along with my favorite soft-serve ice cream, I found lots of outdoor seating for feeding a group of kids.
Food Halls across New York City
New York City offers food halls, a group of quick service outlets that share a common dining space. I relied on food halls to feed the teens because they could pick and purchase what they wanted. As a bonus, food halls offered lots of seating and tipping is not required.
A tad bit more expensive than traditional fast food (Subway or McDonald's) but worth the extra dollar or two. And I found the top chefs from around the globe offered their quick-service concepts in the food halls.
The Plaza Food Hall, located at 1 W. 59th St. in the basement of The Plaza Hotel, offers gourmet quick service outlets. Our group dined at The Plaza Food Hall before our theatre matinee and found some of the top chefs in NYC, like Chef Daniel Boulud.
Grand Central Terminal's Dining Concourse or the Great Northern Food Hall, both located at 89 E. 42nd St., offers 35 different places to eat. Walk through the transportation hub and enjoy the Beaux-Arts building before herding the teens downstairs to eat. I found lots of options, like Jacques Torres Chocolate and Shake Shack, with lots of seating along with clean restrooms.
Gotham West Market, located at 600 11th Ave, offers long tables and several options for teens. I grabbed a burger at Genuine Roadside Burger, another grabbed pizza from Corner Slice.
Rockefeller Food Court, located on the lower level at 45 Rockefeller Plaza, offers lots of options for dining.
Hotdogs, Pretzels and the Black-and-White
A NYC hotdog topped the kids' list and as a budget bonus, hotdogs are super-cheap. Not healthy or vegetarian but they're a NYC icon.
Gray's Papaya, located 2090 Broadway St. at 70th St, features hotdogs and fresh fruit juices. As a bonus, Gray's Papaya has been featured in several movies and a must-do for movie fans. The recession special offers two hotdogs for under $6 and I found standing room only.
A hotdog cart, located along most streets in NYC and especially Central Park, to grab hotdogs, drinks and pretzels.
Nathan's Famous Hotdogs, several locations and carts across the city, offers another top choice for hotdogs.
Don't forget to grab a black-and-white cookie, it's a NYC icon. Easily shared and available at most delis and bakeries.
More Teen Eats
Shake Shack, several locations across the city, another place to grab a burger, a shake and an order of fries. Solid cheeseburger but I found lines at all hours. They offer an app but our order was too large so we stood in line.
Katz Delicatessen, located at 205 E. Houston St., is an icon. The pastrami on rye sandwiches are pricey but huge. I ordered a half and got a bowl of Matzo ball soup along with a seltzer. The adults in our group loved Katz's though it fell flat for the teens.
Xi'an Famous Foods, several locations across the city, offers hand-pulled noodles in a tiny storefront. For the foodie adventurous in your group, I enjoyed the spicy cumin lamb hand-ripped noodles. Knocked me over into a carb-induced coma but worth it.
Pret A Manger,several locations across the city, is a UK-based quick-service outlet. During our visit we ordered a salad, soup and a sandwich along with coffee and bottled drinks.
Time for Dessert!
Managing a group of teens in NYC is exhausting, I recommend frequent dessert stops. NYC requires a ton of walking so desserts helped me keep my energy up and a smile on my face.
I found lots of super yummy desserts for under $10 though not everyone enjoys rich, creamy, chocolatey desserts like I do. Grab them an ice cream cone, a gelato or a chocolate chip cookie instead.
The Magnolia Bakery, several locations across the city, is known for their cupcakes. Though I loved the individual cheesecakes the best and the shops are girly-cute.
Ferrara Italian Bakery, located 195 Grand St. in Little Italy, offers a cannoli and cappuccino fix with table service. Or grab a gelato from their walk-up counter and walk around Little Italy.
Jacques Torres Chocolate, several locations across the city, offers a fine selection of chocolate. The chocolate chip cookies are the go-to item on the menu and during my trip, I ate three.
La Maison Du Chocolate, several locations across the city, offers more divine-looking chocolate. I sampled their èclair and angels sang. Skip it for the teens since they will eat it in one bite and the chocolate angels will cry.
Lady M Confections, several locations across the city, sells the crêpe cake. I sampled the signature mille crêpes cake with layer after layer of crêpey goodness. The best thing I ate in the city but I love my desserts. I found individual slices for about $8 at the Plaza Food Hall.
Épicerie Boulud, located in the Plaza Food Hall and Lincoln Center, offers more French pastries. Chef Daniel Boulud's quick service outlet tempted me with an assortment of desserts. I choose the raspberry pistachio tart, a tiny work of food art.
Junior's Restaurant, a couple of locations in midtown and the original in Brooklyn, offers a full-menu though I grabbed cheesecake to-go. The original NY Plain tops lists for best cheesecake so if you love cheesecake, grab a slice. Makes the ultimate midnight snack.
Ladurée, located at 398 Broadway in SoHo, offers delightful French macarons for an afternoon treat. I loved the rose and orange blossom macarons the best. Grab some macarons to go in a pretty box for a souvenir.
Soft Swerve, located at 85B Allen St. in Chinatown, is an Instagram sensation that topped my teen's must-eat list. Ube, a purple root vegetable from the Phillipines, is the flavor of choice here. My daughter had to try it so we stopped by. Not my thing but the kids loved it and snapped it to all their friends.
Brooklyn Bridge Eats
During our trip, we walked across the Brooklyn Bridge to add another borough to our list. As a reward, I promised the kids real New York pizza.
Grimaldi's Pizza, located at 1 Front Street, bakes their pies in a coal-fired oven. A pizza costs less than $15, a bargain. Make reservations for larger crowds since tables seating more than four are hard to get.
Brooklyn Ice Cream Factory, located at 1 Water St. in Brooklyn Heights, makes their ice cream in-house (Cash only). Steps away from the DUMBO ferry pier, take the ferry back to Manhattan ($2.75/ticket).
More Information
I recommend the following for more information for your trip.
Cruising?
New York City is a frequent port-of-call for cruise ships, like Regent Seven Seas Cruise.
Know Before You Go:
Public restrooms are hard to find. Even McDonald's requires a purchase so buy a bottled water and take a scheduled potty break.
Pack hand sanitizer, baby wipes and bleach wipes to clean up everything from hands to tables.
Disclosure
Consideration for brands mentioned. This post contains affiliate links.