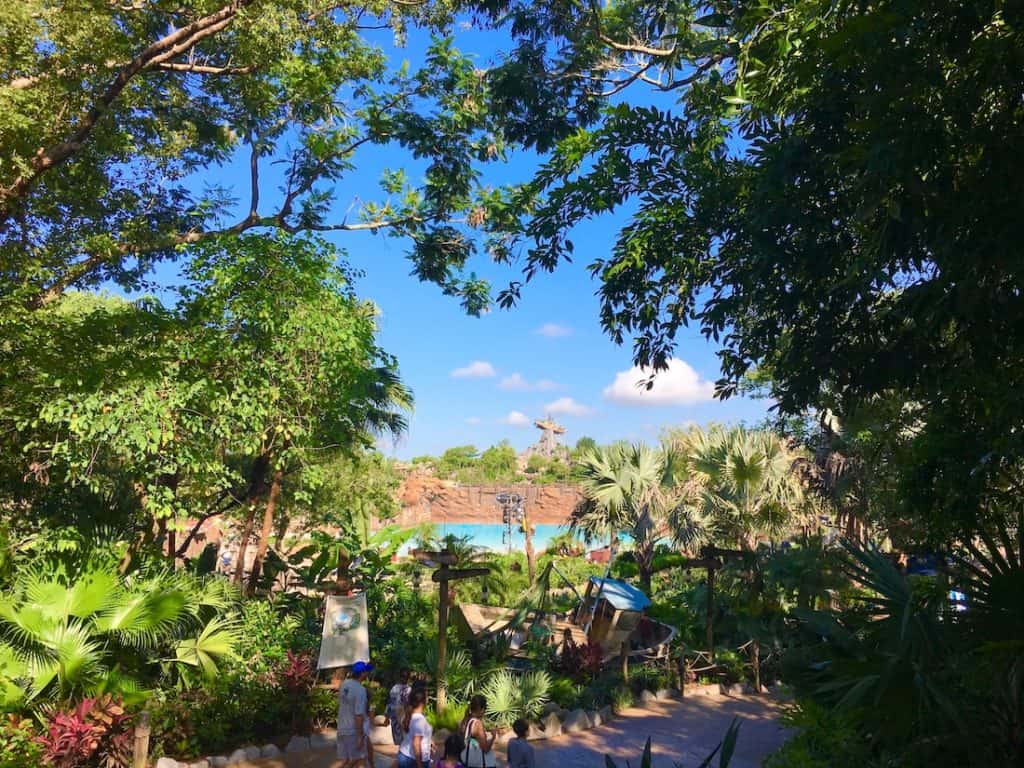 It's hot out baby! So head to one of Walt Disney World's two waterparks. Since I can't handle Christmas music in July (oh yeah, it's playing at Blizzard Beach) I loaded up and headed to Typhoon Lagoon with kids.
MayDay! MayDay! An unnamed typhoon is swirling and tossing our boat. But land's ahoy.
Now you've floated ashore and the surf's up. Relive all your Gilligan Island fantasies at Typhoon Lagoon. See Miss Tilley, the ship wrecked shrimp boat, on top of Mount Mayday. Float through a rainforest. And keep an eye out for the rogue waves in the surf pool.
What I loved at Typhoon Lagoon
I loved the lush landscaping and tropical rainforests.
The real white sand beaches offer an authentic island ambience.
The surf theming is cute and realistic.
What I wanted at Typhoon Lagoon
It could have more shade for the loungers, like shade sails.
The concrete gets hot in places.
More restrooms, seemed like a hike to find one.
Typhoon Lagoon with Kids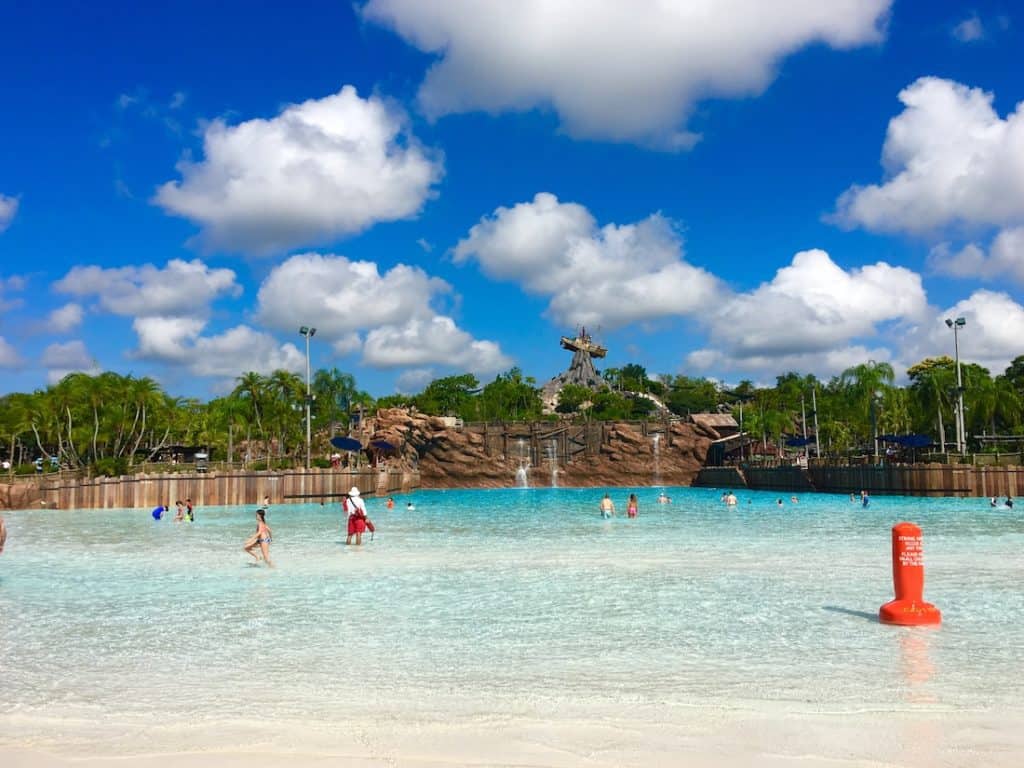 Castaway Creek
With a half-mile lazy river that's got shady sections, it's the place to be in the hot afternoon. Go under rope bridges, through caves and meander beneath lush rainforests.
It's got five entry points and sometimes it takes a few minutes to catch a free tube. Fun for everyone, no height requirement.
Typhoon Lagoon Surf Pool
With a boom and a rush of screams, watch the wave crest and topple waders. Prepare yourself for the largest wave pool in North America with six-foot swells. It's the signature ride at Typhoon Lagoon and my favorite.
Even the shallows pack a bunch with the water skittering across a sand bar with deceptive force. So hold on to the little kids and look out to make sure Grandma stays sure-footed.
Swim out to center of the pool to body surf and ride a wave in. But watch out for the rogue waves that hit after a break, bigger and badder than the rest.
No restrictions though keep an eye on all kids, especially the smaller ones with weaker swimming skills. Watch a couple of waves roll in to get a feel for the surf pool.
Mountain Trail
Take a quick hike on the Mountain Trail to see all the sights, like behind the surf pool. Even has a rope bridge that kids want to clamor over.
Little Kid Water Park Fun
Bay Slides
Just for kids under five, climb up some stairs and ride into an inlet of the surf pool. Sorry big kids, no adults or teens allowed.
Ketchakiddee Creek
Explore a mini water park within Typhoon Lagoon just for the littlest castaways. With 10 different water play areas and mini-rides, little kids can spend hours wading and splashing.
Find mini slides, a mini rapids ride along with fountains and a waterfall. Don't miss the S.S. Squirt and shoot the water cannon.
Just for kiddos under 48-inches. Parents must supervise and will not be able to join on the rides. This area has a sandy beach area too.
Rushing Rides at Typhoon Lagoon
Crush'n'Gusher
Destroyed by the nameless typhoon, the fruit process plant now washes people instead of pineapples. Grab a buddy and a multi-person tube and ride a 400-foot water coaster.
With three different routes down, the jets defy gravity and blast you uphill. Then twist past hair pin turns all the way down to a final splash into Hideaway Bay.
Sorry kiddos, this ride has a 48" height requirement.
Humunga Kowabunga
Enjoy a near vertical, five-story drop in the dark that will clear out all your pipes according to Hubs. Head to the top of Mount Mayday for the fiercest ride in all of Typhoon Lagoon.
For those that enjoy numbers, it's a 214-foot downhill water slide with a 60-degree angle. Choose one of three slides and race your fellow rides. It's in a tube so it's a dark slide ride but really it goes so fast everyone closes their eyes.
Not for the faint-of-heart and some dads climb out of the splash zone sputtering and spitting water. This ride comes with a 48-inch height requirement.
Miss Adventure Falls
Head through the pineapple fields for a family raft ride, next to the Crush-n-Gusher. Grab a four-person tube and climb in. Then the aquatic conveyor will haul your raft to the top. Ride down twisting and turning, with your group. It's the newest ride in Typhoon Lagoon.
Keelhaul Falls
Clustered together around Mount Mayday (the hill with Miss Tilly on top), Typhoon Lagoon features three fall rides together.
Keelhaul Falls offers the calmest water so grab a single-person tube for a fun ride. Find rushing water with spins and turns before splashing in the pool at the bottom.
No restrictions and suitable for everyone. Try this one with littler kids to see if they want to try more falls rides.
Gang Plank Falls
Grab the kids and a four-person family tube and head for the gang plank. Load up then spin and turn while sailing pass boulders, caverns and bridges on a 300-foot water slide.
No restrictions and suitable for everyone.
Mayday Falls
In the highest and fastest of the water slides at Typhoon Lagoon, riders are in for a rush. Grab a single-person tube and hike to the top of Mount Mayday.
Zip past waterfalls, zoom under bridges and swerve through caves. End your journey in a splash pool at the bottom.
No restrictions though test younger kids on the other two falls rides before trying Mayday.
Storm Slides
Head to Mount Mayday for a trio of body slides. Each slide is three-stories tall and riders will swirl past rock outcropping and through grottos in the cork-screwy slides.
No restrictions for this ride though younger kids need to try out other falls rides first. No tubes used for this ride.
Where to Eat in Typhoon Lagoon
I will admit it. We only bought ice cream and brought in grocery store salads, cut-up fruit and bars of many flavors. We don't get real hungry when it's hot.
Though find food outlets sprinkled throughout Typhoon Lagoon.
Surf Doggies
Let's Go Slurpin'
Happy Landings
Low Tide Lou's
Typhoon Tilly's
Also find locker rentals at Singapore Sal's along with wheelchair rentals.
Need More Information?
After several trip to Walt Disney World, I still take my guide book. I recommend these for your trip.
Need a Room?
I've stayed at the following Walt Disney World Resorts.
The Grand Floridian Resort and Spa
I've stayed at the following Lake Buena Vista resorts.
Best Western Lake Buena Vista Resort
Wyndham Lake Buena Vista Resort
If it's your first trip, here's my First Timer's Guide. And don't forget about Disney Springs, it offers a ton of fun for families without a park ticket.
Know Before You Go
Head to the waterpark before it opens so you can snag a chair in the shade.
Mark your chairs with beach towels (remember to pack those!)
Concrete gets hot in the afternoon, especially around the restrooms so pack some flip-flops or water shoes.
Pack in some snacks, like fruit and drinks. I used a cooler bag for this.
Remember the swim shirts, it's sunny in the parks and most of the rides are in the sun.
We spent about 4 or 5 hours and left in the afternoon.
Disclosure:
Consideration for brands mentioned. This post contains affiliate links.