For 10 days each Spring, San Antonio pops with color. San Antonio's largest festival is the annual San Antonio Fiesta when the city takes a break for fun for everyone. From the river parade to the food festivals to the carnivals, this 10-day celebration has it all.  With the crack of a cascarone, or confetti-filled egg, families have the recipe for spring-time fun. Here are the Top Things to do at Fiesta in San Antonio.
Fiesta Fiesta @ Hemisphere
Date: Thursday April 20, 2023
As the opening event of Fiesta, crack your fist cascarone in the shadow of the Hemisphere Tower. See the Royal Court and sample your favorite carnival or Tex-Mex food.
Located at Travis Park, 301 E. Travis St. Gates open at 4 p.m. Free to enter.
Fiesta Oyster Bake
Date: Friday, April 21, 2023 and Satur day, April 22
St. Mary's University has been the place for oyster lovers. From raw, baked and fried, the students and alumni of the university have hosted a popular Fiesta event for over 100 years.
Located at 1 Camino Santa Maria. Gates open at 5 p.m. on Friday and all day Saturday. Tickets are $20.
Read More 
Taste of New Orleans 
Date: Friday, April 21 to Sunday April 23, 2023
Enjoy the flavors of the New Orleans, like gumbos, shrimp creole, etouffee, fresh crawfish, boudin, alligator and beignets. There is also live music with zydeco, cajun, jazz and the blues.
Located at Sunken Garden Theater, 3875 N St Mary's St. Tickets are $17 and kids 10 and under enter for free.
Fiesta Carnival
Date: Thursday, April 21 to Sunday, April 30, 2023
For an old-school carnival take the kids to an  for all the rides and food. Open every day of Fiesta. This is one of the Top Things to do at Fiesta in San Antonio.
Located in the Alamodome Parking Lot C, 449 S. Cherry St. Open for 11 a.m. to midnight. Free to enter, rides extra.
Fiesta de los Reyes at Market Square 
Date: Friday, April 21 to Sunday, April 30, 2023
This is party central for Fiesta in downtown San Antonio. It features carnival food and live music.
Located at 514 W. Commerce St. open daily from 10 a.m. to midnight. Free to enter.
Read More about Texas
Mission Reach Flotilla Fiesta
Date: April 22, 2023 
Join other kayakers for a unique Fiesta event on the San Antonio River. Organizers set up an overwater obstacle course for kayakers to challenge themselves while seeing the extension on the San Antonio River.
Located at starts Padre Park at 6516 Padre Dr. from 10 a.m. to 2 p.m. Cost: $10.
NIOSA–A Night in Old San Antonio
Date: Tuedsay, April 25 to Friday, April 28, 2023
Celebrate the unique heritage of San Antonio with a ultimate foodie festival. Featuring 250 different booths and non-stop entertainment from more than a dozen stages, this is the festival party.
Located at La Villita, 418 Villita St. gates open at 5:30 p.m. Advanced tickets for $20. Kids under 12 are free with an accompanying adult.
The Texas Cavaliers River Parade
Date: Monday, April 24, 2023
As the first of three parades for Fiesta San Antonio, take a seat under a cypress tree along the San Antonio River Walk for an illuminated night parade. Visitors will see 45 river boats float by as each lights up the night sky. This is one of the Top Things to do at Fiesta in San Antonio.
The parade starts at 7 p.m. and lasts until 9 p.m. Advanced reserved seating is available.
Battle of Flowers Parade
Date: Friday, April 28, 2023
Infused with tradition and history, the Battle of Flowers parade gives the city of San Antonio a reason to celebrate. The school kids get the day off to enjoy the fun. This is one of the Top Things to do at Fiesta in San Antonio.
First catch the Battle of the Flowers Parade for the largest parade organized entirely by volunteers. Since 1891 ladies dressed in yellow direct the spectators to their reserved seats for the second largest day parade in the country.
During our visit, we secured reserved seating in the shadow of the Alamo. The Battle of Flowers Parade kicks off with a band, military, universityand local high school bands all march. The bedazzled members of the Fiesta Courtdressed in historic sequined costumes don elaborate flowered floats enchanted the tiniest girls. Giant helium balloons and drill teams made an appearance in the parade too.
Tradition is king at Fiesta and extended families sit in the same spots every year to make a day of it with elaborate parade-side picnics. Though food vendors provide everything from traditional Tex-Mex favorites to carnival classics.
The parade starts at 9:30 a.m. and the route proceeds down Broadway and E. Grayson. Advance reserved seating is available.
Fiesta Flambeau Night Parade
Date: Saturday, April 29, 2023
Next San Antonio pops a million glow sticks for the Fiesta Flambeau Parade. The largest illuminated night parade in the country with 700,000 people along the sideline and another 1.5 million watching on TV.
A lively parade, that's similar in style and length to Battle of Flowers Parade but not the same participants. Fiesta San Antonio is a family affair, though younger kids might get cranky by the end. This is also one of the Top Things to do at Fiesta in San Antonio.
The parade starts at 7:00 p.m. and lasts until 10:00 p.m., the route proceeds down Broadway and E. Grayson. Advance reserved seating is available.
Read More 
More Family Fun in San Antonio
While in San Antonio tour the Alamo. Built in 1718 by Spanish missionaries, the Texas Revolution escalated and the Alamo became the center of the conflict. In 1836, after a nearly two-week long siege, the Battle of the Alamo broke out between William B. Travis, commander of the Alamo and General Santa Anna and the Mexican troops.
Though the defenders of the Alamo died in the battle, the legend lives on. In 2015, the United Nations designated the Alamo and the remaining four San Antonio Missions a UNESCO World Heritage site.
After the parades, some history and a couple of tacos, the kids need to play. So head to the Yanaguana Garden, named after the Payaya Indians. And find a crazy fun climbing structure, a sandscape, a splash pad and a public art area with changing rooms and restrooms located in HemisFair Park.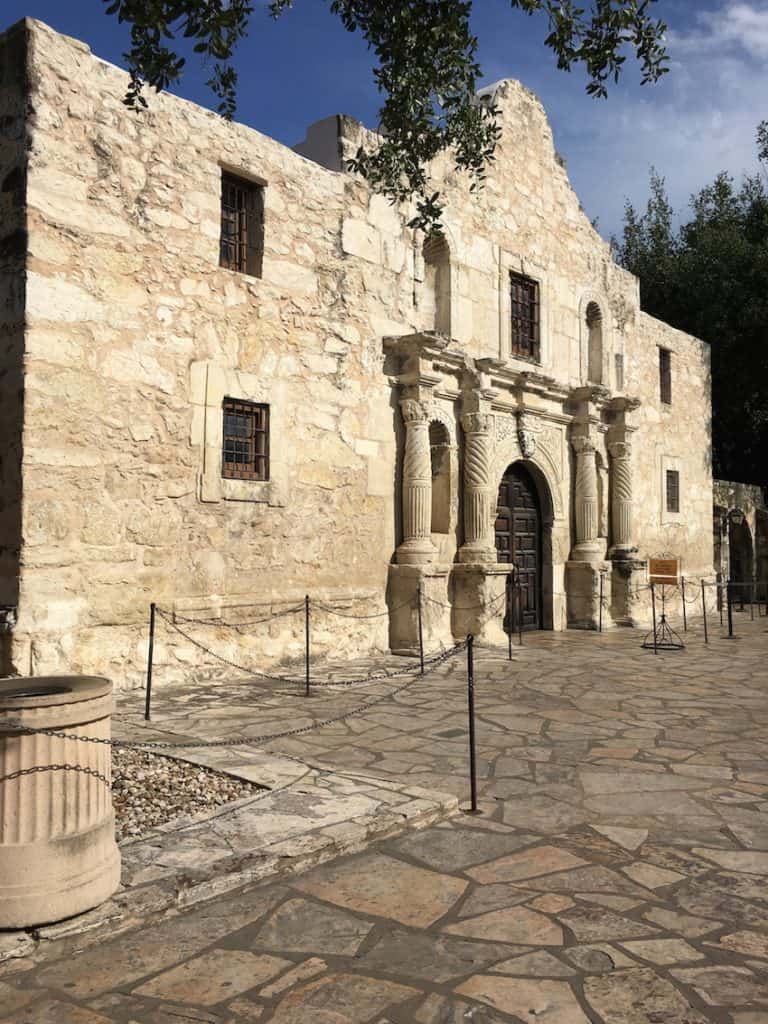 Where to Stay
To enjoy all that downtown San Antonio offers, I always stay on the  River Walk.
Where to Eat:
Be sure and grab a table next to River Walk to share a plate of nachos and sip on a margarita as the river boats float by. My favorite place is the original Tex-Mex restaurant on the River Walk, Casa Rio, 430 E. Commerce St.
Since 1946 it's been serving up steaming plates of enchiladas. Got a picky eater? Try a bean and cheese taco, my boys love them.
Getting Around Downtown San Antonio
Most major airlines service the San Antonio International Airport, that's 10 miles north of Downtown San Antonio. Cab service or pubic transportation is available at the airport.
Love to Ride? Try out San Antonio's B Cycle, a bike sharing program. The cycles are rented by the hour after a small fee and bike from one attraction to the next.
Via Streetcar, operated by San Antonio's public transportation system VIA, offers several color colored routes to popular tourist destinations, like El Mercado and the King William District. My kids love riding the streetcars and a $4 day pass offers an easy way to get around downtown on the cheap.
Know Before You Go:
Downtown hotels charge for parking, some offer self-parking.
The Alamo is especially hallowed ground for Texans, please remove hats and photos are prohibited inside of the mission, the main building.
With the majority of attractions located within walking distance, walk or take public transportation instead of driving since parking is limited during busy events.
The Alamo doesn't have designated parking though a parking lot is nearby.
Arrive early for the Fiesta Parades before the streets close to vehicle traffic.
Reserved seats for the parades sell out.