Perched high above the rocky shore, the Hacienda Encantada Resort and Residences is a luxury resort located 30 minutes from the Cabo San Lucas International Airport in Baja California Sur. The Hacienda Encantada offers an all-inclusive plan for its resort as well as several types of residences along the rocky shore of the Sea of Cortez in Mexico. The luxurious property boasts richly landscaped grounds along with lots of amenities for guests to enjoy. It is a luxury property that offers its guests a relaxed and refined vibe. In addition, families are welcome at this property. Here are the things that work at Hacienda Encantada for families.
In dry desert location, the weather always feels cooler than the thermometer might register. As such, many of the gathering spaces are indoor/outdoor. From the open-air restaurants to the room's balconies to the adults-only infinity pool, the ocean is so close it's possible to hear the crashing waves.
What works at the Hacienda Encantada for Families
Kids club on property
Lots of sports courts and activities
Though it is not a kid-themed resort so great for family reunions along with weddings.
Different-sized accommodations located on the same property 
Free Shuttle to Downtown Cabo for Excursions and Shopping 
In addition to the Hacienda Encantada Resort and Residences, the property offers several different types of accommodations.
They include El Encanto Suites, Vista Suites and the Residences. Each offers different accommodations and some suites offer multiple bedrooms and private balcony plunge pools. Additional room configurations at Hacienda Encantada for families make it a good fit for family reunions and family celebrations. 
My Room at the Hacienda Encantada
I stayed in one of the rooms overlooking the main pool. Located on the fifth floor, this property offers an elevator. Upon entering from the outdoor corridor, my space exuded a relaxed, yet luxurious atmosphere. 
With the Spanish Colonial dark wood furnishings setting the tone, the space felt expansive thanks to the soaring ceiling in my room, outfitted with a ceiling fan for circulation. The rich woods of the furniture were accented by bursts of warm-hued color from the Mexican artisan wall decorations and the Mexican pottery used throughout.
I had a pair of queen beds with a scroll-top headboard, paired with a footboard (king-only rooms are available). My bed was dressed with white linens for a melt-in-bed escape, accented by a pop of color with a tropical-inspired coverlet. Each bed offered an upholstered bench, a nice addition. 
Guests will have use of an entertainment armoire along with a freestanding dressing mirror. My room offered an unholstered sofa, accented with wood details. Additionally, my room featured a round dining set with four upholstered chairs, a nice feature for in-room dining. 
My Bathroom
Right off the entrance door, my travertine marble bathroom offered a spa-like space to enjoy. The jetted soaking tub overlooked the room with a pair of shutters for privacy. 
The vanity offered a pair of sinks, a well-lit main mirror along with a vanity mirror. The bathroom featured colorful Mexican pottery accents. The oversized walk-in shower offers space for two. Finishing out the bathroom was a separate water closet, nice for families. 
Kitchenettes at the Hacienda Encantada
My room offered a kitchenette, outfitted with a full-size refrigerator, a microwave and a two-burner cooktop. The appliances included a blender, a toaster along with a coffeemaker. Worth noting, the kitchenette lacks a small dishwasher. 
I found signature dinnerware, drinkware, utensils, pots and pans. It even featured white cloth napkins. In-room meals can be taken at the four-chair dinette set inside, or the balcony's table overlooking the main pool.
Outside, I found a furnished private balcony with a pair of upholstered chairs along with a round glass table and an ottoman. This area was covered and mine was shaded. Since my room overlooked the pool and its lush landscaping, birds thrived in the area and added delightful background noise.
For those who are remote working, the outlet on the balcony made it ideal as an outdoor office. I also took a nap on the balcony during my stay. 
The Restaurants at the Hacienda Encantada
For those who like to eat out during their vacations, there are numerous options from the outdoor breakfast at Las Marias to poolside dining at La Pergola to the Tequila Museum and the adjoining El Eden. With all the restaurants onsite at Hacienda Encantada for families make it a good fit.
The Hacienda Encantada offers seasonal events throughout the year, like street taco buffets and holiday brunches. Check out its calendar for the latest.
Las Marias Restaurant and Bar
With open-air seating, Las Marias overlooks the water. It serves continental breakfast entrees along with Mexican breakfast favorites, like chilaquiles and quesadillas. Its menu covers breakfast and brunch so soups, salads and light pastas are available. 
During my stay, Las Marias offered a brunch buffet. It is open from 7 a.m. to noon. 
La Pergola Restaurant and Pool Bar
Centrally located, La Pergola is an open-air restaurant next to the main pool. Ideal for leisurely lunches, I ate here when I arrived. 
The menu starts with a selection of appetizers, followed by salads, sandwiches and a host of hamburgers. Diners will also find some seafood entrees, like ceviche and fish and shrimp tacos. 
I had a mixed salad and it was excellent. It featured fresh fruit and grilled chicken, paired with a coconut dressing. The pool offers a swim-up bar as well. 
Las Marias Restaurant and Bar is open daily from 9 a.m. to 6 p.m. 
El Patio Snack and Pool Bar
Overlooking the dramatic coastline, El Patio serves the adults-only pool and lounging area. This area is shaded by umbrellas and the sound of the surf adds ambience. 
Its menu offers more Mexican favorites along with a wider range of seafood entrees. Diners will find crab cakes, a flank steak sandwich along with salads like pear and blue cheese. 
The seafood options include coconut shrimp, governor-style tacos along with several types of ceviche. Don't pass up the guacamole. 
El Patio is the place for a frozen cocktail poolside. It is open daily from 9 a.m. to 6 p.m.
Il Forno Pizza and Pool Bar
With a menu of Italian favorites, Il Forno Pizza and Pool Bar offers wood-fired pizzas. Pizza lovers will find a Mexican pizza, a Margherita pizza along with calzones. Additional restaurants at Hacienda Encantada for families make it a good fit.
It offers a separate menu for dinner. With the additional entrees, diners will find options like Salmon Limoncello, gnocchi and filet mignon.  
Il Forno Pizza and Pool Bar is open from 10 a.m. to 10 p.m. with a break from 5 to 6. 
Los Riscos Mesquite Grill and Bar
The crashing waves below offer the perfect compliment to dinner. Los Riscos Mesquite is perched on an open-air terrace and is a favorite for special dinners with loved ones. 
The menu focuses on grilled entrees from the land and ocean, though offers regional specialties like the cream soup of corn and huitlacoche. I sampled it and it was delicious. 
Entrees include grilled Red Snapper, a surf and turf along with signature cuts (additional charge). Carnivores can savor a Porter House or a Tomahawk steak during their Cabo getaway. 
Los Riscos Mesquite Grill and Bar is open for dinner only from 5:30 to 10 p.m. and is an excellent place to watch the sunset. 
El Eden Tequila and Taco Bar
It's a Mexican vacation so I recommend sampling Tequila and Tacos at El Eden. Its open-air tables are close to the main pool and a popular gathering place. The additional restaurants at Hacienda Encantada for families make it a good fit for gataways.
Start with a molcajete, its table-side queso cooked in a furnace-hot lava rock bowl. The servers add tequila and a cheese mixture to the molcajete with steak, shrimp and cebollitas (grilled green onions) and stir it until the cheese is melted and creamy. It is served with tortillas and a spicy margarita, or tequila pairs perfectly.
Always say yes to tacos and I found it hard to choose. So we ordered several and shared. El Eden serves Al Pastor, Shrimp, Ribeye, Baja Fish tacos and more. 
For dessert, the churros are a must, better than the ones at Disneyland. They are served with chocolate, caramel and evaporated milk for dipping (a popular dessert option in Mexico). 
El Eden Tequila and Taco Bar is open daily from 5:30 to 10 p.m. and the area offers live music some days. 
Tequila Museum
Next door the Tequila Museum is a must for adults with a deep menu of Tequila from blanco, anejo and reposado along with Mezcal and Sotol. It offers varieties from popular distilleries across several Mexican states, like Jalisco, Nayarit and Guanajuato. 
During my visit, a tequila master walked us through the agave culture from the field through the distilling process. Accompanying our tequila tasting, we had lime, orange and tomatillo slices along with a house-made tomato juice to savor the subtlety of each tequila. 
This is an optional activity and an additional charge. 
Tequila Museum is open daily from 6 to 10 p.m. 
La Trajinera Restaurant and Bar
With indoor and outdoor seating areas, diners will experience regional Mexican cuisine. Appetizers include butter scallops with an avocado mouse or a pork rind quesadilla.
For entrees, guests will find a Rib Eye Tampiquena Style, a Tikin-Xic style Sea Bass and a trio of Blackened Octopus Tacos. The menu pulls its flavors from Oaxaca, Baja and Chihuahua. 
La Trajinera is open daily from 5:30 to 10 p.m. 
Barolo Cucina Italiana
Perched above Los Riscos, the Barolo Cucina Italina offers Italian and Mediterranean favorites, like an antipasto, carpaccio and caprese salad. Diners can sample one of several soups, like Minestrone. 
From pasta to risotto, the menu includes Lasagne Ai Frutti del Mare, or seafood lasagne, grilled shrimp with a Limoncello sauce and a lamb rack. 
Dessert options include favorites like tiramisu, cannoli and orange pannacotta. 
Barolo Cucina Italiana is open daily from 5:30 to 10 p.m.
Lola Mia
For coffee drinks, cold drinks and bakery items plus sandwiches, Lola Mia is conveniently located near the lobby building. It serves Starbucks coffee and barista-made drinks. Additional restaurants at Hacienda Encantada for families makes it a good fit.
It offers an indoor seating area or get your drinks to go. I grabbed a coffee drink before leaving the resort.
All-Inclusive Plan
An All-Inclusive Plan is available for an additional charge. It covers a la carte dining and beverages while at the Hacienda Encantada, including full bar service at the pools. Steaks and lobster are an additional charge. 
Worth noting, room service is not included in the all-inclusive plan though those on the plan get a 30% discount from 7 a.m. to 9:30 p.m. 
The Pools at Hacienda Encantada
The main pool is centrally located with a swim-up bar along with La Pergola for lunchtime eats. Kids will find their own zone with a splash pad, kids club along with a playscape in the area. During my visit, I saw the resort's sea turtles in this area as well. Additional activities at Hacienda Encantada for families make it a good fit for those traveling with littles. 
At the main pool, guests will find lots of loungers. Some were covered with umbrellas and others offers opportunities for sunning. The pool was inviting to all guests and not a noisy kids zone during my visit.
The adults-only pool at the Hacienda Encantada Resort and Residences is a luxurious escape perched above the crashing waves below. The three-tiered infinity pools offer loungers along with a swim-up bar and El Mistizo del Mar, serving poolside nibbles and lunch. 
In addition to poolside loungers, guests will find loungers along the sandy cliff overlooking the water. There are cabanas available as well. This area offers beverage service to maximize the relaxing.
With a rocky shoreline, Cabo San Lucas isn't a beach swimming destination. Guests can walk to the water's edge though swimming is prohibited, due to large rocks and large swells.
In all, the Hacienda Encantada Resort and Residences offers a luxurious resort that welcomes kids. The property and amenities offer an upscale getaway for families and is luxurious enough for a honeymoon or anniversary getaway. 
Kids Activities
Located next to the main pool area, this area features an active zone for younger kids. The splash zone offers a palm tree fountain along with ride-on equipment in the shallow water, like a seesaw. Additional amenities at Hacienda Encantada for families make it a good fit.
Kids will love the kids-sized loungers and the splash area extends around the indoor kids club. On the other side of the fun zone, kids will find a bucket water feature along with a playscape with swings and slides. A great way for kids to dry off before heading back indoors. 
At the Kids Club, parents will find an Activity Director. They supervise the fun that includes cookie decorating, treasure hunts along with games and sports. It is available daily from 9 a.m. to 2 p.m. for an additional charge for kids 6 to 12.
Babysitting can be arranged for a date night at the resort (additional charge). 
Older Kids
The Hacienda Enchanta Resort and Residences offers lots of outdoor areas to enjoy outside of the pool area. There is a sand volleyball court along with a pickleball/tennis court. Teens will also find a basketball court. Additional amenities at Hacienda Encantada for families make it a good fit.
Other activities include an outdoor strength training area and bike trails. Golfers will also find a putting green, that includes a sand trap. There is an indoor fitness center as well.
In addition, there are horseback riding excursions one day a week. Riders get to explore the undeveloped area of the property.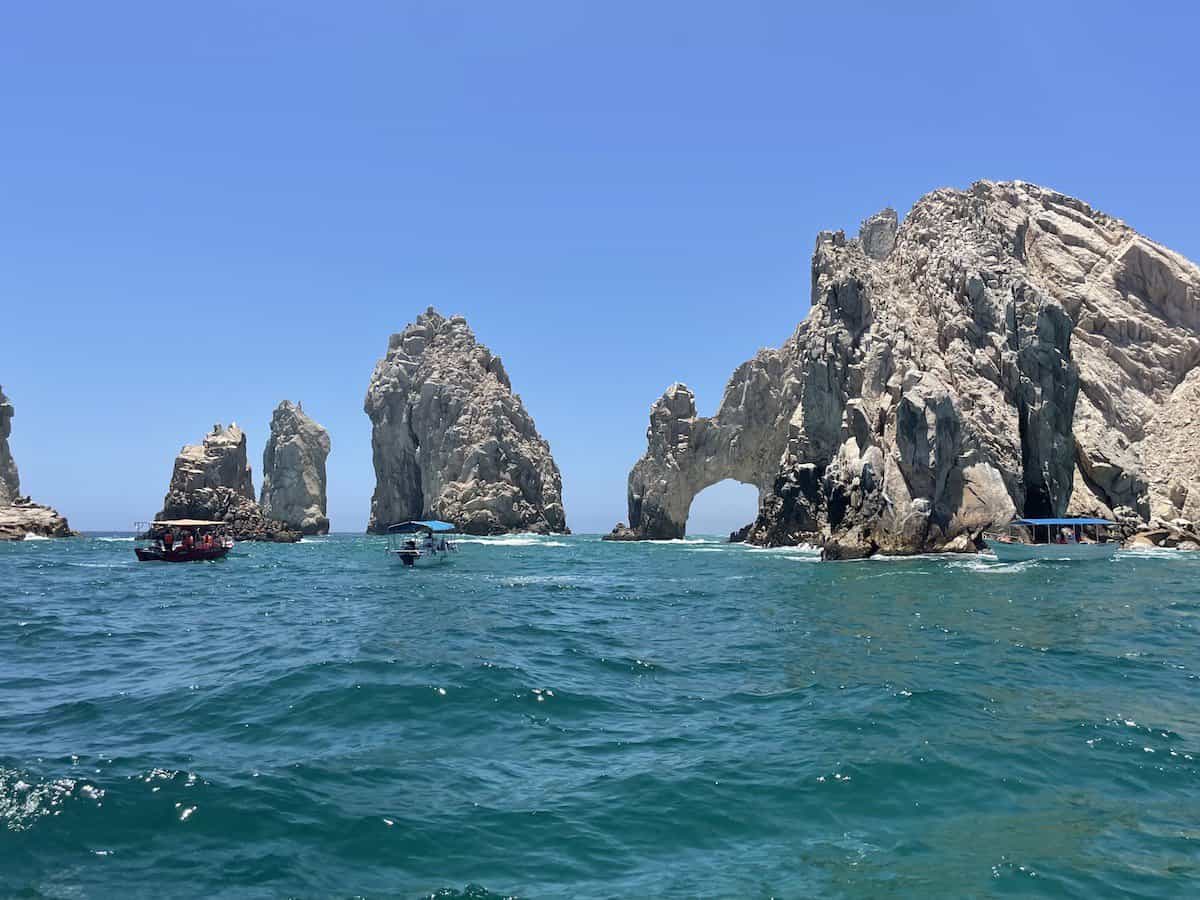 Marina Fiesta Resort and Spa
With complimentary transportation to downtown Cabos San Lucas, it is easy to visit the sister property, Marina Fiesta Resort and Spa. Located next to the Cabo Marina, the sister property welcomes those on the all-inclusive plan. 
Hacienda Encantada guests can use their all-inclusive plan at Marina's Golden Zone Restaurants, overlooking the boats in the marina. These include the Baja Lobster and Oyster Bar, Los Deseos Contemporary Mexican Restaurant, Jack's Steakhouse, Presto Pizza and Pasta and the Golden Legends Sports Bar. 
Guests can also arrange a tour to see the Cabo Arch up close at the Marina. It is a must for your getaway to Cabo San Lucas. 
The Milagro Spa
For those celebrating or wanting an indulgent spa experience, the Milagro Spa is the destination. Located in a quiet corner of the resort, the staff welcomes each guest with warmth and serenity. During my stay, I enjoyed a Seaweed and Sea Salt body scrub. 
I arrived about an hour before my treatment to savor its expansive spa facilities. Immediately inside Milagro Spa's treatment area, the indoor whirlpool beckoned.
Working through a hydrotherapy circuit, I spent a few minutes in its redwood dry sauna, followed by a few minutes in its steam room. Both work in unison to slow my breathing and prepare me for a spa treatment. 
I followed with a few minutes in the heated whirlpool. Then my spa attendant escorted me to the Milagro Spa's spectacular hydrotherapy pool.
Overlooking the dramatic coastline, the open-air pool area offers vaulted ceilings, reminding me of a Roman Bath. A few loungers lined one side and the pool's glassy surface was something from a daydream. From its steps, the temperature was perfect and I walked to the pool's edge overlooking the desert scenery below. 
One side of the pool offers hydrotherapy jets. Each targeted a problem area and was beneficial. 
In a moment, my time in the hydrotherapy pool was over. My therapist led me to her room. 
Seaweed and Sea Salt Body Scrub
Outfitted with a shower and a larger treatment room, I de-robed and climbed onto the treatment table. My therapist used a sea salt scrub to exfoliate my skin. I washed it off in the shower in the treatment room and my skin instantly felt smoother. 
Following the sea salt scrub, I was encased in a seaweed body mask and then wrapped in sheeting to allow my skin to rid itself of elemental toxins. This experience was soothing. Another rinse-off in the hydro-jet shower relieved skin from my younger days. 
My therapist finished the  Seaweed and Sea Salt Body Scrub treatment with the application of moisturizer with sweeping hand motions that felt more like a massage. I left the Milagro Spa relaxed with a healthy pink glow. 
The Milagro Spa offers beauty services from make-up application, manicures and pedicures along with hair styling and waxing. 
Temazcal
In the courtyard next to the main pool, a Temazcal, a Mayan steam house, envelopes those inside with steam and heat. The hour-long experience is used to cleanse the mind and spirit as each sweat out toxins in a herb-scent steam environment. 
Available on Fridays and requires reservations along with four people.