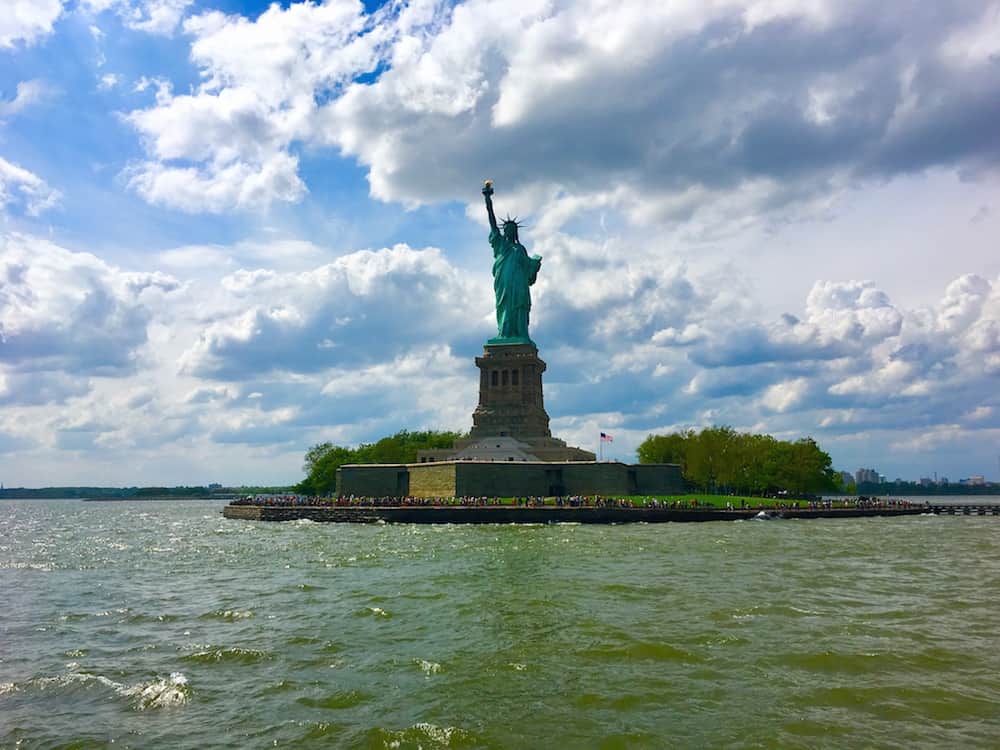 A trip to New York City is one of the top destinations for families in the U.S. With museums, boat rides, playgrounds and more, find lots to do in Lower Manhattan. Start with a trip to see the Statue of Liberty and then visit the The National 9/11 Memorial and Museum then branch out and see New York City from above and from the water. Here's the top things to do in Lower Manhattan with kids for your next getaway.
Statue of Liberty
As a symbol of freedom and liberty known world-wide, the Statue of Liberty sits on a 12-acre island in the middle of New York Harbor. For a first-time visit to NYC, visit the Statue of Libery. It's one of the top things to do in Lower Manhattan with kids. The trip will take half-a-day and it's a memorable experience seeing the details of Lady Liberty up close.
While on Liberty Island, learn about its construction in the museum. Then climb the 215 stairs to the top of the pedestal to capture views of downtown Manhattan (additional tickets required) along with the copper patina.
Operated by Statue Cruises, the ferry departs from Battery Park in Lower Manhattan (an additional ferry departs from New Jersey). Explore the Statue of Liberty first then re-board the ferry to tour Ellis Island, an additional stop. First ferry leaves at 9:30 a.m. and last one departs at 3:30 p.m. with extended hours during peak seasons. Ferry ticket required for everyone and  based on age. Reservations are required for the ferry and a special ticket is required for the pedestal. Food outlets available on Liberty Island along with lockers for items not allowed on the pedestal.
Ellis Island
From 1892 until 1954, Ellis Island welcomed 12 million immigrants to the United States. The Ellis Island Immigration Museum walks visitors through the facility that processed close to 5,000 people a day. While at Ellis Island, you can look up family names to see if they immigrated through Ellis Island.
To visit both the Statue of Liberty and Ellis Island, give yourself half the day. Reservations are a must and book in advance to visit the pedestal . A Junior Ranger Booklet is available. All passengers will go through airport-style security screening.
Read More
The National 9/11 Memorial and Museum
The outdoor memorial offers a peaceful fountain with the names of those lost along the perimeter of the fountain. It is lighted at night and the flow of water drowns out the sounds of city life.
Inside the 9/11 museum, a collection of artifacts, narratives, archives and interactive technology, remembers the 2,996 people that lost their lives on September 11, 2001. It retells the story of the tragic day along with the months of recovery. 
Located at 180 Greenwich St. The 9/11 Memorial is open from every day from 9 a.m. to 8 p.m. Free. The 9/11 Museum is open from Wednesday to Monday from 10 a.m. to 5 p.m. and admission based on age with reservations recommended. If you are visiting several museums during your visit, consider a CityPass.
Note: Due to the sensitive nature of the museum, skip it with small children.  
Battery Park
Located at the southern tip of Manhattan, Battery Park offers green space to explore with gardens, walkways and lots of views of the New York Harbor. Walk through the perennial gardens, the Battery Woodland and the Bosque Fountain during your visit. 
The playground is a kid magnet and offers some unique climbing structures as well as several assessible features. It is one of the top things to do in Lower Manhattan with kids. For snacks, food trucks line the streets next to Battery Park, or grab a snack at one of the kiosks in the park. 
Located at State St. and Battery Plaza. Free to enter. 
SeaGlass Carousel
Built in 2015, hop on a fish to whirl around the pavilion to classical music. This carousel moves up and down from the floor and twirls around in smaller circles so it feels like dancing. This is also one of the top things to do in Lower Manhattan with kids.
Located in Battery Park. Open seven days a week from 11 a.m. to 9 p.m. and admission is $5.50
per person. 
Read More about New York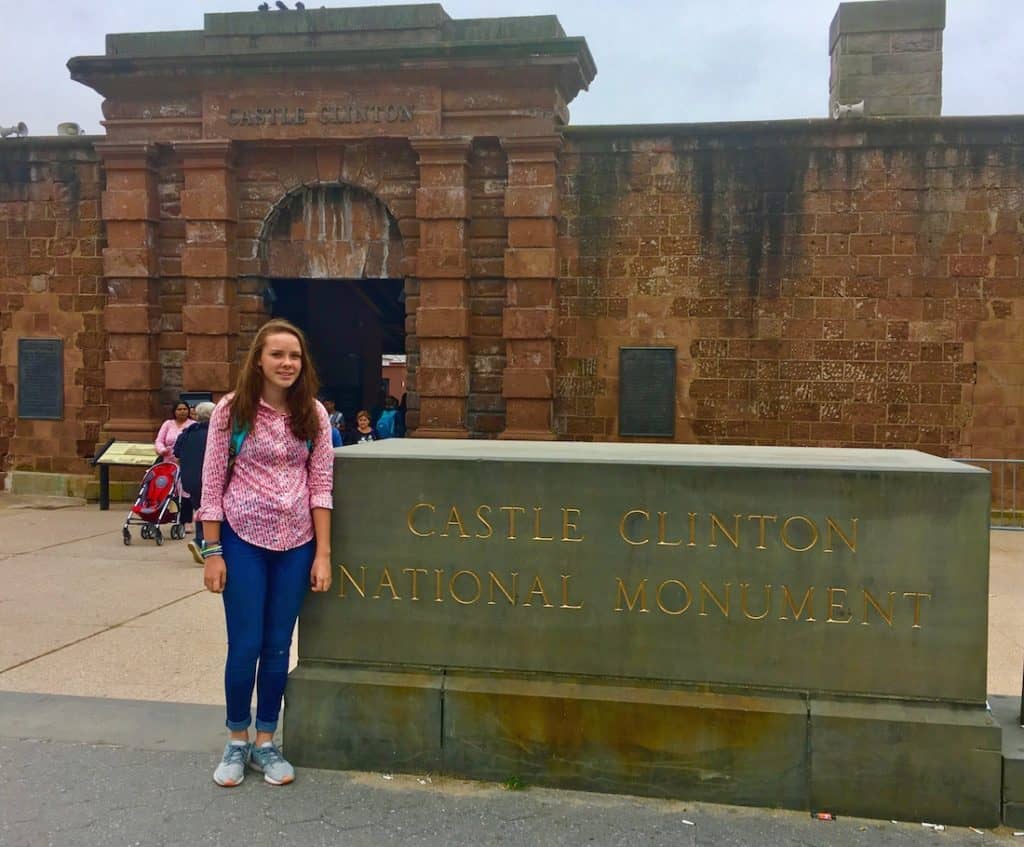 Castle Clinton National Monument
After visiting the Statue of Liberty, explore the Castle Clinton National Monument for more immigration history, located steps from the ferry dock. For war buffs in the family, it's also a fort from the War of 1812 with antique cannons.
Located in Battery Park and open seven days a week from 7:45 a.m. to 5 p.m. Free to enter. Juior Ranger booklets available.
National Museum of the American Indian
Located in the Alexander Hamilton Customs House, a Beaux Arts Building that's a National Historic Landmark, explore the New York branch of the Washington, D.C. Smithsonian museum. With 700 Native American artifacts and arts, it's part of the George Gustav Heye collection, started in 1903. This museum is organized geographically and includes items from North American as well as South and Central America.
Located at 1 Bowling Green. Open Daily from 10 a.m. to 5:30 p.m. Free to Enter and reservations not Required
South Street Seaport Museum
Learn about the rise of NYC and its role as a port city. The South Street Seaport Museum offer five historic vessels. Tour the Ship Wavertree and the Lightship Ambrose, located nearby.
Located at 12 Fulton St. Open Wednesday through Sunday from 11 a.m. to 5 p.m. Closed Monday and Tuesday. Admission based on age. Harbor cruises are available and require a separate ticket.
Read More
Staten Island Ferry
Tight on time but want to get a closer view of the Statue of Liberty without taking the official tour. Then hop the Staten Island Ferry offering passenger service. Departing every 15 to 30 minutes, it's a free harbor cruise. Since it's free, it's one of the top things to do in Lower Manhattan with kids.
Located in Battery Park. Open seven days a week and 24-hours a day.
NYC Ferry
For the Wall Street Ferry Port, you can catch a ferry to popular spots like DUMBO, Governors Island and even Midtown and the Upper East Side along with several locations in Queens and Brooklyn. With open air decks, it's a run ride with exceptional views of Lower Manhattan.
Located at South Street at Pier 11. Ferries run from 6 a.m. to 10 p.m. It's $2.75 to ride one way and tickets (or the app) are availalbe at the ferry dock.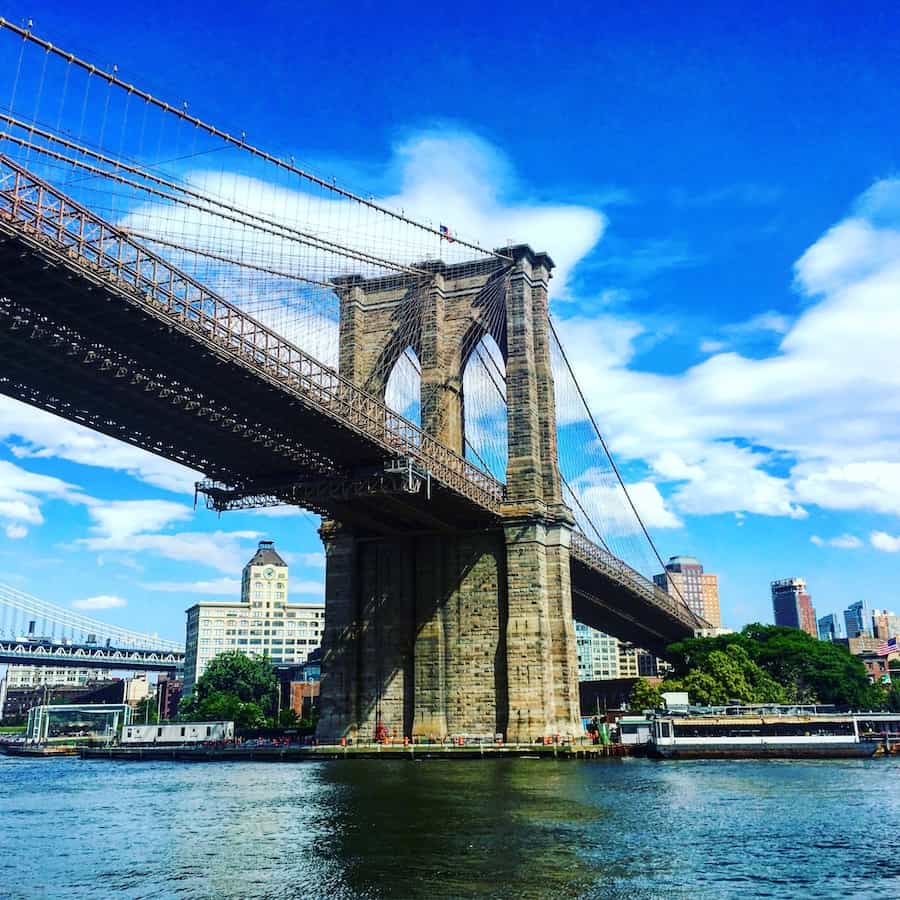 Brooklyn Bridge
Walk over the first bridge that spanned the East River, started in 1870 it was completed in 1883. The towers feature Gothic Revival Towers made of limestone and granite with a pedestrian walkway above the vehicle traffic below. In total the Brooklyn Bridge is 1.1 miles long and the DUMBO area offers lot of dining and acitivities. Best of all, you can take the ferry back to Manhattan.
Oculus-World Trade Center
As a transportation hub, retail and dining area along with stunning work of architecture, the Oculus is modern version of Grand Central Terminal. Designed by Santiago Calatrava, visitors should enter from the street level to see the volumous space Calatrava created. For the exterior, it's meant to look like a dove flying from a child's hands.
Underground,find several NYC subway lines as well as PATH trains to New Jersey.
Located at the intersection of Fulton St. and Greenwich St. Free to enter and open daily from 5 a.m. to 1 a.m.
One World Observatory
Rising up in lower Manhattan, head to the 102nd floor of the 1 World Trade Tower for a view of lower Manhattan along with the New York City harbor. Anchoring the revitalization area most effected by 9/11, this building offers a guiding light to the future especially as the sun sets and glass glows.
Located at 180 Greenwich St. Open from 9 a.m. to 9 p.m. most days. General admission is $35.
East Side Tenement Museum National Historic Site
Walk through history in a preserved tenement building on the Lower East Side. Tour the building that housed 7,000 working class immigrants from 1863 until 1935. Though not great for younger kids, my teen really enjoyed this museum. It's one of the top things to do in Lower Manhattan with older  kids.
With specialized tours focusing on Irish immigrants, Jewish immigrants and sweatshop workers along with neighborhood tours, get an understanding of an immigrant's life over a hundred years ago.
The Visitor Center at 103 Orchard St. Open every day from 10 a.m. to 6:30 p.m. Admission based on age.
New York City Fire Museum
As the official museum of the New York City's Fire Department, learn about its history in the 1904 firehouse. See the antique equipment, some of it horse-drawn. Then take a moment to reflect at the  NYCFM 9/11 Memorial that honors the 343 fallen firefighters.
Located at 278 Spring St. Open every day from 10 a.m. to 5 p.m. Admission based on age.
Fearless Girl Statue
Looking the Charging Bull in the eyes, Fearless Girl, gathered international attention. But she's moved to outside the New York Stock Exchange, looking up at the building.  The bronze statue is a beacon for strong-willed girls worldwide. 
Located at 11 Wall St. Free
Federal Hall National Monument
Located on Wall Street, this building served as the first Capitol of the United States, the Supreme Court and the Executive Branch offices. George Washington took the oath of office as the first President of the United States at Federal Hall as well.
The visitor center is located at the Pine Street entrance. The Federal Hall National Monument is open Monday through Friday from 9 a.m. to 5 p.m., and during the summer, it's open Saturdays as well. Free to enter.
The High Line
Created from an abandoned New York Central Railroad Spur, the nearly one and a half miles elevated walking path and park is a must. Created in 2009, High Line is a destination for locals and travelers alike. As a bonus it's free, unless if you want to grab a snack or a quick coffee along the route.
Located from Gansevoort St. to 34th St. with multiple entrances, some with elevators. 
Open 7 a.m. to 11 p.m. during the warmer months. Closes at 7 p.m. during the winter. Free
Little Island
Created from piers, Little Island is one of the newest areas to explore in Lower Manhattan. Located at Pier 55, the island and its gardens appear to float about the water. Enjoy a stroll to its high point for views of the Hudson or attend a live performance. It's one of the top things to do in Lower Manhattan with kids since they like exploring island with its winding walkways.
Located at West 13th St. at Hudson River Park. Opens daily at 6 a.m. and closed at midnight during the summer, 11 p.m. in the spring and fall and 9 p.m. during the winter. Free to enter.
The Whitney Museum of American Art
Anchoring the southern end of High Line Park, The Whitney showcases contemporary art from the 20th and 21st century with a focus on living artists. 
Located at 99 Gansevoort St. Open every day from 10:30 to 6 p.m. during the summer. Closed on Tuesday during the school year. Admission based on age.  
African Burial Ground National Monument
Learn about the final resting place of more than 400 African-Americans in lower Manhattan. A mass burial site from the 17th and 18th century retells the story of free and enslaved people in colonial New York.
The visitor center is on first floor of the Ted Weiss Federal Building at 290 Broadway in lower Manhattan. The Visitor Center and Memorial are open Tuesday through Saturday from 10 a.m. to 4 p.m.  Free to enter.
Chelsea Market
On the main floor, locals and tourists traise through for standards like Sarabeth's, Los Tacos No 1,  L'Art del Gelato amoung others. The tables might be limited at peak times.
Located at 75 9th Ave.
The Friends Apartment 
In the iconic TV show from the 1990s, the outside of this building was featured as their apartment building. It is located at 90 Bedford St.
Children's Museum of the Arts
In a facility dedicated to all forms of art, find a mix of engaging and child-centered exhibitions. Along with programming for getting little fingers busy find over 2,000 works by children worldwide.
Located at 103 Charlton St. Temporarily closed.
Disclosure: Consideration for brands mentioned.
Where to Stay