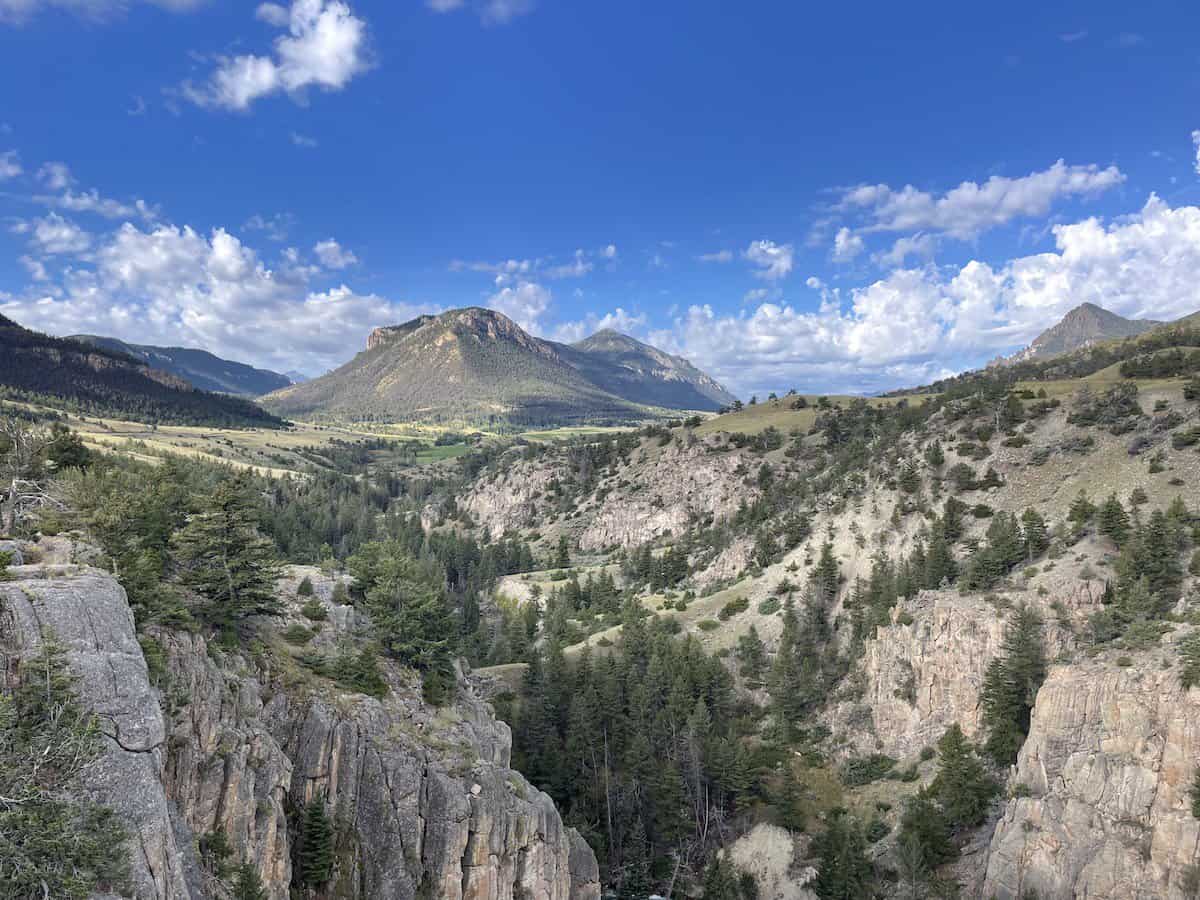 Located in northwestern Wyoming, Cody is near the eastern entrances of Yellowstone National Park. With jet service to Denver, is a popular gateway into the park along with offering authentic Western flavor and even better steaks. From leaf peeping along the scenic byways in the Absaroka Mountains to treks into Yellowstone to visiting a ghost town, here are the top things to do in Cody Wyoming in the Fall. Just stay room for a hearty steak dinner.
Top Things to do in Cody Wyoming in the Fall
Go to Yellowstone National Park.

Take a Scenic Drive through the Absaroka Mountains.

Explore the Buffalo Bill Center of the West.

Find the Bulletholes on the Butch Cassidy's cabin.

See the Some Haunted Sites.

4×4 out to a Ghost Town

Shoot an Antique Gun.

Tour the Heart Mountain Interpretive Center

Savor a Steak Dinner.
Yellowstone National Park
In a park bigger than the state of Rhode Island, Yellowstone National Park embodies the spirit of the West. More than a park, Yellowstone National Park is a truly American experience. This is one of the Top Things to do in Cody Wyoming in the Fall.
Yellowstone National Park was the first national park in the world. Created in 1872, it's an American icon worthy of a park pilgrimage. So irreplaceable, it's a UNESCO World Heritage Site, attracting visitors from around the world. Since it's in the northwest corner of Wyoming, nearly everyone you meet is from somewhere else.  
Yellowstone is the ideal national park to explore as a family, or even as a multi-generational trip. Since it offers so many activities, from hiking to rafting to animal spotting to guided tours, extended groups can enjoy different activities on the same trip. 
With lodging and camping clustered in villages, extended families can choose to camp or stay in historic luxury suites within walking distance of each other. Meet your family for a tour or dinner, even the nicest restaurant within Yellowstone National Park is hiking boot-friendly.
Top Places to Explore in Yellowstone National Park
Grand Canyon of Yellowstone
Lamar or Hayden Valley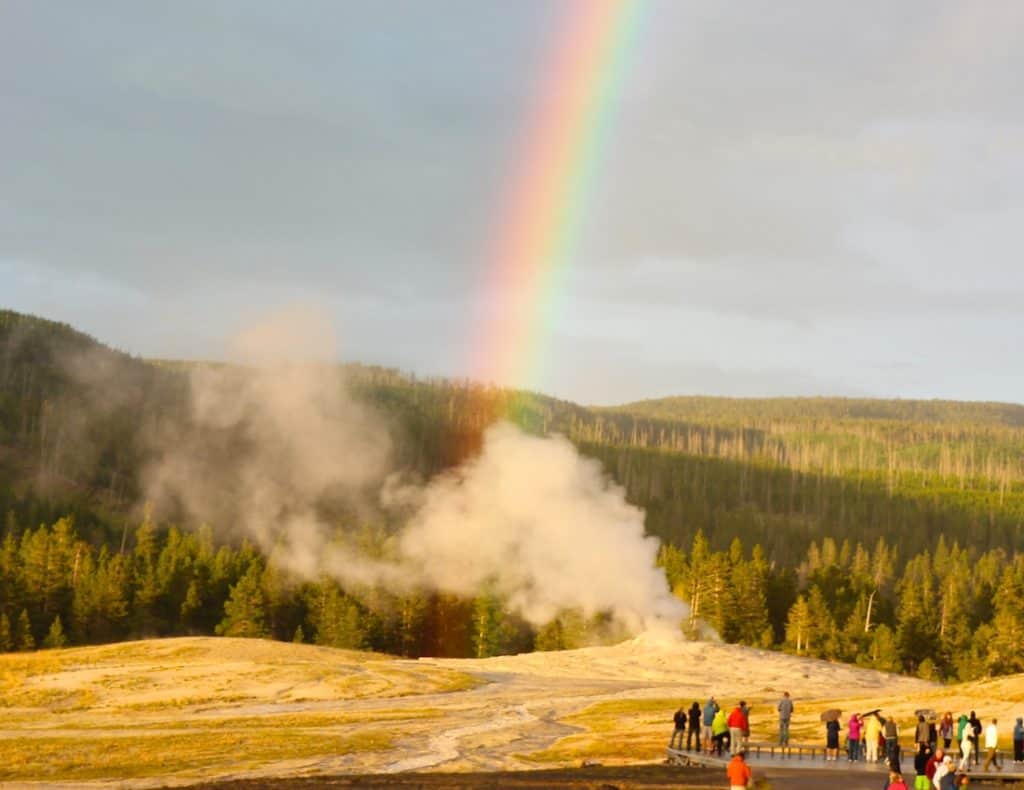 Getting Around Yellowstone
Yellowstone National Park is open 365 days a year and 24 hours a day. Use an America the Beautiful annual pass ($80) or purchase a 7-day pass for $35 per vehicle.
Yellowstone National Park offers five entrances. 
West Entrance—Closest entrance to Idaho.
North Entrance—Closest entrance for Bozeman, Montana and open year-round
Northeast Entrance—Scenic highway to Billings, Montana
East Entrance—Scenic highway to Cody, Wyoming

 

South Entrance—The busiest entrance and gateway to Grand Teton National Park and Jackson, Wyoming.

 
Seasonal closures affect Yellowstone National Park. July and August are the only months that all roads and facilities are open.
Scenic Byways Around Cody
One of the best ways to see the rugged beauty of western Wyoming is to drive its scenic byways. With Yellowstone in the northwest corner of the state, the Absaroka Range (part of the Rocky Mountains) offers an epic backdrop with craggy peaks touching the clouds. This is one of the Top Things to do in Cody Wyoming in the Fall.
East Yellowstone Loop
This is the best route for those heading into the park. It can be driven in any direction and uses two of the Yellowstone National Park gates.
Just for the loop, it is 224 miles. It also includes the Buffalo Bill Cody Scenic Byway and the Chief Joseph Scenic Byway. 
US Highway 14-16-20 will follow the North Fork of the Shoshone River. Travelers will travel through the Shoshone National Forest, set aside in 1891, before entering Yellowstone's Eastern Entrance. 
From the Grand Loop, travelers head for the Northeastern Entrance at Tower Junction. US Highway 212 is the Beartooth All-American Road and passes through Cooke City and Silver Gate before heading through the pristine mountains (last services for over 50 miles). At the Chief Joseph Scenic Byway or Wyoming Highway 296, roadtrippers head back into Cody.
Big Horn Basin Loop
Another top scenic byway is the Big Horn Basin Loop. It travels down to the speck of the town, Meeteetse. This is also the gateway to explore the Ghost Town Kirwin, accessible via UTV or 4WD trucks. The entire loop is 257 miles. 
The Big Horn Basin Loop takes Wyoming Highway 120 south through the high desert scenery. After Meeteetse, the route continues to Thermopolis. To make a loop, US 20 heads back north to Worland and continues to Basin. Or drivers can check out Ten Sleep with US 16 and Wyoming 31 before turning back west at Basin. Wyoming Highway 30 will join Wyoming Highway 120, south of Cody. 
The mountain roads are well-maintained and easy to drive. Cell service is weak outside of Cody so a paper map or downloaded maps are recommended. 
Buffalo Bill Center of the West
This facility is a lot larger than it appears from the parking lot. In fact, it is five museums in one. The Buffalo Bill Center of the West traces its roots to 1917 when Buffalo Bill passed away. This is one of the Top Things to do in Cody Wyoming in the Fall.
Buffalo Bill Museum
Dedicated to the life of William F. Cody and the Buffalo Bill Wild West Show
Plains Indian Museum
Preserves the artifacts of the Arapaho, Lakota, Crow, Cheyenne, Blackfeet and Pawnee people from 1880 to 1930. 
Whitney Western Art Museum
Named after sculptor and benefactor, Gertrude Vanderbilt Whitney and features works from Thomas Moran and Fredric Remington among others. One of the best museums for Western Art. 
Draper Natural History Museum
Decided to the Greater Yellowstone region, interpretive areas cover the geology and wildlife, including many specimens of wildlife from Yellowstone. 
Cody Firearms Museum
With a collection of over 7,000 firearms, it features weapons from the 16th century until modern. 
Now the building is seven acres in size and could take two days to explore. It is considered the most extensive museum in the West, and its collection includes more than 50,000 artifacts. The facility includes one of the boyhood homes of Buffalo Bill along with a playground. Visitors will find a gift shop and cafe. 
On its grounds, the Buffalo Bill Center of the West hosts a raptor show from March until Labor Day. During the summer, its PowWow grounds offer an authentic Chuckwagon cookout. 
Located at 720 Sheridan Ave. Open daily from 8 a.m. – 6 p.m. during the summer season (May 1 to September 15), from September 16 until October 31 from 8 a.m. – 5 p.m. In November, March and April, it is open daily from 10 a.m. – 5 p.m. Winter hours are Thursday to Sunday from 10 a.m. – 5 p.m. Adult admission is $23 and kids (6 to 17) get in for $16 with discounts for seniors and students with those 5 and younger enter for free. 
Buffalo Bill—The Scout
Heiress and sculptor Gertrude Vanderbilt Whitney sculpted Buffalo Bill after his death and WWI. 
At the time, Cody just had about 1,000 residents. The monument to the town's namesake stands on a stack of boulders, and he is riding a horse with his rifle overhead. Meeting Buffalo Bill in 1908, she funded the majority of the costs that exceeded $50,000 at the time. 
Later, her son, Cornelius Vanderbilt Whitney funded the Western Art Museum in Cody.
Located at 720 Sheridan Ave. Free to visit. 
Haunted Sites in Cody
It's fall, and it seems the spirits get frisky. From its founding, Cody was a watering hole and stopping point for many. In fact, some liked it so much that they decided to spend eternity in Cody. This is one of the Top Things to do in Cody Wyoming in the Fall. Here are the most haunted spots in Cody.
The Irma Hotel's namesake and her husband, Fred Garlow, both died of the Spanish Flu in 1918.  Room 35 has the most haunted occurrences.
Located at 1192 Sheridan Ave., Cody.
The Chamberlain Inn might be lean on ghostly sighting, though one of its illustrious guests is a draw. Back in 1932, Ernest Hemingway stayed in Room 32 and spent many evenings at its bar. He was a frequent guest in the area in the 1930s for hunting and fishing trips.
Located at 1032 12th St., Cody.
The J.H. Vogel Building operated as a furniture store and mortuary back in 1912. Customers occasionally spot a wandering boy in the building.
Located at 1251 Sheridan Ave., Cody.
The Smith Mansion is a haphazard creation of Lee Smith and stands 75 feet tall along the Buffalo Bill Scenic Byway. As a former architect, the building was never finished and was created from logs.
Located at 2902 N Fork Hwy., Cody.
Back in 1967, a well-preserved 1,200-year-old body was discovered by a Cody resident in a cave next to the Shoshone River. The body became known as Mummy Joe, and the cave became Mummy Cave.
Located at 1637 US-16, Cody.
Kirwin Ghost Town
About 30 miles south of Cody, Meeteetse is a speck of a town. For an exhilarating day of off-grid exploring, I rented a UTV to venture out to a ghost town.  This is one of the top things to do in Cody Wyoming in the Fall. 
Long lost to the elements, Kirwin is deep up in the mountains where prospectors build a camp for mining gold and silver. High up in the Absaroka Mountains, it is located about 38 miles southwest of Meeteetse and the journey is more than half the fun.
My Experience
To get to Kirwin, I rented a Polaris UTV from the Kirwin Ghost Town Adventures in Meeteetse. We got driving instructions, a map (no cell service) and a full tank of gas along with a Garmin InReach Satellite Communicator. 
Taking Hwy 290 (paved road) out of town, we then turned off the highway onto Wood River Road (Hwy 220). At the end of that road is where the adventure begins. Entering the Shoshone National Forest, the 4×4 road passed several creeks as it climbed up to 9,000 feet to the Kirwin Ghost Town. 
The Absaroka Mountains towered above me as I navigated the well-defined road. The ride was smile-wide fun with its turns, bumpy terrain and splashy creek crossings. For my trip, it was a hard-packed road and never felt sketchy to me. 
The 4×4 road ended 26 miles later and to get to Kirwin I crossed the Wood River via a foot bridge. Discovered in the late 1800s, the Wood River Mining District was declared in 1891 and included Kirwin. 
One of several mines, Kirwin was once home to 200 miners and their families though it never produced enough gold and silver ore to become profitable. The railroad never arrived, and the wintertime avalanches destroyed buildings. The miners abandoned the area when the funding got scarce in the early 1900s, leaving cabins and mine shaft buildings intact. 
In the shadow of Bald Mountain and Mount Sniffel, the remains of Kirwin are open. I ventured into several of the buildings including the Shaft House of the Wolf Mine. It still has its mining equipment and an interesting look into the past. 
The area offers several areas for picnicking though no tables. Find seasonal vault toilets close by. 
Located at 1902 State St., Meeteetsie. All-day rides are $389 for up to four people. Drivers must be 25-years-old. Bring water, lunch and snacks for the day. Layers are also recommended as the temperatures are cooler in the mountains. 
Cody Firearms Experience
For those with a hankering to shoot a relic of the Old West, the Cody Firearms Experience is your destination. During my visit, I was a bit overwhelmed with the selection of firearms. 
Hunting isn't one of my hobbies though I learned to shoot a gun (mainly BB guns and small rifles) as a kid. The staff at the Cody Firearms Experience helped me find something memorable since I am a woman and history buff. 
Located at 142 W Yellowstone Ave., Cody. Open daily year-round from 9 a.m. – 7 p.m. Age restrictions to shoot though kids 8 to 12 can shoot a .22 caliber and the Gatling Gun. Those 12 and older can shoot all calibers except full automatic weapons. Prices start at $49 per person, depending on weapon.
My Experience
I chose the Winchester 1873, a 44-40 caliber factory-made rifle favored by Annie Oakley. The original is a museum piece, and Buffalo Bill gave her the gun. 
My range officer went over the safety rules as we secured our ear and eye protection. Then we went to the indoor range for a lesson. 
My range officer made me feel comfortable with the antique weapon, and he shot off a plank first. I followed then he added a bullet for me to get the feel of its feel. 
When I was ready, he added the rest of the ammunition, and I unloaded on my target. He even mentioned that these weapons weren't as accurate so my target was pretty good. 
After shooting the Winchester 1873, he escorted me to the Model 1862 Gatling Gun. After setting the sight, my range officer loaded it up with a round of 20. 
I stood behind the antique weapon on two large wheels and then cranked it once. It almost felt like an old crank corn husker. With a few turns of the handles, I had shot my ammunition at my target. It was surprisingly smooth. 
Note:
Under no circumstances will visitors be allowed to shoot if they have been drinking or using recreational drugs. The staff is former law enforcement and military. 
Heart Mountain Interpretive Center
After Pearl Harbor was attacked, President Roosevelt ordered all Japanese immigrants to be moved and detained for the war. On February 19, 1942, Executive Order 9066 forced  Japanese immigrants and first-generation American citizens of Japanese ancestry into assembly centers. This is one of the top things to do in Cody Wyoming in the Fall. 
Those detained, many in family groups, moved from their homes in a matter of days with what they could carry. From the assembly centers, people boarded trains to highly guarded camps until further notice. 
The U.S. government built the camps mainly across the western U.S. One of the ten relocation camps was in Park County Wyoming. 
Eventually home to over 10,000 people, Heart Mountain, named after the nearby butte of the same name, included 46,000 acres, 740 acres were used for housing detainees. The 650 buildings were put up quickly and resembled military housing. 
During their time at Heart Mountain, detainees were expected to work and earned a small salary. Life inside the camp included a hospital, schools, a garment factory along with other shops. 
Visitors can walk through the interpretive center to learn about the Japanese immigrants. Displays include examples of the barracks and the living conditions they provided. The exhibits include recorded commentary from former residents, many children at the time of their incarceration. 
Located at 1539 Rd 19, Powell. Open daily from mid-Mary to early October from 10 a.m. – 5 p.m. Open from early October to mid-May from Wednesday to Saturday from 10 a.m. – 5 p.m. Adult admission is $12, students and seniors are $10 and kids 12 and younger are free. 
Buffalo Bill Dam
Built in 1910 (before Hoover Dam), Buffalo Bill Dam was the tallest dam at the time. Keeping the Shoshone River in check, visitors can walk out on the dam and learn more about the animal species of the area along with the dam's construction inside its visitor center.  This is one of the top things to do in Cody Wyoming in the Fall. 
Located at 4808 N Fork Hwy, Cody. The visitor center is open daily from May 1 to September 30. From Monday to Friday the hours are 9 a.m. – 6 p.m., 9 a.m. – 5 p.m. on Saturday and Sunday. Free to enter. There is a viewing platform to view the dam if the visitor center is not open.
Old Trail Town
To get an authentic feel for the Old West, a visit to Old Trail Town is a must. With a collection of relocated log cabins, visitors stroll the wood boardwalk between the buildings.
In 1895, Buffalo Bill laid out the town of Cody. The Old Trail Town honors that past with a Wyoming saloon frequented by Butch Cassidy's "Hole-in-the-Wall Gang".  Visitors will find an additional 28 cabins sourced within 125 miles of Cody. The grave of Jeremiah Johnson is located at the Old Trail Town, a local character featured in a 1972 movie starring Robert Redford.
Located at 1831 Demaris Dr. Open daily during the season (mid-May to September 30) from 8 a.m. – 6 p.m. Adult admission is $12 and kids (6 to 12) enter for $6 with those 5 and younger entering for free.
Cody Nite Rodeo
Packed with Wyoming cowboys and cowgirls, the Cody Nite Rodeo is an authentic rodeo experience. As the sun sets, the dust gets kicked up as the contestants get geared up for their event. 
A summertime ritual since 1938, visitors will see events like barrel racing, bareback riding and breakaway roping. Don't forget the most exhilarating event of the night, bull riding and its colorful rodeo clown.
Located at 519 W. Yellowstone Ave., Cody. Cody Night Rodeo is held nightly from June 1 to August 31. 
Cody Trolley Tour
For those visiting Cody for the first time (or with just one day in Cody) hop on a Cody Trolley Tour. With a playful guide and driver pair, tourgoers will get all the history and sights in just over an hour.
Departing from 192 Sheridan Ave., Cody. Adult admission is $28 and kids (6 – 17) are $17. Tours operate from late May until the end of September.
Take a Trail Ride
Cody and the surrounding area offer 14 guest and dude ranches. Most are located along the US Highway 14-16-20, or the Buffalo Bill Cody Scenic Byway. For my trail ride we used Blackwater Creek Ranch. 
Its location is nestled in the pristine forest west of Cody. After saddling up, we rode our horses on one of its trails. First, we forded a shallow stream, and the horses enjoyed the ride as much as I. 
A storm was brewing in the late summer afternoon, and the horses were unaffected. It passed on without more than a sprinkle. Our ride continued through the forest, past late-season wildflowers. During my ride, I got to focus on the sounds of the forest, from the birds calling to the rustle of the wind. 
Located at 1516 N Fork Hwy, Cody. Blackwater Creek Ranch is open from May until September. 
Ideal for those up for riding, one-hour to all-day rides are available. 
Where to Eat in Cody
Breakfast, To Go and Treats
Sitti's Table
 for Breakfast and To Go
This market offers breakfast, salads and sandwiches to-go. I went with the Mediterranean Grain Salad. 
Located at 1034 13th St., Cody. Open Tuesday to Saturday from 8 a.m. – 2 p.m. for food and open until 4 p.m. for the market.
Bigg Chill
For ice cream lovers, the Bigg Chill hand-dips cones with inventive flavors like White Chocolate Huckleberry and Strawberry Honey Balsamic. Traditionalists will find the Vanilla Bean and Chocolate Brownie along with kids favorite Birthday Cake. 
Located at 1321 Sheridan Ave., Cody. Open daily from Noon – 9 p.m. (10 p.m. on Friday and Saturday). 
Meeteetse Chocolatier
Taking the flavors from the garden out back, chocolate lovers will find truffles made by former cowboy-turned-chocolatier Tim Kellogg in the tiny town of Meeteetse, south of Cody. With a seasonal selection, visitors will find unique flavors like focaccia, blue spruce and huckleberry along with everyone's favorites.
Located at 1943 State St, Meeteetse. Open Tuesday to Friday from 10 a.m. – 4 p.m. and Saturday from 10 a.m. – 2 p.m.
Lunch 
Trailhead Bar Grill Wood Fired Pizza
Its wood-fired pizzas are not to be missed. Its crust was perfectly baked, and the toppings were fresh. I also had its Grilled Caesar Salad, with a heart of romaine grilled and served with fried capers, crispy prosciutto and shaved parmesan with Caesar dressing and croutons. It was delish, and I recommend this twist on the classic. 
Located at 1326 Beck Ave., Cody. Open from Tuesday to Thursday from 11 a.m. – 9 p.m., Friday from  11 a.m. – 10 p.m., Saturday from 10 a.m. – 10 p.m., and Sunday from 10 a.m. – 8 p.m. 
Dinner
Wyoming is beef country, so I had five filets in five days. When in Wyoming, order the steak or local trout, if available.  This is one of the top things to do in Cody Wyoming in the Fall. 
Chuckwagon Dinner at the PowWow Grounds by 2 Mules Chuckwagon
For families, sharing a meal outdoors is hard to beat. For an unforgettable experience learn how the cowboys cooked before the days of gas grills. With their 1902 chuckwagon, 2 Mules Chuckwagon sets up on the PowWow Grounds, for an authentic chuckwagon cookout. 
With a blend of Dutch cooking and open-fire cooking, diners enjoy Mile-High Sourdough Biscuits, Trail Beans and cooked-to-order NY Strips. As the sun dips towards the mountains, diners can watch the magic happen from preparing the fire, the mixing of the biscuit dough to seasoning of the steaks. 
Sitting in the shade of trees, I saddled up to the picnic table with a plate with my steak a scoop of beans and the most perfect biscuit. The biscuit got a slap of butter, and I let that melt for a minute then grabbed my steak knife. After the first bite, I wanted to know 2 Mules Chuckwagon's seasoning mix. It was perfect. 
The biscuit was light and fluffy, so I had two. The beans were spicy and smokey. Not to be outdone, dinner was followed with a Dutch-baked fruit cobbler with vanilla ice cream. 
For an authentic Chuckwagon meal, I highly recommend reserving a dinner with 2 Mules Chuckwagon. 
Located at 720 Sheridan Ave., Cody. Adult dinner is $50 and kids (10 and younger) are $20. Beer and wine are available for purchase. Dinner is served on Tuesdays Reservations are made through the Center of the West.
Cody Cattle Company
For a buffet dinner with a show, then the Cody Cattle Company is the way to go. Ryan Martin and the Triple C Cowboys offer an evening of originals plus sign-along classics. The all-you-can-eat dinner includes Beef Brisket, BBQ Chicken, Baked Beans, Potatoes, Cole Slaw and more. Just save room for brownies for dessert. Beer and wine are available. 
Located at 1910 Demaris Dr., Cody. Dinner is served from Memorial Day weekend until mid-September. The doors open at 5:30 p.m. and the show starts at 6:30 p.m. Adults are $43 for dinner and the show with kids (6 – 12) eating for $21.50.
Cody Steakhouse
For fine dining in Cody, the Cody Steakhouse is the destination. Its menu blends the best of the West, like its beef with regional favorites from across the U.S. During my visit, I sampled the Fried Green Tomatoes with lump crab meat, bleu cheese and a balsamic reduction. Then I grabbed a (or two) Steak Crostini with Angus Beef on a baguette with Bleu Cheese and an Onion Jam. 
I went with a 6-ounce Filet, just always the right size for me and cooked medium rare. I had a baked potato all the way. Additionally, the Cody Steakhouse served a trio of vegetables on the side. 
In addition to beef, the Cody Steakhouse served Bison Filets, Chicken Fried Steak and Pork. Fish, Sandwiches and Chicken dishes fill out the menu. A kids menu is available as is beer, wine and cocktails. 
Located at 1367 Sheridan Ave., Cody. Open Tuesday to Thursday from 4 p.m. – 9 p.m., Friday and Saturday from 4 p.m. – 10 p.m. Closed Sunday and Monday. 
The Irma Hotel
For a buffet meal with prime rib, the historic Irma Hotel is the place. Named after his daughter, Buffalo Bill opened this hotel in 1902. 
With a breakfast, lunch and dinner buffet, The Irma Hotel is popular with groups. During the summer season, there's a gun show out front. 
Be sure and check out its gift shop with some spectacular boots, in an array of colors and leathers. The Irma Hotel Gift Shop also offers lots of Western wear as well. 
Located at 1192 Sheridan Ave., Cody. Open Monday to Saturday from 7 a.m. – 9 p.m. and Sunday from 7 a.m. – 8:30 p.m. 
After Dinner Fun
Silver Dollar Bar
Here's the place to dance to country music or enjoy the summertime outdoor stage. It's rumored this is where the rodeo contestants come after their events. 
Located at 1313 Sheridan Ave., Cody. Open daily from 11 a.m. – 2 a.m. 
Where to Stay in Cody 
Welcoming everyone with Western Hospitality, the Best Western Sunset Inn in Cody, Wyoming, offers 120 rooms in a motor court-style property. Located close to top Cody attractions, guests can even spot deer walking through the property.
It is located at 1601 8th St., Cody.

Disclosure: This article was created after a press trip.