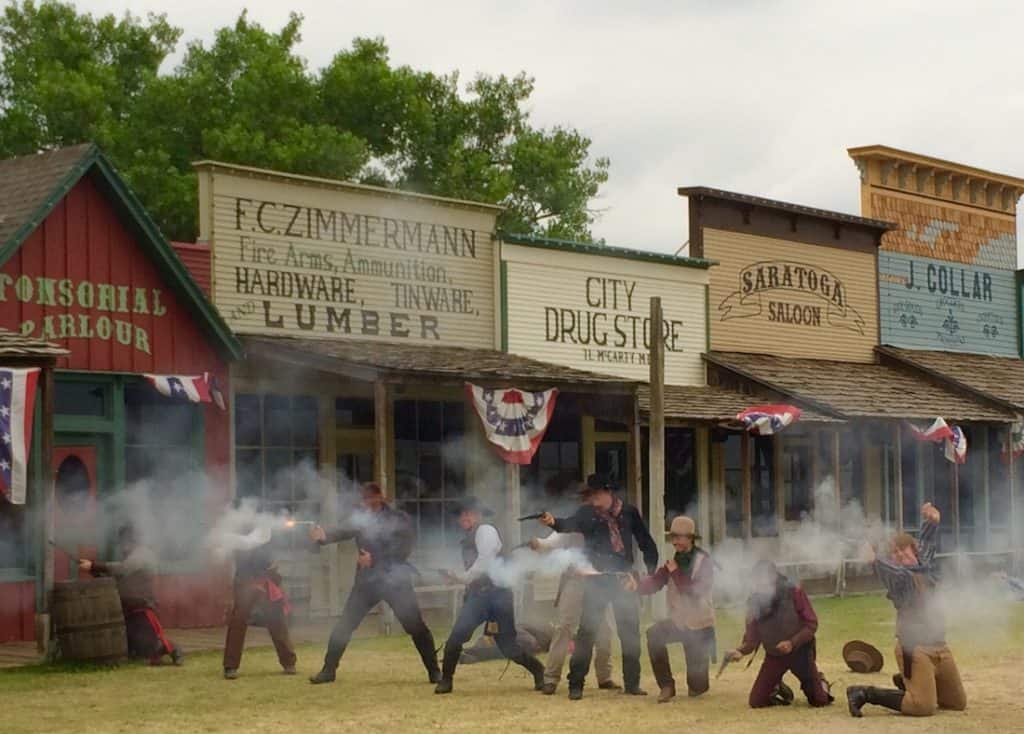 For road trippers, the Midwest can seem unending with its miles of fields along the horizon. A good road trip stop is a must and Dodge City is that. Away from the major interstates, Dodge City is on the way to South Dakota's Black Hills and east of Colorado. Since the 80s, visiting Dodge City in Kansas sat on my bucket list, especially after watching National Lampoon's Vacation, with Chevy Chase and Beverly D'Angelo. Here are the Top Things to do in Dodge City with Kids.
Top Things to do in Dodge City with Kids
The Boot Hill Museum
Dodge City Trail of Fame
El Captain Statue 
Cowboy Statue on Boot Hill
Carnegie Center for the Arts 
Depot Theater
Home of Stone
Long Branch Lagoon Water Park
100th Meridan Marker
Dodge City Trolley Tours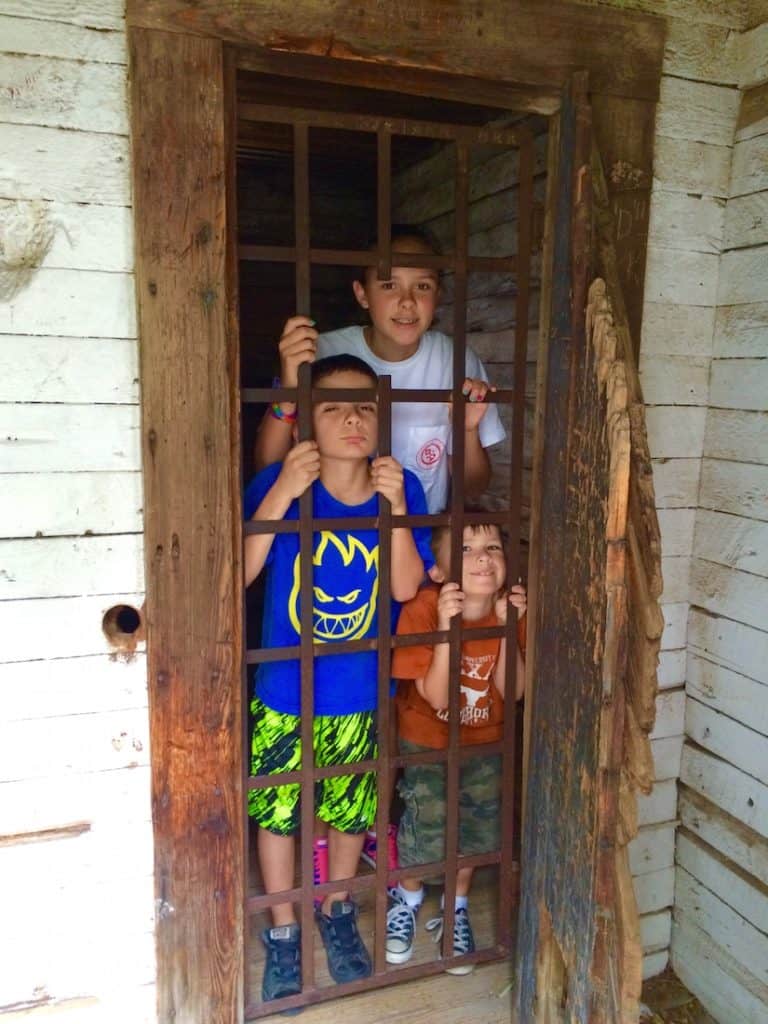 The Boot Hill Museum
This is the top spot in Dodge City for kids. Road trippers with a love of the Old West will find stagecoaches, saloons, old schoolhouses and scraggly characters, some wearing holsters and side arms.
After some dusty cowboys swagger into town, misunderstandings are moments away. A hungry cowboy looks at a barmaid wrong and the barkeep throws him out the swinging doors. Words are exchanged then the revolvers come out. Onlookers take in an authentic a Dodge City gun fight, dust cloud included. For my boys, saw their eyes pop out of their heads.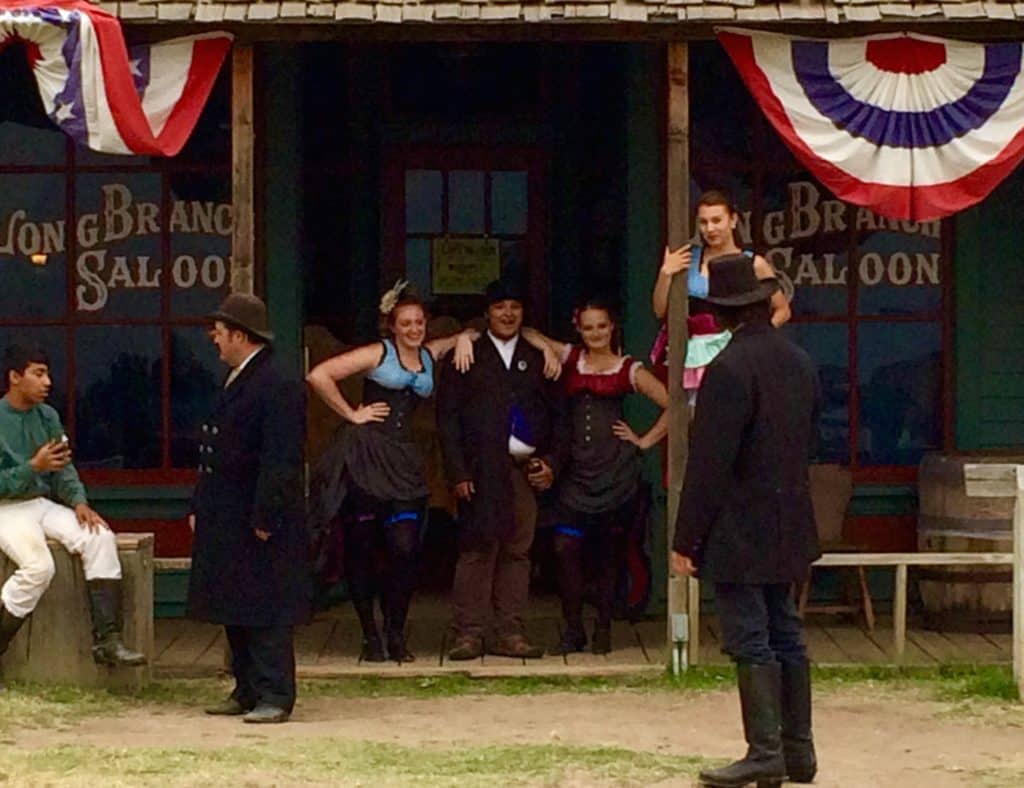 Meander through the rest of Dodge City's restored buildings as the creak of the wood floors take you back in time. There are building from an one-room school house to a restored church. Many of the buildings have been moved to the area.
Dodge City houses  more than 60,000 antiques that date back to the 1870s, many from Dodge City residents. Travelers will find authentic guns of the Wild West along with clothing.
Don't forget to hop abroad the stagecoach for an authentic frontier road trip experience. I can understand how people would get nauseous riding stagecoaches.
How to Visit Boot Hill Musuem
Located at 500 W. Watt Earp Blvd. in the center of Dodge City, Kansas. Open from 8 a.m. to 8 p.m daily from Memorial Day until Labor Day. Open  Monday through Saturday from at 9 a.m. to 5 p.m. and 1 p.m. to 5 p.m. on Sunday for the rest of the year. During the summer the shoot out happens at High Noon and 6:30 p.m.
Adult admission is (13+)  is $18,  kids ( 5 to 12)  is $12 and senior admission (62+) is $16. Family Pack  includes admission for two adults and kids ages 17 and under for $60. Off-season visitor get a $2 discount. Admission includes entry into the museum, an introductory video and the summertime shoot-out. Boot Hill Museum features a variety show and a country-style dinner for an additional fee.
Read More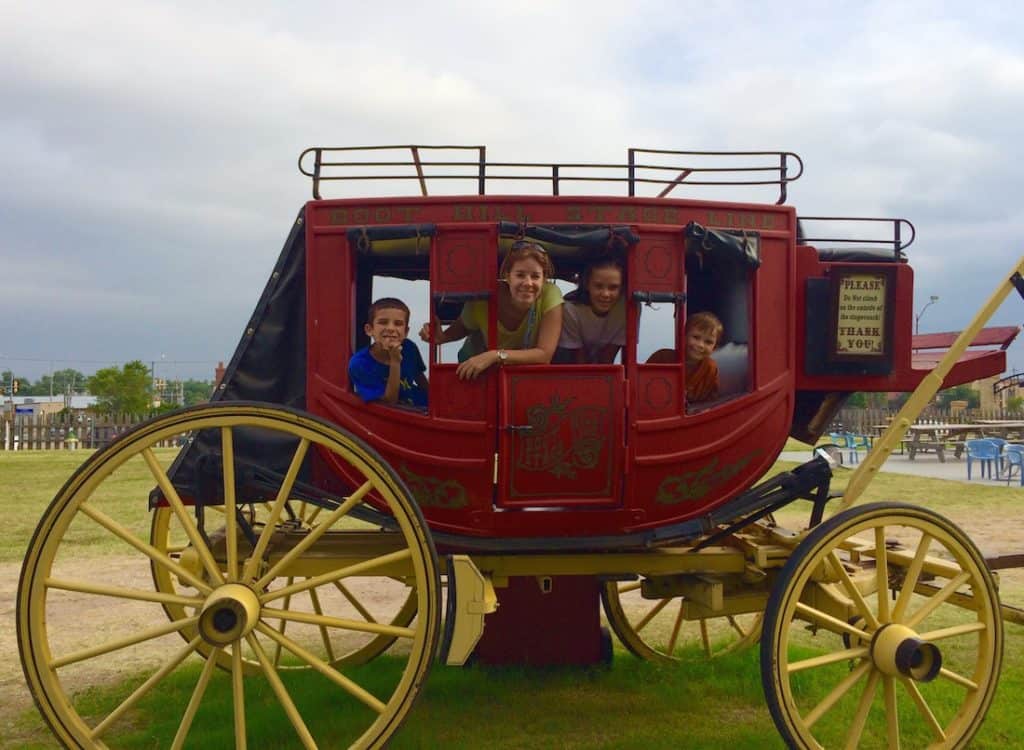 Dodge City Trail of Fame
With a collection of bronze statues along with medallions on the sidewalk, travelers can learn about the more famous people that passed through Dodge City, many from the 1800s.
Start at 400. W. Wyatt Earp. Free
El Capitan 
Travelers will fin a bronze sculpture dedicated to the Texas cattle drives that drove to Dodge City.  El Capitan is a massive Texas Longhorn.
Located at Second Ave and West Wyatt Earp Boulevard.
Cowboy Statue on Boot Hill
Using a live model to cast in plaster,  Marshal Joe Sughrue was shrouded in the casting material by a local dentist with only a straw to breath during the experience. The Marshal survived (barely) and now the statue is located in front of the Boot Hill Distillery, the former City Hall.
Located at Spruce and 4th Avenue. Free
Read More
Best of Custer State Park in South Dakota
Top Things to do in the Black Hills of South Dakota
Carnegie Center for the Arts
Andrew Carnegie built libraries across the world in the late 1800s. Many of these architectually significant buildings have been repurposed.
The Carnegie Center for the Arts offers a two-story building with gallery space for local artists and artisans.
Located at 701 2nd Ave. Open Tuesday to Friday from 1:30 to 5 p.m. and Saturday from 9:30 to noon.
Depot Theater
The local theater group has been entertaining locals and visitors alike since 1984. Located in the historic Santa Fe depot built in 1898, the group performs Broadway type shows during the summer.
Located at 201 E. Wyatt Earp Blvd. Admission
Home of Stone
Mueller-Schmidt House was built in 1881 and the oldest building in Dodge City in its original location. Inside visitors will find period furnishings along with costumed interpreters.
Located at 112 E. Vine St. Open Monday to Saturday from 9 a.m. to 5 p.m. and Sunday from 1 to 5 p.m. Admission
Long Branch Lagoon Water Park
With four themed pools this is the place to cool off in the summer with kids. It also features a lazy river and a diving board.
Located at 111 4th Ave. Open daily from late May until mid August from 1 p.m. to 7 p.m. (6 p.m. on Sunday) then weekends only until Labor Day. Adult admission is (18+) $6, kids (3 to 17) $4.
Close by skaters will find the Dodge City Skate Park at 201 4th Ave.
100th Meridian Marker
As the 100th degree of longitude, it served as a geographic marker between nations across the globe. Vistiors will find the 100th Meridian Marker in downtown.
Located at 1105 East Wyatt Earp Boulevard. Free
Dodge City Trolley Tours
If you have a bit more time, the Historic Dodge City Trolley Tours hits all the stops around town in a narrated tour.
Located at 400 W Wyatt Earp Blvd. Open from Memorial Day to Labor Day. Open daily from 7:30 a.m. to 3 p.m. Additional admission.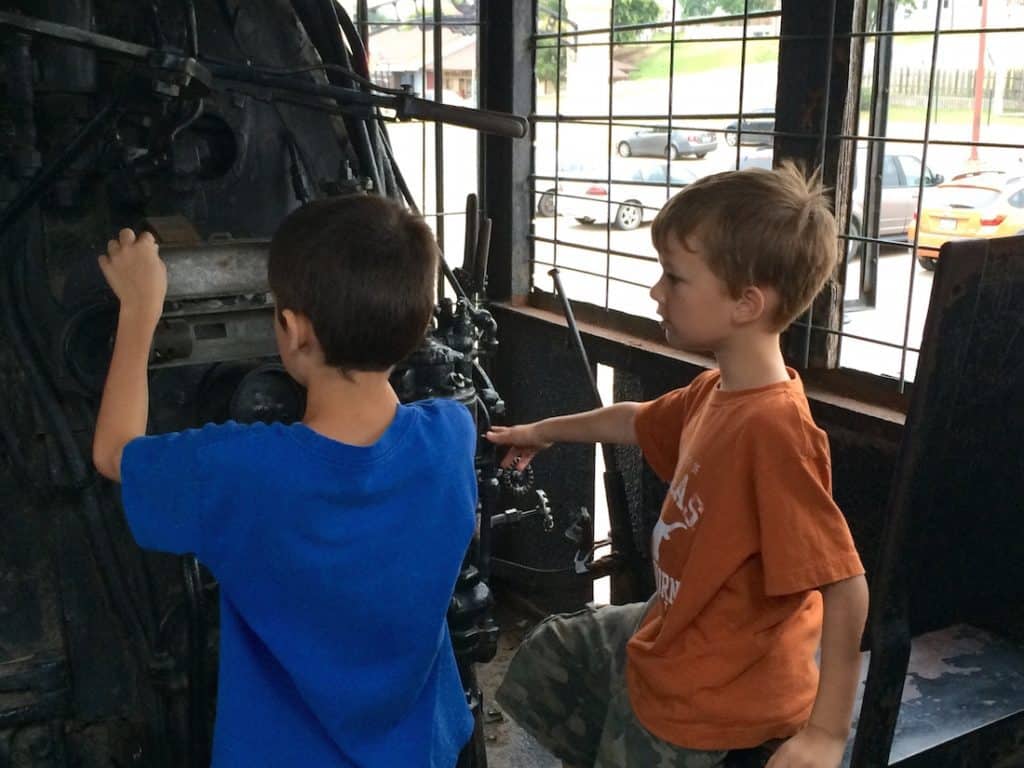 History of Dodge City
Dodge City represents the Wild West for most Americans, and named after nearby Fort Dodge. In 1865 as the Indian Wars intensified, the U.S. Army constructed the fort, near the Santa Fe Trail, used for cattle drives.
Dodge City became a boom town after a Texas Longhorn quarantine pushed the cattle drives west. At the intersection of the Santa Fe Trail, the Chisholm Trail and the Western Trail, Dodge City collected cowboys and cattle rustlers alike.
Gambler-turned-lawman Wyatt Earp and Bat Masterson tried to keep the town in order. Yet Dodge City's reputation as a wild frontier town, made it a legend. The name Boot Hill Museum originated after the Boot Hill Cemetery, where the city buried the outlaws with their boots in place .
Read More
Know Before You Go
Dodge City is about 350 miles east of Denver, Colorado.